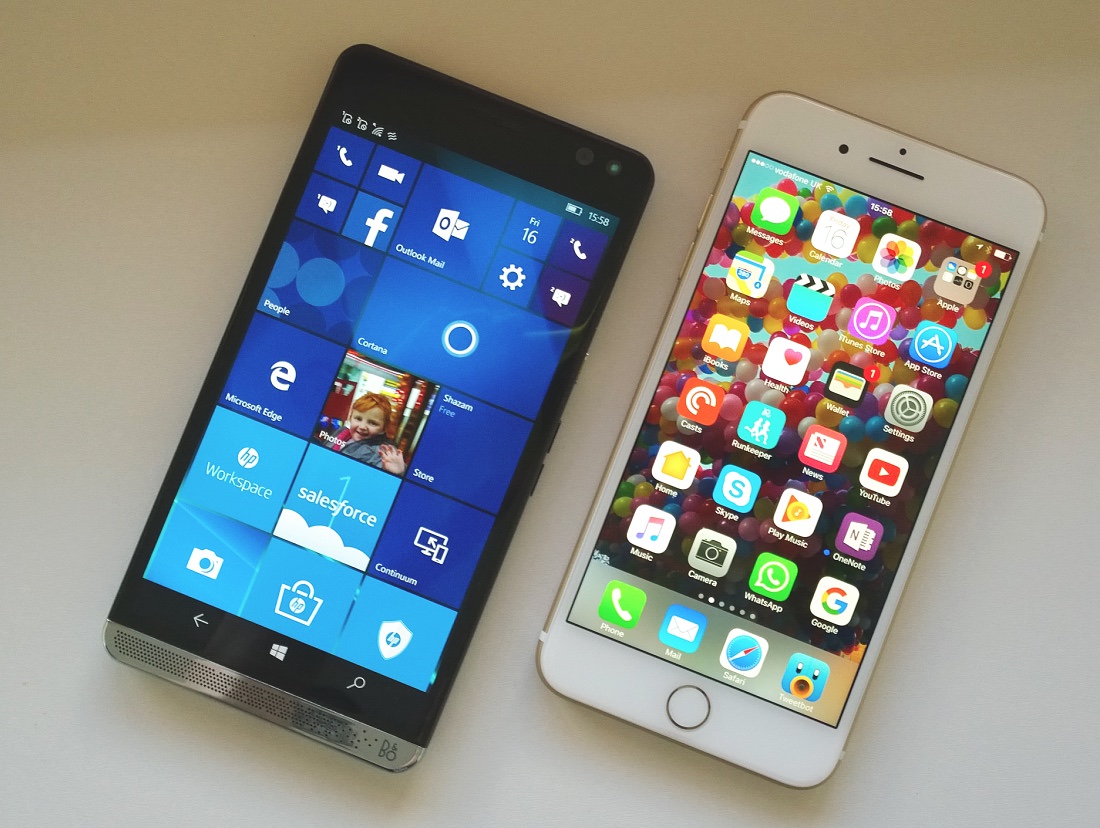 Each device, as usual, has its strengths and weaknesses, but these two aren't that apart in the overall scheme of things. As usual, I've shaded in green an obvious 'win' for either device, I honestly have no idea which way this one's going to go (as I start to compile the feature)... Any row where a winner would be totally subjective is left uncoloured. Or, where both devices are utterly excellent but in different ways, I've given both a 'green'(!)
[By the way, if you're viewing this feature on an older Windows Phone then the table may well cause you problems. Try viewing in landscape mode? Failing that, go view this on a laptop or tablet and then roll on Windows 10 Mobile across the board on all the older phones!]
HP Elite X3
Apple iPhone 7 Plus
Date first available
September 2016

September 2016

Current price, availability
£700 (SIM-free in the UK, inc VAT - from Clove - and including Continuum Desk Dock and various adapters and cables). Other prices and bundles available, including with the Lapdock, but starting at about £630 inc VAT.
£819, SIM-free, for the 128GB model from Apple (the 32GB one isn't really practical, considering the device's ambitions, in my view).
Dimensions, form factor, weight

162 x 83 x 8mm, heavy duty plastic body and frame, 195g.

158 x 78 x 7mm, aluminium unibody with antenna bands top and bottom, slightly shorter and slimmer (but then the screen is quite a bit smaller), 188g

Durability

IP67 for liquid and dust, plus mil-spec drop and shock resistance, thanks to the use of shock-absorbing plastics rather than metal.

IP67 for liquid and dust, but a case will be required for drop protection.
Operating system, interface
Windows 10 Mobile, (dismissable) virtual controls

iOS 10, solid state multi-function home button plus '3D Touch' pressure sensitive screen for context-sensitive actions
Display

5.96"

AMOLED QHD (1440p), Gorilla Glass 4 - AMOLED vs LCD is a personal preference, ditto higher resolution pentile versus lower resolution RGB, but the X3 gets the win because the display is bigger and the bezels smaller.

5.5" 1080p resolution, IPS LCD, 'ion-strengthened glass'

Connectivity

LTE up to 600Mbps,

plus dual nano SIM (if microSD unused),

NFC,

Wi-Fi b/g/n/ac, integral wifi tethering, Bluetooth 4.2 (with full set of profiles and exchanges), Continuum connectivity to use external displays as secondary screen, independent of the phone display (with full universal application resolution handling)

LTE up to 450Mbps (all bands), NFC (but only for Apple Pay, sadly), Bluetooth 4.2 (again restricted to Apple-approved comms), Wi-Fi b/g/n/ac, integral wifi tethering, single nanoSIM



Processor, performance
Snapdragon 820 chipset, 4GB RAM, in theory very fast indeed - though it's hard to tell as of the date of this feature, since there are also slowdowns linked to firmware and OS which badly need updating (come ON, Microsoft and HP!)

Apple A10 Fusion chipset

, 3GB RAM, very fast, Apple always do an incredible job in terms of TLC and optimisation. Have to give the win here on speed.
Capacity

64GB, expandable via microSD up to 2TB

128GB internal storage (in the variant being considered, no expansion)
Imaging (stills)

13MP (ignore what you've read about 16MP) f/2.2,
Single LED flash, 'Rich Capture' produces customisable HDR shots, though a lot of the functionality is waiting on Anniversary Update APIs still. OIS in theory but it's tough to tell...yet! Decent shots in most light conditions, though much of the potential isn't realised with current firmware.

8MP front camera

12MP, f/1.8 1/3" BSI sensor, OIS, Phase Detection auto-focus, quad LED flash, plus separate f/2.8, 1/3.6" sensor with 2x zoom optics. Terrific possibilities, and great photos, competitive with most of the best of Lumia. More articles coming soon.

7MP front camera, f/2.2 also very good

Imaging (video)
4K, digitally and optically stabilised (in theory), with 'Best photo' 8MP grabbing built-in, plus stereo audio recording (though limited to mono in current firmware)

4K video capture, with EIS and OIS, and yes, the 2x zoom works in video mode. Mono audio recording though.

Music and Multimedia
Decent front-facing stereo speakers, though very weak in terms of bass frequencies (surprising, given the B&O branding, it's possible that there are optimisations yet to come). 3.5mm headphone jack

Infamously, no 3.5mm headphone hack, though you do get a Lightning port-to-3.5mm adapter in the box. Stereo speakers, the right hand one outputting through the phone's bottom. Decent volume and fidelity, besting the Elite X3's in every aspect.

Navigation
Windows 10 Maps is comprehensive, has a degree of live traffic awareness, plus public transport. Includes full offline maps with automatic updates.

Apple Maps uses traffic and map data from TomTom, it seems, in addition to its own resources. Real time navigation, with dynamic re-routing is also present, though not as mind-bogglingly accurate as Google Maps on Android. There's no offline mode, though you can (ahem) install Google Maps and half a dozen alternatives on iOS, all of which do offer offline facilities.


Cortana/Voice
Cortana is now mature and well integrated, and with a surprising degree of 'assistance'.
Apple's Siri is sassy and usually helpful, but (just as with Google Now and Cortana) still hands anything remotely tricky off to a web search. Still early days for digital assistants?
Battery, life

Sealed 4150mAh battery, gets through two days of use (even on the buggy firmware), plus standard USB Type C fast charging (up to 3A, though a 2A charger is what's supplied out of the box) and Qi wireless charging built-in.

Sealed 2910mAh battery, easily gets through a day, thanks to the low power cores in the A10 chipset plus iOS's good standby characteristics. Charging is Lightning port only and nominally only 1A, though other higher current sources may work.



Cloud aids
Windows Photos syncs across all signed-in devices, subject to your OneDrive tariff, should you have thousands of images in the system. Plus Windows 10 backs all your media, application data and settings to a separate backup folder system, tariff-free on OneDrive.
Recent photos auto-sync to iCloud, backups in general ditto, so if you want to, there's a complete image of your phone ready to restore at any point.
Biometrics
Iris recognition ('Windows Hello') works well unless you wear varifocals(!), but takes a few seconds in real world use, while the fingerprint sensor should be instant, yet hasn't been 'enabled' officially by the Anniversary Update yet.
Fast fingerprint scanner in the solid state home 'button' unlocks the phone in one touch/press.
Applications and ecosystem
Windows 10 Mobile now has just about every mainstream app covered, aside from Snapchat and Tinder. Niche/boutique apps are often an issue, though... Also anything to do with Google services!
Fully covered, from A-Z, of course. Any application of any significance in the mobile world is available for iOS. Including all those Google services, which are fully available for the rival OS.

Upgrades and future
Windows 10 Mobile will be updated through 2017, of course, as part of the global Windows 10 ecosystem. Production devices can expect updates every few months, Insiders every few weeks. The X3 is part of the Insider program if needed. The Anniversary Update was supposed to roll out a week ago to the Elite X3, but no sign of it as I write this feature.
Apple push system and security updates regularly - the iPhone 7 Plus should be updated until at least 2018.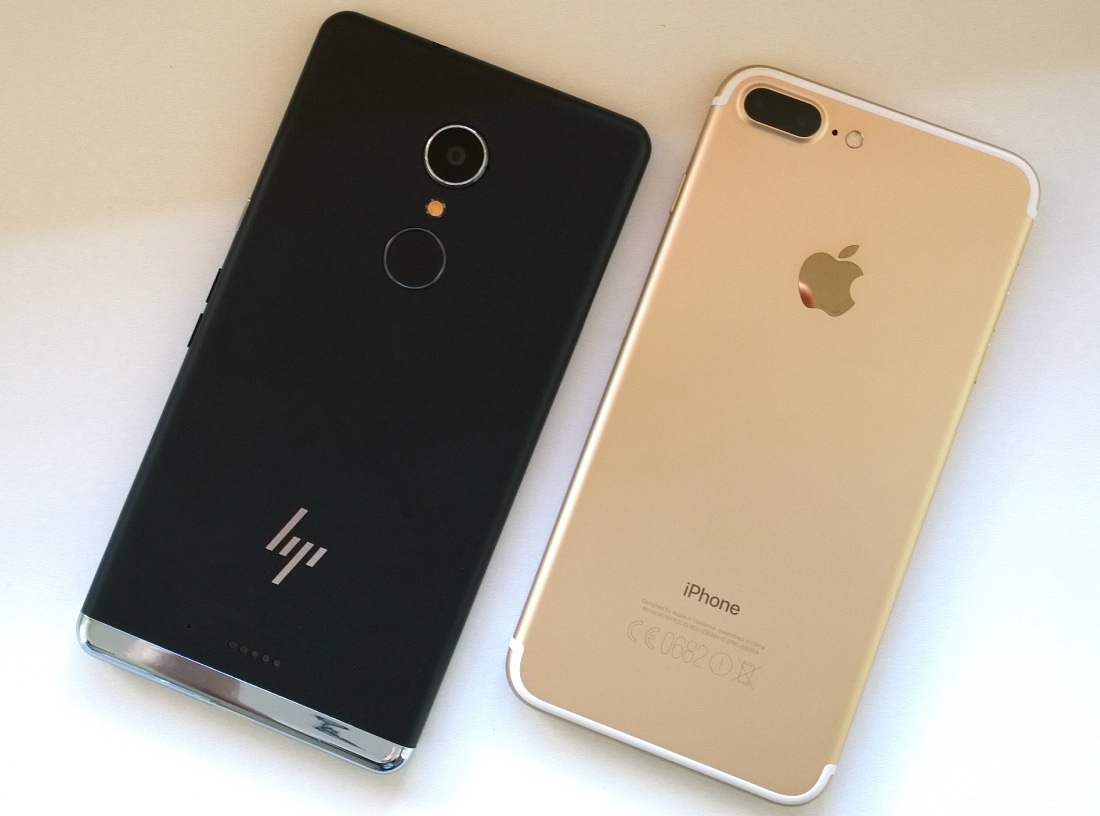 Verdict
Adding up the green 'wins' gives the Apple iPhone 7 Plus the victory by 9-6, which is probably not what a Windows phone site is supposed to conclude, but there it is. Part of the gap is down to HP and Microsoft taking their time over updates, but even when the X3 is fixed up the iPhone 7 Plus will triumph for the average user, even the average professional.
However, the ruggedness of the Elite X3, the extraordinary battery life and the Windows 10 Continuum features (including that rather nice Lapdock) are all genuine Unique Selling Points. Not to mention the pogo-pin expansion possibilities for an enterprise. It's a niche device, but it could be a sizeable niche if HP play this one right.
Have I been too harsh to the Elite X3? Which device would you take if it was your £700-£800 or so?