The Windows Phone (and now Windows 10 Mobile) world has always been a bit strange, dominated by one manufacturer. Nokia, and then Microsoft, buying up Nokia's Devices division. We've known for years that this isn't terribly healthy for long term success, but this has been coming home to roost rather in 2016. With the gradual dismantling of much of Nokia's manufacturing capacity and distribution/support network, Microsoft clearly wasn't in the mass market smartphone business in the same way that Nokia hoped to be.
The hope was that third parties would step in and use Windows 10 Mobile for their own smartphone projects - I covered most of these here, though most people won't have heard of the companies concerned and it's looking unlikely right now that any of these projects will be a big success. All of this is a conscious strategic decision by Microsoft, rightly or wrongly.
Regardless, the Lumias have always represented the pinnacle of hardware abilities in this ecosystem and it's enthusiasts for the Lumia 950 and 950 XL in particular who will be most interested in Microsoft's plans for these flagships.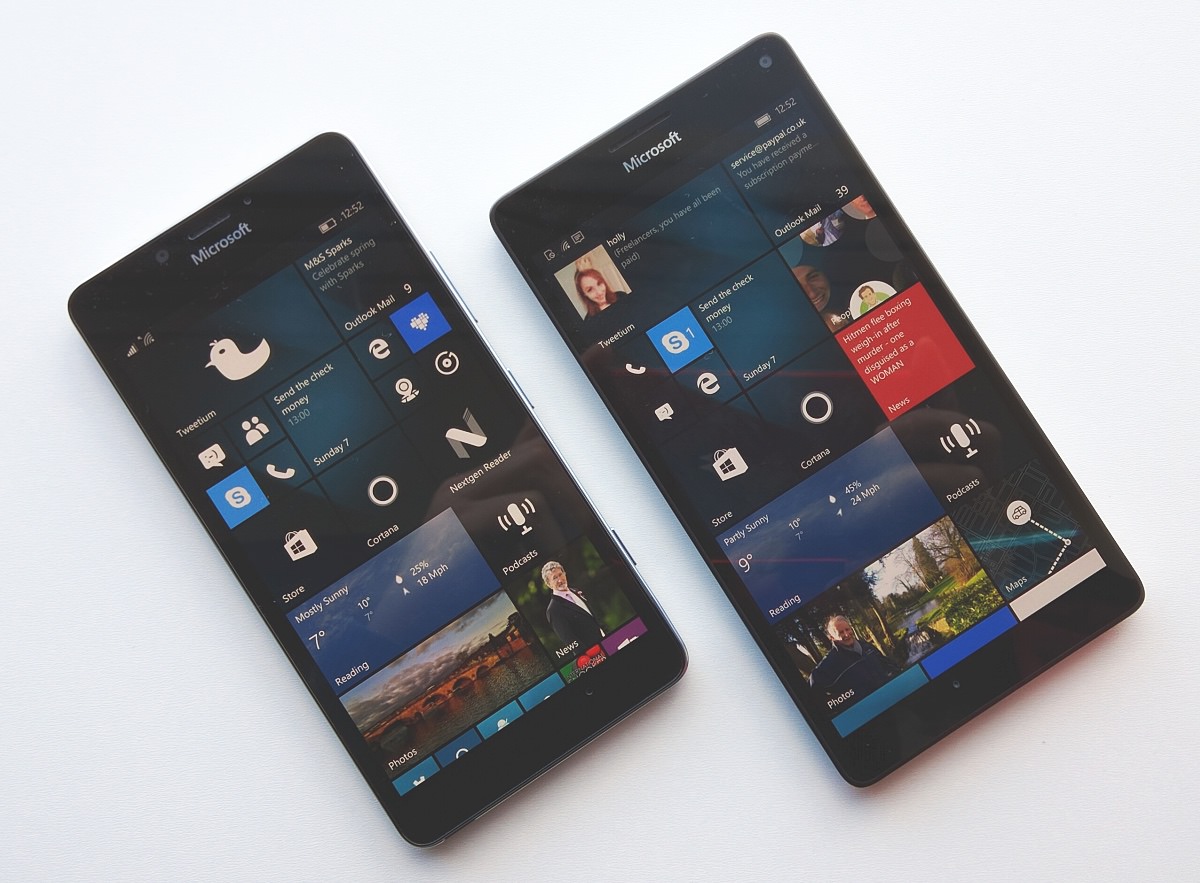 With this in mind, I headed for a breack-neck tour of all the Microsoft country-specific sites across the world*:
Availability as at
September 2016
Lumia 950
Lumia 950 XL
Lumia 650
UK
Yes, both colours
Yes, both colours
Yes, both colours
USA
Only white available
Yes, both colours
Only black available
France
Out of stock
Yes, both colours
Yes, both colours
Spain
Out of stock
Only black available
Yes, both colours

Germany
Out of stock

Only white available
Out of stock

Italy
Yes, both colours

Yes, both colours

Yes, both colours

Russia
Not ever available?
Yes, both colours

Yes, both colours
Portugal
Out of stock
Only black available
Yes, both colours
Australia
Out of stock
Only white available
Only white available
Finland
Only white available
Yes, both colours

Only black available

Ireland
Yes, both colours
Yes, both colours
Yes, both colours
India
Out of stock
Out of stock
'Page not available' (!!)
Norway
Only white available
Yes, both colours
Only black available
South Africa
Only black (ever?) available
Only black (ever?) available
Yes, both colours
Switzerland
Out of stock

Yes, both colours

Yes, both colours
* Notes:
By 'Out of stock' I'm paraphrasing messages on the relevant pages along the lines of 'Let me know when this comes back into stock' or 'Pre-order here' or (somewhat misleadingly) 'New! - Play video' - it's possible that in some markets the relevant models and colours were never available via the Microsoft site (i.e. direct) in the first place.
There were numerous Microsoft country sites where there's no indication of any 'Buy' path and it's hard to be sure that there ever was, i.e. they might have been informational all the time.
There were other Microsoft sites that simply link out to a number of third party sellers.
In most cases, in most countries then, it's still easy enough to buy one of the two Lumia 950 models and often in a choice of colours. However, there's enough 'red' in the table above to convince me that the lapses in availability are indeed due to winding down stock in most world markets. Even though here in the UK there's no sign that anything's 'wrong'. As mentioned in the notes, some Microsoft web sites either just linked to product video or other information (often with a big - if ironic - 'NEW!' flag) or to third party sellers (often Amazon) or even in some cases omitted all mention of 'Lumia' (and sometimes of 'Surface' too, mind you).
It's a patchy picture, but our hunch over the last year that Microsoft is heading for a 'Nexus' strategy seems to be the case. 'Nexus', as you'll recall, is the range of Google's developer devices that showcase the best of Android*, and I'd expect Microsoft to continue winding down Lumia stock through the rest of this year. By early 2017 there will be much more red in the table above, though of course there will always be resellers with some stock (at clearance prices?) plus the thriving second hand market. Microsoft is widely expected to announce a Surface-branded flagship phone ('Showcasing the best of Windows 10' etc.) to coincide with the release of the Redstone 2 branch of the OS in Spring 2017 - probably an aluminium unibody design with premium components and a premium price.
* Ironically, Google is about to drop the 'Nexus' name and is putting the new handsets (October 2016) under its 'Pixel' brand
There's still much to recommend the three Lumias above, of course, not least the cameras, which remain world beaters even a year after their launch. And with the ongoing march of Windows 10 Mobile as an OS and its UWP apps shared with the desktop, and with the flexibility of the hardware (replaceable backs and replacement batteries) there's no reason why a Lumia 950 or 950 XL shouldn't remain in happy service for a few years. After all, we still have many people with Lumia 830, 930 and 1520s contributing to the AAWP community and story comments. Heck, there are lots of people still with Lumia 640s and even (2013) 1020s!
Comments welcome - am I being too pessimistic or too optimistic? And how is availability of these Lumias where you live?