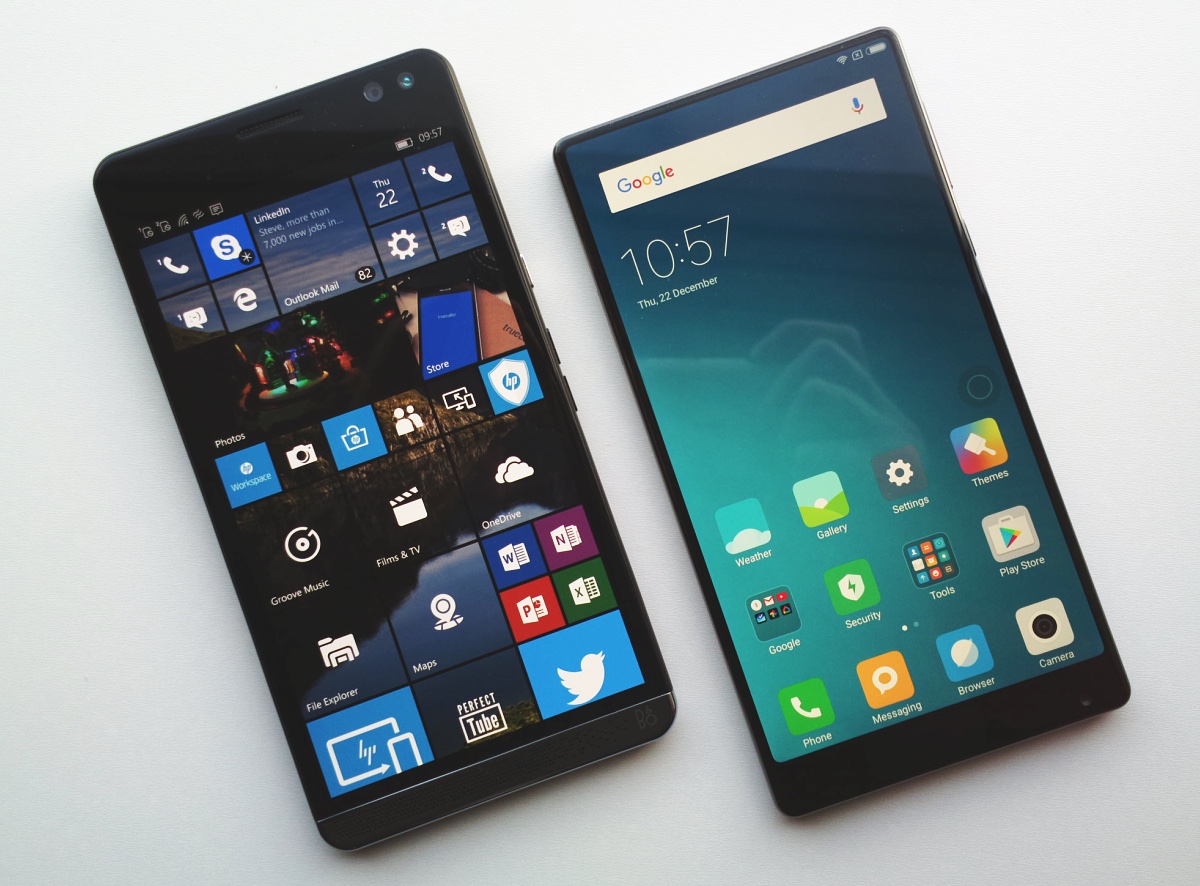 The HP Elite X3, of course, needs little introduction to anyone reading AAWP regularly. The X3 stands for '3 devices in one', i.e. phone, and then Continuum displays such as the Lap Dock (that's one) and a desktop monitor with keyboard and mouse (so that's another, the third 'device'). Which is pretty futuristic in terms of looking ahead to how phones might be used and connected in the future.
The brand new Xiaomi Mi Mix comes at the future from a slightly different angle. Here it's all about putting as big a screen as possible in your hand without compromising on physical form factor. So we get a 6.4"-diagonal display in a form factor that's smaller than the 6"-screened Elite X3. Plus features such as not needing an earpiece speaker - the whole phone body vibrates to produce sound into your head when on a call.
Away from their USPs though, there's a lot to compare directly - both very definitely come under the category of 'very interesting'. Each device, as usual, has its strengths and weaknesses. As usual, I've shaded in green an obvious 'win' for either device, I honestly have no idea which way this one's going to go (as I start to compile the feature)... Any row where a winner would be totally subjective is left uncoloured.
[By the way, if you're viewing this feature on an older Windows Phone then the table may well cause you problems. Try viewing in landscape mode? Failing that, go view this on a laptop or tablet and then roll on Windows 10 Mobile across the board on all the older phones!]
HP Elite X3
Xiaomi Mi Mix (18K Premium edition)
Date first available
September 2016

November 2016

Current price, availability
£700 (SIM-free in the UK, inc VAT - from Clove - and including Continuum Desk Dock and various adapters and cables). Other prices and bundles available, including with the Lapdock, but starting at about £630 inc VAT and rising to over £1000!
circa £900, SIM-free, from gearbuying.com, including leather case, but excluding any import taxes for your country (ouch!) In fairness, there's a cheaper variant with only 4GB of RAM, lower storage and no gold, at about £700. Again plus any import taxes.
Dimensions, form factor, weight

162 x 83 x 8mm, heavy duty plastic body and frame, 195g.

159 x 82 x 8mm, ceramic body with heavily polished exterior and complete oleophobic coating, 165g

Durability

IP67 for liquid and dust, plus mil-spec drop and shock resistance, thanks to the use of shock-absorbing plastics rather than metal. Gorilla Glass 4 for the display.

No quoted durability stats, so water-vunerable and very shock-vulnerable (all that glass and extremely brittle ceramic), plus it's the slipperiest phone I've ever held, so you definitely need a case all the time! 'Scratch-resistant glass' used on the display, but no Gorilla branding etc.
Operating system, interface
Windows 10 Mobile, (dismissable) virtual controls

Android 6.0 and MIUI (Global 8.0) with virtual controls, dismissable as needed with a swipe, similar to how it works on WP8.1 and Windows 10 Mobile
Display

5.96"

AMOLED QHD (1440p)

6.4" 17:9 1080p resolution, LCD, despite the lower resolution you have to give this the win, the larger display in the smaller form factor is the USP!
Connectivity

LTE up to 600Mbps, all world bands,

plus dual nano SIM (if microSD unused),

NFC,

Wi-Fi b/g/n/ac, integral wifi tethering, Bluetooth 4.2

LTE (some bands, China-centric, UK, European and USA users will have to live on 3G most of the time), NFC, Bluetooth 4.2, Wi-Fi b/g/n/ac, integral wifi tethering, dual nanoSIM



Processor, performance
Snapdragon 820 chipset, 4GB RAM, in theory very fast indeed - though there are still big optimisations to come when Redstone 2 hits in the Spring (2017) - the X3 currently isn't as fast as it should be.

Snapdragon 821 chipset

, 6GB RAM, very fast, as Android typically is, with minimal transitions. Have to give the win here on speed, despite the use of MIUI as a 'skin'.



Capacity

64GB, expandable via microSD up to 2TB

256GB, non-expandable. I can't believe such a spec doesn't win this row, but sealed is sealed, and a card-expandable architecture should always in.
Imaging (stills)

13MP (currently, ignore what you've read about 16MP) f/2.2, single LED flash, HDR shots, PDAF in theory, but waiting on a firmware update. Very decent shots in most light conditions, though ultimately limited compared to the industry leaders in the smartphone world. See here for my full Elite X3-Lumia 950 XL shootout, for example.

8MP front camera

16MP, f/2.0, Phase Detection auto-focus, dual LED flash, HDR available. Image quality is unremarkable in all light conditions, there's something very 'meh' about optics and sensor here. See here for my X3-Mi Mix shootout.

5MP front camera, a small sensor/component and unremarkable results

Imaging (video)

4K, digitally stabilised, with 'Best photo' 8MP grabbing built-in, plus stereo audio recording in theory (though limited to mono in current firmware)

4K video capture, no stabilisation. Audio is excellent and actually in stereo though - so hard to pick an overall winner here.

Music and Multimedia
Decent front-facing stereo speakers, though very weak in terms of bass frequencies (surprising, given the B&O branding, it's possible that there are optimisations yet to come). 3.5mm headphone jack
Decent mono speaker at the bottom of the phone, slightly higher fidelity than each of the X3's stereo affairs, but front-facing-stereo always wins in a fight(!) 3.5mm headphone jack

Navigation
Windows 10 Maps is comprehensive, has a degree of live traffic awareness, plus public transport. Includes full offline maps with automatic updates.
Google Maps and navigation isn't included out of the box, but it's a trivial install from the Play Store (in this International ROM) and truly excellent, with better offline capabilities in the last year, and with great live traffic integration and dynamic re-routing (which get it the win here). Oh and there's also HERE Maps, if the user knows to go look for it.
Cortana/Voice
Cortana is now mature and well integrated, and with a surprising degree of 'assistance'.
Google Now and voice queries are good and on a par with Cortana overall, if not superior. See my round-up feature. However, in this case, the Google Now assistant is only 'there' if the user knows to install it and then set it as the launcher. Maybe one step too far for the average user?
Battery, life

Sealed 4150mAh battery, gets through two days of use, plus standard USB Type C fast charging (up to 3A, though a 2A charger is what's supplied out of the box) and Qi wireless charging built-in.

Sealed 4400mAh battery, easily gets through a day, thanks to Android 6.0's Doze feature. USB Type C charging with Quick Charge 3.0 compatibility. Flexible and capable, though (unbelievably) there's no charger supplied - just a USB cable. No wireless options, despite the ceramic build.



Cloud aids
Windows Photos syncs across all signed-in devices, subject to your OneDrive tariff (which is tight for new users, meaning that they'll end up paying extra), should you have thousands of images in the system. Plus Windows 10 backs all your media, application data and settings to a separate backup folder system, tariff-free on OneDrive.
Again, once the user has sought it out and installed it, Google Photos syncs across all Android devices, with genuinely infinite storage (with an allowance for recompression/optimisation by Google)
Biometrics
Iris recognition ('Windows Hello') works well unless you wear varifocals(!), but takes a few seconds in real world use, while the fingerprint sensor on the back is quicker and easier most of the time, to power the screen on and authenticate. Good to have a choice though.

Fast fingerprint scanner on the back works well too, also powering on and authenticating at the same time.

Applications and ecosystem
Windows 10 Mobile now has just about every mainstream app covered, aside from Snapchat and Tinder. Niche/boutique apps are often an issue, though... Also anything to do with Google services!

Plenty of Xiaomi application replacements for the Google originals and you can't delete these, so there's quite a bit of dodging around and timesome set up time on the homescreens. However, third party apps are fully covered, from A-Z, these days.

Any

application of

any

significance in the mobile world is available for Android.



Business extras

Continuum connectivity to use external displays as secondary screen, independent of the phone display (with full universal application resolution handling) - Desk Dock, Lap Dock and anything Miracast-enabled. HP Workspace commercial system for running Win32 applications when hooked up.

None, though the large 6.4" screen would work particularly well with a compact Bluetooth keyboard and the Google and Microsoft office applications, grabbed from the Play Store.

Upgrades and future
Windows 10 Mobile will be updated through 2017, of course, as part of the global Windows 10 ecosystem. Production devices can expect updates every few months, Insiders every few weeks. The X3 is part of the Insider program if needed.
Uncertain - Xiaomi update their OS variants regularly for the Chinese market, but updates to the International ROM aren't as frequent or as reliable. Plus you have to figure that there's a lack of quality control in this department. Unbelievably, the UK and USA were missing from the set-up wizard. Every other country in the entire world was present, so I ended up pretending I was in Spain!!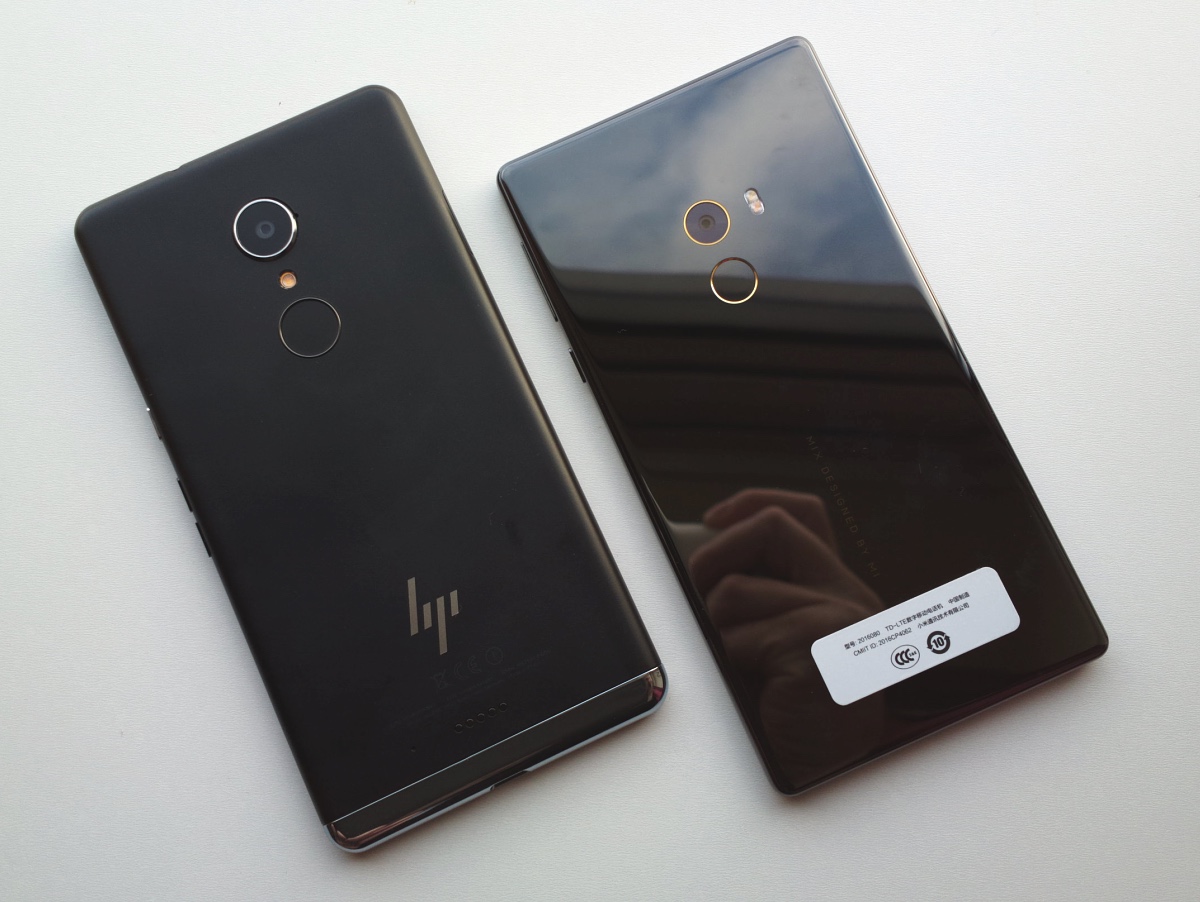 Verdict
The green 'wins' come out at an 8-5 victory to the HP Elite X3, which feels about right. The Mi Mix's huge USP is the display, but away from that there's a lot of 'meh' and a lot being required of the user, not least faith that updates will be forthcoming through 2017.
Both phablets are futuristic, though in different ways - the HP Elite X3 will appeal to someone wanting to extend the phone with Continuum displays and the Lap Dock, i.e. going way beyond what a mere 'phone' should be capable of by itself. While the Mi Mix is a slice of the future, albeit with plenty of real world compromises in 2016.