Autumn is a wonderful season for shutterbugs - green leaves turn brown/copper/red and the entire landscape changes colour over a couple of weeks. In the UK, it's often raining as well, which puts a damper on things, but occasionally the sun comes out or it (at least) brightens up a bit and then you'll find me outside getting some fresh and looking for ways of capturing the season in a suitable snap on a phone camera.
In this case it was the HP Elite x3, running Windows 10 Mobile, but the exact smartphone camera doesn't matter that much, as long as there's sufficient resolution and dynamic range. The Elite x3's camera is now surprisingly good, as I found out here.
As I strolled along in bright Autumn conditions, I was struck by the tree shown below - yes, it really was that colour, this isn't a HDR shot and there aren't any alterations: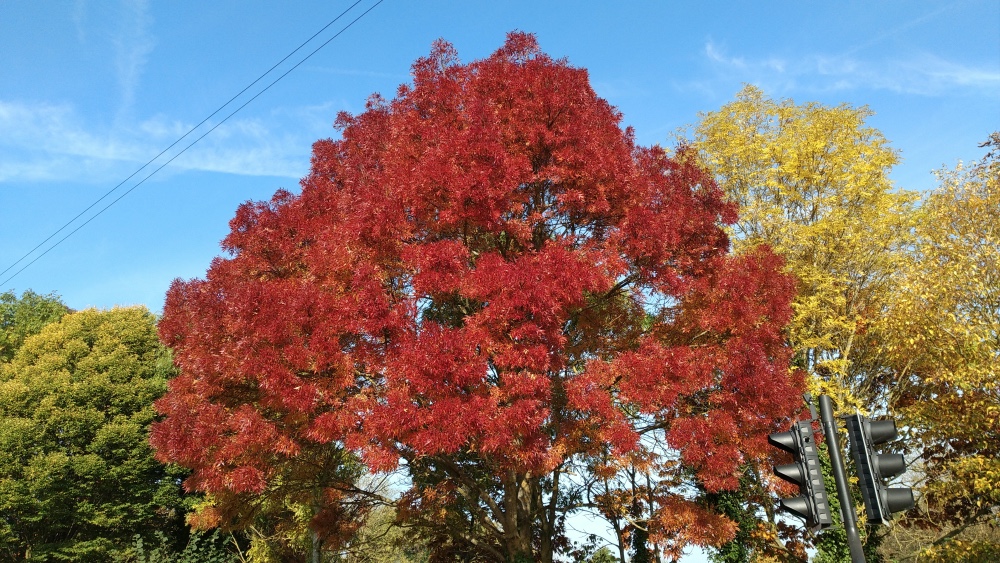 Simply amazing, and a nice shot (not that anyone will believe the colour!) But, continuing on my walk, I decided I wanted to try something with real detail, i.e. a macro, i.e. fallen leaves on the ground. I had a few attempts, crouching right down on the ground and tapping on the subject on the Elite x3 screen, to ensure an accurate focus: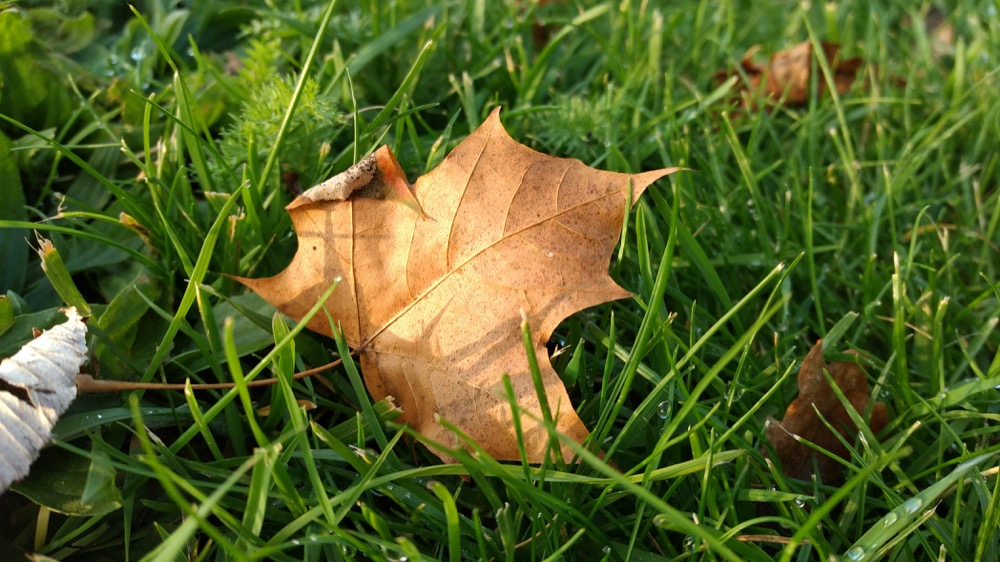 Arty enough, but a bit underwhelming and very simplistically framed. I found a patch with lots of fallen leaves and tried that instead: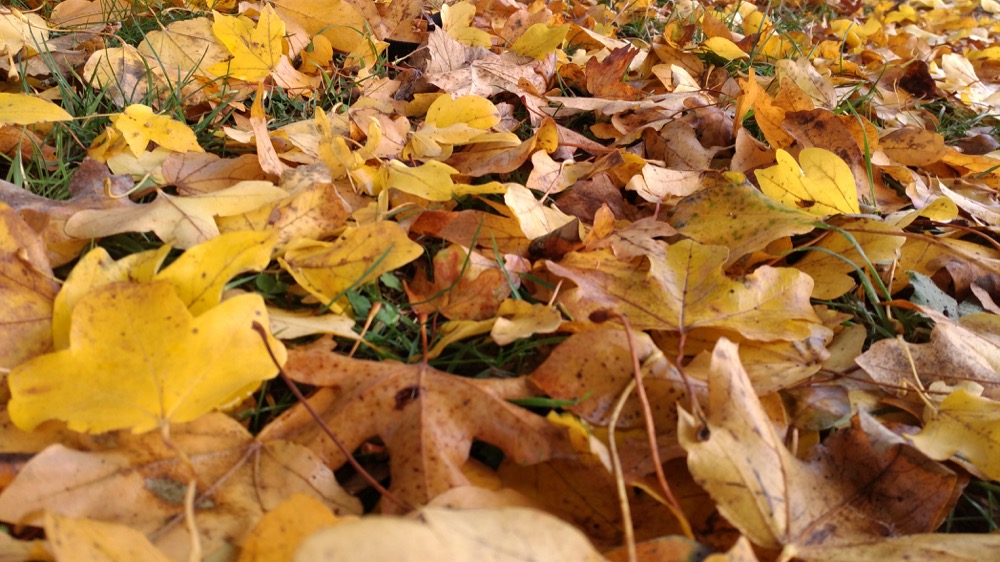 So far more of a sense of the season, but it's obviously hard to know what to do with focus, the depth of field at this distance produces a little 'bokeh', though not enough to make its effect obvious. Plus the sheer amount of leaves reduce the impact - the eye just doesn't know where to start looking!
My third attempt was more successful though, picking a particular multi-faceted leaf with its folds reaching upwards to the sky and surrounded by just a few other leaves for atmosphere. Again, I was able to focus accurately because of the single subject, positioning most of the leaf on the 'one third' line from the left of the frame and letting its stalk extend to the right hand 'third' line, etc. I kept it central vertically and I think the framing works well: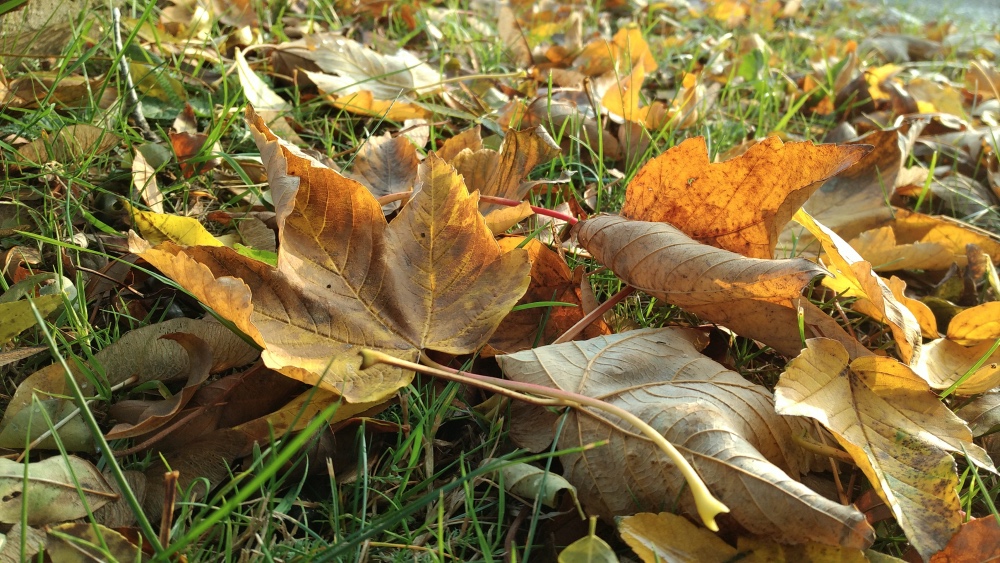 I was very pleased with this, though even with some weak sun filtering in to bring out the colours, the scene still didn't live up to my memory of reality, let alone my vivid memory of the original tree, a mile back on my walk.
Which got me wondering about how much I was allowed to 'cheat' here? The above shot is still a lovely piece of Autumn artwork and will do as a finishing point (you can click it to download the original if you like), but what would happen if I tweaked the photo's hue in an image editor? I use Seashore on a Mac and cycled the 'hue' 5% towards red, with the resulting photo below: (again, click it to see it at full resolution)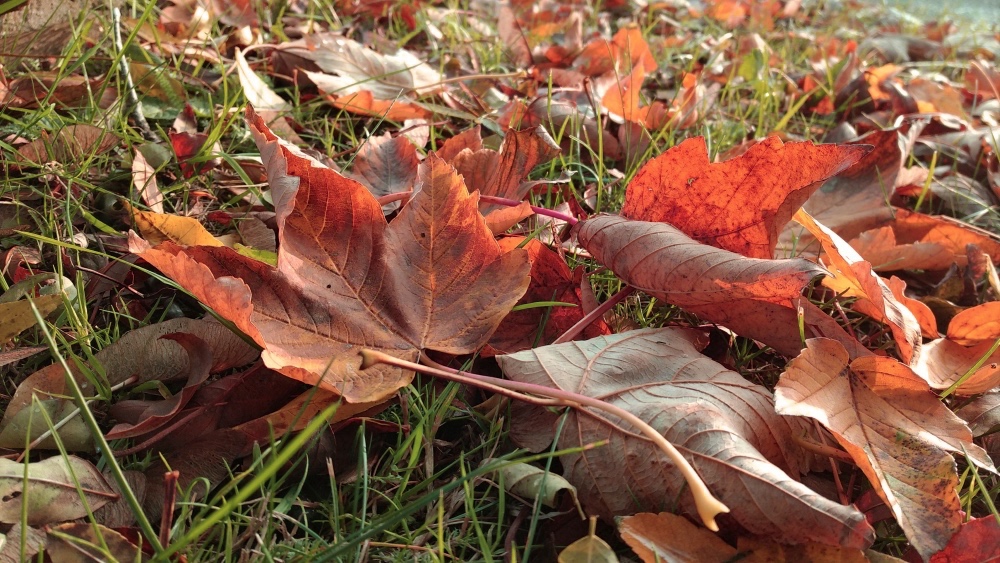 Yes, it's a fair cop, the colours here aren't 100% accurate, but the photo is wonderful. Does it matter that I cheated? I suspect I'll see a 50:50 split in the comments below - and I guess each faction that take home the image that they prefer and each be just as happy(!)
As before, the idea here is to give you a glimpse into my thoughts and actions in getting to a smartphone-shot photo that I'm really happy with - if this helps anyone else then the feature has served its purpose.
I'll have more in the series in due course, I'm aiming to do one every few months.