Let's backtrack over what we know about Microsoft's first party hardware plans. Having withdrawn from the original low end consumer marketplace so beloved by Nokia (and just as well, to be honest, since Android handsets are killing it in the £100-£200 space these days), the higher end Lumia 950 and 950 XL got lost in cross-fire, with factories being closed or sold. Leaving something of a vacuum, which HP, Alcatel and others aren't doing very well at filling so far.
Microsoft has consistently said, however, that it hasn't given up on mobile, as evidenced by the continued emphasis on keeping Windows 10 Mobile (both production and Insider builds) bang up to date with Windows 10 generally (it's not hard, given the shared OneCore, but it still requires manpower for testing etc.) The official line is that the company doesn't want to jump into first party hardware again until it can differentiate from the ubiquitous 5"-5.5" touch slabs that make up the bulk of the phone market these days. Either in form factor or functionality or, ideally, both.
Which has had concept artists and enthusiasts dreaming and sketching for the last six months at least - what's the next step in 'mobile'? Where will Microsoft differentiate?
It's something of a given that whatever Microsoft's Surface division comes up with in the mobile space won't be cheap or aimed directly at consumers. Enthusiasts and professionals, absolutely, but not Joe Average in the High Street. The rest of the Surface line is about increasing productivity, about letting us do more wherever we are, whether it's Office or email or media creation - and the phone side of things will be no different.
At which point, here's the first of Bartlomiej Tarnowski's concept images (again, these are from late last year, but we've never talked about them before and now, armed with extra information on Windows 10 and its ARM future, seems a very appropriate time to expand on what a Surface Phone might really bring to the table.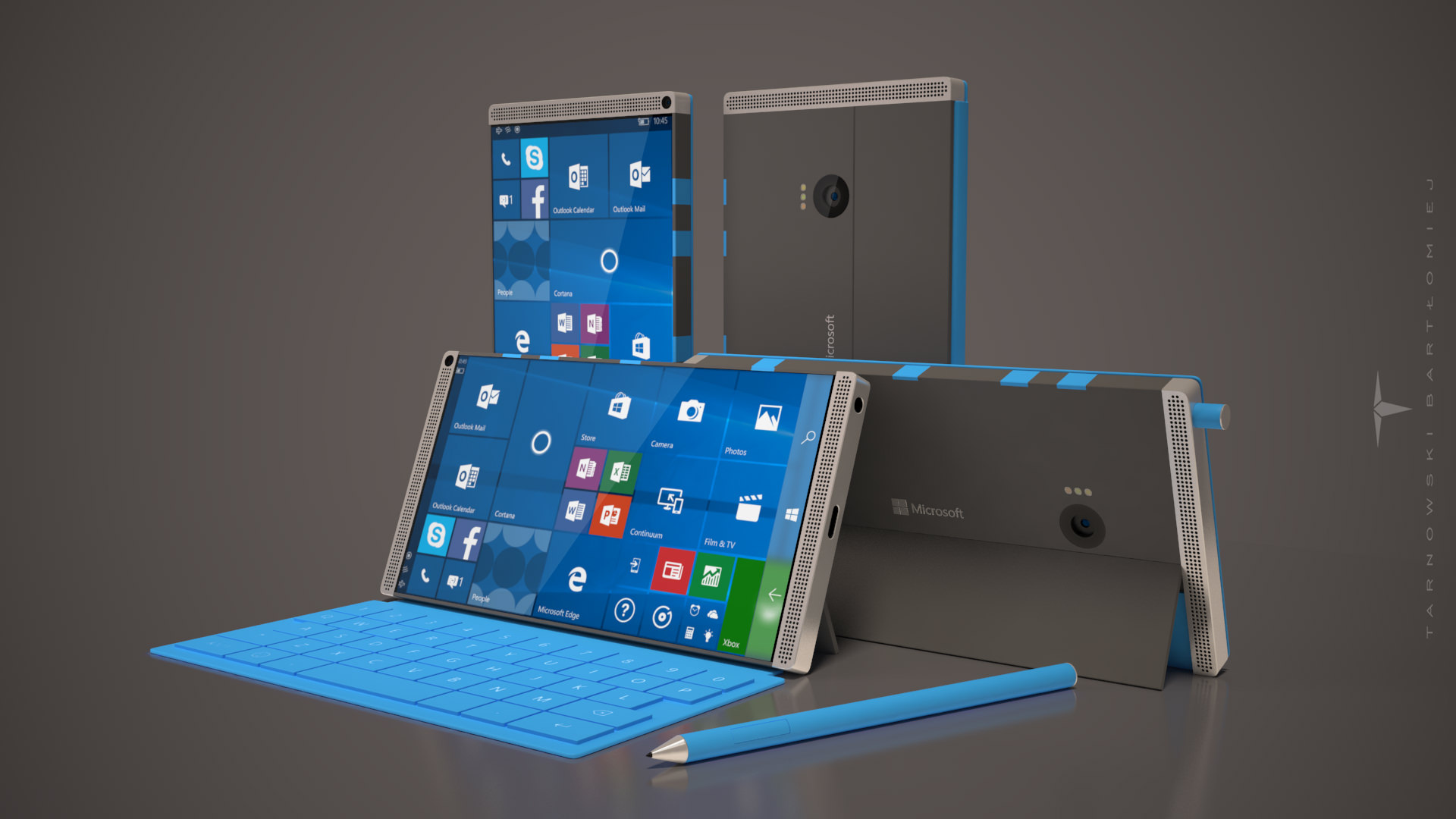 There's a lot here that rings true, so let's take it one bullet point at a time:
The display will be in the region of a 6.5" diagonal - this sounds large, but consider the tiny side bezels - and 2017 flagships from Samsung are now exceeding 6", with similar philosophy. We really are in an era when a large phone (phablet) is considered eminently practical as long as there are enough benefits. And here you'd have more screen real estate for documents and communications, more pixels for graphics, more display for media consumption (or games - all work and no play, etc.)

The Start screen will work in both portrait and landscape modes - if anything, the 'home' mode will be as shown here and then tiles will dynamically re-arrange when the Surface Phone is rotated into portrait. Having the Start screen in landscape is vital for the idea of a Surface Phone 'changing the game' - the device is as much a 'Surface mini' and the first thing you think of when you look at it is a mini-laptop/hybrid rather than an iPhone-esque consumer slab.

The keyboard, set into a folio cover, looks stunning and achievable. If you think it's too small to type on then I refer you to the likes of the new GPD Pocket PC or indeed the Indiegogo Gemini. With no extraneous keys either side of the Q-P alphanumeric grid, such a keyboard on a 6.5" diagonal phablet should be at 85% (or so) of 'full-size' and eminently usable.

The Surface Phone concept here is propped up with a kickstand in exactly the same manner as the Surface Pro hybrids - essentially a thin flap that fold out from the back of the device - would this be strong enough on such a miniature scale? I'll give the idea the benefit of the doubt.

In terms of materials, an aluminium unibody is used here, with typical squarish profile, beloved of Microsoft - it's a shoe in that any Surface Phone would stick to the materials and design cues of the larger hybrids.

Large grilles either end would be for front-facing stereo speakers, as on the HP Elite x3 and IDOL 4S Pro - hopefully whatever components Microsoft plumps for will be up to these levels, and certainly a cut above the mono efforts on the old Lumia 950 and 950 XL.

An electronic stylus is shown, with storage hole on the top of the phone - I can't imagine more than a small fraction of Surface Phone buyers doing much with such an accessory - this is no 12" tablet! Hopefully this will be omitted for a real device!

Soft touch controls are shown on the phone's sides - I'm not convinced that this could happen, though if it did then this would be yet another differentiator from the rest of the market.

A USB Type C port is shown for data and charging and this is a given too. It would have either 3A 'Power Delivery' or Qualcomm Quick Charge 4.0, meaning that wireless charging would be less necessary - just as well given the aluminium body!


A headphone jack is shown - at the bottom. A Surface Phone, as a device with business uses, needs a jack, for when an audio feed is needed, for example during a presentation (in case Continuum itself wasn't sufficient).
The artist did include several vantage points for his design, here's another of the concept images, this time from the rear: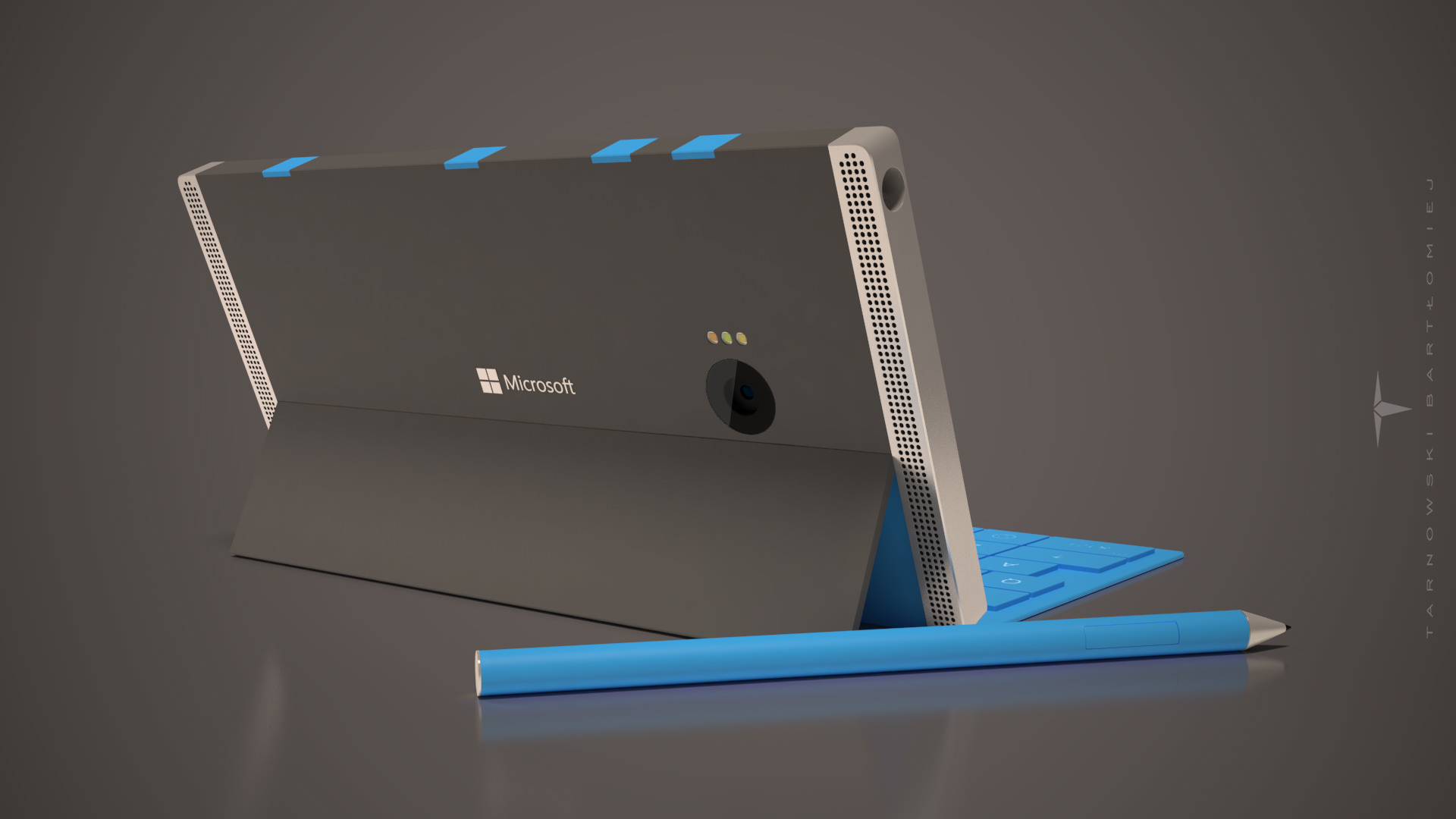 The kickstand is again shown, though it'll be much harder to engineer robustly in practice on this scale.

A PureView-like camera is shown and there's no reason why the exact same imaging hardware as on the 950 XL couldn't re-used. There would be next to no R&D needed and the 950 XL camera is still just about the best in the world. Plus, as with the Elite x3, there's no need to have an outrageous camera on a productivity and business-focussed tool. A triple LED flash is shown, again as on the 950 XL.

The rear also shows the speaker grilles - the Alcatal IDOL 4S Pro, also running Windows, has a similar arrangement, i.e. sound gets emitted front and back, though I'm not sure it's needed here on a non-consumer Surface Phone.

In terms of internals, the Snapdragon 835 is certain, maybe even an 836 (etc.) by then, probably allied to 8GB of RAM.
With these specifications and build materials, all of this isn't going to come cheap. I'd guess at a £899 RRP launch price in the UK in 2018, including the folio keyboard cover. But by then we'll have seen the first £1000+ iPhones and these prices won't be quite so shocking, especially for business users (most of whom can get the VAT back anyway).

The big question, of course, is what branch of Windows 10 such a Surface Phone would be running. It's becoming increasingly clear that Redstone 2 (out shortly as the Creators Update) and Redstone 3 (out in the Autumn) are aimed - on the mobile side - at existing hardware, so mid-to-top end Lumias and third party devices like the IDOL 4S Pro. And at keeping Microsoft's hand in as it prepares for the next evolutionary 'leap'.
Such a leap would happen with 'Windows 10 on ARM', effectively the core of Windows 10 Mobile today, and still on ARM but with a new adaptable shell (i.e. front end UI) and with (UWP-wrapped?) Win32 emulation in software when a device is hooked to a large enough display and peripherals. It would make perfect sense for a 'Surface Phone' to arrive with this baked in, so we'd be talking spring 2018 and 'Redstone 4' (or whatever Microsoft calls this next step in its Windows development).
I don't think I'm being over-optimistic either - if I'd wanted to push the boat out in terms of timing then I'd have guessed the above would be possible in the Redstone 3 time-frame. But that's not going to happen.
Microsoft's vision for a Surface Phone is to introduce what is effectively a whole new class of portable device. A full PC in your pocket that can also look and feel and behave like a phone. Yet hooks up to Continuum displays and other peripherals to run Win32 applications and desktop services directly. Or you can just use it as is, as shown here, as the smallest and most powerful laptop/netbook ever?
Comments welcome on my speculations!