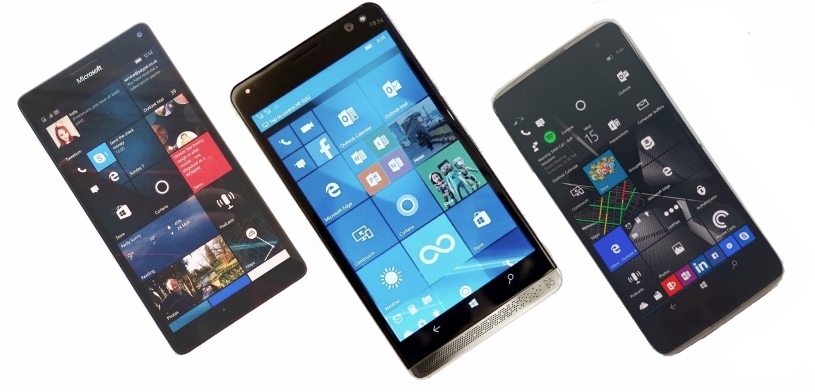 Let's start with a thought experiment. You're a Lumia 930 or 950 user, say, you've watched Microsoft's apparent retrenchment from the consumer world throughout 2016 and up to today, mid-2017, with growing sadness. Where's the next-gen Microsoft mobile flagship, running its own OS? Where's the 'Surface Phone'? And so on.
Yes, there's the demonstrably imperfect HP Elite x3 - it's available if you look hard enough, it's tough and functional, but only at high 'business' prices (think £690 in the UK still, a year after launch) and its much vaunted B&O speakers are hugely disappointing.
But what if I told you that Microsoft had just launched the Lumia 850? Or perhaps that should be 'Surface 850', or similar? What if I said that it came with Windows 10 Mobile Creators Update out of the box, was guaranteed two years of updates, until July 2019, what if I said that it was a premium metal build with fast fingerprint scanner, Snapdragon 820 chipset, 4GB RAM, 21MP camera and two stereo speakers that would blow your eardrums? And all for just over £400 in the UK (and equivalent elsewhere)!
You. Would. Bite. My. Hand. Off.
So, the Alcatel IDOL 4 Pro isn't made by Nokia or Microsoft and it comes in via TCL, the Chinese OEM, but it does represent (with the sole exception of imaging) a significant spec and build bump over anything Nokia and Microsoft have made, yet it doesn't cost the earth. In July 2017, to have such a device enter the ecosystem in Europe is noteworthy, to say the least, and I can't understand why more enthusiasts aren't getting excited about it.
I get the arguments against this new handset:
The Snapdragon 820 is a chipset from last year
The 1080p display is distinctly mid-range by 2017 standards
The camera may be good but it's not going to get near the mighty Lumia 950 range
The exact same handset was available late 2016 in the USA under the cumbersome name 'Alcatel IDOL 4S with Windows 10' (see our review coverage), so why the heck has it taken so long to get this 2016 quasi-flagship to market in Europe?
This version doesn't have the free VR visor that shipped with the USA variant
It's £420 when the equivalently specced Android smartphone is at least £100 cheaper
All good points, though I'd counter by saying that the Snapdragon 820 is still very speedy and absolutely not 'old', unlike the Snapdragon 808 and 810 chipsets in the Lumia 950 range. And 1080p is fine for most people, even at 5.5" here, most media is at 1080p still (max) and most users still can't tell the difference between QHD and 1080p. The VR visor that shipped with the USA variant was nicely packaged, but you can get the same thing for £15 online these days and anyway there's very little VR content explicitly for Windows 10 Mobile, so no great loss there.
You got me on imaging, but I'll reserve final judgement until I've put the phone through its paces intensively. And price is a red herring, it's comparing apples to oranges, the Windows 10 Mobile ecosystem is heavily desktop/laptop/Xbox/hybrid-slanted in terms of hardware launches and a new handset with even halfway cutting edge specifications in mid 2017 stands out a mile, whereas it would get lost in the massivly over-populated and competitive Android world.
Sidenote: Almost the exact same hardware (with QHD screen but minus 32GB of storage) is made by the same company under the Blackberry brand - and the DTEK60 is £55 more expensive. In this case, you're paying extra for the brand, but it does put the £420 of the IDOL 4 Pro into better context.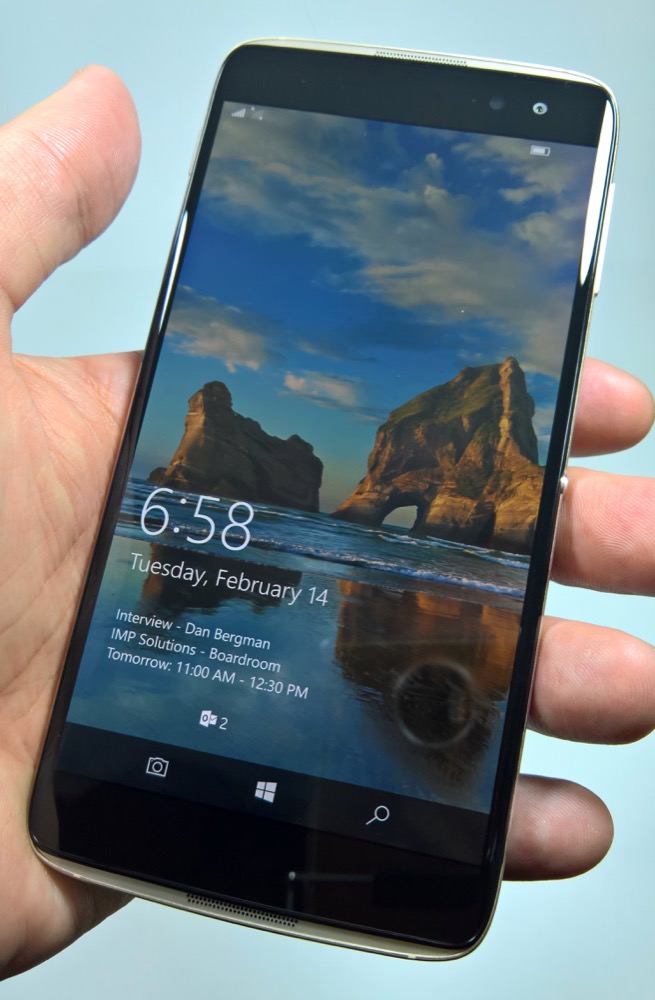 You can see where I'm going with all this, can't you?
Let's try a second thought experiment. You need something to replace your ageing Lumia 930/950 (again, etc.) and you've been eyeing up the HP Elite x3 - for the last year. My review parts (here's the summary) put you off slightly, the continued high price has been putting you off even more. So now let's take the same premium build but slightly more pocketable, let's put in the same Snapdragon 820, the same 4GB RAM, a better camera, let's put in far, far better stereo speakers and only compromise on a couple of things - that 1080p screen and no official waterproofing, but - get this, let's price it £250 lower.
Again, sounds like a slam dunk, doesn't it?
Hopefully you're going along with me on all this. Yes, my interest in the IDOL 4 Pro is partly that there's precious little other new hardware to get excited about in the Windows 10 Mobile world, but that's also my point. The IDOL 4 Pro stands out - never mind that it could have been here six months earlier, maybe the fact that it launches with Redstone 2/Creator's Update, which is smoother and faster, will end up being a benefit? Plus Alcatel will have had six months to get the firmware and imaging all fixed up.
I've delved into the various Windows 10 Mobile 'flagships' before in terms of raw specs comparisons, and I make no apologies for largely copying and pasting my own hard work from a previous feature, in table form below, with updates for 2017 and suitable tweaks.
[I can't really avoid a table here, but I've kept it as narrow as possible - if you're viewing on a phone screen then you'll definitely want to try it in landscape mode! As with other features, I've marked out obvious 'wins' in green]
Lumia 950 XL
HP Elite x3
Alcatel IDOL 4 Pro
OS
Windows 10 Mobile

Windows 10 Mobile

Windows 10 Mobile

Price now in UK

Largely unavailable

£690 inc VAT

£420 inc VAT
Construction
Polycarbonate,
back shell is replaceable
Polycarbonate,
sealed

Aluminium chassis,
glass front and back
Dimensions
152 x 78 x 8mm, 165g
162 x 83 x 8mm, 195g

154 x 75 x 7mm, 152g

Chipset
2.0GHz Snapdragon 810
64-bit octacore
'Liquid cooling'
2.2GHz Qualcomm Snapdragon 820
64-bit quad core

2.2GHz Snapdragon 820




64-bit quad core



GPU
Adreno 430
Adreno 530

Adreno 530



Connectivity
LTE


Dual SIM option


NFC
LTE
plus dual SIM (if microSD unused)
NFC

LTE




NFC



RAM
3GB
4GB
4GB
Display
5.7" AMOLED QHD (1440p)
ClearBlack Display
Glance screen
Gorilla Glass 4

5.96" AMOLED QHD (1440p)
Gorilla Glass 4

5.5" AMOLED 1080p


Dragontrail Glass

Storage
32GB, plus microSD
64GB, plus microSD
64GB, plus microSD
Camera
20MP, PureView with
oversampling down to 8MP
1/2.4", f/1.9
PDAF
Fifth generation OIS
Triple LED flash
4K capture
Dedicated capture key
16MP, f/2.0
1080p capture
Single LED flash
4K capture
21MP, f/2.2
PDAF
Dual LED flash
4K capture
Front camera
5MP

8MP



8MP
Cabling
& charging
USB Type-C (up to 5Gb/s)
USB 3 standard

power delivery


Qi wireless

USB Type-C (up to 5Gb/s)




USB 3 standard power delivery




Qi and PMA wireless

USB Type-C


USB 3 standard

power delivery



Battery
3300mAh replaceable
4150mAh sealed
3000mAh sealed
Speaker
Rear-mounted, mono
Front-mounted, stereo
Bang & Olufson branding

Front-mounted, stereo


JBL-branded
Biometrics

Infrared iris-scanner (slow)

Infrared iris-scanner (slow)
and fingerprint reader (fast, back)

Fingerprint reader (fast, back)

Durability

No special certifications,


but back comes off for
easy access to components

IP67 liquid and dust, shockproof

No special certifications



Other

Continuum-ready
Microsoft Display Dock
available

Continuum-ready

Several dock options available,
including HP Lap Dock, at high price

Continuum-ready

No official dock, but works
with others from Microsoft/HP
Adding up the green 'wins' gives 3 for the Lumia 950 XL, 8 for the Elite x3 and 7 for the IDOL 4 Pro. But the question here is whether the extra 'win' is worth another £250 in price?
Comments welcome. Do you agree that the new Alcatel IDOL 4 Pro is worth seeking out (currently in the UK, Germany and France) if you like Windows 10 Mobile and were just waiting for something more modern in terms of hardware? And will the slight downgrade in imaging be a problem for you?
PS. I'll do a full AAWP-style review of the IDOL 4 Pro when it arrives - it should be in the office before the end of the month (July 2017).
PPS. Thanks to Anthony Fear for his photos here.