* The version of Maps needed, v5.1708.2273 or higher, is on my Insiders Release Preview-running Lumia 830 and 930, and this should roll out to production Windows 10 Mobile users very shortly. For some inexplicable reason, Microsoft isn't making the latest version of this core application available to Fast ring Insiders. Oh well. At least you know the version number to look out for now!
The basic transit route planning has been available for ages, of course, even if readers in some countries will now pop their heads about the parapet and proclaim that the actual transit data in their area is rubbish or, in some cases, missing. This is a data issue, not code, though - and it all works perfectly where I am, in the UK, so....(!)
The big improvement for this version of Maps is that pubic transit stops are now 'tapable'. In the example here, I've tapped on the blue train/bus terminal icon pair (Winnersh Triangle Station) and a new 'tab' opens up with:
summary information about the place
a shortcut to 'Directions' to get to it
control to refresh the live information
control to pin this transit terminal to your Start screen
live departures with destination, time to departure - tap on each to see further timing details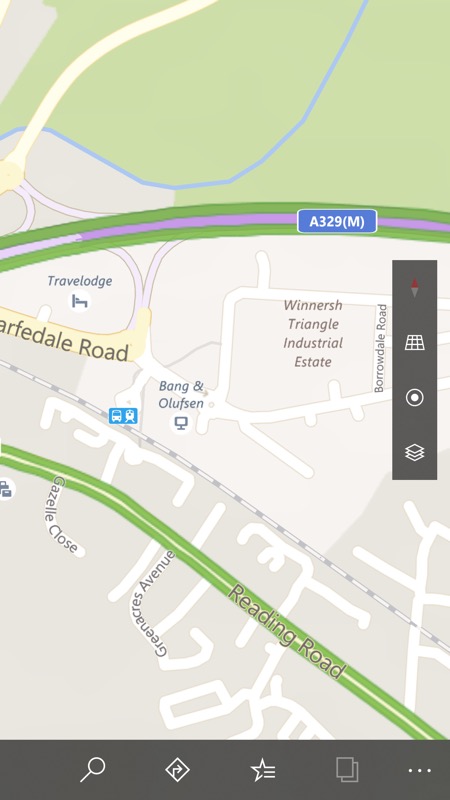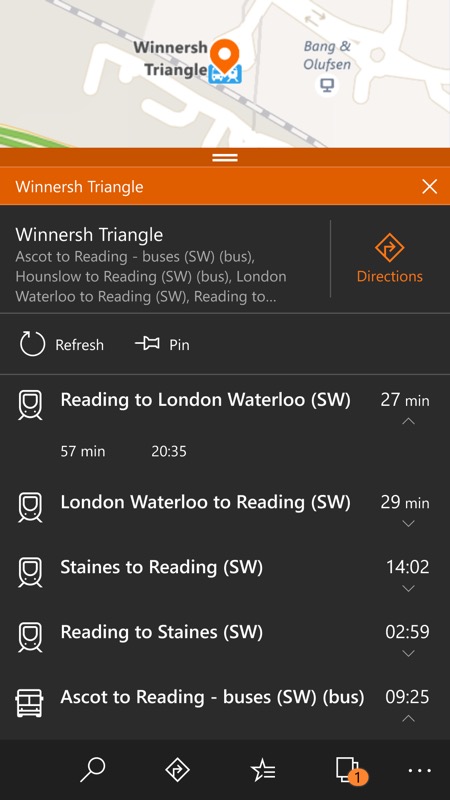 This is quite a quiet line and I am screenshotting this on a Sunday evening(!), so let's try the nearest big station/terminus, Reading: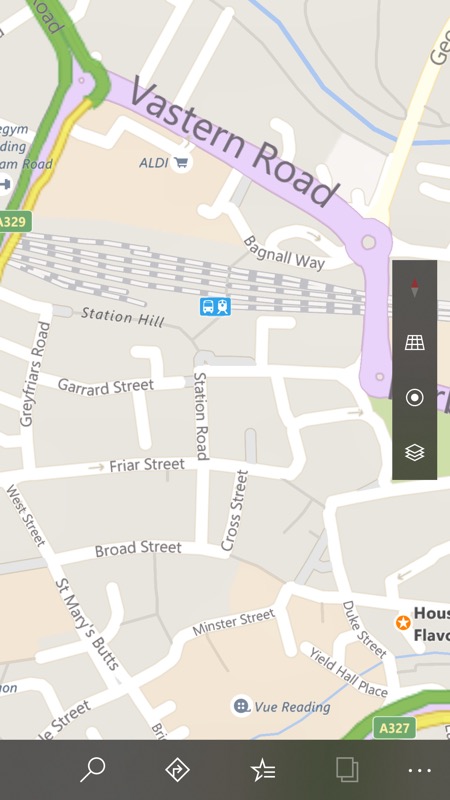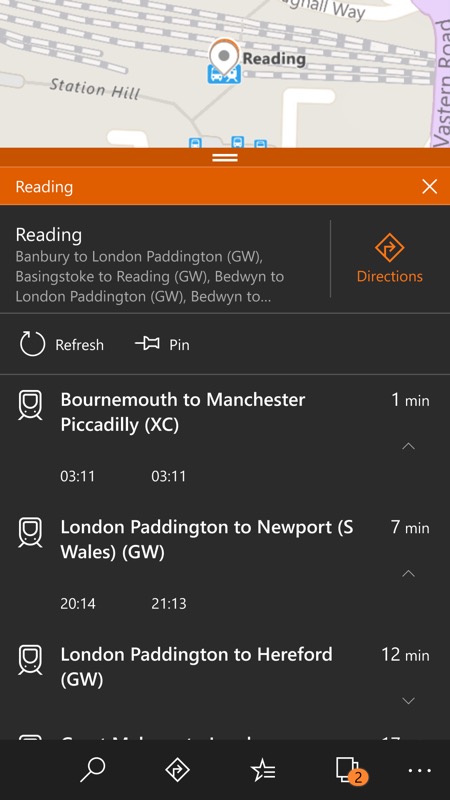 For a busy station, the departures from your tapped transit point start to become much denser, but always clear and always presented in reverse chronological order, i.e. the soonest trains/buses are shown first.
Note also the split screen approach, with the map portion auto-centring on the transit point that you tapped on. And when you're done with the information, just swipe down to minimise the tab or tap on the 'x' to get rid of it completely. All rather elegant.
The option to 'pin' a transit stop or station to your Start screen is interesting, though don't get too excited - they're handy shortcuts to each transit starting point, but the tiles aren't 'live' (showing departures would be very cool, Microsoft, how about it?) and you just get a list of common destinations for smaller stations and just the transit name for larger stations (as the 'list' would be far too large):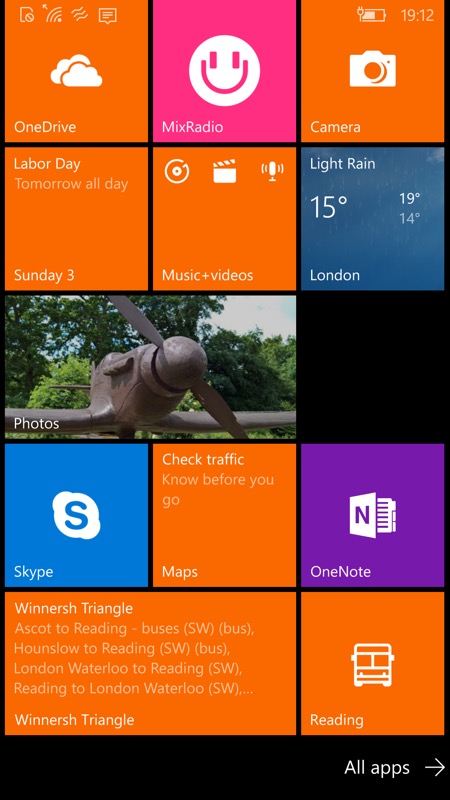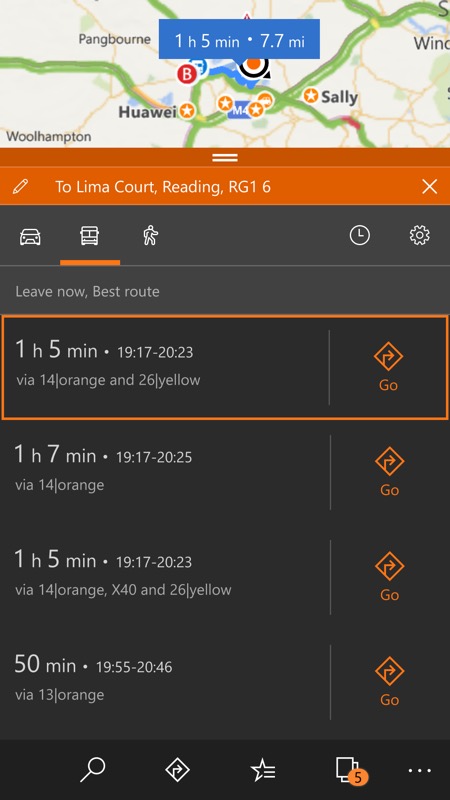 Routing via public transport works as well as it usually does - this bit isn't new, but I thought it worth showing above, right. Not shown but worth highlighting here is that the instructions for each public transport are rather good, right down to "If you see the xxx stop then you've gone too far" and other anecdotal help. Impressive.
Having tappable transit stops is genuinely useful in the real world. For example, we have two bus stops near us, on opposite sides of the road, each serviced by one of two buses going clockwise or anti-clockwise around a big suburban route. We're not halfway round the 'circle' either, adding a degree of asymmetry. And I can never work out which one will be the best to get in order to get to the nearest big town, 'Reading', in my case. Which side of the road do I stand and wait?
The new functionality solves the problem, since tapping each stop in Windows 10 Maps shows the next expected arrival and when it will get me to my destination: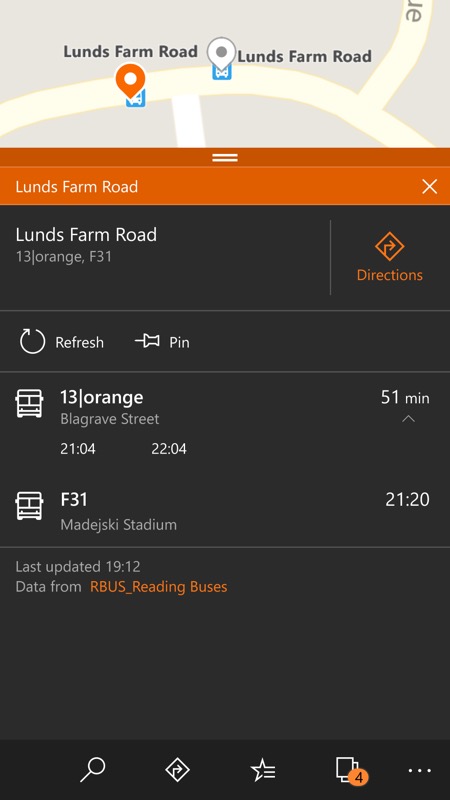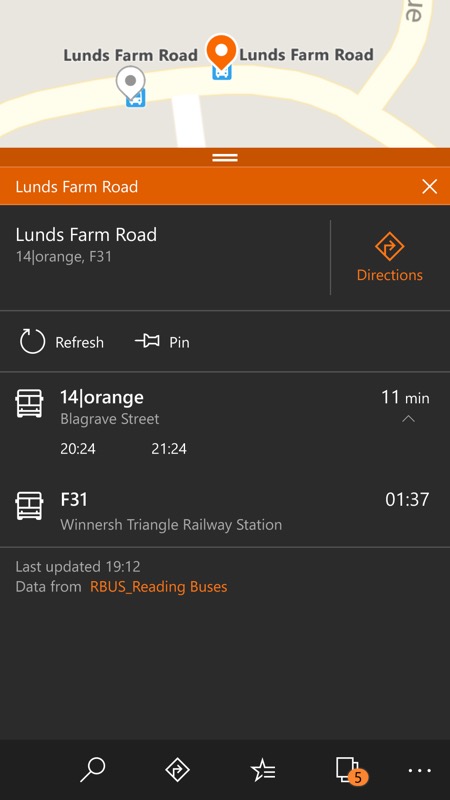 So in this case, the no. 14 is the one to go for, with an arrival in 11 minutes and getting me to my eventual destination (one bus ride and one walk away) by an estimated 21:24.
Thanks Windows 10 Maps, this is a really useful real world function. This version of Maps is already available to all Lumia 830, 930, 1520, etc. on the Release Preview Insiders ring, the recommended way to get these phones on the latest Redstone 2 (Windows 10 Mobile Creators Update), and to any other phones on this ring, though I expect it (Maps v5.1708) to roll out in the Store for all production status (Lumia 650, 950, etc.) handsets too, imminently.
Comments welcome, how happy are you with the transit functions in Maps where you are, and have you snagged this update yet?
PS. See also my report on traffic-aware car routing in Maps - and the workaround to get it working!
PPS. See also my tutorial on planning a multi-destination route