I should preface this feature comparison by saying that I'm using the newish Alcatel IDOL 4S/IDOL 4 Pro as my test-bed. Anyone with a Lumia 950/XL is best off using the default Windows 10 Camera, since it ties into the oversampling hardware best (in my opinion), though most of the extras mentioned below also work on the 950 range. Any lesser Lumia phone is also best off sticking with Windows 10 Camera, since you're probably not too bothered by imaging in the first place?
Anyway, some notes below are specific to the Alcatel phones, but don't let that put you off, since the vast majority of features and options apply for these applications on any Windows 10 Mobile-running devices.
Let's start with the UIs of the three contenders being considered here: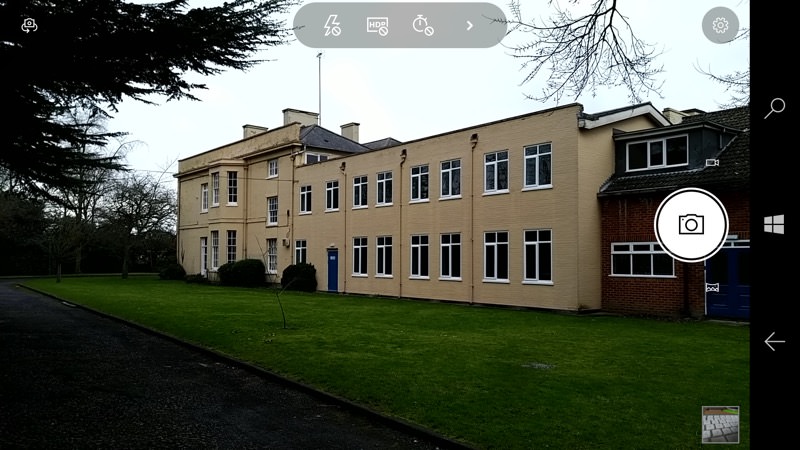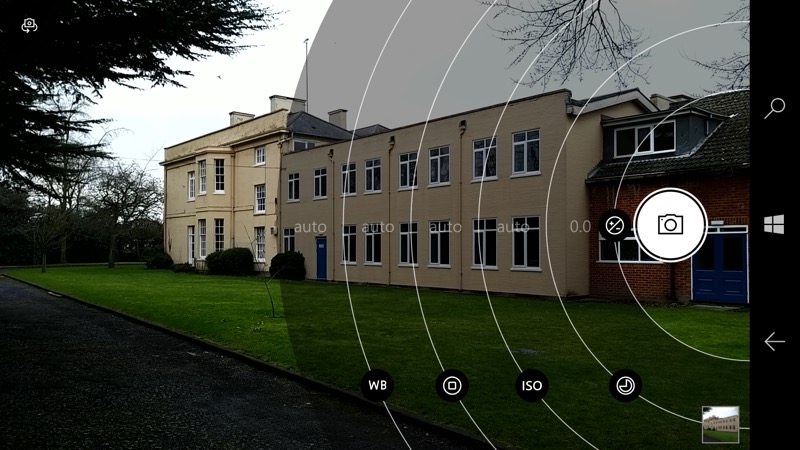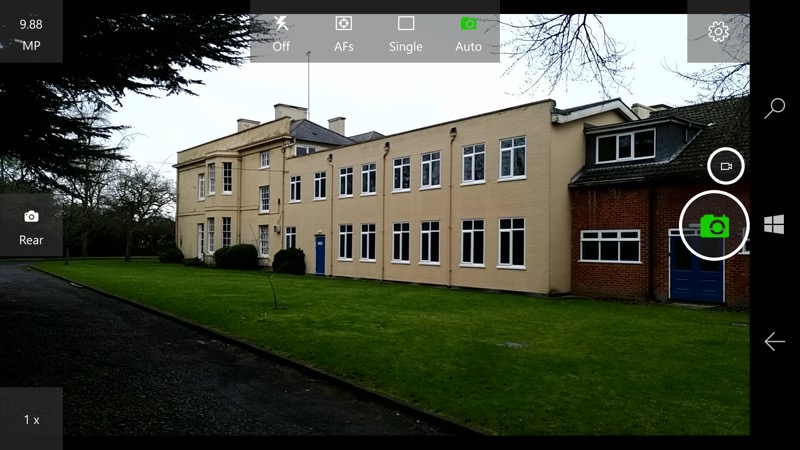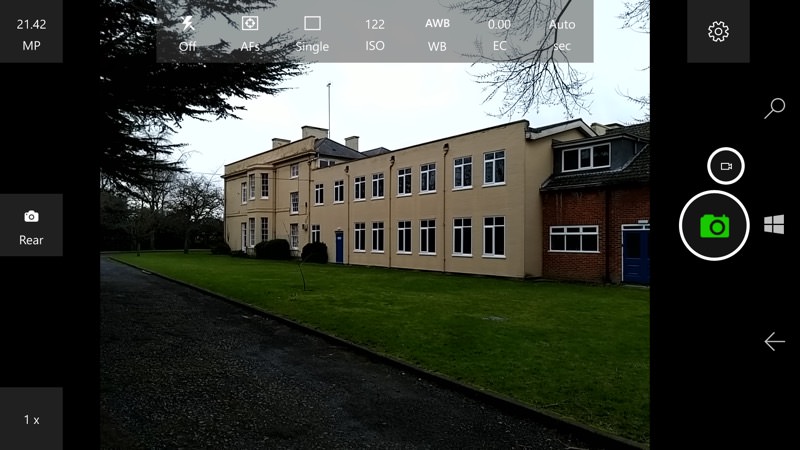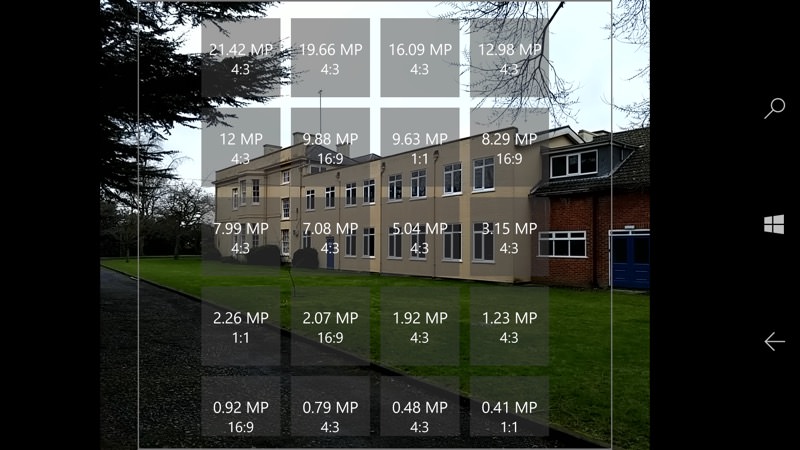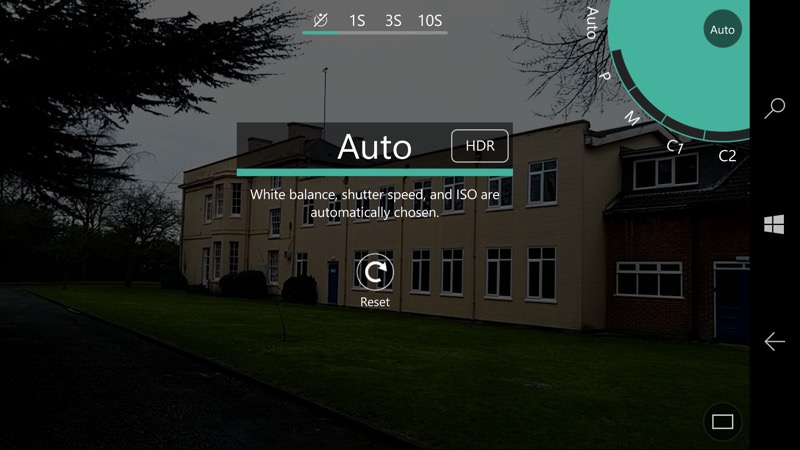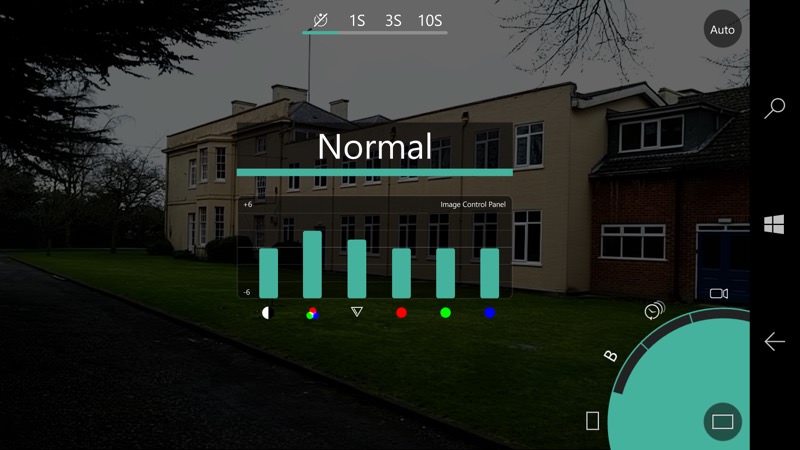 And now let's break things down by feature set:
Windows 10 Camera
1Shot UWP
ProShot UWP
Links
In device
Last covered here
Last covered here
Resolutions offered in 4:3 and 16:9 1
21MP and 16MP
21MP and 10MP
[plus 18 other (lower) resolutions
in each aspect ratio]
21MP and 10MP
Zoom facilities
Mainly digital, with PureView zoom in lower resolutions on some Lumias
Optional PureView zoom 'intelligent' on all phones, up to (e.g.) 4x on 21MP phones, outputting down to 1.5MP
All digital, up to 4x, but interpolating full resolution
Oversampling (PureView) 2
Yes
No
No
Self timer
2, 5, 10s
2, 10s
1, 3, 10s
Maximum (creative) exposure 1
up to 0.6s
up to 0.5s
up to 0.5s

HDR modes
Auto-HDR/Rich Capture advanced blending and processing on the Lumia 950/XL, plain HDR toggle on other phones
Included in range of scene modes 6
HDR and Auto-HDR, simple bracketed shots combined
JPG encoding quality adjustment
None
None
Four steps from 90% to 100%, plus three quality presets for video capture
Time lapse facility
2, 5, and 10s intervals, have to manually end sequence
2s and 10s intervals, can pre-set duration 5
From 3s to 24 hour intervals, can pre-set duration
Focussing
Automatic, spot-tapped, or manual
Automatic (continuous), spot-tapped, or manual

Automatic (continuous), spot-tapped, or manual 4
Extra photographic features
Panorama stitching mode
Flip controls for left handers
Custom settings presets; detailed control over contrast, saturation, sharpness; light painting mode with 'infinite' shutter'; noise reduction filter with two presets; monochrome mode
Max video capture resolution 1
2160p, 30fps
2160p, 30fps
2160p, 30fps
Stabilisation 1
Digital, on 1080p or less
Digital, on 1080p or less
Digital, on 1080p or less
Audio capture
Stereo
Mono
Mono, 'VU' sound level meter displays audio in real time
UI learning curve
Simple
Moderate
Hard
Application stability 3
100%
70%
90% 4
Notes:
1 on the Alacatel IDOL 4 phones
2 on the Lumia 930, 1520 and 950/XL, in 5MP or 8MP modes, purer output pixels from oversampling the higher resolution sensor, etc.
3 looking at crashes during weeks of testing
4 only one repeatable crash scenario (manual focus) on my test IDOL 4 Pro
5 in theory, though I couldn't figure out how to get it working!
6 though not working on my test IDOL 4 Pro
If you're expecting me to pronounce an outright winner then it has to be the stock Windows 10 Camera application - it's rock solid and has everything most people need, plus it usually pulls the best images out of the best camera hardware (e.g. Lumia 950). But 1Shot UWP is well worth keeping around for its intelligent (smart cropping) zoom and ProShot UWP has a number of subtle tricks up its sleeve, with minutely detailed tweaks to capturing images.
In short, I keep the stock application as my default, and I've bought the other two to 'have up my sleeve' when needed. Your comments welcome though - what do you use?
PS. The 'stability' row above is interesting - camera applications are very demanding on RAM, plus they're not trivial to program in the first place. Put all this together and 1Shot and was prone to crashing on my test device, while ProShot wasn't crash-free, especially when using the manu focus facility. Oh well.