Let's fast forward to the end of 2018. Microsoft will have (ideally) now made available its fabled, folding Surface Mobile, to tie in with the release of Windows 10 'Redstone 5'. It will be a (roughly) 6"-screened phablet when folded, and a 9" (or so) tablet when unfolded. It will have telephony, of course, and will cost something in the region of £1000 or $1000. Maybe more.
From the perspective of a current Windows Phone or Windows 10 Mobile user, you'd gain the tablet mode, but you'd have to live with a much bigger/chunkier 'phone' and you'd certainly have to empty your wallet.
But wait. What about thinking laterally? The existing Surface Pro tablets are great buys, available from £150 second hand (for an original) to an admittedly pricey £1800 for a top spec Surface Pro 12.3" Pixelsense, and everything in between - literally a price point and specification to suit everybody. There's even talk of a cheaper, new, non-Pro tablet, to be launched soon, running Windows 10 on ARM.
Whichever of these you choose, you have the chance to use Windows 10 in 'tablet' mode (very similar to the UI on the phone), in landscape or portrait, running UWP applications that you've known and loved, running Win/32 apps as well (for the 'Pros'). Now pair this with your current Windows-running phone.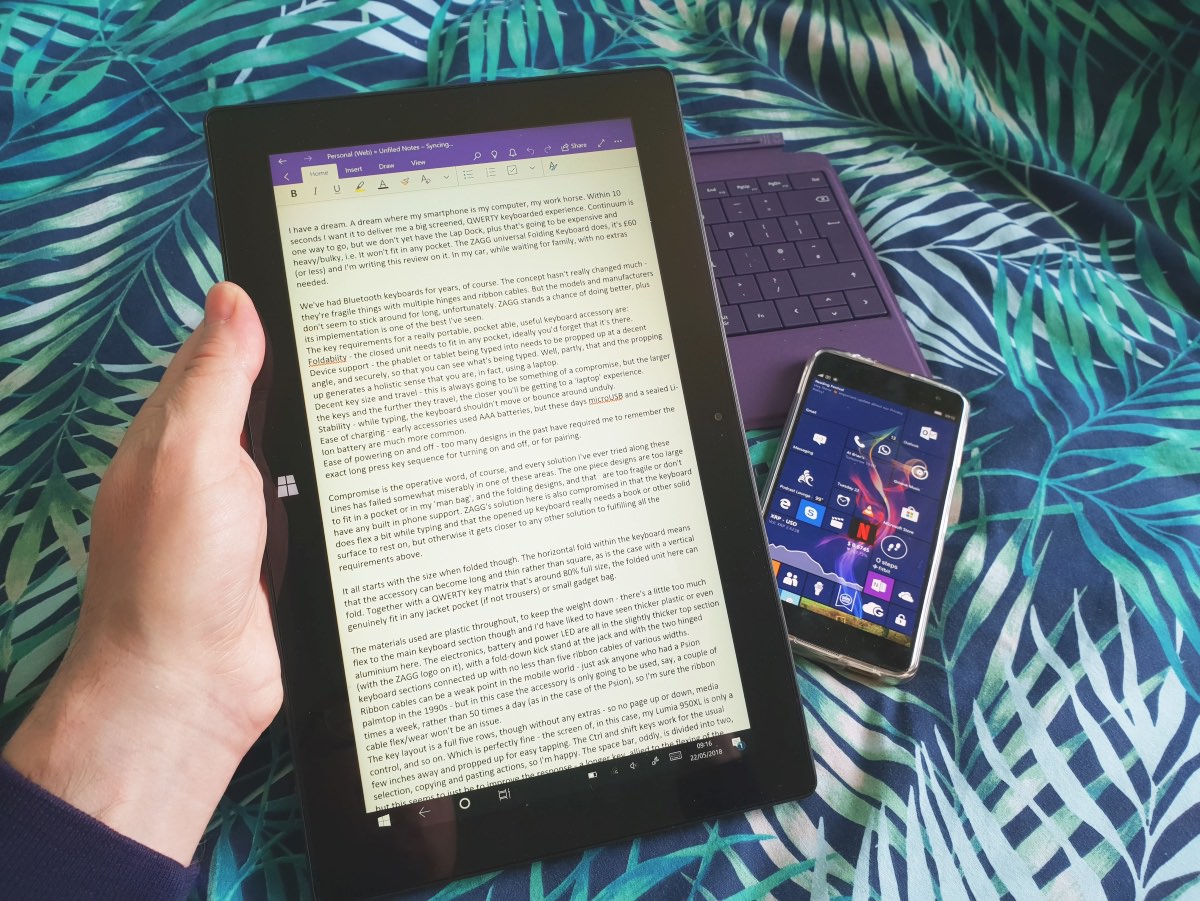 My contention here is that you'll then have quite a lot of what 'Surface Mobile' will bring, albeit with some advantages and some disadvantages compared to the fabled folding 'fablet':
Advantages:
You have the hardware now, you already own part of it, if not all of it
The tablet experience is superior, with larger display
The phone experience is superior, with a smaller, lighter gadget in your pocket
When heading out on a non-business excursion, you can just take the phone and leave the heavy tablet behind
Disadvantages:
Two bits of hardware rather than one
There's no satisfaction from having the 'latest mobile hardware from Microsoft'
This is all a little tongue in cheek, but it's hard not to pick up a Surface Pro, use it in tablet mode in either orientation in one hand (using the fingers of the other hand to operate the UI) and not think that you're already using something akin to what Microsoft has planned, with the sole caveat that you can't fold the Surface Pro in two and put it in a pocket.
Am I totally off base here? Am I sounding like a curmudgeon who's lost patience waiting for something new from Microsoft on the hardware front and is settling for what they already sell (and have sold for several years)?
Regardless, smartphone-like convergence can only be taken to a certain pitch point before the compromises outweight the advantages. And, it seems, there are lots of advantages in having functionality split over two separate bits of hardware.
The phone - a two year old Lumia 950 or even a four year old Lumia 930 - works well for on-the-go quick actions. And then the tablet site works brilliantly for more heavyweight tasks, right up to running 'classic' Win32 applications and interacting with content management systems in the Edge or Chrome browsers, and with the flexibility to snap on a full back-lit QWERTY keyboard (from your briefcase or backpack) when needed.
Comments welcome - what's your two (or three) device solution? And would an all-in-one Surface Mobile be your dream or one compromise too many?