The concept of a communicator predates what we know as a smartphone today. An all-in-one design, folding to give quick functions outside and then a larger screen and (usually) keyboard inside. Great battery life, always-on connectivity. The device for all occasions and needs.
Nokia was the big champion of the idea, of course, with the Nokia 9210i shown in a group shot below (from the London meetup) with the 9500, E90 and E7, all Nokia flagships of their day (2000, 2004, 2007, 2010), with the E90 being the closest in physical feel (size/materials) to the new Samsung. At the Fold launch six months ago I was struck, near the stage, by how much the Fold looked and sounded to the E90 as it opened and closed. Definitely, in my eyes, a spiritual successor, even if from a very different stable!
With all this in mind, I was keen to compare the various communicators in person and - unsurprisingly - the E90 was indeed the closest match. This was a 12 year old Nokia device running Symbian (S60 3rd Edition) and - obviously - with QWERTY keyboard rather than second (or curving) screen. But the feel was almost identical in the hand when closed and, when trying to type using the landscape touch keyboard on the Fold, I got much the same 'ultra-mini-laptop' vibe: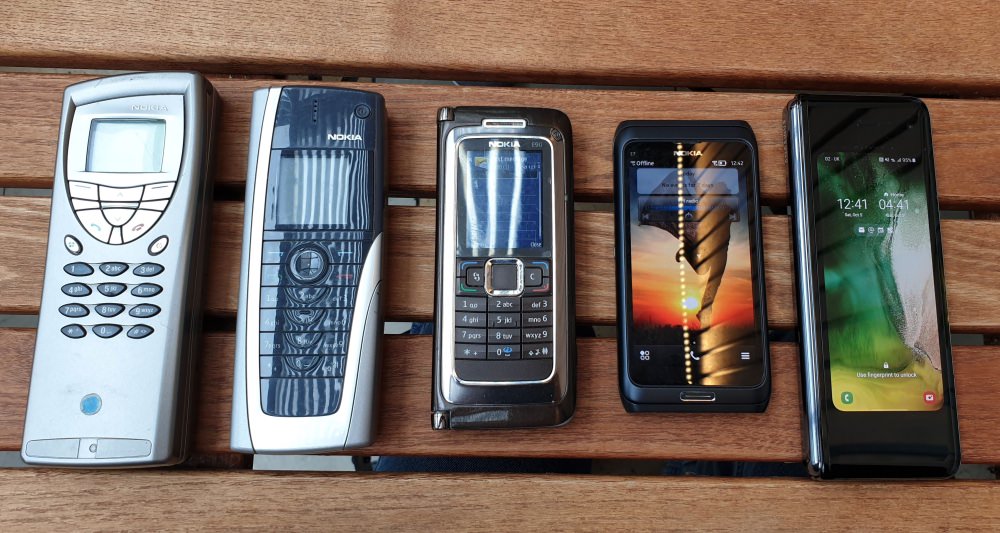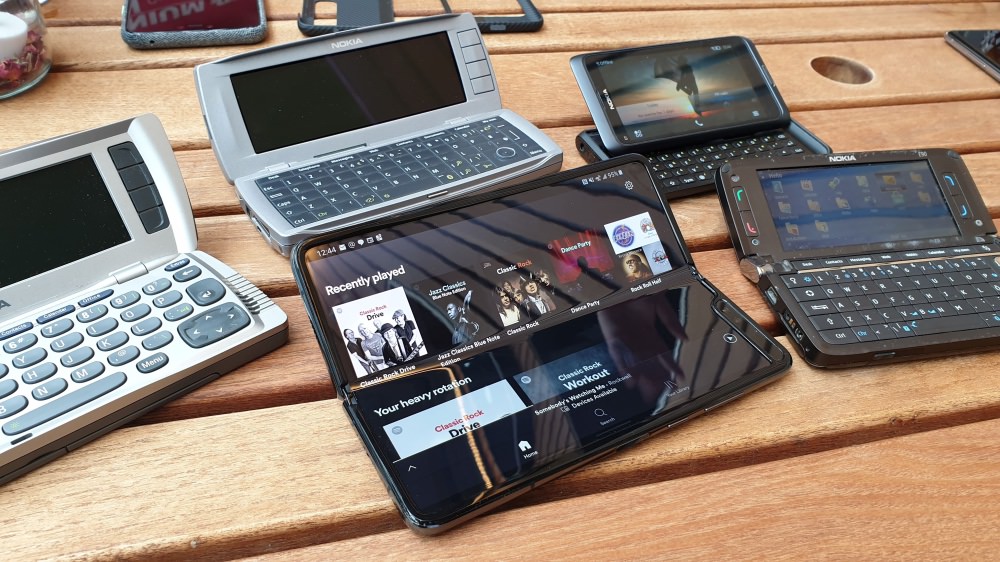 ...and opened up. It's all about the screen real estate!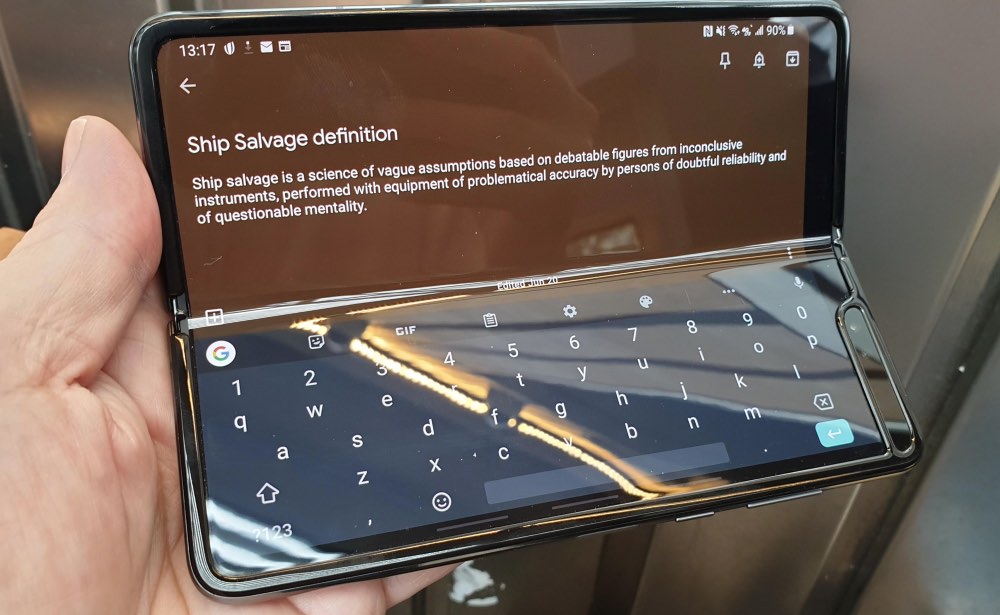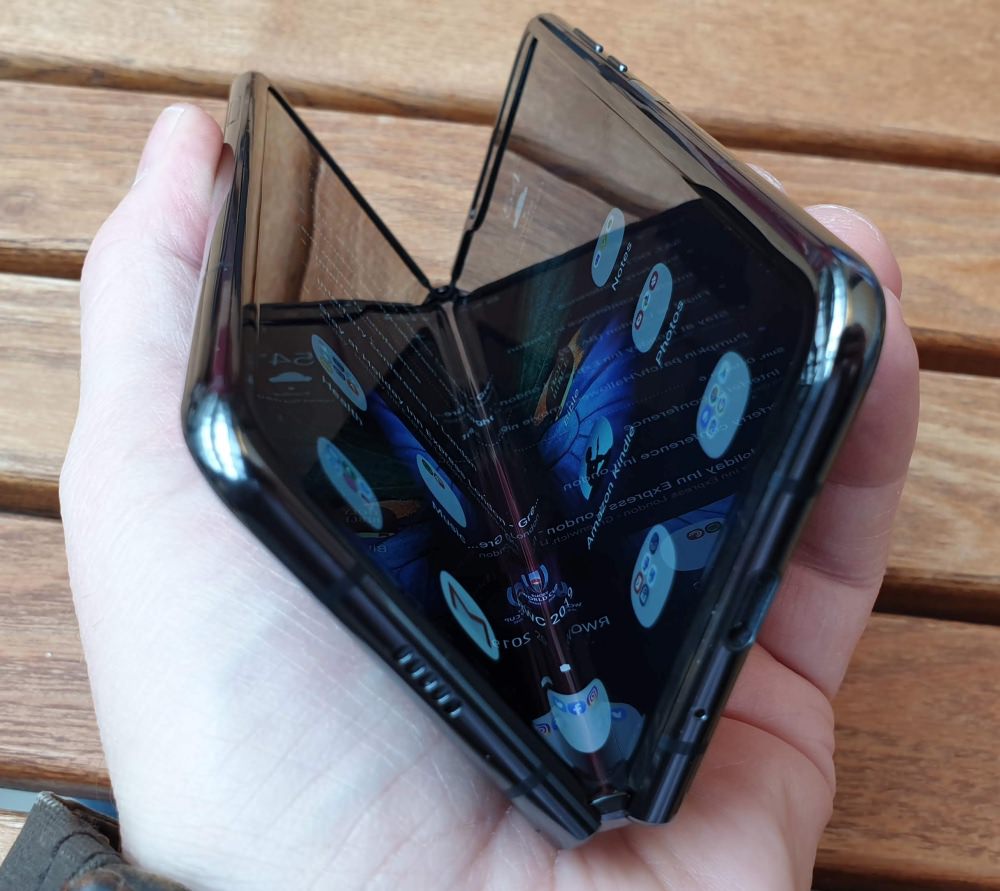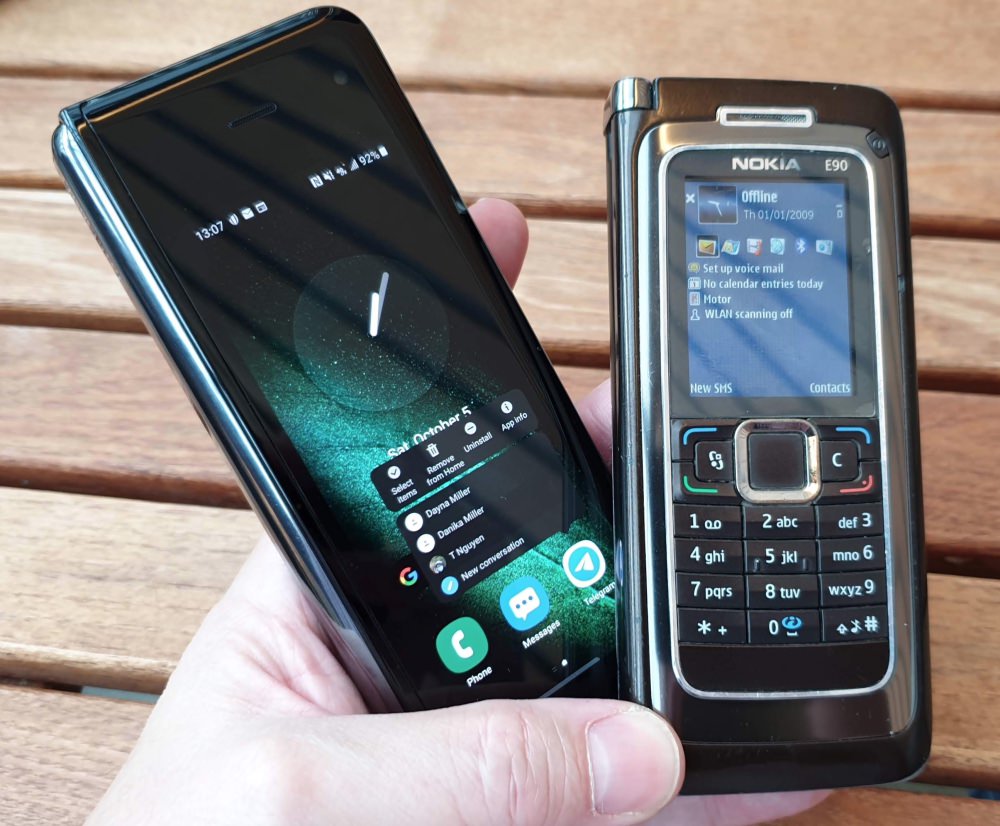 ...and almost identical dimensions in width and depth to the old Nokia E90.
Now, while there's a lot to be said for physical QWERTY keyboards, they're not smart in the way that software keyboards have been since about 2008. We've become so used to virtual keyboards that auto-correct our most common typing mistakes and even predict the phrase we're about to type next that it seems somewhat quaint to try plastic keys rather than glass. Or, in this case - famously - plastic (folding) screen!
More importantly perhaps is that all the space taken up by a physical keyboard is now available for content. Unfolded, the Galaxy Fold is a game changer with a 7.3" diagonal display, equivalent to a 'mini' tablet. The screen is AMOLED and vibrant and can display up to three running Android applications at the same time, in 'tiled' form. I haven't got a photo of this in action, but YouTube is your friend here for various videos on the device.
In person, the Galaxy Fold is a lot more impressive than it sounds, especially if you've watched Zac Nelson's famous durability test. Yes, if you try to dent or scratch the folding plastic then you'll succeed. But Matt had been handing this out for dozens of people to try over the last fortnight and there wasn't a scratch or blemish on the display: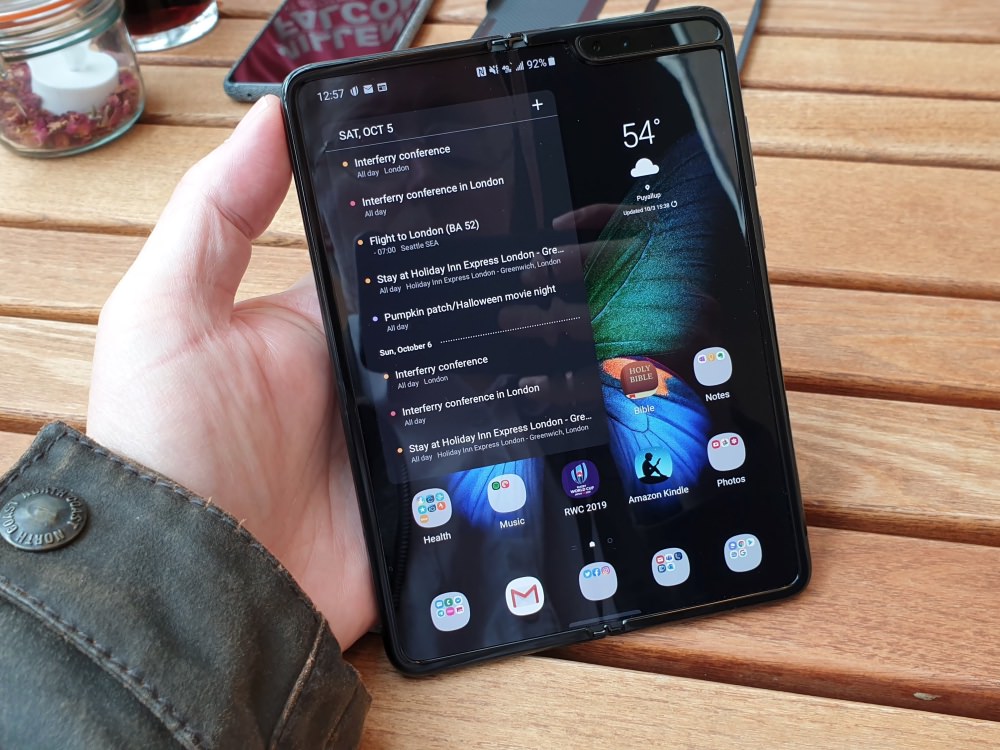 The 'crease' in the middle is interesting in that it's both inevitable and evident to the touch every second of use. And yet the mind quickly learns that this is just part of the display and a necessary evil for a tablet that folds to be super-narrow in the pocket. I was expecting the plastic to seem somewhat 'clammy', but it really wasn't. Either because Samsung has coated it with something oleophobic or beause the plastic used is merely friction-free.
At each hinge end is an extra t-shaped piece of plastic fairing that aims to stop dust and debris entering the hinge system and getting under the display - this seems to be doing its job though, admittedly, this device has only existed in retail form for a few weeks, so it's early days. Also shown below is part of the in-box clip on 'carbon fibre' case. This looks and feels a million dollars and also doesn't show fingerprints, unlike the native Galaxy Fold itself: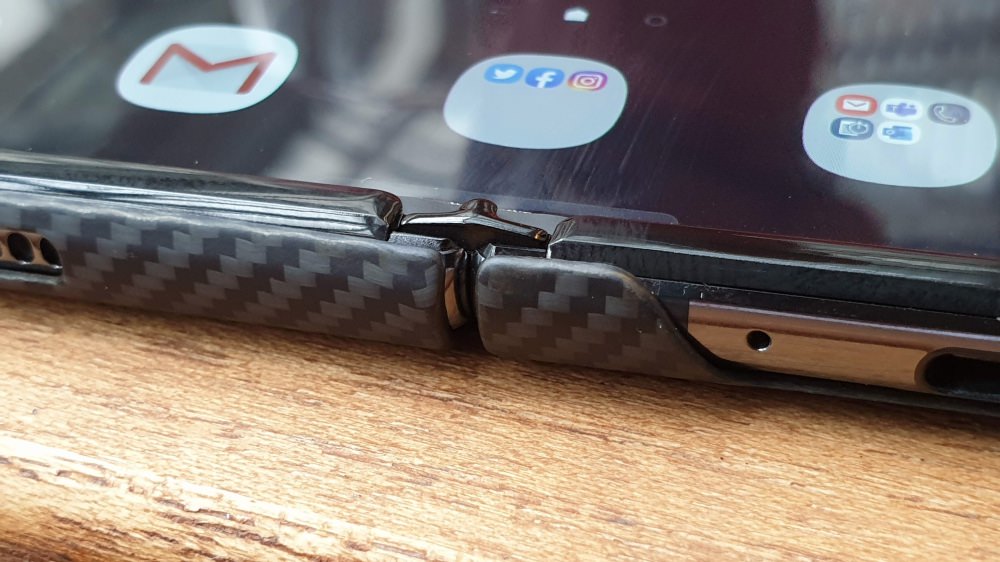 The OS and interface is Android 9 with Samsung's One UI gestures and layout and it all works pretty well. Almost every application fills the unfolded display just fine, almost every app also works in landscape (including using virtual keyboard) if needed, and it's just the home screen itself that doesn't 'rotate' (an Android quirk for years).
Now to relevance on these sites. AAS readers will have moved to new platforms quite a while ago, but the closeness of this design to the classic communicators will hopefully be of direct interest. Yes, the Galaxy Fold is insanely expensive (best part of £2000), but it's something to keep an eye on. Especially if the expected Galaxy Fold 2 next Spring also brings along S-Pen stylus support, bringing yet another way of interacting with your smartphone to the table.
AAWP readers will also be interested in something that folds and is cutting edge, not least because the recently announced Surface Phone Duo also folds, albeit using two panes of glass, so we do seem to be entering a new era in terms of smartphones that physically transform. I'll have more thoughts on the Duo shortly, don't worry!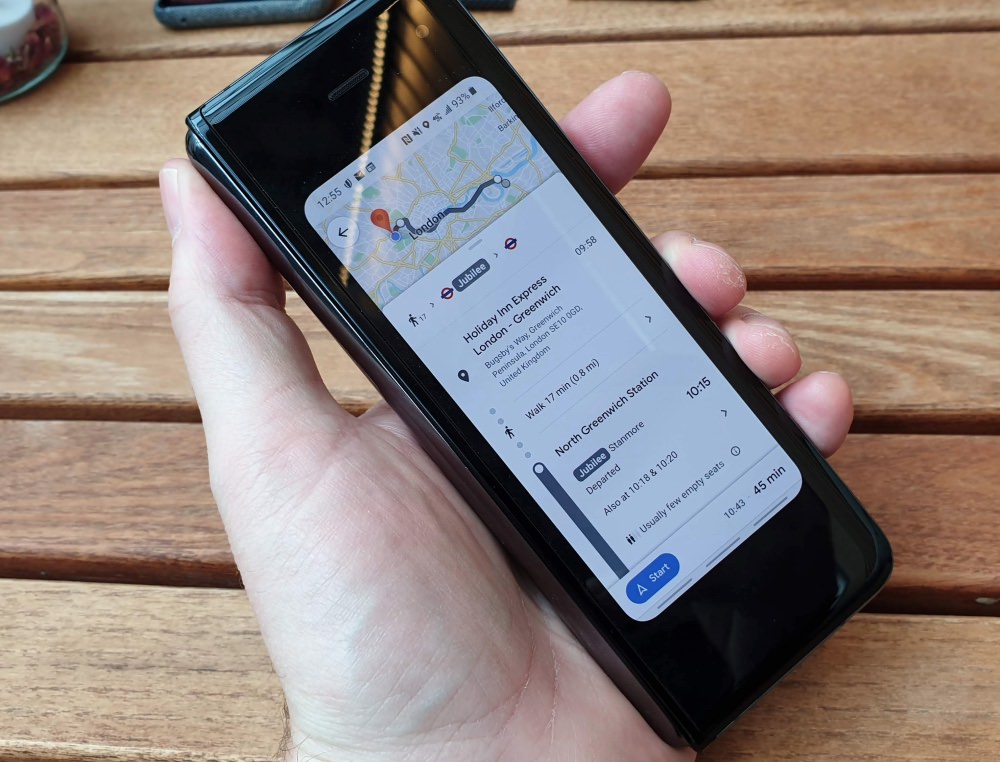 In the meantime, your comments welcome. What do you think of the Galaxy Fold, have you had hands-on at a shop yet, and does it bring back memories for you too?(!)
PS. Thanks to Matt Miller (shown below, bottom left, @palmsolo on Twitter) for bringing the Galaxy Fold to the meet, and thanks also to Rafe Blandford (shown below, top right) for his input and comments. Also pictured (other than myself, below, top left) is Gavin Fabiani Laymond (@gavinsgadgets on Twitter):