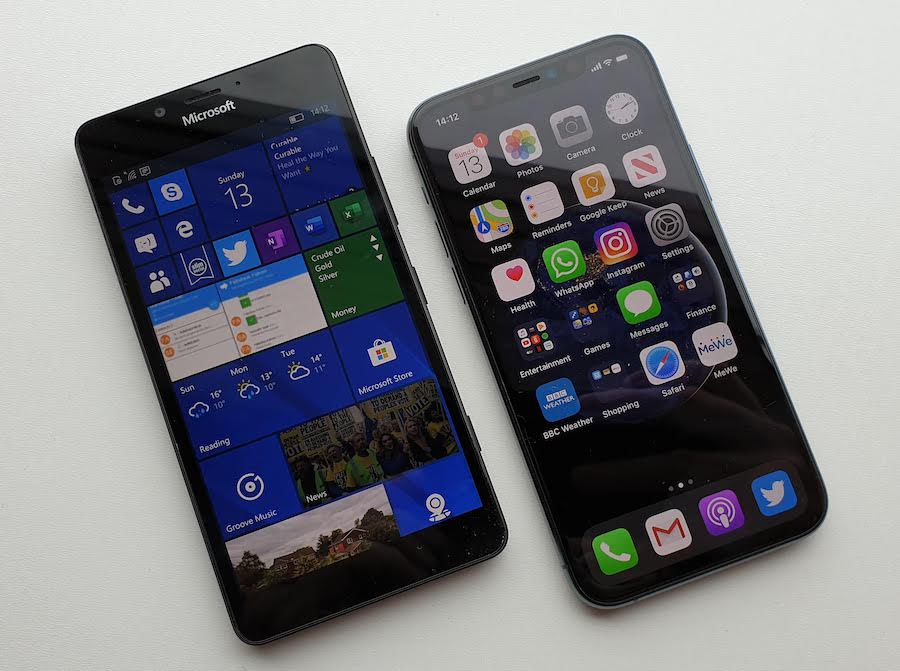 Although there's a little life left in Windows 10 Mobile in terms of updates and support, new hardware is non-existent, plus repairs and spares for older hardware are heading the same way - so it makes sense for everyone to be aware of the best of the rest from other platforms. I'll cover Android again in the future, no doubt, but for now let's look at the best of iOS and never mind the cost. Apple's OS does resemble Windows Phone in many ways in that it's all pretty locked down and every application has to be approved and then, when installed, is also sand-boxed and can't affect other applications. The only real downside is the lack of a live tiles equivalent. Plus you can't expand storage with a microSD (or similar) card.
I've reviewed the iPhone 11 Pro in video form here and text form here, if you want to dive deeper into the device. Or just read on for a blow by blow comparison with the Lumia! The killer feature here is the camera system, with three high quality cameras, all in one unit internally, and aligned and calibrated at the factory for perfect zooming from 0.5x to 2x and without heavy image processing. Plus video capture that's astonishingly clear and with audio capture that's as good as the best of the Lumias. So if snapping and filming has been one reason to stay with the best of the Lumias then maybe the iPhone 11 Pro will be a good replacement.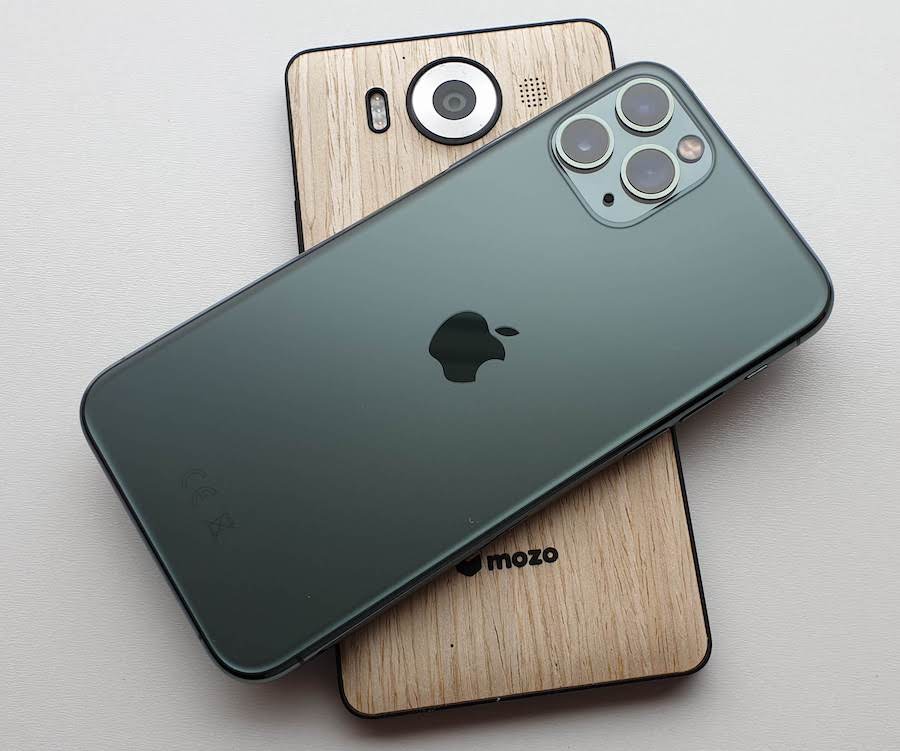 As usual, I've shaded in green an obvious 'win' for either device. Any row where a winner would be totally subjective is left uncoloured. Or, where all devices are utterly excellent but in different ways, I've given each a 'green'(!)
[By the way, if you're viewing this feature on a phone then the table may well cause you problems. Try viewing in landscape mode? Failing that, go view this on a laptop or tablet!]
Microsoft Lumia 950
Apple iPhone 11 Pro
Date first available

November 2015

September 2019
Current price, availability
No longer officially for sale, though it's often on clearance prices if you're lucky and at outrageous profiteering prices due to rarity (if you're not!)
£1049, for the 64GB model from Apple. It's expensive, but least it's for sale and with full hardware support, unlike the Lumia(!)
Dimensions, form factor, weight

145 x 73 x 8mm, plastic chassis and replaceable backs (plastic/leather/wood etc, from Mozo, as modelled here!), 155g, bezels are comparatively small

144 x 71 x 8mm, stainless steel chassis with glass front and back, 188g, similar dimensions to the Lumia but substantially heavier, partly down to the use of metal, partly through the sheer amount of componentry.
Durability
No specific durability metrics, though the fact that the back comes off will help enormously for water damage, i.e. taking out battery and cards immediately, drying out the internals, even unscrewing the motherboard from the guts of the phone. I'm old-school here! All damage to the back or corners is trivial through replacement of the rear, but the screen's exposed, of course. The plastics used should absorb shock and, anecdotally, I've never bothered putting a case on any Lumia. Just saying.
IP68 for liquid and dust, but a case will be required for drop protection, with glass on both sides, however toughened it is...
Operating system, interface
Windows 10 Mobile, (dismissable) virtual controls, as needed, now officially updated to W10 Fall Creators Update (Redstone 3, Autumn 2017)
iOS 13, gesture-based home control, largely restricted to portrait use in general apps
Display

5.2" AMOLED (1440p at 16:9 aspect ratio, matching most video media), Gorilla Glass 3, ClearBlack Display polarisers help with outdoor contrast, excellent viewing angles.

Glance screen available (in various colours) for always-on time, day and notification icons, plus some detailed info from a specified app, give the Lumia bonus points here.

Screen area is approximately 75 cm2


5.8" 1125p resolution at 19.5:9 aspect ratio, 'Super Retina XDR OLED' display, 'ion-strengthened glass', excellent viewing angles, though the display has the famous 'notch' cut out at the top and this affects some applications aesthetically, for better or worse(!)

No 'glance'/always on display capbility, sadly, but I'm giving a joint wi here because both are super screens overall.

Screen area is approximately 84 cm2


Connectivity

LTE, NFC (all uses), Wi-Fi b/g/n/ac, integral wifi tethering, Bluetooth 4.2 (all uses).

Continuum connectivity to use a wide range of first and third party UWP apps on external displays as secondary screen, independent of the phone display


LTE, NFC (but only for Apple Pay),

Wi-Fi b/g/n/ac/ax,

Bluetooth 5.0 (again restricted to Apple-approved comms), integral wifi tethering
Processor, performance
Snapdragon 808 chipset, 3GB RAM, faster than it's ever been now on the Fall Creators Update though still slower for almost everything than on the iPhone. Multi tasking and app resumption is excellent though, at least with all the modern UWP apps


Apple A13 Bionic chipset

, 4GB RAM, very fast, Apple always do an incredible job in terms of TLC and optimisation.

Capacity
32GB internal storage,

expandable via (cheap) microSD to extra 256GB

64GB internal storage (in the variant being considered, no expansion, optional 256GB ior 512GB internal at extra cost)
Imaging (stills)

20MP PureView f/1.9 1/2.4" BSI sensor, Phase Detection auto-focus, dedicated camera shutter button and launch key, genuine 2x lossless digital zoom (in 8MP oversampled mode), OIS. 'Rich Capture' produces customisable HDR shots and 'dynamic flash', with triple LED illumination. Outstanding shots in most light conditions, with just focussing issues in low light as an Achilles heel.

5MP front camera

Triple-aligned cameras: 12 MP, f/1.8, 1/2.55", main camera with dual pixel PDAF, OIS, plus 12MP, f/2.0, 1/3.4" telephoto (2x) with OIS, 12 MP, f/2.4, wide angle. Smart HDR processing works wonders in good light, software upgrades ('Deep Fusion') will improve indoor shots very soon, plus an incredible Night mode implementation.

12MP front camera, f/2.2

Imaging (video)

Up to 4K,

optically (and optionally digitally) stabilised, with 'Best photo' 8MP grabbing built-in, plus Rich Recording and HAAC microphones for high quality, gig-level stereo capture.

Up to 4K video capture on all three lenses, with EIS and OIS, high quality stereo audio capture. I've switched to this for shooting my Phones Show, for example.
Music and Multimedia
(speakers)
A tinny mono speaker by modern standards, though as ever you can trade volume for fidelity in a simple tweak on Lumias.

Stereo speakers, the right hand one outputting through the phone's bottom. Very decent volume from the pair, and well tuned, plus Dolby Atmos to add extra bass and treble sparkle, with faux-surround sound effects when the content has this encoding.

Music
(headphones)

3.5mm headphone jack, A2DP+AptX, so great wired and wireless headphone audio too. FM Radio included.

Infamously, no headphone jack (iPhones started the current sad trend), so you have to go Bluetooth or buy a Lightning to 3.5mm DAC/adapter (£9 from Apple)

Navigation

Windows 10 Maps is now pretty mature and impressive, especially once you've learned the live traffic routine trick! Offline maps save a lot of data bandwidth for those on tight contracts or anyone in a low signal (data) area, and these get the win here.


Apple Maps uses live traffic and map data partly from TomTom and partly from internal sources. There's no official offline maps facility, though this is said to be coming. Real time navigation is better than under W10M, but it's also some way behind the market leader, Google Maps, under Android.



Cortana/Voice
Cortana is now mature and well integrated, though some functionality has been falling away, e.g. recognising ambient music, plus there are reliability concerns under Windows 10 Mobile.
Apple's Siri is sassy and usually helpful. It's been improving slowly and is certainly better than Cortana now, but Google's effort with Assistant currently leads the pack in the industry.

Battery, life
Removable 3000mAh battery, and the ability to change cells gets brownie points here, plus USB Type C Power Delivery (up to 3A) and Qi wireless charging built-in. However, a Lumia running Windows 10 Mobile will now discharge in 24 hours even if you don't use it much, so overall the iPhone 11 (right) has to win...


Sealed 3046mAh battery, easily gets through a day, thanks to the low power cores in the A13 chipset plus iOS's good standby characteristics. In fact, careful use will see a genuine two days per charge. Amazing.

Charging is via Lightning port at 3A, plus there's Qi wireless charging too.

Cloud aids
Windows Photos syncs across all signed-in devices, subject to your OneDrive tariff (stingy, unless you have Office 365), should you have thousands of images in the system. Plus Windows 10 backs all your media, application data and settings to a separate backup folder system, tariff-free on OneDrive, for easy restoration on a new or factory reset phone.

Recent photos auto-sync to iCloud, backups in general ditto, so if you want to, there's a complete image of your phone ready to restore at any point. Apple do this very well, as anyone who's had to restore an iPhone will have found. Most iPhone users will testify that some iCloud subscription payment is quickly necessary, so factor in a cloud storage plan, a few pounds or dollars per month.



Biometrics

Iris recognition ('Windows Hello') works well unless you wear varifocals(!), but takes a couple of seconds (including an animation!) in real world use. There's also no official way of paying in shops using this, at least not in most of the world.

Face ID, using a laser-lit front facing camera is the only authorisation method here for unlocking the phone and for 'Apple Pay'. It works surprisingly well and under all light conditions. Just look at the phone and you're authenticated and in.



Applications and ecosystem
Windows 10 Mobile has most (though not all) mainstream apps and services covered. Often third party clients are involved, mind you, there are companies who hate Microsoft so much that they simply refuse to write for Windows, it seems. And 'long tail' niche/boutique apps are hard to find for real world companies and shops.

Fully covered, from A-Z, of course.

Any

application of

any

significance in the mobile world is available for iOS. Including most of the Microsoft core applications, like Outlook and Office.

Upgrades and future
Windows 10 Mobile will be updated through the end of 2019 - after that the OS will be useable but with more and more service caveats applying.
Apple push system and security updates regularly - the iPhone 11 Pro should be updated until at least the end of 2021. And maybe for a year or two after that.
Verdict
Adding up the green 'wins' (for fun?!) gives a convincing win to the iPhone 11 Pro at 10 to 6. And, significantly, two of the wins are for imaging - this is one of the few times when a Lumia 950 hasn't out performed a competitor in the camera department. So take a moment to acknowledge that. See here for my initial Lumia 950 and iPhone 11 Pro shootout, along with a couple of other contenders. I'll be revisiting this, with just the 950 very soon.
The usual caveats apply about totally different ecosystems, and going where the services and apps you need live - you could argue that the 'Applications and ecosystem' row should have double or triple weighting, for example! Plus several of my scorings can be argued either way, such as me rating the 950 as more durable, shockproof, and (self?) repairable than the iPhone, yet without any waterproofing at all.
Your comments welcome.