You'll have seen my previous Surface Duo coverage here, of course, latest being the 2020 launch news. I won't go over the links yet again. But in case you missed the details of the new Z Fold 2, here's the official Samsung launch announcement. It's only 22 minutes long and moves quite fast, so it's worth a watch over a beverage, to get caught up:
All of which is... pretty impressive. £1800 is an enormous price tag for a smartphone, but I'd say that with the Z Fold 2 you can at least see where the money has gone. Below, I compare the Surface Duo and Galaxy Z Fold 2 in detail in my usual tabular fashion. Why compare these two devices specifically, other than launch timing and sky-high price? Because a lot of the fabled Microsoft productivity gains also apply to the Z Fold 2, with Microsoft's explicit help.
For example, here is a screengrab of the Galaxy Z Fold 2 running Outlook Mail, running a two paned layout that's near identical to what you'll see on the Surface Duo - but without a black 'hinge gap' down the middle: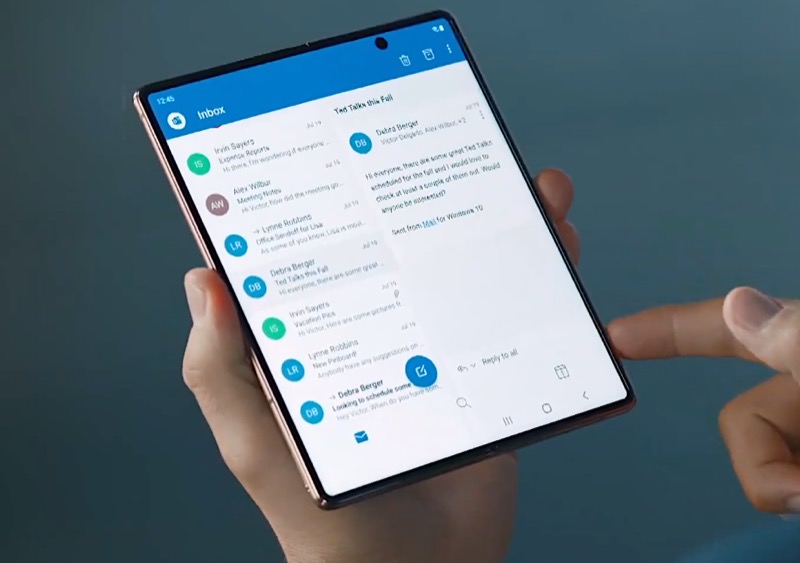 The parallels go further in other 'poses', for example here in what Samsung calls 'Flex mode', showing a video calling application taking advantage of two displays and a hinge that can be propped at any angle: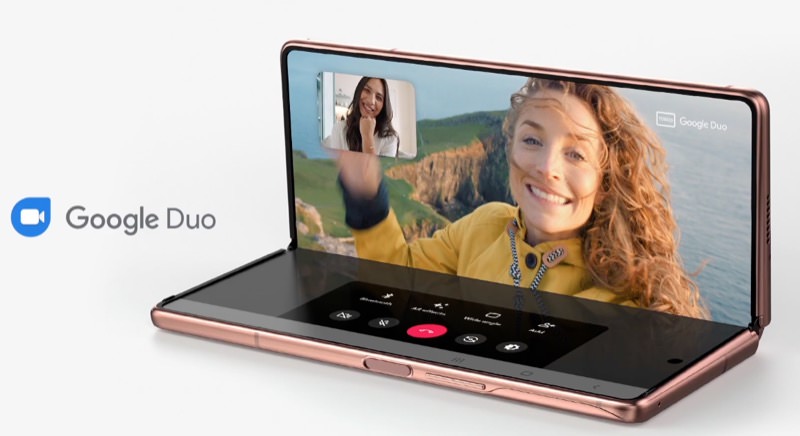 So yes, the Z Fold 2 achieves the end result through a flexible display (ultra-thin glass with a plastic outer layer), but the end result is largely the same. The main difference is that while the Surface Duo (elegantly) folds back on itself so that one of the main displays can be used as a single-display 'phone', the Galaxy Z Fold 2 has an extra, large cover display on the back of the left hand side of the unit - which is at least partly why the retail price is so high.
Anyway, on with the specs and comparison comments:
Microsoft Surface Duo
Samsung Galaxy Z Fold 2
Date first available

September 2020

September 2020
Current price, availability
Starting at $1400 in the USA only (for now, it may be 2021 until this is available in Europe)
£1800 in the UK and available in all major markets
Dimensions, form factor, weight
145 x 93 x 10mm (closed), 250g, folds right round, back on itself

160 x 68 x 17mm (closed), 282g, folds out to 'flat'
Durability
No waterproofing, no dustproofing.

As with the Z Fold 2, this is perhaps THE Achilles heel of the devices, especially at the high asking prices. Use the device in the rain one time and it might be ruined forever.

No waterproofing, no dustproofing again. In addition to vulnerability to any water scenario, both devices are covered in glass, front and back, and any drop onto a hard surface is likely to be very costly to fix.

Operating system, interface
Android 10, with tweaked Microsoft Launcher to work across two displays.
Android 10, with tweaked Samsung launcher to work with cover display and 'tablet' interior.

Display
Twin 5.6" AMOLED 1800p Gorilla Glass 5 displays, with 'unfolded' nominal diagonal of 8.1", though with hinge gap down the middle. No 'always on' display (that I know of).

Single foldable, continuous 7.6" AMOLED 1768p 'Ultra-Thin-Glass' (plus plastic covering) display, plus exterior 6.2" AMOLED 816p display.

'Always on' 'Glance' display on the exterior screen with time, date and battery status.

Connectivity
LTE,

Wi-Fi b/g/n/ac, integral wifi tethering, Bluetooth 5.0. To be honest, connectivity specs from several years ago, and the lack of NFC is a show-stopper outside the USA, so will presumably make it into 2021's Duo 2.

LTE, 5G, NFC (all uses), Wi-Fi b/g/n/ac/6, integral wifi tethering, Bluetooth 5.1 (all uses). 5G is a big deal in terms of future-proofing, while NFC is super for Google Pay use.

Processor, performance
Snapdragon 855 chipset, 6GB RAM

Snapdragon 865+, 12GB RAM. Now, the Duo will be eminently 'fast enough', but you can't help but be impressed by the massive horsepower of the Z Fold 2 here. The RAM will help out a lot when doing serious multi-window multitasking too.
Capacity
128GB (or 256GB) internal storage
256GB or 512GB internal storage, though neither the Duo or the Z Fold 2 are optimised for media consumption or even capture, so I do wonder who's going to use all this lovely flash memory!
Imaging (stills)

Single 11 MP, f/2.0, PDAF unit - cripplingly unambitious by consumer standards in 2020. Microsoft says that you only need a camera good enough for video calls and office imaging - they may be right for their intended niche, but imaging here won't attract anyone else to the Surface Duo.

12 MP, f/1.8, 1/1.76", Dual Pixel PDAF, OIS




12 MP, f/2.4 (telephoto), 1/3.6", PDAF, OIS, 2x optical zoom




12 MP, f/2.2, 123˚(ultrawide)

Plus two very capable selfie cameras, one atop the main screen, one inset into the cover screen.

Despite typical aggressive Samsung image processing, this is still an enormously capable imaging set-up.

Music and Multimedia
(speakers)

A single earpiece speaker doesn't bode well for much more than speakerphone calls.

Very decent stereo speakers 'tuned by AKG'. The original Fold was loud and high fidelity, this might be even better. Yes, media watching is compromised by the squarish display, unfolded, but still - anything with audio will sound great.
Music
(headphones)

No audio jack, so reliant on a Type C DAC/dongle or to go 'Bluetooth'.

No audio jack, so reliant on a Type C DAC/dongle or to go 'Bluetooth', as with the Duo. [Such a shame - we want our 3.5mm audio jacks back!!]

Navigation

Google Maps is now the gold standard in phone navigation, tied in with many other Google services and offering true real time navigation around traffic issues, even at local level, along with offline maps that auto-update. And, by adopting Android for the Duo, Microsoft offers it out of the box.

Ditto!



Battery, life

3577mAh capacity with 18W fast charging.



4500mAh capacity with 25W fast charging and 11W fast wireless (Qi) charging. Plus 4.5W reverse wireless charging of accessories.

Biometrics

Capacitive fingerprint sensor on the Duo's edge (not in the power button, interestingly, so you can't power on and authenticate in one press).

Capacitive fingerprint sensor on the side, in the power button, for instant on and authentication.
In terms of specifications and hardware capabilities then, an overwhelming, massive 8-1 win for the Samsung device, while seemingly offering everything that the Duo does in terms of software experience (and with the same underlying 'compatibility') and without a dominating central hinge. Easily justifying the extra £400/$400 or so, you might argue.
In the Surface Duo's defense, it:
doesn't have a fragile plastic-topped screen - which is bound to pick up small dents and micro-scratches in time
doesn't have a 'crease' - though the hinge is arguably as idiosyncratic
has the Microsoft Launcher pre-installed and optimised with extra gestures (e.g. 'span') to help users make the most of a two-paned experience
has (equally) the full set of Microsoft productivity and Office applications out of the box, while the Samsung is restricted to OneDrive and some stub downloaders
is cheaper, thinner, and lighter
Are these enough to compensate for the massively one-sided bang-for-buck comparison? I'm not sure. If it were my money (and note that neither of these will see my money, at least not at full original RRP!) then the imaging, speakers, Qi charging, and NFC (Google Pay) would convince me to go big and go for the Samsung. What about you?