From the Microsoft launch post:
Unveiled today and shipping September 10, Surface Duo represents the next wave of mobile productivity, inspiring people to rethink what is possible with the device in their pocket. Surface Duo delivers the easiest way to multitask on the go, bringing together the power of Microsoft 365 experiences and the full ecosystem of Android mobile apps. Starting at $1,399, Surface Duo opens into the thinnest mobile device on the market with an 8.1" PixelSense Fusion display connected by a revolutionary 360-degree hinge, allowing you to use each 5.6" display individually or together, across a variety of modes. Do more wherever you are with Surface Duo.

Commercial customers can go here to find a commercial reseller for Surface Duo. You can get technical documentation about managing Surface Duo from our newly published site on Microsoft Docs with more content coming soon.

Surface Duo has protection built in at every layer with deeply integrated hardware, firmware, and software to keep your devices, identities, and data secure. Part of what makes this happen is that we built in our custom engineered Unified Extensible Firmware Interface (UEFI) which enables full control over firmware components. Microsoft delivers Enterprise-grade security to Surface Duo by writing or reviewing every line of firmware code in house, enabling Microsoft to respond directly and agilely, to potential firmware threats and to mitigate supply chain security risks. To learn more, check out the Surface Duo security overview.

Another new capability that also helps raise the bar on productivity is the option of connecting to a full Windows 10 experience in the cloud with Windows Virtual Desktop. To learn more, take a look at Windows Virtual Desktop on Surface.

You can manage the entire Surface Duo experience for employees and protect work data with a variety of mobile device management (MDM) options, including Microsoft Intune.
If talk of UEFI, Virtual Desktop, MDM, and Intune has left you cold then you're not alone. The Surface Duo is for enterprises to purchase in their hundreds, or at least dozens, and the devices will be managed by that company's IT department. And the employees concerned will almost certainly have their own private iPhones or consumer Android handsets as well. After all, the Duo lacks a really good camera, it lacks NFC, so the user can't do tap-to-pay on it, so it's very much a pocketable way to take company data and applications with them in a controlled way.
Personally, I think all this is a huge missed opportunity - at $1000/£1000 with NFC and a good camera, this would still have presented a good consumer champion handset with a unique form factor. As it is, this only 'starts' at $1400, with a more expensive 256GB variant at $1500, and then only (initially) via 'commercial resellers', though some sites are reporting 'Surface Duo will be available (in due course) from Microsoft Store, BestBuy and AT&T'.
And then there's the whole 'this started out with Windows 10 Mobile on it' disappointment. But don't get me started on that again.
Oh well. I'll try for an AAWP review loan device anyway and will report back if Microsoft obliges. Do note that this will be USA-only at first (Microsoft say 'We'll share more information about market expansion at a later date.'), so expect the first reviews to start popping up in a few weeks from Microsoft's trusted USA-based reviewers.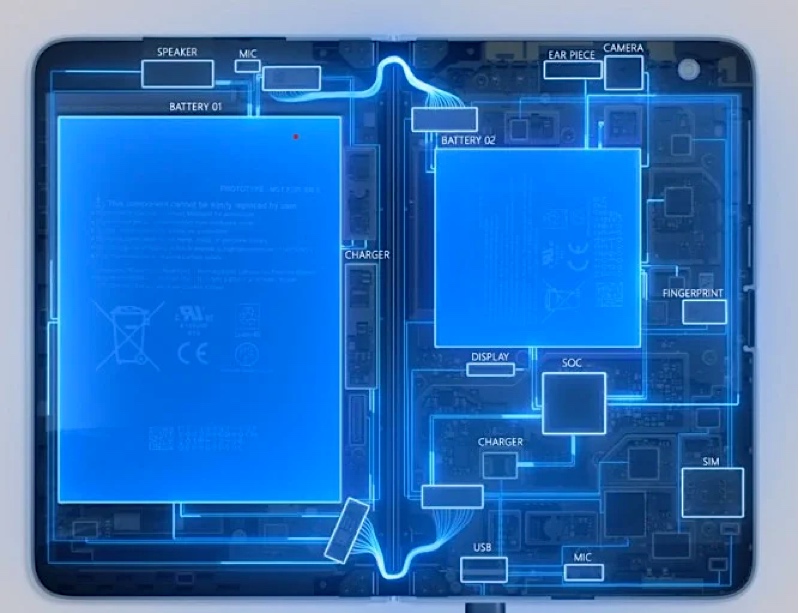 For completeness, here are the confirmed specs:
145 x 187 x 5mm opened, 145 x 93 x 10mm closed
250g
Android 10 (upgrade to 11 before end of 2020)
4G, Wifi to 'ac', Bluetooth 5
Nano SIM + eSIM

2x 5.6" 1800x1350 4:3 AMOLED Gorilla Glass displays
Snapdragon 855 chipset, 6GB RAM
128GB or 256GB UFS 3.0 storage (the latter possibly $1499), no microSD expansion
Mono speaker, no 3.5mm jack
11MP camera, f/2.0, PDAF
Fingerprint sensor (on the edge of the right hand phone half, see the graphic above)
3,577mAh battery (total, split across each half)
18W fast charging
Surface Pen supported but not included
WC now has an official quote from Microsoft regarding the missing NFC:
"Surface Duo does not currently offer NFC. The role of any first-generation design is to focus on fundamental scenarios that solve customer challenges. Surface Duo is purpose-built for mobile productivity and giving people new ways to complete complex tasks while away from their computer. With this core priority complete, we will listen to customer feedback and apply that lens to future iterations of the product."

Can I be polite here? What a load of hogwash. NFC has been table stakes in smartphones in the Western world since 2012 or so. Its omission is nothing short of criminal here. Or at least would have been if this device was aimed at being a user's main phone. Which it's err... not. It's their company-provided gadget with their company email and Office set-up in place. And they will still pay for things with their own private phone, carried in another pocket. Sigh. It could have been so much more.
PS. You'll note my use of the phrase 'Surface Phone' in the title. That's deliberate, since this IS the folding Surface Phone (Andromeda) hardware that was leaked, rumoured and teased for the last few years. This is IT, and there's no other mobile device to come until the Surface Duo 2 this time next year.