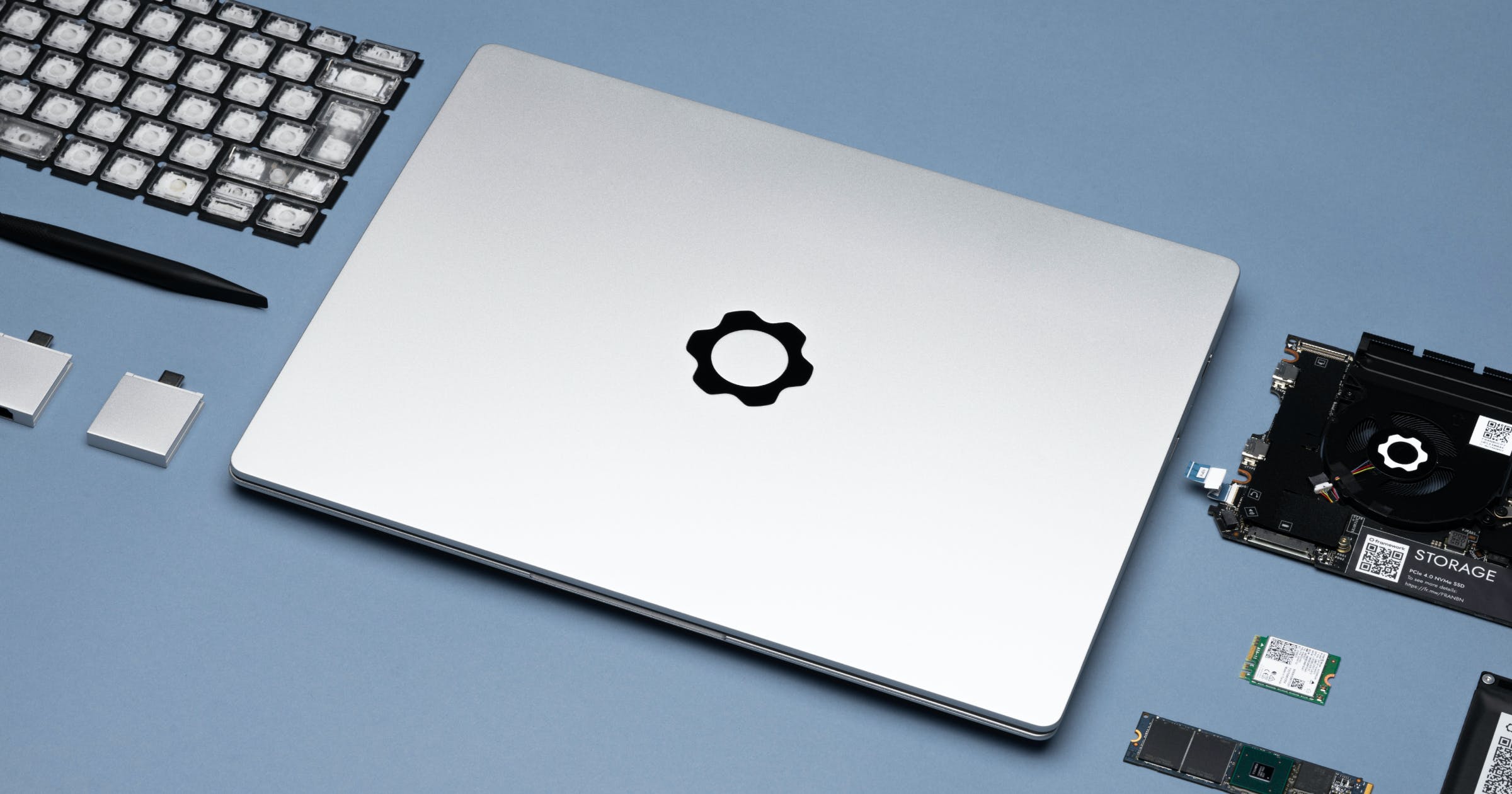 The news broke this week from start-up Framework:
At Framework, we believe the time has come for consumer electronics products that are designed to last. Founded in San Francisco in 2019, our mission is to empower you with great products you can easily customize, upgrade, and repair, increasing longevity and reducing e-waste in the process. Today, we are excited to unveil our first product: the Framework Laptop, a thin, lightweight, high-performance 13.5" notebook that can be upgraded, customized, and repaired in ways that no other notebook can.

We're here to prove that designing products to last doesn't require sacrificing performance, quality, or style. The Framework Laptop meets or beats the best of what's in the category:

Crafted with a precision formed and milled aluminum housing, coming in at 15.85mm thick and 1.3kg.
Designed for the future of work with a 13.5" 3:2 screen with 2256x1504 resolution, a fantastic 1080p 60fps webcam (finally!) with hardware privacy switches, a high cycle-life 55Wh battery, and a great feeling keyboard with 1.5mm key travel.
Delivering excellent performance with 11th Gen Intel Core Processors configurable with Wi-Fi 6E, up to 64GB of DDR4 memory, and 4TB or more of Gen4 NVMe storage.

On top of that, the Framework Laptop offers unparalleled options to upgrade, customize and repair:

Our Expansion Card system makes adapters a thing of the past, letting you choose exactly the ports you want and which side of the notebook you want them on. With four bays, you can select from USB-C, USB-A, HDMI, DisplayPort, MicroSD, ultra fast storage, a high-end headphone amp, and more.
Along with socketed storage, WiFi, and two slots of memory, the entire mainboard can be swapped to boost performance as we launch updated versions with new CPU generations.
High-use parts like the battery, screen, keyboard, and color-customizable magnetic-attach bezel are easy to replace. QR codes on each item take you directly to guides and the listing in our web store.
In addition to releasing new upgrades regularly, we're opening up the ecosystem to enable a community of partners to build and sell compatible modules through the Framework Marketplace.

Most consumer electronics devices are disposable one-offs by design. The single best way to reduce the environmental impact of electronics is to make them last longer. In addition to enabling longevity, we're focused on improving sustainability across the life of our products. The Framework Laptop is made of 50% post consumer recycled (PCR) aluminum and an average of 30% PCR plastic. Our packaging is fully recyclable with no single-use plastics, and all of our product shipments are carbon offset.

The Framework Laptop is available in a range of pre-configured models running Windows 10 Home or Pro. For those of you who love to tinker, we've also created the Framework Laptop DIY Edition, the only high-end notebook available as a kit of modules that you can customize and assemble yourself, with the ability to choose Windows or install your preferred Linux distribution. Regardless of the path you take, we include a screwdriver in the box so you can upgrade over time.
If all this sounds familiar to a mobile-savvy audience, it's because this is very much the PC equivalent of the Fairphone 3/3+, featured here and here on this site recently. You even 'get a screwdriver in the box', in the same way! (Fast forward 15 years to a modular future and you just know that Apple or Google or Dell is going to get it in the neck for being the first company for a while to 'drop the in-box screwdriver for ecological reasons'!)
Whereas there are good reasons why most phones are now sealed (waterproofing, lack of connections to corrode, lack of user fiddling, etc.), laptops actually provide a far more fertile ground for a modular aproach, as the launch of the Framework Laptop bears out.
Most of us 'upgrade' our laptops by putting them in a drawer (or handing down to a child or good cause) and then buying a brand new one(!) With new screen, new battery, new storage, new chassis, new keyboard, new internals. All because we'd 'run out of space' or 'the screen was cracked' or 'the battery had stopped lasting very long'. Quite ridiculous, and I welcome the Framework approach with open arms - it's about bl**dy time something like this existed.
Naturally, there are a few compromises in order to allow the 'repairability' to happen - this won't be quite as sleek as your average top end laptop. But it's still eminently decent. Here's the (short and silent) promo video:
Which all looks very promising, but I have to hark back to possible compromises in form factor. Although the company tries hard to hide how (relatively) thick this is with clever bevelling at the front, look at the photo below - the actual thickness/depth across the device, from back to front, is around an inch, whatever the scalloped edge tries to imply. This is absolutely expected with a device that comes apart in seconds with a screwdriver, but you should go in with your eyes open.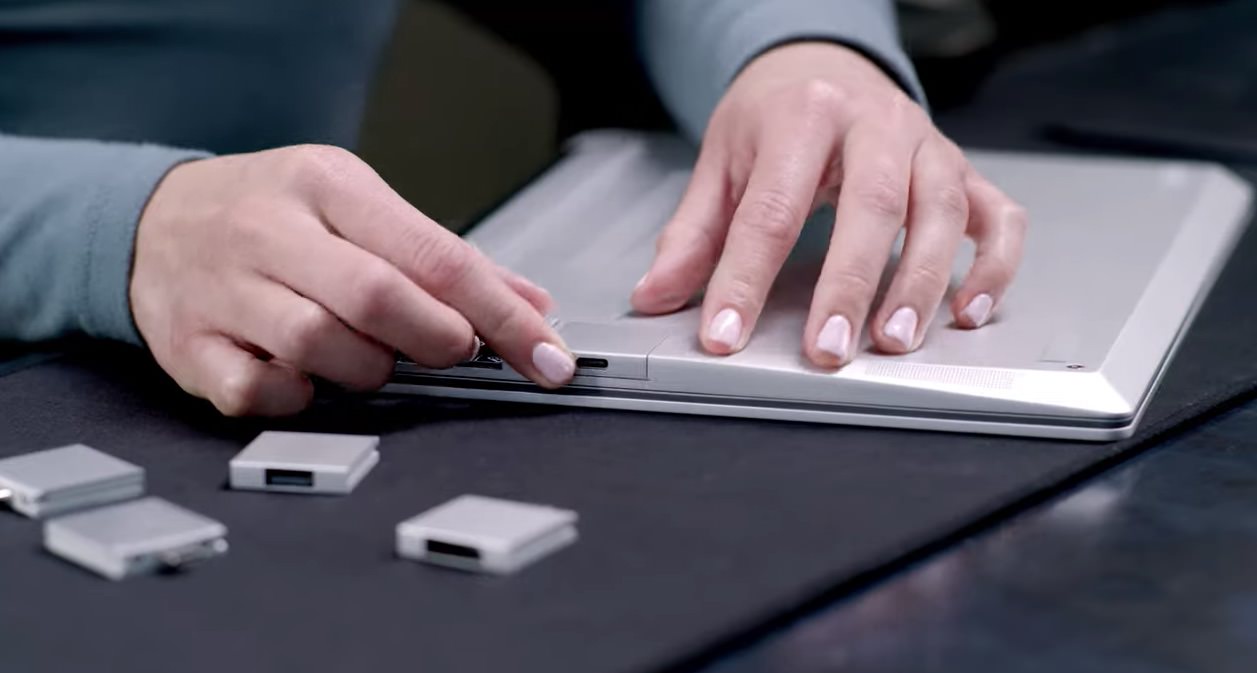 The other thing to note from the image above is the design of the replaceable ports/modules. Two on each side and it looks like each terminates in an 'internal' (within the bay) USB Type C connector. This makes absolute sense - the Framework Laptop is effectively taking a number of popular ports that people want and that can all be implemented as a USB dongle or adapter and made them into a standard form factor that slots into recesses on the laptop. All very clever, though some of the 'cards' will require a lot more electronics than others.
For example HDMI will be far more complex and expensive than a simple mechanical Type C to Type C pass-through, and I'll be curious which cards ship by default with the laptop and which are paid-for extras. There will also be 'dumb' blank cards, just to fill up any remaining bays. My guess is that the base Framework Laptop will ship with Type C, USB-A, microSD, i.e. the three cheapest to make and supply, plus a blank. But that at the point of ordering, you'll be encouraged to specify a fourth card and perhaps a few extras.
We don't know pricing yet - I'm guessing a base 16GB RAM model with internal 256GB SSD and default cards might be in the $900 region, though with options to ramp up processor, storage, and cards to double this price.
And, obviously, to ship worldwide at some point. Framework quotes 'a summer 2021 ship date' and you can follow their progress at https://frame.work or follow the company at @FrameworkComputer.
I do love the idea. Ten years ago, most laptops could be fairly easily dismantled in terms of removeable batteries, screwed memory bays, slotted-in disk drives, every port under the sun out of the box, and so on. Through the last decade we've ended up with slimmer and lighter laptops, it's true, amazing slices of high technology, but anything that needs changing or replacing requires a trip to a service centre. This Framework Laptop is a hugely welcome step back to the best of the old world while using modern specifications.
Would you buy this in the UK? Do you think it will ever become available here? And at what price?