The Windows Phone smartphone can also be purchased without a contract for $449.99, but it will still be locked to AT&T. Nonetheless the "no commitment pricing" may be the best option for those who are not due for a contract renewal, but still want to get their hands on Nokia's flagship product.
AT&T has also put a number of Lumia 900 accessories on its website including Nokia bumper cases, Nokia gel cases and Monster headphones. These accessories will also be available in select AT&T retail stores.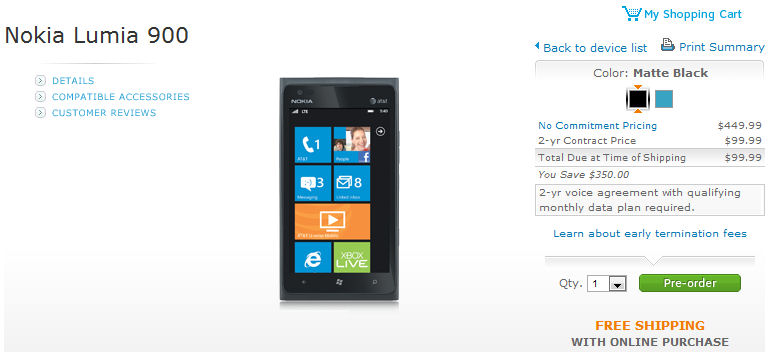 As noted by The Verge AT&T is also running a special offer for new customers that offers $100 off selected phone when ordering online. The offer includes the Nokia Lumia 900, which means customers new to AT&T can get the phone for free.

A number of third party retailers (e.g the Walmart branded LetsTalk website) are offering the Lumia 900 for $49 (new customers or upgrades), $50 less than the official AT&T price and Amazon is currently offering the Lumia 900 for $0.01.
Those outside the US will have to wait a little longer for the global version of the Lumia 900. Nokia have not given a precise date, but say that it will arrive in Q2 (i.e. some time in the next 3 months).