SkyDrive is an integral part of Windows Phone, providing off board storage for the platform, as well as an way to easily back up images, and move Office documents between computing devices (PCs, laptops, tablets, and mobile phones). With the forthcoming arrival of Windows Phone 8 and Windows 8, SkyDrive is expected to become even more deeply integrated, providing additional backup functionally, a smoother file sync experience, and essentially becoming an always-on remote drive.
The update to SkyDrive.com is a reflection of the increasingly important role the SkyDrive service is expected to play in both Microsoft's mobile and desktop/tablet platforms.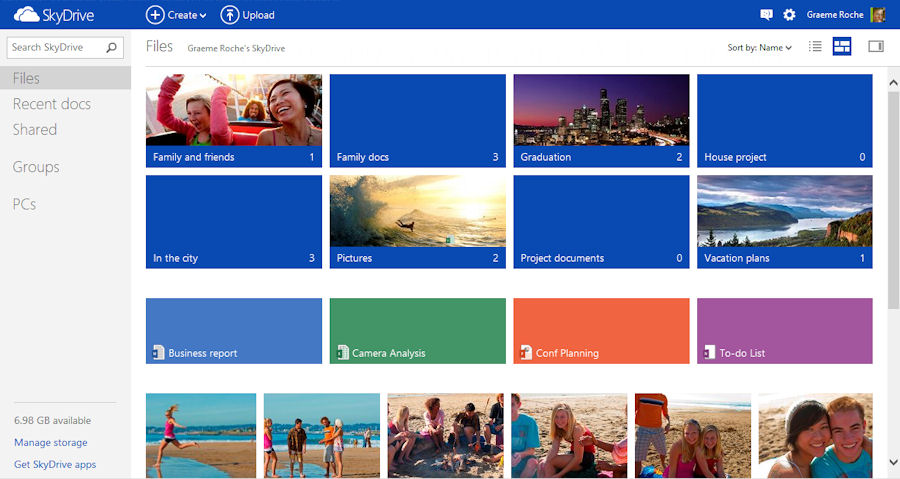 Here's how Microsoft describe the new look:
As you've seen with the preview of Outlook.com, we're bringing a fresh approach to how we design our web experiences. With the update to SkyDrive.com that's rolling out over the next 24 hours, we've taken the same DNA from the SkyDrive Windows 8 app and brought that to the web. We've updated nearly 100% of the SkyDrive UI to provide a fast and fluid web experience on all browsers and devices.
The new look brings SkyDrive on the web in line with SkyDrive on the desktop (Windows 8) and the recently updated Windows Phone app. As with other Windows 8 / Modern UI (Metro) inspired designs, the new looks eschews the use of dividing lines and skeuomorphic elements, and instead emphasises a flatter look, with bold use of coloured strips and tiles.
Other updates and additions include:
Instant Search - quickly search for a file anywhere in your SkyDrive, including the contents of Office documents.

Contextual toolbar - quickly access common actions and commands, allowing users to easily create documents and folders, share with others and carry out common file operations.

Multi-select and drag and drop - multiple files can be selected in thumbnail view, making it easier to arrange files and folders.

Sorting - the sort order for any folder can be customised and the setting will be saved for future use.
An update for the desktop version of the SkyDrive app (OS X and Windows) will be made available later this week. The new version should allow for faster and more reliable uploads of photos, and also reduces the computing resources used when looking for changed files (when syncing files). A mobile app for Android is also expected to be made available in the next few weeks.