Neither of these development directly impact on Windows Phone, but they the first does help clear up some of the name confusion around Microsoft's online email, contacts, and calendering services, and the second adds another feature point to Outlook.com's feature list.
Both of these make Outlook.com an attractive choice for Windows Phone users looking for an online service to handle their personal information management requirements, especially in the light of Google's upcoming withdrawl of Exchange ActiveSync support for new users of its free PIM services (though that do note Microsoft hs said Windows Phone will continue to support Google services).
Migration
Outlook.com cam out of its preview status in February, at which time Microsoft started the migration process. At that point in time Outlook.com already had 60 million active accounts, but now, ix weeks later, that numbers had increased seven fold. According to Microsoft this involved the migration of 150 petabytes (150 million gigabytes) of data, maintaing personal data, preferences, and settings, while continuing a love service that was handling billions of transactions day.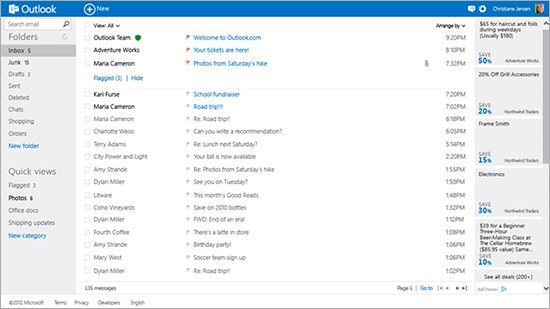 More details on the migration, including some frequently asked questions for Hotmail users, is available in the full blog post.

New features
While Outlook.com was always able to send and receive email from other accounts, the addition of SMTP send support means it is now possible to avoid having email sent "on behalf" of the other account by Outlook.com. That's useful if you to avoid disclosing your Outlook.com alias (e.g. if you're using a custom domain). It works by using the other accounts SMTP server to send email, though do note that you will need to configure this in Outlook.com's settings.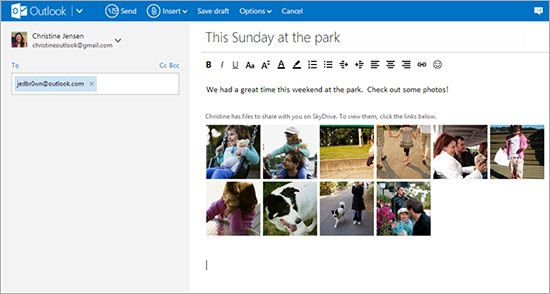 The deeper SkyDrive integration has been enabled by adding an "Insert" menu on the top toolbar of the compose message screen. The new menu gives the option to add files as attachment, add pictures inline, and share from SkyDrive. When sharing files from SkyDrive you select the appropriate files from SkyDrive and they are automatically turned into thumbnails and links with access permission tied to those that are receiving the email.
Both the SMTP Send and SkyDrive integration are rolling out now. They should be available globally in the next few weeks.