With the removal of Exchange ActiveSync support, it will no longer be possible for new connections to sync data from Google Contacts or Google Calendar using the Microsoft protocol. Google says it now offers similar access via IMAP, CalDAV and CardDAV, which it says makes it possible to "build a seamless sync experience using open protocols". However, Windows Phone does not currently support CalDAV or CardDAV, and in some use cases these protocols provide an inferior experience (e.g. meeting invitations, push support).
Exchange ActiveSync was originally primarily used by enterprise users, and continues to be dominant in that space, as is evidenced by Google's continued support for Exchange ActiveSync in Google Apps for Business, Education and Government products. However, with the growth of the smartphone market, usage amongst consumer has grown (though they may not always be aware they are using the protocol). This is because a number of email, calendar and contact service providers, including Google, have used it as way to provide easy push sync with mobile devices. In part that's because nearly every mobile platform has implemented support for Exchange Active Sync, essentially making it a de facto standard.
Google's decision to end support for Exchange ActiveSync can be seen as a casualty of the ecosystem wars, but there is a financial and strategic incentive for them to do. The Exchange ActiveSync protocol is owned and developed by Microsoft and Google is paying a license fee for use in its products. The exact terms of the license are unknown, but are likely to include a 'per connection' cost element.
In a way, the move is reminiscent of Apple's move to replace Google Maps on iOS with its own solution, something that's very much in the long term interest of the company but not in the short term interest of the users.

Ultimately, Google's decision to end Exchange ActiveSync support is perfectly reasonable from a business viewpoint, and makes strategic sense, but it is likely to inconvenience users. Moreover it's hard not to see it as an anti-Microsoft move, especially in the light of the relatively short notice period, the continued Exchange ActiveSync support for Google Apps users, and the innocuously and rather misleadingly titled announcement post.

Impact on Windows Phone users
Windows Phone currently includes Google as an option when using adding a new account in the email+account section of the Settings app (also used to configure and set up Microsoft, Outlook, Hotmail, Facebook, Twitter, LinkedIn, Yahoo! Mail, Nokia Mail, and other accounts). Currently, when setting up a Google account, users are asked to supply a username (Gmail address) and password. As a secondary step you are asked what content you want to sync: email only, or email, contacts and calender. The former uses the IMAP protocol and is not impacted by today's news, the latter uses Exchange Active Sync protocol, which means, in its current form, it will no longer work for "new connections" from the end of January.
This will be frustrating for those users who want to use the Google Calendar and Contacts services on a Windows Phone device. It's worth noting that "new connections" will include those who are upgrading to a new device.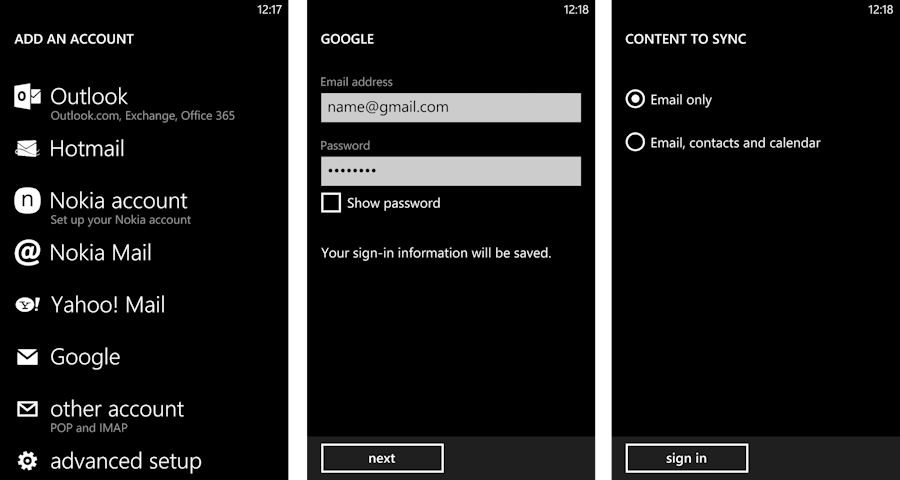 The overall degree of the impact is not clear. Google noted this summer that Gmail had 425 million active users. This number makes it one of the biggest email providers in the world (e.g. compares to Hotmail/Outlook with around 360 million users, and Yahoo! Mail with 280 million users). However, only a subset of Gmail users are active Google Calendar and Contact users, and given the links between Gmail and other Google properties, some of the active Gmail users will not be using the service as their primary email account (e.g. YouTube engagement requires a Google and therefore a Gmail account).
Perhaps a more significant issue is that the move will, potentially, make switching from an Android device to a Windows Phone device more difficult for many users. That's because, as you would expect, many Android users are amongst those active Gmail users who use Google Calendar and Contacts.

Potential solutions
Although it is Google that has made the move, because of the impact on end-users, the onus will be on Microsoft to fix the problem. Microsoft could fix this in a number of ways. Firstly it could add support for CalDAV and CardDAV to the Windows Phone platform, which would require a software update. Secondly Microsoft could implement these standards at a server level and provide a pass through Exchange ActiveSync compatibility layer. Theoretically, this approach would require only a minor adjustment to the software configuration on the phone, but it is arguably more difficult and less straightforward to implement.
Microsoft could also opt to ignore the CalDAV and CardDAV standards and instead use Google's GData APIs, which provide access to the data in Google Calendar and Contacts, to implement a sync solution with Google services. Usage of this level would likely need permission from Google and an agreement similar to that which Microsoft has with Twitter, LinkedIn and Facebook would probably be required.
All of these solutions are likely to require time to implement, likely more time than is provided by Google's January 30th 2013 window.

Third party solution - NuevaSync
We've already mentioned Google's GData APIs as a potential solution for Microsoft to provide a sync solution with Google services. Interestingly, there's a third party service that already uses this method - NuevaSync. We spoke to David Boreham, NuevaSync's owner, who noted:
… we don't use those interfaces [EAS] to Google -- we use their GData family of APIs for calendar and contacts and tasks, and IMAP/SMTP for email. So this news doesn't affect our ability to provide service for our Google users.
In the short-term, i.e. for anyone purchasing a Windows Phone after Google Sync's end of life deadline, NuevaSync, while being a paid-for solution, may provide the easiest way to maintain access via Exchange ActiveSync to Google Services. In fact, NuevaSync provides a better user experience than a 'native' Google account on Windows Phone because it integrates Google Tasks and makes it easier to access multiple Google Calendars. NuevaSync is a paid for solution, whose basic plan costs 15 USD per year. Its premium plan, which provides genuine Push Email, costs 30 USD per year.
In the long term, there's nothing to stop third party app developers, or as we noted above, Microsoft themselves, using those same APIs to provide an app-based solution for Windows Phone.

Switch solution
Consumers also have the choice of switching away from using Google services, although this is probably the inconvenient option. Microsoft provides email and contact (People) services through Outlook.com, which also links to Windows Live Calendar for calendar services. Collectively these, for most users, can be seen as the equivalent of the combined Google services.
The People component of Outlook.com includes support for directly importing your contact list from Google Contacts, and you can effectively import your Google Calendar using the "subscribe to calendar" functionality in Windows Live calendar. You can, if you wish, also opt to use Outlook.com for email and webmail access. This will generally involve a change of email address, but you can collect email from an existing account, or use the forwarding option in Gmail to ensure any email sent to your old address arrives in your new inbox.
In a way using the Outlook.com and associated services are the best option for Windows Phone users since they are "native" to the Microsoft ecosystem. They also have full support for Exchange ActiveSync, so can also be used with almost any mobile device (i.e. they are, in a practical sense, more flexible and "open" that the services provided by Google).