HTC, as we noted in our story on the company's Q2 2013 results, faces fierce competition in both Android and Windows Phone smartphone business:
The crux of the problem is that HTC is facing off against two giants, Nokia and Samsung, in the Windows Phone and Android ecosystems respectively, both of which have much bigger marketing budgets, better economies of scale, and more sales channels than HTC. In order to counter act this HTC must either out-innovate or be more nimble than its larger rivals. An easy proposition to suggest, but one that is much harder to implement.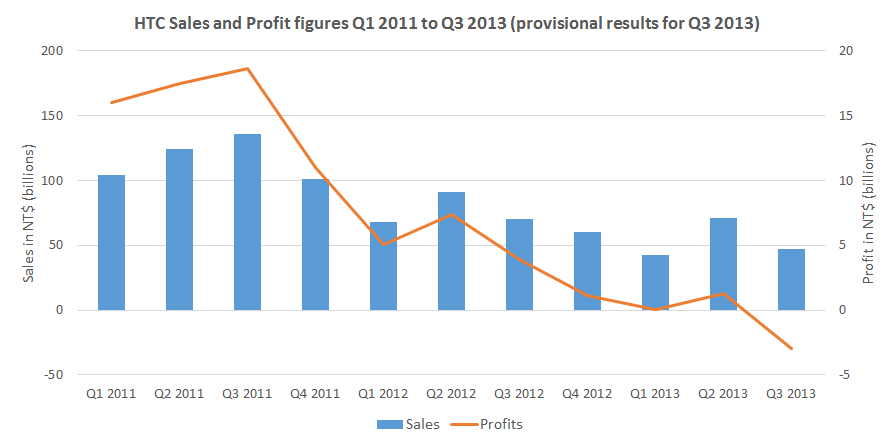 HTC's future commitment to producing Windows Phone devices has been an open question ever since Nokia switched to producing Windows Phone devices, effectively displaying HTC as Microsoft's main hardware partner. Microsoft's planned acquisition of Nokia's Devices & Services business only adding more weight to the argument that HTC should concentrate on Android.
Some sources are suggesting that HTC will not release another Windows Phone device, although this summer there have been persistent rumours that HTC will release a Windows Phone version of an HTC One like handset. The key question here is firstly whether HTC's leadership believes that the Windows Phone business has a sustainable future, and secondly whether HTC can afford to do so. The answer to both these questions depend, in part, on Microsoft.
Microsoft, even in the light of its acquisition of Nokia's devices business, will want to do everything it can to encourage manufacturers to continue with, or adopt, Windows Phone. That could include direct financial help or a reduction in the Windows Phone licensing fee. HTC, which has a longer working relationship with Microsoft than any other manufacturer, would be a logical recipient of any such help.
It is difficult to assess the additive cost to HTC making Windows Phone devices. Some work. such as material research and testing, component supply, and establishment and maintenance of sales channels can be shared. However, other costs, such as design, testing, and integration, will apply to every phone produced by HTC. Moreover, supporting an extra operating system inevitably results in some duplication of work. As a result, the cost of producing a Windows Phone device will be higher than adding an extra Android device to HTC's line up.