In addition to basic text tags, NFC Toolkit is able to create tags for opening a website, triggering an email, launching a Settings module page, and launching an app (third party or system). The app is also able to read and extract basic information existing NFC tags.
NFC Toolkit is not as versatile as other NFC utility apps, but the benefit of this is that it has a relative simple and easy-to-use UI that may be less intimidating for novice NFC users. The professionals will still want to gravitate to NFC Interactor, but if you're looking to create a few simple tags then NFC Toolkit may the best solution for you.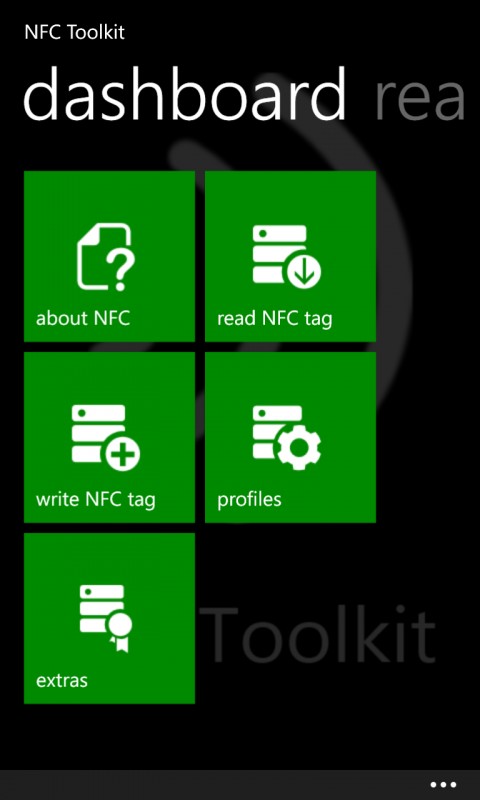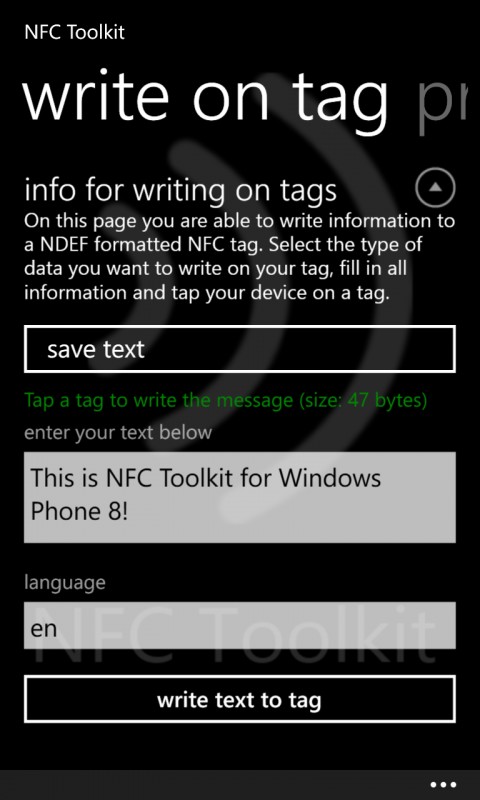 In addition to creating a basic Settings module shortcut tag (e.g. go to WiFi settings), NFC Toolkit also allows for the creation of what it calls profile tags, which combine several Settings module shortcuts into a single tag / instance. Profile tags can therefore be used to open up to 5 Settings module shortcuts with a single tap (e.g. WiFi, Bluetooth, Cellular). Each Settings module will open one after the other, such that you can make a change on the first Settings module page, then press the standard Windows Phone back button to get to the next Settings module page, and so on. This is handy if you want to change several settings at a time (e.g. leaving the house - turn off WiFi, turn on Bluetooth, turn on 3G data).
NFC Toolkit has a number of ready made profiles ready to go (e.g. Location-Bluetooth, Flight mode-WiFi), but you can also create your own combination of Settings module shortcuts (choosing from airplane mode, cellular, WiFi, Bluetooth, location, and lock screen). In addition to writing the profile to an NFC tag, you can also pin it to the Start screen (i.e. no need to use an NFC tag).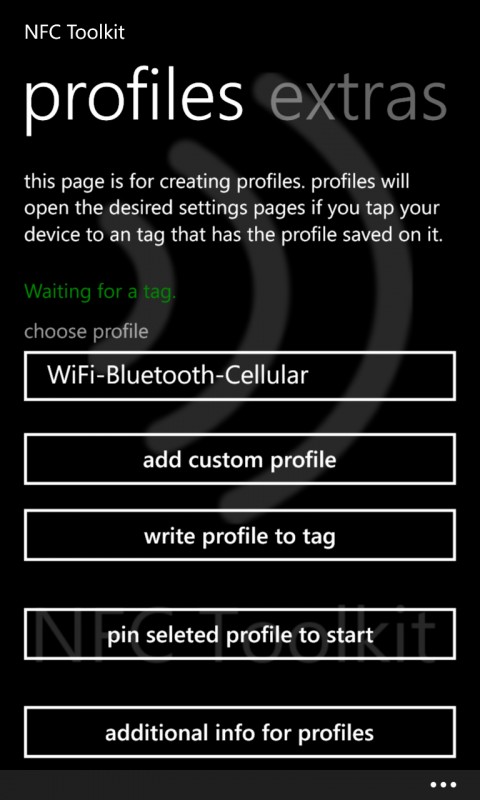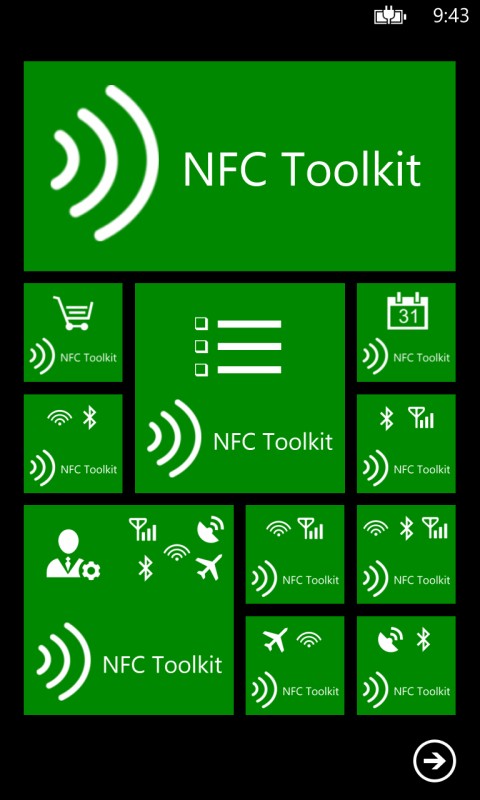 Windows Phone Store description:
This is not another app that reads and writes tags. It is able to that, but it provides you also profiles. What are profiles you ask?

Basically, profiles open settings pages in a row to make it easy for you to set up your device. Example: You leave your house, need to deactivate Wi-Fi, activate 3G for music streaming and also Bluetooth for connecting to your car radio when you go to work. That's one of our profiles.

NFC Toolkit can be downloaded from the Windows Phone Store. A free 10 day trial is available, with the full app costing £1.29.