All the prices mentioned above are excellent value for money, with Target's pricing, which is presumably aimed at clearing some stock, the lowest we've ever seen for a Windows Phone device. The devices are locked to their respective networks, but that's reasonable given the price is undoubtedly achieved thanks to a healthy operator subsidy.
The Lumia 520 is also available at a low cost in some other countries. For example, Carphone Warehouse in the UK offering the device for £69.95, but in other countries pricing is significantly higher (e.g. €150), reflecting the unsubsidised cost of the handset.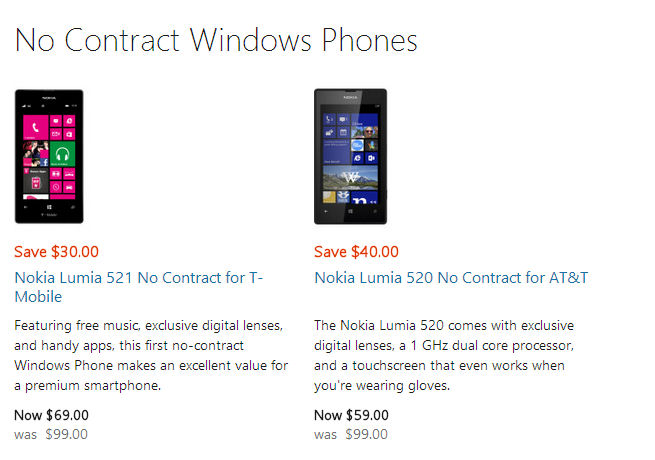 We recently asked whether now was a good time to buy a Lumia 520 in view of the fact that a new series of low end Lumia device might not be far away. Price is obviously a critical factor here and being able to pick up a Lumia 520 / 521 for well under the normal retail price may make all the difference:
So is it a bad time to buy a low end Windows Phone device? If you're likely to suffer from buyer's remorse when the next generation of low end devices comes out, then the answer is probably yes. Otherwise, I have to say no, because a combination of low pricing, increasing app availability, and the prospect of an upgrade to Windows Phone 8.1 means that the Lumia 520, 620, and 720 have never been better value for money. Of course, they may be even better value for money once their successors are announced... and it is a maxim of the smartphone world that there's always something just a bit better around the next corner!

And here's the conclusion to our Nokia Lumia 520 review, which we published last April:
Taken holistically, though, the Lumia 520 is still cracking value for money, in terms of the future proof operating system, the built-in Office suite, the mapping and navigation services, the 150,000 third party applications available in the Windows Phone Store, and (as highlighted above) even the built-in camera.

The more Nokia push Windows Phone down into this price territory, the better it will do, I suspect - budget Android phones tend to be slow and clunky, whereas the 520, on the whole, flies. And with greater sales at the budget end will come market share increase and revenue, increasing awareness further up the price spectrum. Assuming that Windows Phone continues to grow, I suspect we'll be looking back in a year's time and realising just how much the Lumia 520 and 620 had to do with the ecosystem taking off across the world.