The easy answer here is no. Wait a while and you'll be able to choose from the superior Lumia 530, 630, and 730 (or whatever Nokia/Microsoft chooses to call them). In practice, the answer isn't so cut and dried. There are two main factors that really need to be considered: pricing and technical capability.

Pricing
Looking at Amazon UK pricing, the Lumia 520 is available for £101.98, with the Lumia 620 at £147.98, and the Lumia 720 at £185.28 (all SIM-free). Prices on PAYG are generally a little lower, but availability varies from operator to operator and from country to country. In general, the Lumia 520 is the easiest to find on PAYG in the shops, having become an operator favourite for the low cost smartphone segment. Indeed, special offers frequently take the Lumia 520 down towards the £50/$50 mark on PAYG.
All of these prices are a significant reduction from the 'before taxes and subsidies' launch prices of €139, €190 and €249 respectively. The Lumia 720 represents the biggest saving, with a price reduction of around £65-£75 compared to its launch pricing, though that partially reflects a higher initial price margin. This is the advantage of buying phones some time after the initial retail availability - prices are almost always lower.
Of course, this does have to be set against the fact that phones are further along in their life cycle and will therefore feel out of date sooner in the ownership cycle, but that's generally less of an issue for low end than it is for high end devices.
What's more, because the base price is lower to start with, any pricing differential has a bigger proportional impact on low end devices. It's safe to assume that the launch pricing for any successor device will be in a similar range to the launch prices for the existing devices. For example, in the case of the Lumia 520, the price difference is likely to be approximately £50, around half the current cost of the device.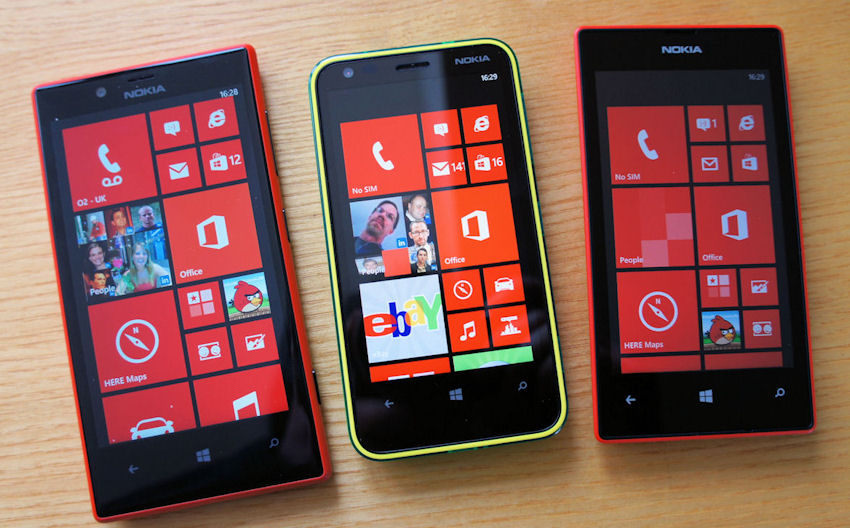 Lumia 720, 620, and 520 (left to right)
Technical capability and specifications
The next generation of low end Windows Phone devices are set to receive a notable specification bump. While it is not possible to be certain exactly what this will be yet, it is not unreasonable to assume that most of the new low end devices will be based around the same Snapdragon 400 SoC found in the Lumia 1320 (i.e. the Lumia 1320 is effectively the first of the "new" low end devices). Some, but not all, of the devices will also get a higher resolution screens and sensor improvements.
These specification upgrades will be nice to have and will make a difference, but may not have as a big an impact as you might think. The Snapdragon 400 is roughly in the same league as the Snapdragon S4 used in the Lumia 820, 920, 925, and 1020, so you can expect a similar performance difference between the old and new low end devices, as there is between the current low and high end devices. As we've discussed in a number of reviews, this is relatively minor, with the speed taken to start/launch third party apps being the most noticeable difference. There are also some other minor differences, mainly in resource intensive apps, such as Nokia Camera (e.g. resolution and number of frames in Smart burst mode).
A more important factor is the RAM specification. Current low-end Windows Phone devices, because they have 512MB rather than 1GB (or more) of RAM, are unable to install some apps and games. This RAM limitation is something that is expected to change for most of the next generation of low end devices (the Lumia 525 being an early signpost for this). However, as we noted last year, the numbers involved are relatively small, with just 0.24% of apps being incompatible with 512MB devices. Games make up the vast majority of these, so, in our view, this limitation is really only an issue if you are an avid smartphone gamer.
The other factor that should be considered here is future software updates, especially in the context of the soon-to-arrive Windows Phone 8.1. Microsoft and Nokia have both gone on the record as saying they expect current Windows Phone 8 devices to be upgradeable to the next version of Windows Phone (i.e. 8.1), thus avoiding a repeat of the Windows Phone 7 to Windows Phone 8 situation.
However, it is possible that there may be limitations in any update for the current low end devices (e.g. features left out and/or downgraded). It is also reasonable to assume that the new low end devices, by virtue of being a year younger, will receive software updates for longer than the current low end devices. It's not possible to say with any certainty whether this would include a second major platform update.

Conclusion
So is it a bad time to buy a low end Windows Phone device? If you're likely to suffer from buyer's remorse when the next generation of low end devices comes out, then the answer is probably yes. Otherwise, I have to say no, because a combination of low pricing, increasing app availability, and the prospect of an upgrade to Windows Phone 8.1 means that the Lumia 520, 620, and 720 have never been better value for money. Of course, they may be even better value for money once their successors are announced... and it is a maxim of the smartphone world that there's always something just a bit better around the next corner!