The Lumia 520 will cost an estimated €139 before taxes and subsidies, and will debut during the first quarter of 2013 in Hong Kong and Vietnam, with wider shipping in the second quarter of 2013, including Italy, the United Kingdom, and the United States of America on T-Mobile.
The pricing means that the Lumia 520 will be the most affordable Windows Phone 8 device, with a high street, SIM-free price lower than most smartphones. The UK SIM-free launch price is likely to be around £145 (unsubsidised price, plus 20% VAT). This puts it well within the boundaries of the PAYG market, but will also mean it will be available free on the cheapest contract tier (e.g. £15 per month). By way of comparison, the Lumia 510 launch price was €150, the Nokia Lumia 610 launch price was €189, and the Lumia 620 launch price was €190.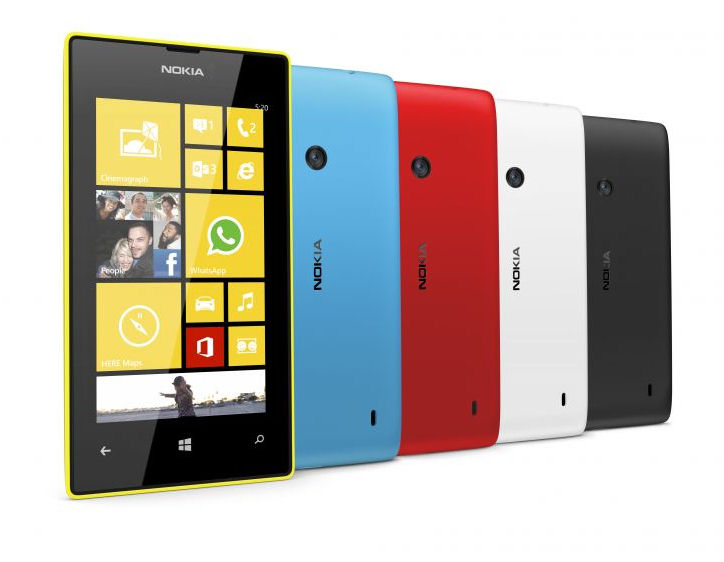 The 4.0 inch screen, which is protected by hardened glass, has the same super sensitive screen technology that debuted in the Nokia Lumia 920, allowing gloved fingers to work on the capacitive screen. Nokia's EVP of Design Marko Ahtisaari described the Lumia 520 as a "fun and affordable and way to upgrade to a smartphone", and the message from the stage at Barcelona pushed the 520 as "the most affordable high end experience".
With this four inch screen size, the Lumia 520 is one of Nokia's smaller Windows Phone 8 devices (19.9 x 64 x 9.9mm, versus 115.4 x 61.1 x 11.02mm for the Lumia 620, 130.0 x 70.8 x 10.7mm for the Lumia 920, and 123.8 x 68.5 x 9.9mm for the Lumia 820), but still retains the modern styling witnessed on the rest of the Lumia range (and also carried into the Asha handsets announced today), namely the pillow-like edges and curves on the casing, and the expansive front panel.

As with other Lumia devices, Nokia's exclusive software is an important part of the offering. The Lumia 520 will ship with Nokia Maps and Nokia Drive+, and Nokia Music pre-installed, and additional applications will be available via the Nokia collection in the Windows Phone Store.
Key hardware features

Size and weight: 19.9 x 64 x 9.9mm, 124g in weight

Form factor and materials: monoblock touch form factor, with removable plastic covers and scratch resistant glass

Cellular connectivity: HSDPA and GSM connectivity: WCDMA (900/2100), GSM (850/900/1800/1900).

Other connectivity: WiFi: WLAN IEEE 802.11 b/g/n; Bluetooth 3.0; microUSB (USB 2.0) for PC connectivity and charging

Processor: Dual-core 1GHz (Qualcomm Snapdragon S4) with 3D Graphics HW accelerator, RAM: 512MB

Display: 4.0" TFT touchscreen; 480 x 800 pixels resolution; ClearBlack display

Camera: 5 megapixel auto-focus camera

Sensors: GPS, accelerometer, proximity and ambient light sensors

Audio: 3.5mm audio out (AHJ + WP controls); Dolby Headphone support; single digital microphone

Battery: 1430mAh removable battery

Memory: 8GB mass memory, plus microSD card slot (supports up to 64GB), and 7GB of SkyDrive cloud storage.

In box contents: Nokia Lumia 520 handset, High Efficiency Nokia Charger (AC-20), Nokia Stereo Headset (WH-108), Connectivity Cable (CA-189CD), Nokia Battery (BL-5J), Quick Guide.

Colours: Red, Yellow, Cyan, White, Black

Key software features
Platform: Runs Windows Phone 8.0 (GDR1 - Windows Phone 8 with first update)

Nokia apps: HERE Maps, HERE Drive, HERE Transit, HERE City Lens, Nokia Music (select markets), Smartshoot, Cinemagraph; additional Nokia apps available from Nokia Collection in Windows Phone Store.