The Lumia 510 is a refinement of Nokia's stated strategy of lowering the entry price point for its Windows Phone device portfolio. The Nokia Lumia 510's €150 launch pricing is €39 less (20%) than the launch pricing for the Nokia Lumia 610 (€189).
Getting to this lower price point does require a number of cuts to be made. Most of the cost saving compared to the high-end Lumia devices comes from the reduced processor, RAM, memory and cellular connectivity specifications, but overall design complexity and materials also play a part.
The Nokia Lumia 510 and Lumia 610 have similar specifications, but there are some important differences. The Lumia 510 has less internal memory than the Lumia 610 (4GB versus 8GB), and does not have an LED flash accompanying the camera. However, the Lumia 510 has a bigger screen (4 inches versus 3.7 inches), and consequently is a slightly larger (120.7 x 64.9 x 11.5mm versus 119 x 62.2 x 11.95mm) and heavier device (129g versus 120g).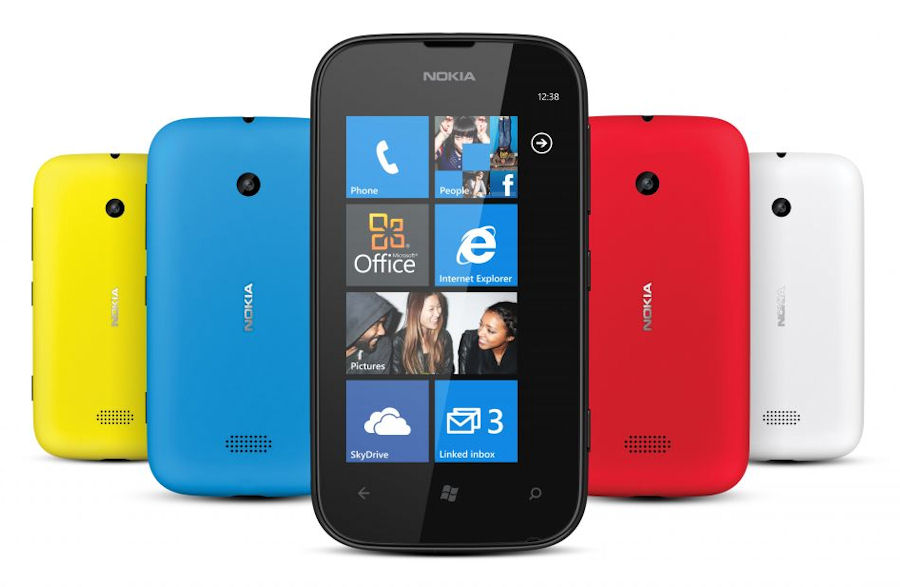 Initially, the Lumia 510 will ship with Windows Phone 7.5, but it will be upgradeable to Windows Phone 7.8, which has an updated Start Screen experience, and a number of other minor updates.
With the same lower specification processor and RAM as the Nokia Lumia 610, sometimes referred to as "Tango" specifications, the Lumia 510's overall performance will be a step down from the Lumia 800 and 710, but in general provides a similar level of functionality. A limited number of apps, around 1%, are unavailable for such devices, and there are some restrictions on background tasks, most notably the background agents that are often used to update third-party-app-created Live Tiles (those using push notifications are unaffected).

Also notable is the 4GB of internal memory; with pre-installed apps and other operating system files, the space available to the end user out of the box will be around 2.8GB. Nokia does note that 7GB of storage is included with the Lumia 510, via integrated cloud storage service SkyDrive, but the relatively low internal storage remains a limitation that any potential purchaser should be aware of.
As with other Lumia devices, Nokia's exclusive software is an important part of the offering. The Lumia 510 will ship with Nokia Maps and Nokia Drive pre-installed, and additional applications will be available via the Nokia collection in the Windows Phone Marketplace.

Jo Harlow, executive vice president of Nokia Smart Devices, said:
"With the Nokia Lumia 510 we continue to meet our commitment to bring Windows Phone to new, lower price points. People who use Windows Phone quickly realize how much more intuitive it is than other smartphone platforms, and Nokia Lumia is the best embodiment of the Windows Phone experience. With the Nokia Lumia 510 we're looking forward to welcoming more people into the Windows Phone experience."
More information can be found at Nokia Conversations, in this data sheet, or in the Lumia 510 Press Release.

Key hardware features

120.7 x 64.9 x 11.5mm, 129g in weight; monoblock touch form factor

Touch slab form factor design, with a combination of plastic casing and scratch resistant glass

HSDPA and GSM connectivity: WCDMA Dual Band (900/2100 or 850/1900), GSM (850/900/1800/1900).

Processor: Single-core 800MHz (Qualcomm Snapdragon S1) with 3D Graphics HW accelerator, RAM: 256MB

4.0" TFT touchscreen; 480 x 800 pixels resolution

5 megapixel auto-focus camera

GPS, accelerometer, proximity and ambient light sensors

3.5mm audio out

1300mAh removable battery (BP-3L - same battery as Nokia Lumia 710 and 610)

WiFi: WLAN IEEE 802.11 b/g/n; Bluetooth 2.1; microUSB (USB 2.0) for PC connectivity and charging

4GB mass memory (no memory card slot), plus 7GB of SkyDrive cloud storage.

In box contents: Nokia Lumia 510 handset, Nokia Charger (AC-20), Nokia Stereo Headset (WH-104), Connectivity Cable (CA-190CD), Nokia Battery BP-3L, User Guide

Available in five colours: Red, Yellow, Cyan, White, Black

Key software features
Runs Windows Phone 7.5, with update to Windows Phone 7.8 later 2012 or early 2013.

Nokia apps pre-installed include: Camera Extras, Nokia Maps, Nokia Drive, Nokia Music (select markets).

Additional Nokia apps available from Marketplace: Nokia Transport, Nokia Reading, and more...