Paul writes, on his 'SuperSite for Windows':
There are a number of notable features of the Podcasts app, which looks like a significant improvement over the Music + Videos podcast functionality in today's Windows Phone. These include:

Bing, not Xbox. I had some hints this was coming, but the Podcasts apps comes from the Bing group at Microsoft, not from Xbox. This makes sense in a number of ways, and as I'll write about soon, there are many, many more Bings apps in 8.1 now, which is quite interesting.

Nice, simple UI. The app uses a simple, pivot-based interface with three primary views: Now Playing, Favorites, Collection and Get Podcasts.

Now Playing. As you'd expect, this view provides playback controls, including ... wait for it ... variable playback speed! (You can choose between 1x, 1.5x and 2x speeds.)

Favorites. This view holds the podcasts which you've marked as favorites. If you're familiar with Bing's other mobile apps, you know this is a common feature across all of them, though it's not clear why users would need both subscribed and favorite podcasts (though it could of course be useful for very dedicated podcast users). You can also pin podcasts to Start, as you can today.

Collection. This works like the main Podcasts view in today's Music + Videos view, with separate Audio and Video items.

Get Podcasts. This is perhaps the most interesting part of the app, in that it differs so much from how this works currently. Today, you find podcasts in the Windows Phone Store, but in this Podcasts app you'll be able to search by name—using the Bing search engine, based on the related searches items I see—or supply a URL, which is new, and means you'll be able to subscribe to virtually any podcast on-device. Nice!
It does seem as though this is a first party Microsoft equivalent to some of the simpler podcatchers already available, complete with a search directory and connectivity options for better control. From our earlier feature on the Windows Phone 8.1 leaks:
A new podcasts app allows for the download or streaming of podcasts. New podcasts can be found by searching via Bing or entering a podcast feed URL. The app's settings allow you to specify when podcasts can be download (only on WiFi / unlimited data plan) and whether to allow streaming.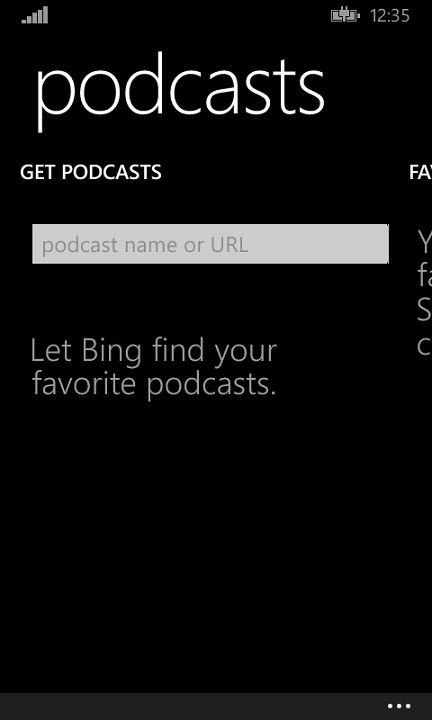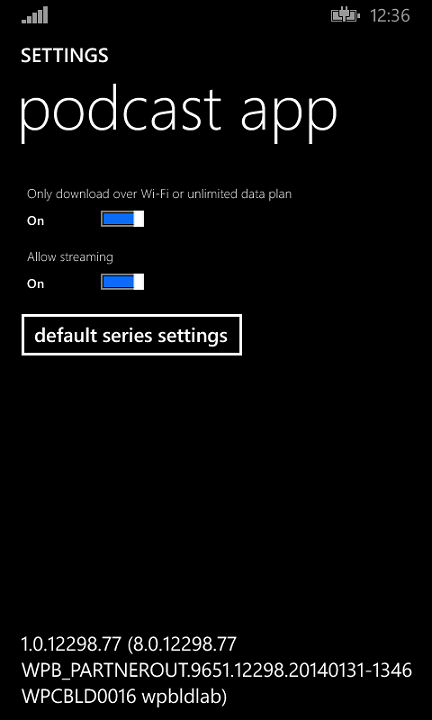 Although not matching the third party podcatchers, this functionality will be well integrated into the OS and might therefore work well for undemanding users. There's no sign yet of any kind of automated/background download, so hardened podcast fans will probably still want to look elsewhere.
The variable speed playback is interesting, though only three big step choices of speed are unlikely to satisfy - more gradation is needed here.