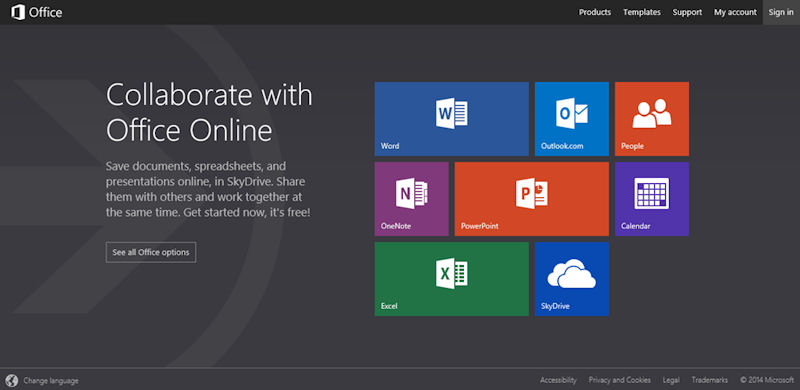 The rebrand does not include any major new features, although Microsoft has been quietly adding new features and small updates to the apps over the last few weeks.
A new app switcher bar, similar in style to that used on Outlook.com and OneNote.com and which allows users to eaily switch between different Microsoft services, is accessible from the top of every page. This reflects Microsoft's vision of integrating the online versions of its services closer together, in a bid to improve usability and cross-adoption.
As part of the switch Microsoft says it is also making is easier to "create great looking documents" by providing hundreds of templates so that "you can go from nothing to something with just a click".

From the Office blog:
Today we are making two changes. First, we're renaming Office Web Apps to Office Online so you know where to find our free online experience. We heard from customers that the inclusion of Apps in our name was confusing. Are they something I install? Do I go to an app store to get them? No, to use them all you need is a web browser. Ah! You say. So it's like Office, online. Yes, exactly. Office Online.

Secondly, a lot of you don't know that we have an online version of Office because you just couldn't find it. If you're already using Office Online on OneDrive (formerly SkyDrive) or on SharePoint at work, great. We're glad you found it there. You can still use Office Online just like you always have. But we're making it easier to find for the rest of you by introducing Office.com, a discoverable and shareable web page so that you can start using Office Online right away.
As we previously noted the chnage does not directly impact Windows Phone, but does give added prominence to ethos of "Office anywhere":
The change reflects Microsoft's ambition to seamlessly integrate its product experience across PC, online, and mobile. The underlying idea here is an ability to use Microsoft's Office product regardless of what device you are using, with documents stored on SkyDrive (OneDrive).