Windows Phone 8.1's Action Centre, which has been detailed in a number of previous leaks, adds a central location to "surface missed notifications" and enables apps to "intelligently manage notifications" and is intended to complement, but not replace, the existing Live Tile system. Action Centre will provide functionality similar to that provided by the notification centres in Android and iOS. It will also provide access to customisable quick settings panels that enable one touch control of features such as Bluetooth, WiFi and Airplane Mode.
For existing Windows Phone users the easiest way to think about the new functionality is that it will provide both a location to view missed "toast" (top of the screen) notifications and enabler richer notification features (i.e. events that users were previously not notified about).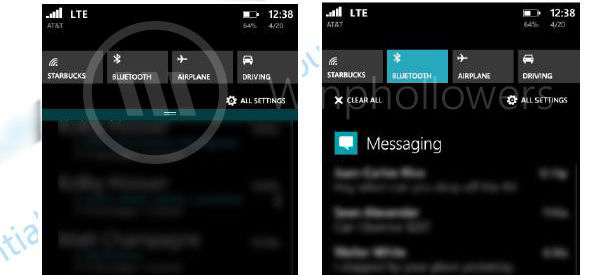 Previous leaks have shown Action Centre in action and detailed the basic concept, but have not fully disclosed the technical details of the new feature.
The screenshots posted by @AngelWZR indicate that each app can have upto 20 notifications and that a notification can persist for up to seven days. In the Action Centre listing notifications from the same app will be grouped together (e.g. one for each received SMS in the case of Messaging).
Users will be able to choose to "chase" (tap) a notification, remove a notification, remove a group of notifications, or remove all notifications. When "chasing" a notification the appropriate app will be opened allowing the user to take action related to the notification (e.g. reply to a text message, or read a breaking news story).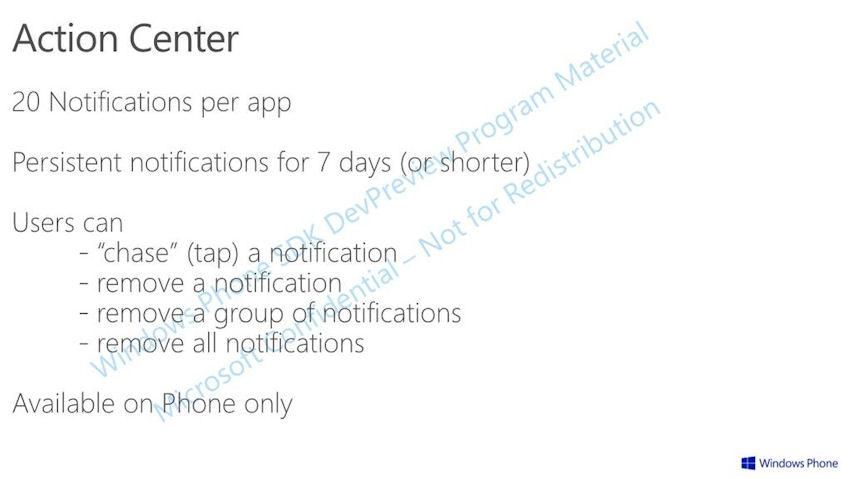 Similar to the user side control, developers will also be able to manage notifications for their app. For example, an app will be able to remove and/or update notifications (e.g. if notified event is no longer relevant or a count number has been updated). Developers can also set an expiration time on a notification and tag and group notifications together. There's also an option to send a "ghost toast" notification, which is a notification that "only shows up in the notification centre (i.e. there's no actual toast notification shown along the top of the screen).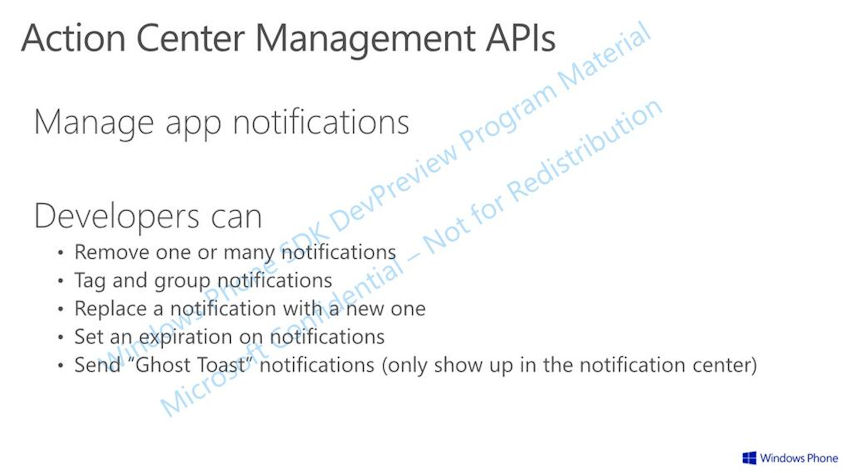 It's clear that Action Centre, along with Cortana, will one of the key new features in Windows Phone 8.1. There's still a few unanswered questions, especially around the precise details of general API access to notifications (e.g. integration with wearable devices, although our sources indicate that this is going to be supported).
However, it is now clear that the core functionality will be similar to Android and iOS, albeit it with a few additional tweaks from Microsoft. But, since it will also sit along side the existing Live Tiles, it's not unreasonable to say Windows Phone 8.1 will offer a greater degree of user choice when it comes to user notifications, at least at a conceptual level.