In fact, even before getting to the main changes and fixes, it's worth noting that there's one huge, overriding difference between MetroMail on Windows Phone and Gmail on Android. Unlike the latter, which appears resolutely white even on AMOLED-screened devices (e.g. most Samsung Galaxies) and thus wastes a lot of battery power, MetroMail has a really nice dark theme and thus you can browse your Gmail in totally relaxed mood, knowing that only the pixels that are lit up are using up your precious battery capacity.
Email in general, and Gmail specifically, is complicated to get right, in that every possible combination of senders and recipients, every possible connectivity snafu, every possible attachment type and body text encoding (etc) all have to be handled quickly and seamlessly. Which is why I'm not surprised at all that the changelog for v1.4.4.0 below (over and above the v1.4.0.0 that we covered on February 5th and the original review of v1.2.1 back in 2013) is dominated by fixes designed to make the whole experience more robust:
Update: Will now attempt to open attachments based on their content, if no filename extension is present
Fix: The "Download entire message" and "Display images" options are now working again
Fix: Plain text/inline replies now properly wrap lines with more than 80 characters
Fix: Quoted replies no longer introduce newline characters throughout the text
Fix: Addressed multiple issues with flicking left/right for navigating through a label
Fix: Reply headers now include local times instead of UTC
Fix: Notification prompts for new categorized emails can now be properly hidden (swipe required)
New: Live tiles now instantly sync across devices and operating systems (WP8 and Win8)
Fix: Addressed multiple SkyDrive-related issues
Fix: Resolved issue with editing existing signatures
Here's a glimpse of the new MetroMail v1.4.4.0 in action: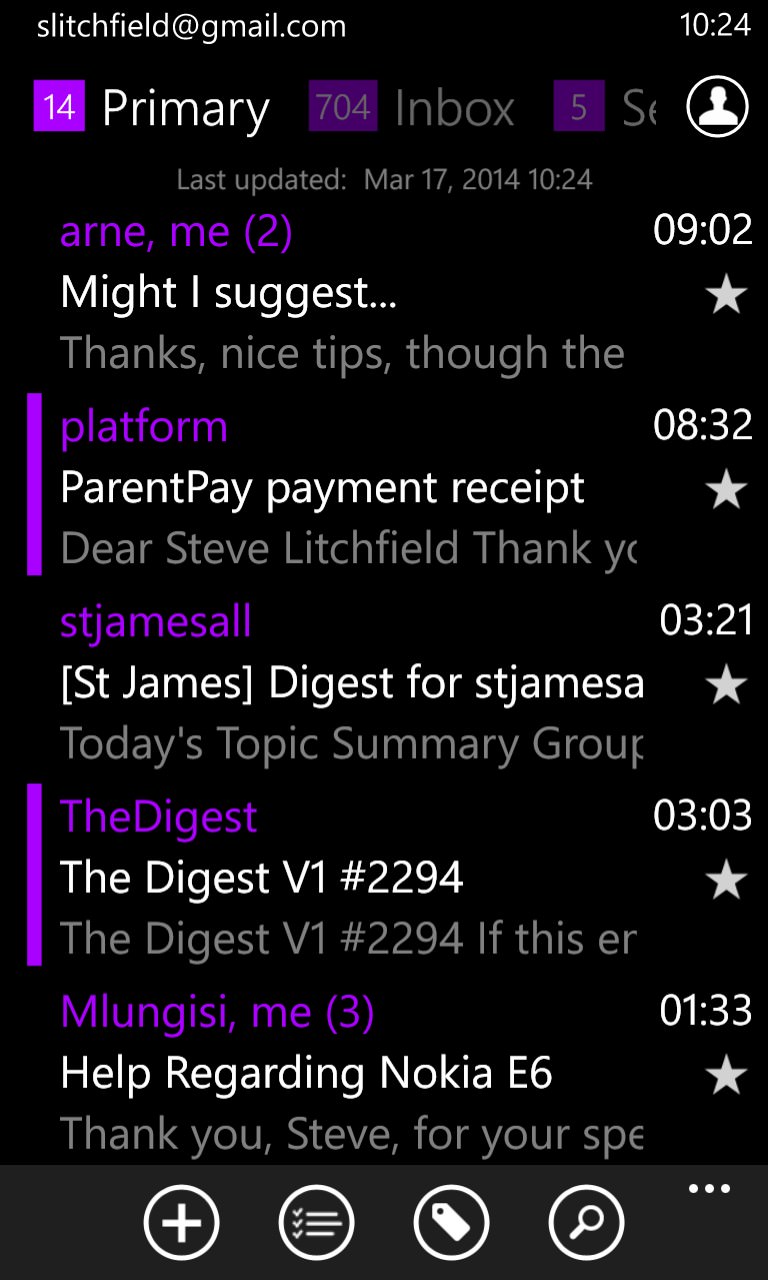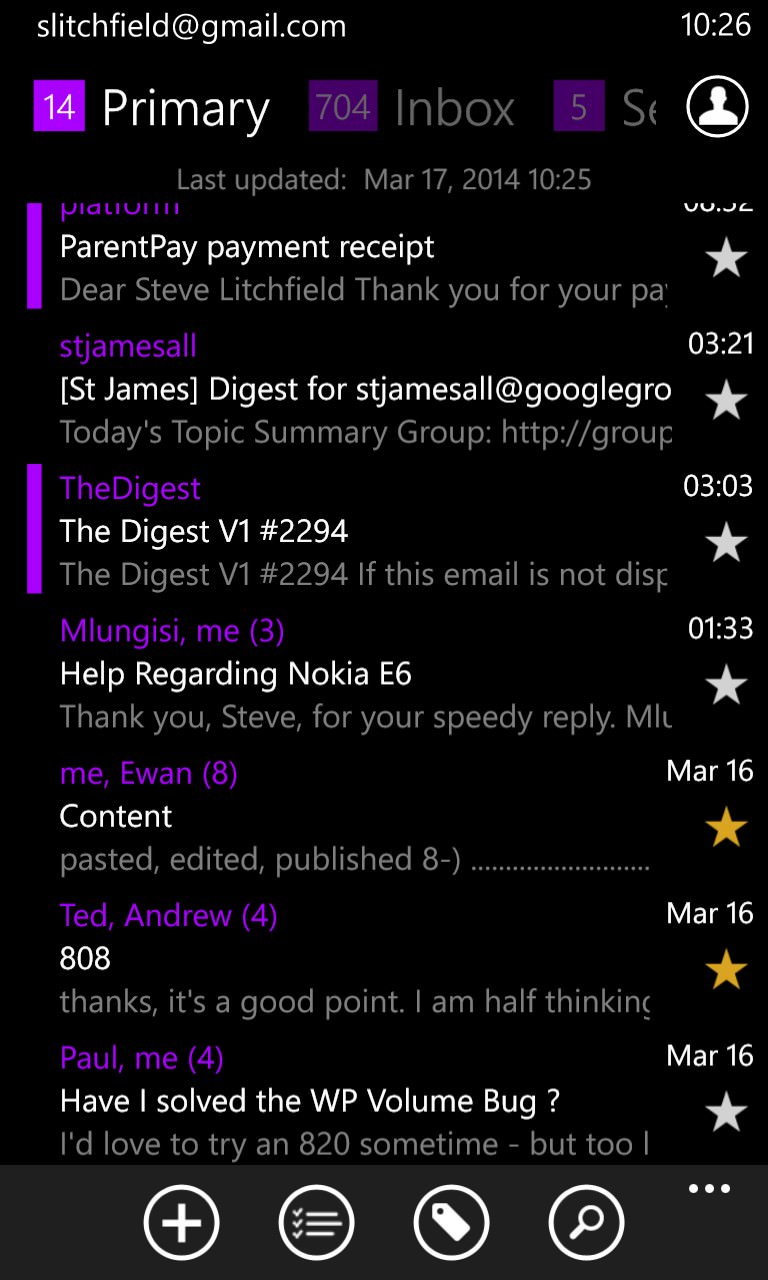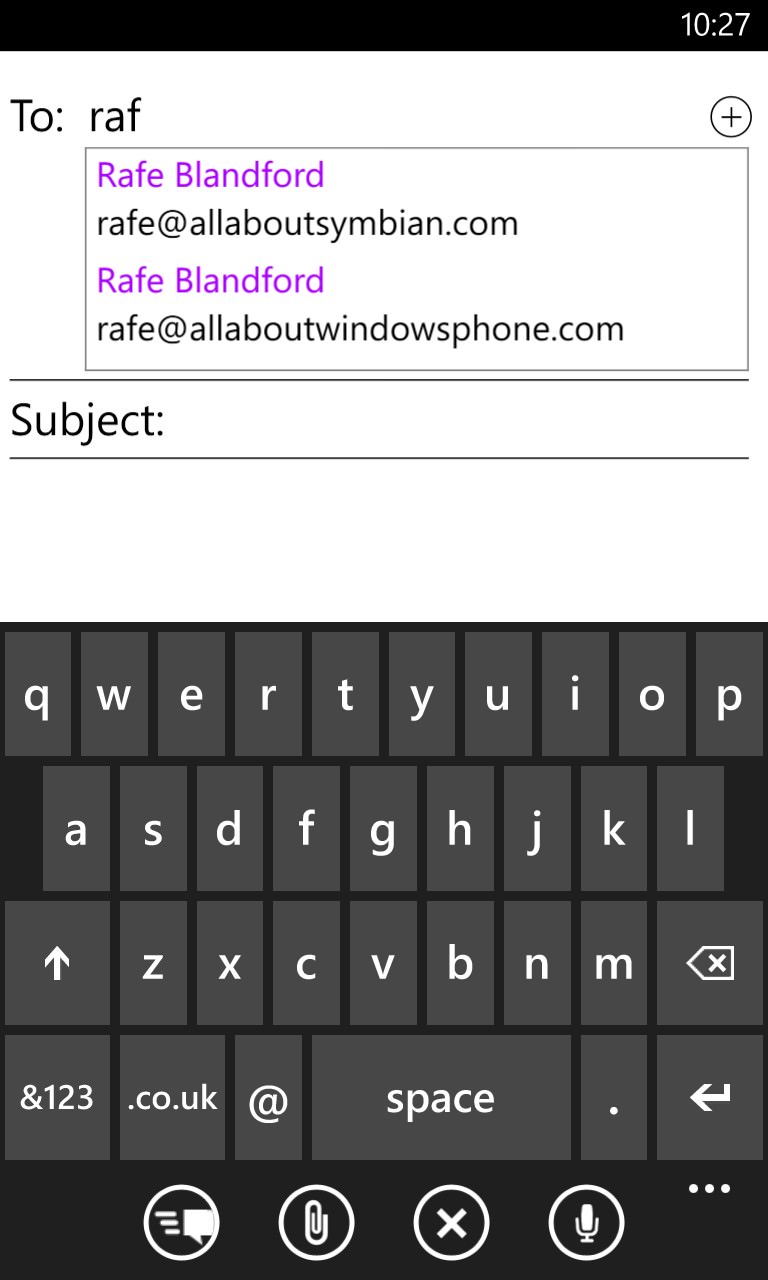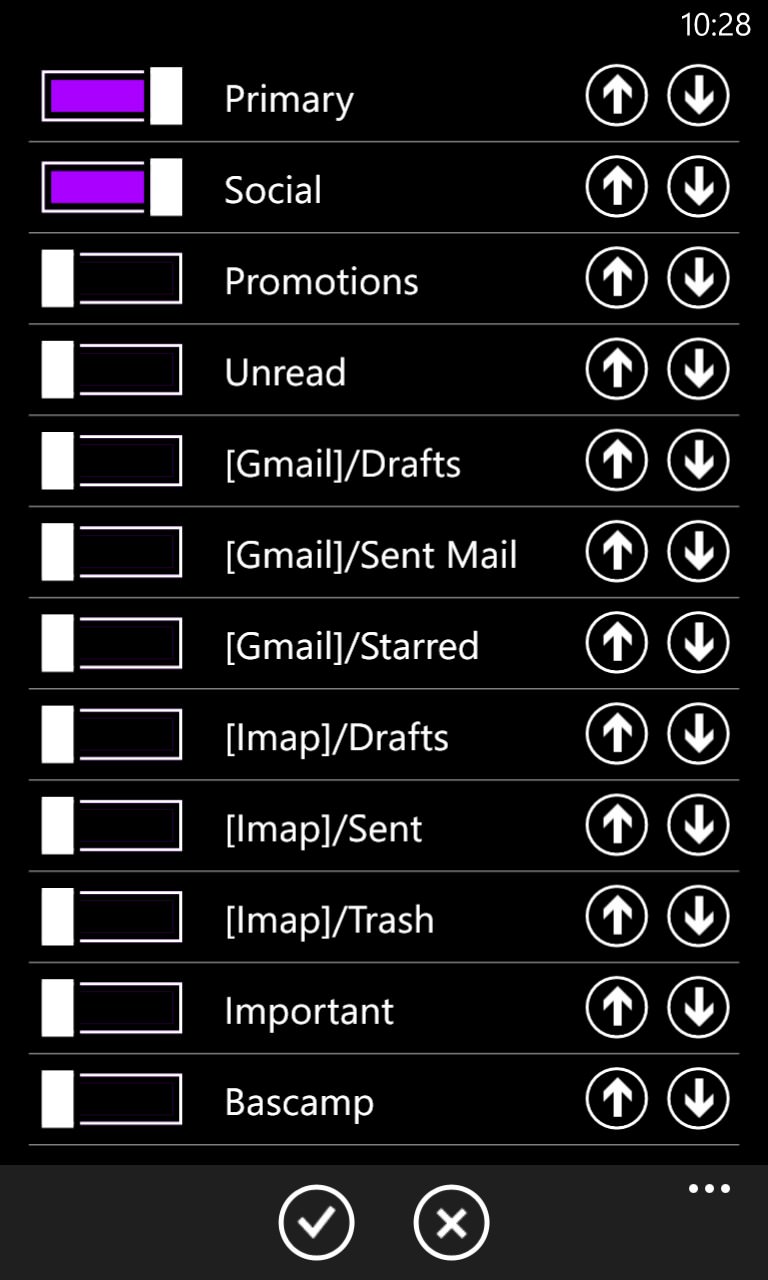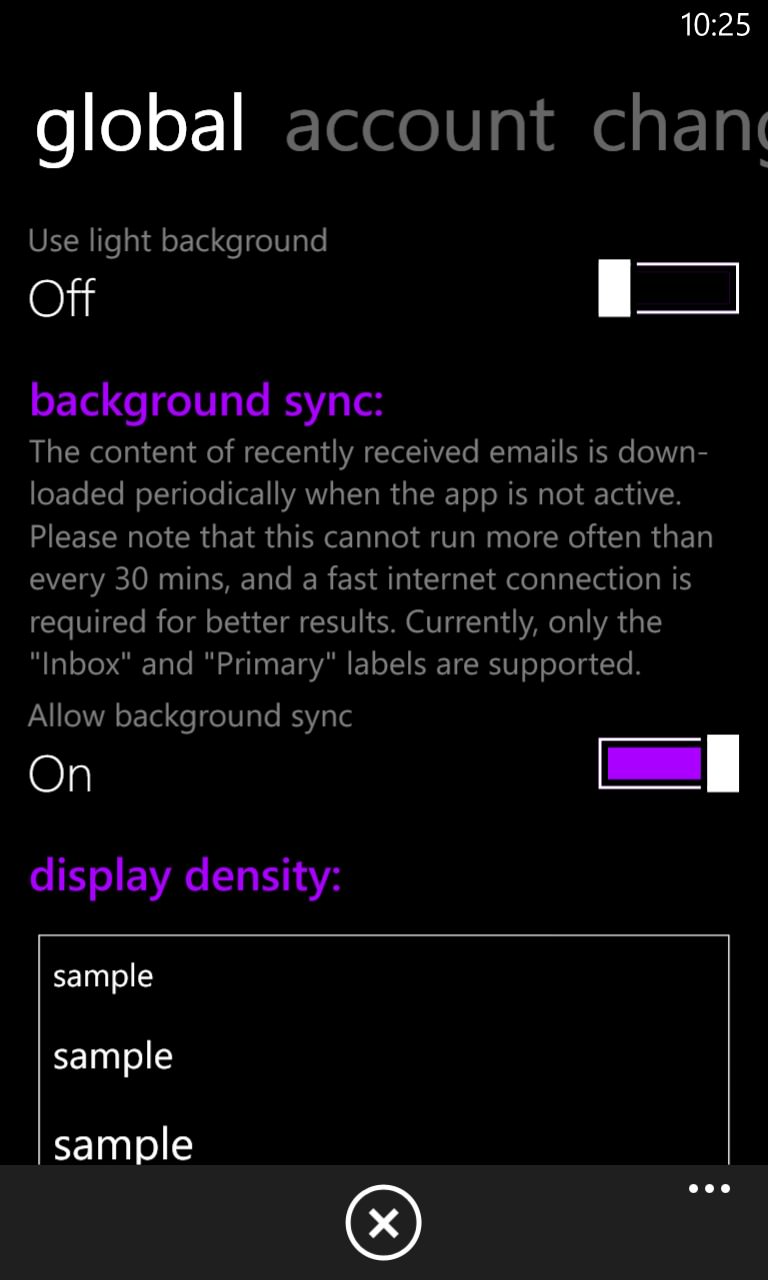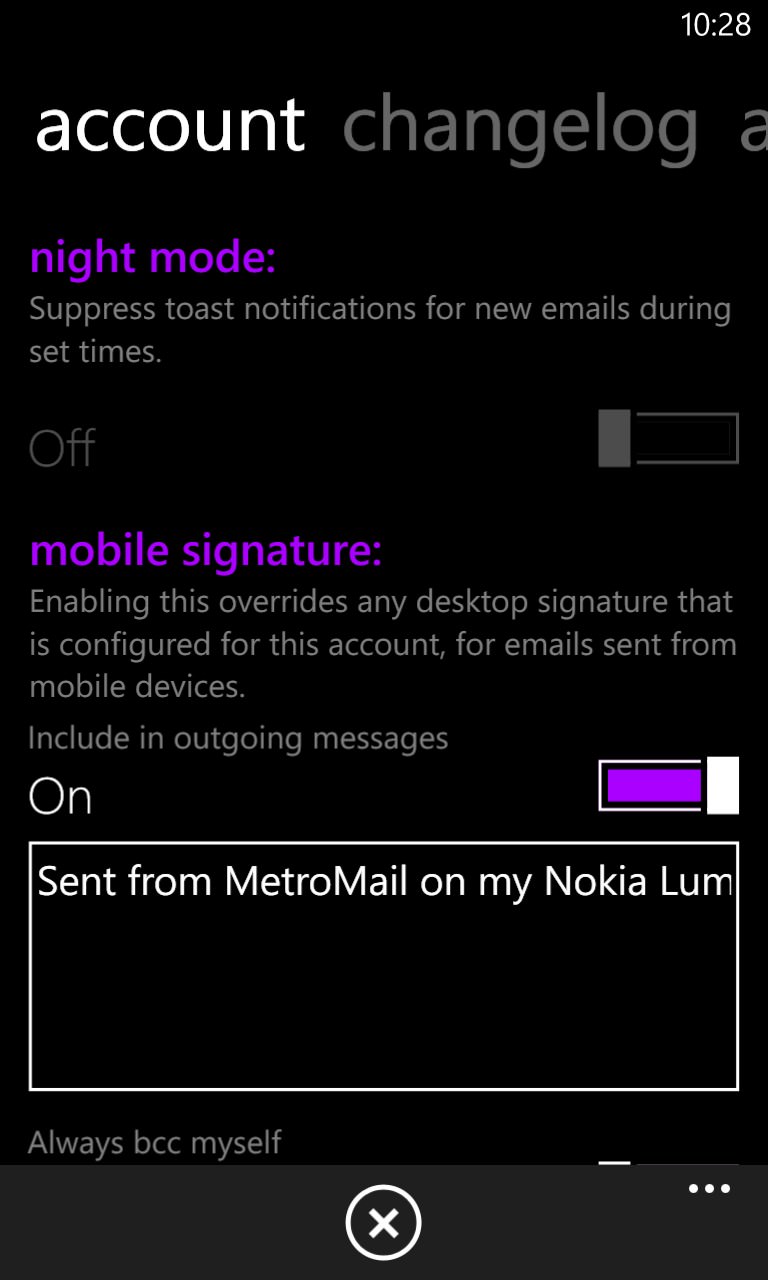 Highly recommended. You can buy MetroMail here in the Store, the best £1.29 (or so) that Gmail-using Windows Phone users will ever spend.