Review:
MetroMail
Score:
68%
While Windows Phone's email application does handle Gmail in a way that fits in with the UI, there are some areas where it can be lacking (including label support, filtering, and multiple accounts). Does the third-party client MetroMail address these issues and, if so, is it worth Googlers switching to it? That's a finely balanced decision.
Version Reviewed: 1.2.1
Buy Link | Download / Information Link
On opening the application, you'll be met with Google's own login screen. You don't give MetroMail your password, you give it permission to access your Google account (and your Gmail) by telling Google that this app can look at your account. You do this by logging on to Google with the OAuth screen presented.
That means at a later date you can revoke MetroMail's access (perhaps when you lose your phone). This method should be standard across web services, and it's nice to see MetroMail use it.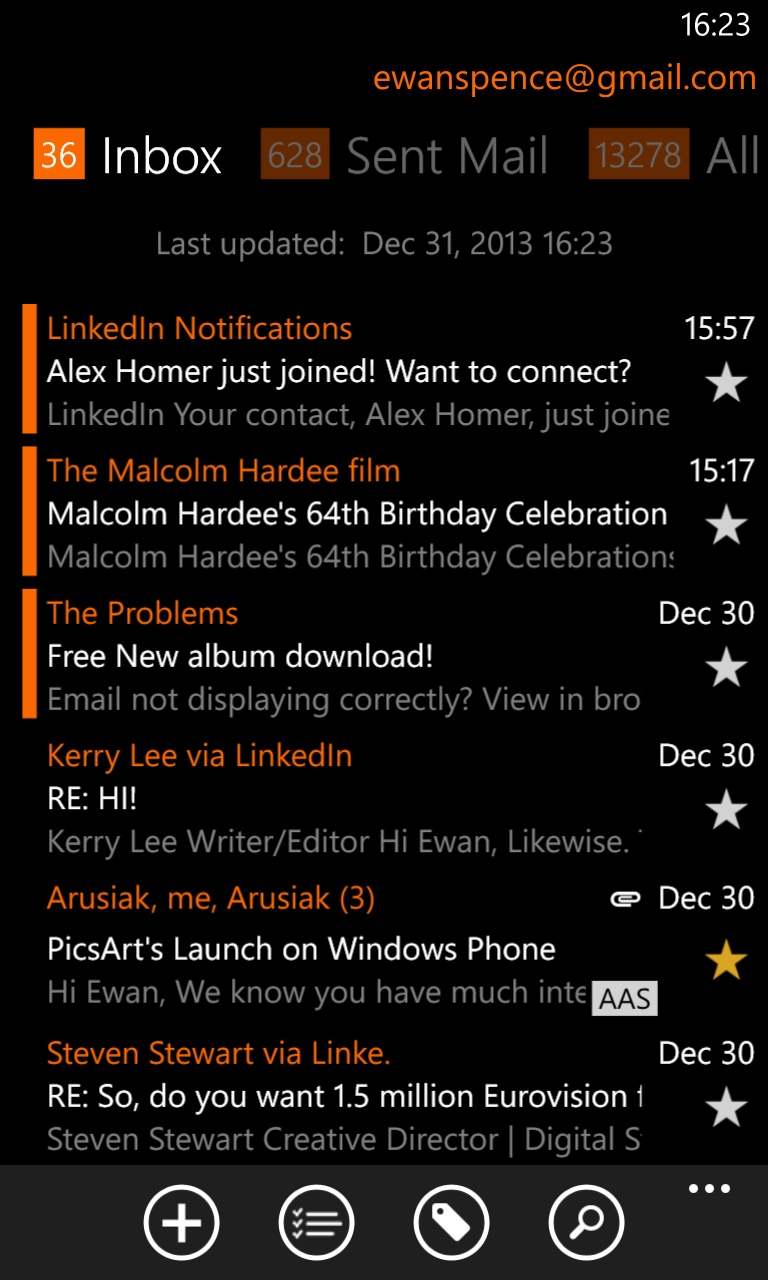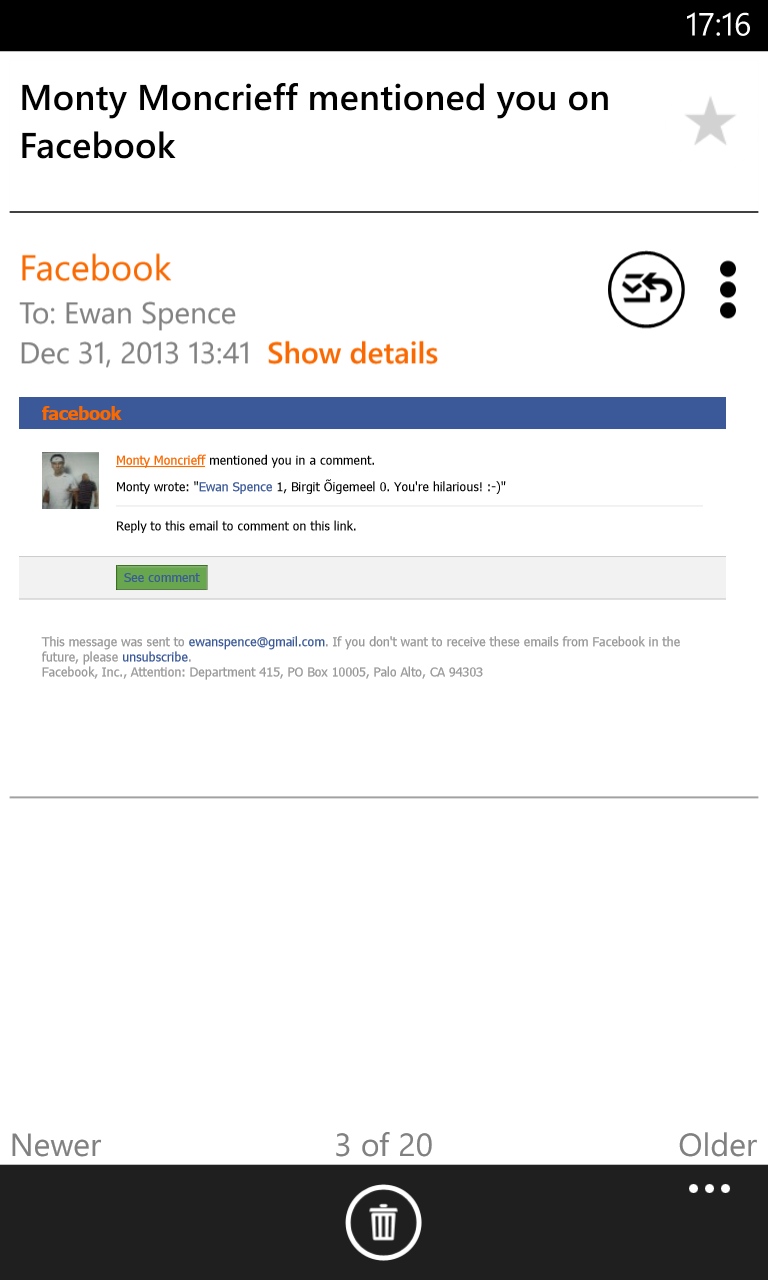 It does take some time to open MetroMail the first time, but later updates (accomplished by a quick pull down on the message list) are faster. Although the 'refresh' dialog does sit awkwardly overlaid on the message list, it disappears quickly enough.
The Windows Phone panorama view is well suited to this email client. You start with the Inbox view, and subsequent swipes to the side bring up the Sent Mail, All Mail, and Trash views, before returning to the Inbox. Tapping on an email will open it up, and MetroMail has a built-in email editor for you to reply to any mails from inside the application. Drafts can be saved, but only as local drafts, not to the drafts label of your online Gmail account. Given the integration that MetroMail has with the rest of Gmail, it's no surprise that the app needs its own email editor and is not passing you over to any of the built-in Windows Phone functions. But you do lose the ability to use any text formatting options available, emails from MetroMail will be sent in the style of plain text emails.
Viewing the emails, the issue of HTML formatting comes up. You can use the pinch to zoom gesture to get a closer look at the emails, but you do need to tap on the screen in the email first, which can be missed when you first use the app (I know that I needed a nudge from Steve). It's not perfect, there's no reflowing of text so zooming into an email does mean you'll need to do a bit of scrolling from side to side, but MetroMail is not the only email client that has this issue.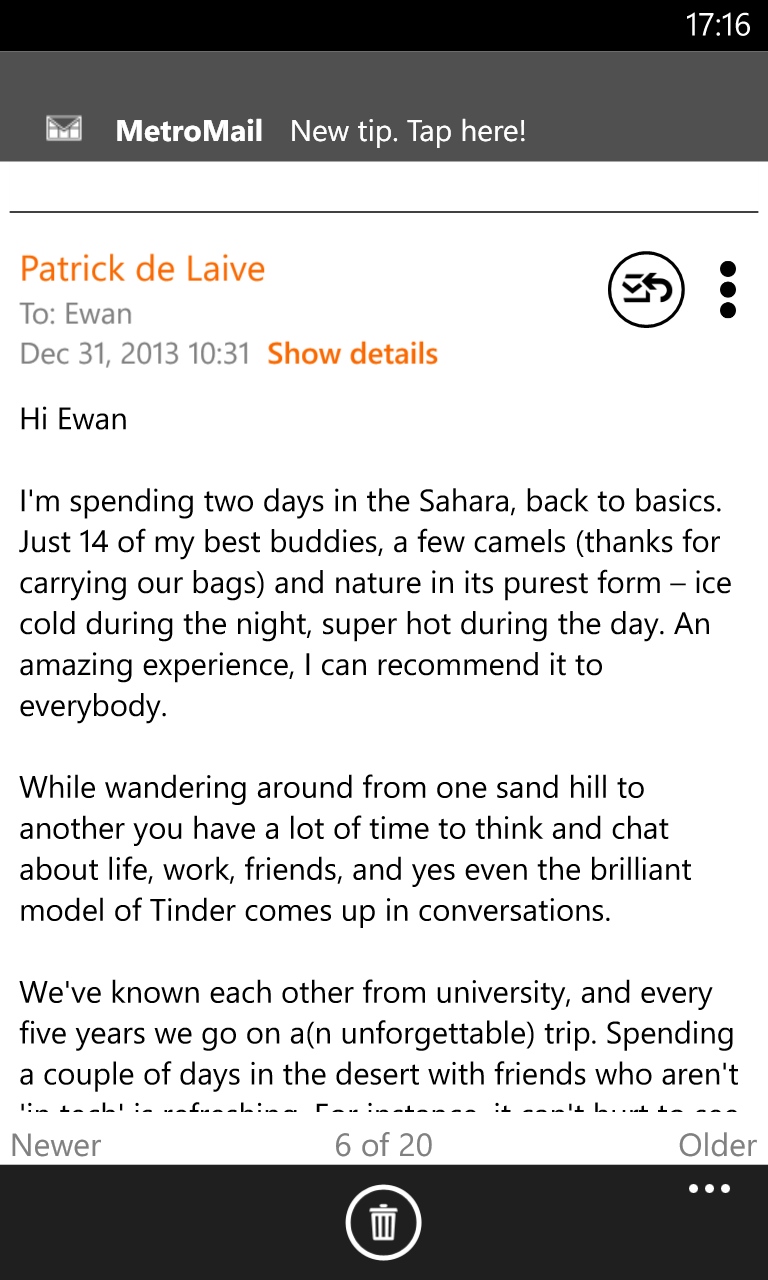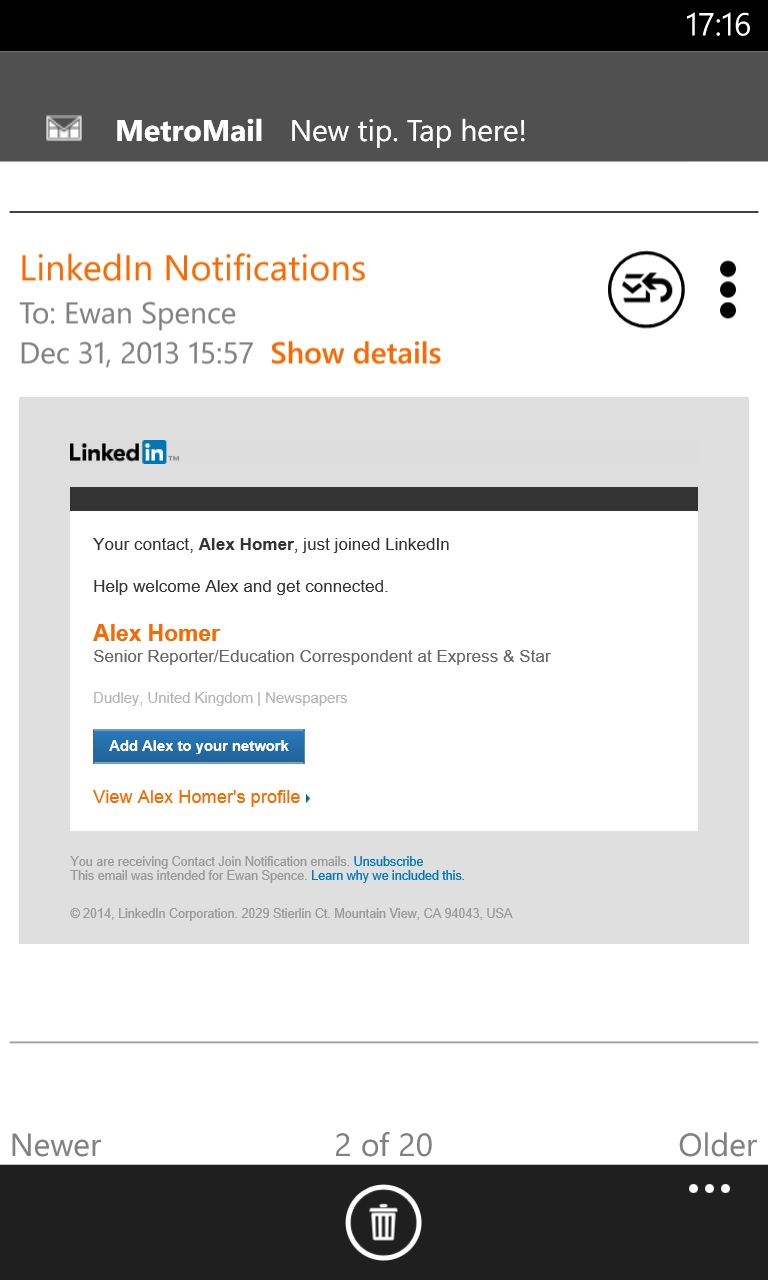 This functionality mirrors that of the built-in client, so while MetroMail does not improve in this area, it does match the capability of the built in app. With a bit of work on reflowing text and scaling graphics during a zoom, MetroMail could have an impressive selling point. For just now, it's the same as you've already been using, which is a touch of a let-down. This shouldn't be a showstopper, the information is still available and MetroMail copes with the HTML layout of my emails.
In other areas, MetroMail is clearly superior to the built-in Windows Phone client and its implementation of Gmail. Toast notifications can be turned off and on independently of the live tile status, and I like the night mode, which suppresses notifications between set times. Live tiles are also supported for each account set up in MetroMail, showing you your unread email count on the home screen.
There's also the ability to work easily with my labels in Gmail. Google's implementation of IMAP folder access to Gmail, that maps the IMAP folders to the tag/labels, is clunky at best, and falls down when you start to use multiple labels. It's a quick solution to check on recent mail, but any longer term approach, or scanning archives, and IMAP begins to have its flaws. The ability to use genuinely Gmail tags is one of MetroMail's core strengths.
MetroMail has many interesting additions, and the application does give power-users of Gmail more access to the filters and functions of Google's email service, but there needs to be more integration into Windows Phone - MetroMail doesn't show up on the sharing menu, so if you are looking to email links, pages, or media, you'll need to default back to the built-in client. MetroMail isn't yet ready to completely replace the Microsoft mail software, but there are some use cases where the application will be of benefit.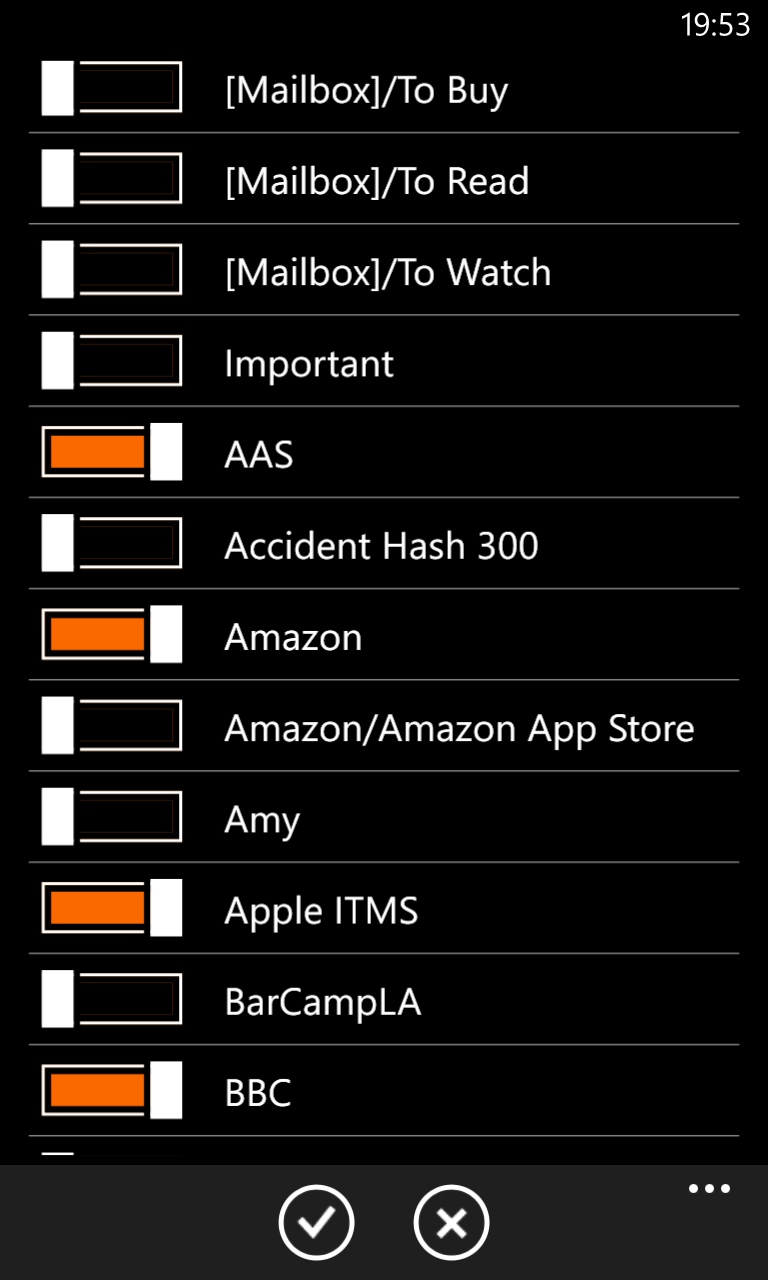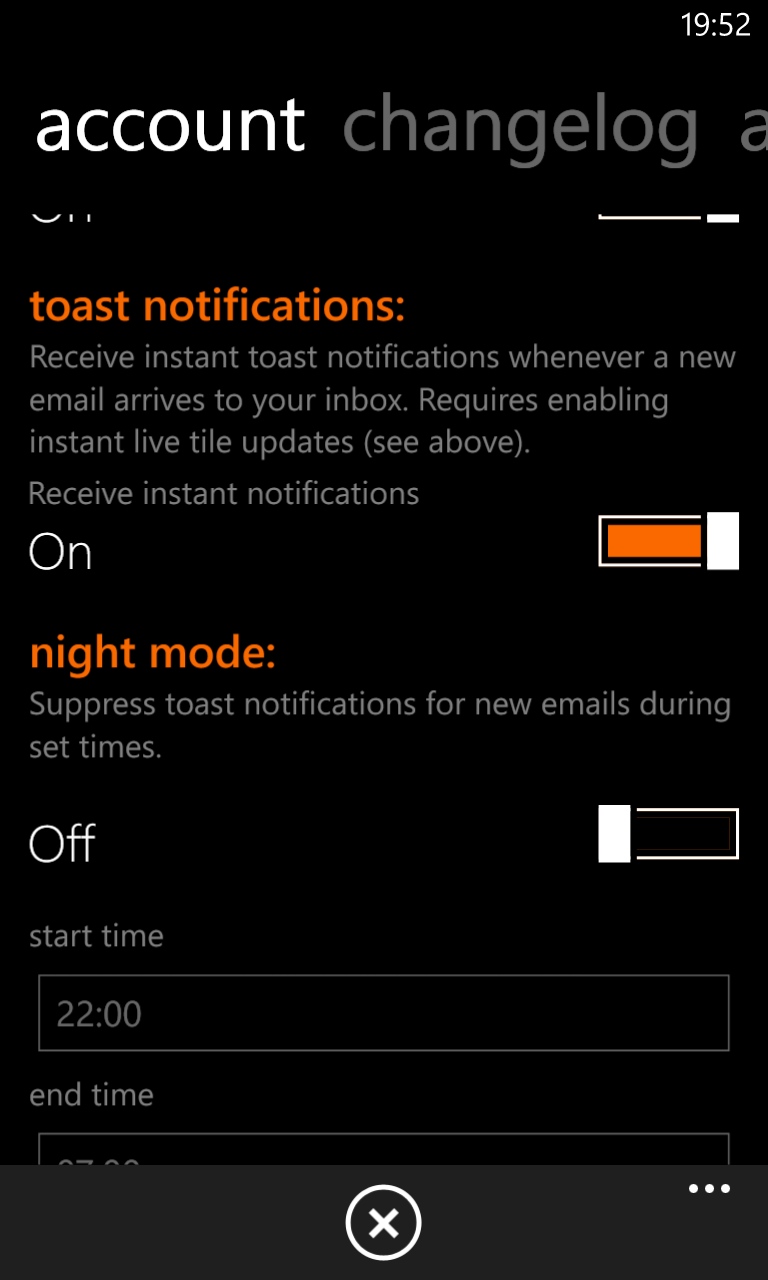 While MetroMail is a relatively cheap application (it costs £1.29/$1.49) there may be a number of people put off by the lack of a trial version. If I hadn't purchased the app for review, I would be wanting a trial version just to check that it fits in with my own mental workflow. The app cost is relatively small, but it still puts up enough of a barrier that the casual user is going to skip over MetroMail altogether.
MetroMail is a competent app, but no more than that. If you are interested in an alternative view of your Gmail account, it should suffice, but it's not a magic wand to deal with all of the small issues that dog Windows Phone's own Gmail implementation.
Reviewed by Ewan Spence at