Unusually, the developer, Chris Blackman, includes an entire essay to introduce the changelog(!):
First off, the app's UI performance has been improved, as I've cleared some unnecessary elements out of the video player's UI. As you navigate from page to page, things should feel a bit snappier!

myTube can now remember where you left off in longer videos! When you only watch part of a long video and then return to it, you'll see a little message saying "Left off at ..." above the video's title, letting you know where you were when you last watched it. You can also click the message to have the app automatically return to this position!

On mobile, you've now got the option to enable fullscreen comments while viewing a video in portrait mode, which can be enabled in the app's settings. With this option, the list of comments will fill the entire screen and cover the video as you scroll, with the video still partially visible beneath the comments. In order to video the video fully after scrolling down the comments, just swipe to the left or right to get the comments off the screen. I think it's a little reminiscent of the classic versions of myTube :)

I've finally fulfilled the request I most often get; upload dates on video thumbnails on PC and mobile. Now, in the bottom right corner of video thumbnails, you'll see a little bit of text saying "3m" for 3 minutes, "2y" for 2 years, etc.

Across all devices, the quality button on the player controls has been changed to a settings gear icon, which now more accurately represents the button's purpose. Other minor adjustments have been made to the app's UI as well, such as changing the style of the video player's title shade, decapitalizing and emboldening video titles, font size adjustments, padding and margin adjustments, etc.

Finally, this version includes a workaround for the playback failure issue that has been affecting some users on the Fall Creators Update. I'll be honest here in saying that I was not able to fully avoid this OS issue. However, I've made it so that when the issue does occur, the app will fix itself and continue as normal within 2 or 3 seconds, so you won't have to manually restart the video. I'll address this issue with more detail in another message.
He then delivers the full changelog, filtered here for just stuff that applies to the Windows 10 Mobile version:
New in myTube 3.2:

The app now remembers where you left off in videos (it does not yet automatically resume to that position)
Quality button text changed to settings icon on player controls
Title on video details is now bold and no longer upper case
Audio volume is muted while seeking in 1080p videos to reduce audible skipping
Different method of detecting auth-code when signing in through the in-app browser
If audio playback fails partway through a video, the app will try to reopen the audio stream
Now targeting the Fall Creators Update SDK
Upload date on video thumbnails
Added option for full screen comments (small mobile-sized windows on PC)
After an audio file is saved, it will automatically open in audio-only mode when selected for playback
Double-click fullscreen now occors on pointer release, rather than pointer press, to avoid accidental fullscreens when using touch
Fixed bug where the video page pivot header would appear white on the light theme
Fixed bug where thumbnail wouldn't appear in-app while using DLNA casting
DLNA device search time increased from 7 seconds to 15 seconds- (PC/Mobile) Fixed bug where the app would crash while re-rendering the blur effects on the 'Subscribed to' page
Made adjustments to help prevent the thumbnail underneath the minimized player from being selected when trying to open the minimized player with touch
Plus a load of bug fixes, which I've omitted for brevity.
All rather impressive, I had a quick play on my Lumia 950 XL: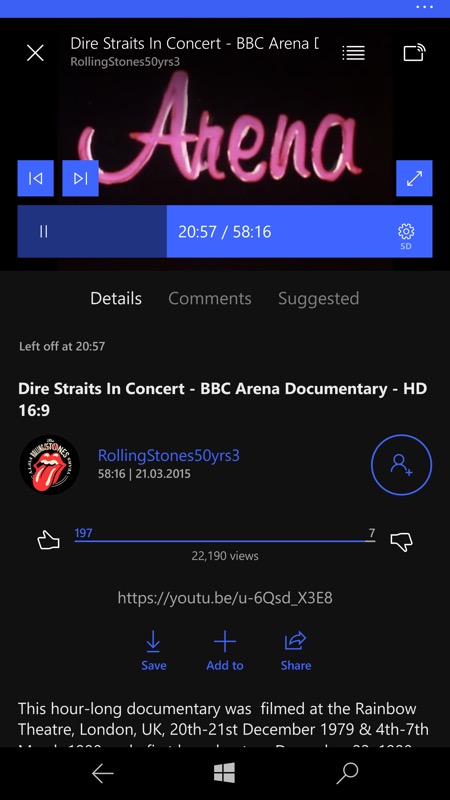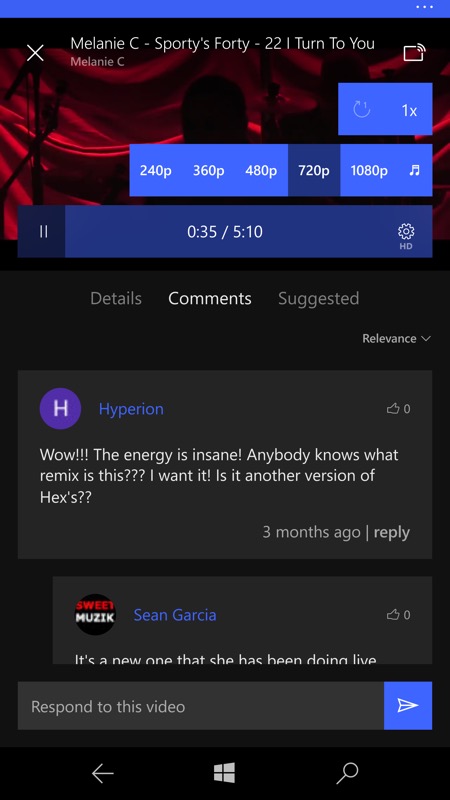 Another good upgrade to a useful Windows 10 UWP application, you can buy it here in the Store (it's only a dollar or local equivalent). Yes, it's a blow to not have an official YouTube client from Google for the Windows 10 platform, but hopefully all users will find this (or one of the other top titles like Perfect Tube) quickly in the Store, making any omission somewhat moot.