Here's the changelog since the last time I featured Podcast Lounge here last week:
Moved from PasswordVault credentials to using Windows UI for authenticated podcasts
When building a playlist from an episodes list sorted with oldest first, the list was built the wrong way (adding older)
Sort/Filter dropdowns should go back to hidden when new fav opened
Fixed single deleting items from the All download list, does not update Grouped list and counters.
Fixed import podcasts has all podcasts selected, but the import button wasn't enabled
Importing status text clipped when pulling in gpodder material
Removed calculating message on RHS on the manage storage section
Fixed Settings: Layout: page drop-downs for layout and auto-sort resize
Fixed: Settings: Downloads: Drop down resize width
Shortened the log file line prefix
Added the ability to find podcasts by same publisher
Forward and Back track routines were not checking validity of move and were firing exception if at extremes.
Tightened up CleanseEpisode routine which was causing an exception in some situations
Added Top100 podcasts list into discover section
Fixed: Adding smart playlist results to current playlist (that is playing) does not fully come across (doesn't show in the playing now playlist page). Only last entry in selection appears.
Download age clean-up routine was only reporting, but wasn't actually deleting
Optimised the launch timings to move more non-essential activities to a background thread
Database wasn't being mounted asynchronously
Application launch code massively optimised - large performance improvements achieved.
App now informs about background sync even when warm resuming
The developer, Richard Castle says:
This is a pretty big update and brings lots of fixes, significant optimisations on app start-up time as well as bringing a few new features: A new Top 100 section in the Discovery page, as well as the ability to find other podcasts from the same publisher. Your feedback has been awesome over the past 2 weeks and we've been working hard at reviewing and analysing every bug report and feature request you've sent us. We're making great progress thanks to all of your help.

We've started posting the update history on the website (available from within the app under Help + Feedback > Update History). You can view it directly from here.
It's not entirely clear where the 'Top 100' come from - they seem a little eclectic and there's no Phones Show Chat or AAWP(!) Anyway, here's the Top 100 section (under 'Discover') in action: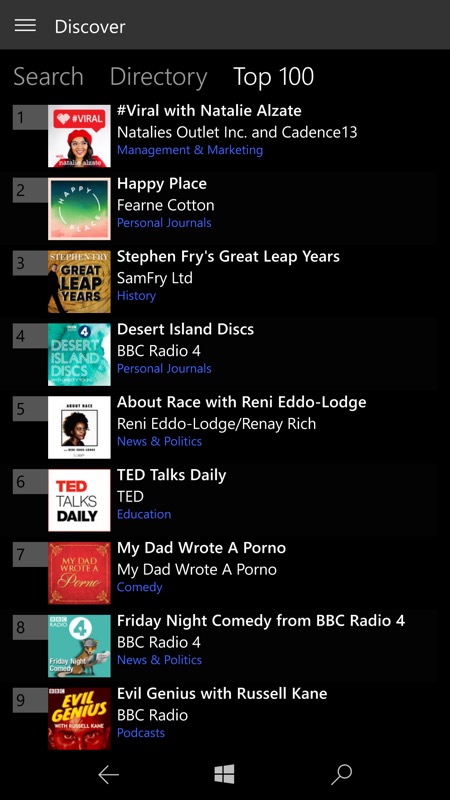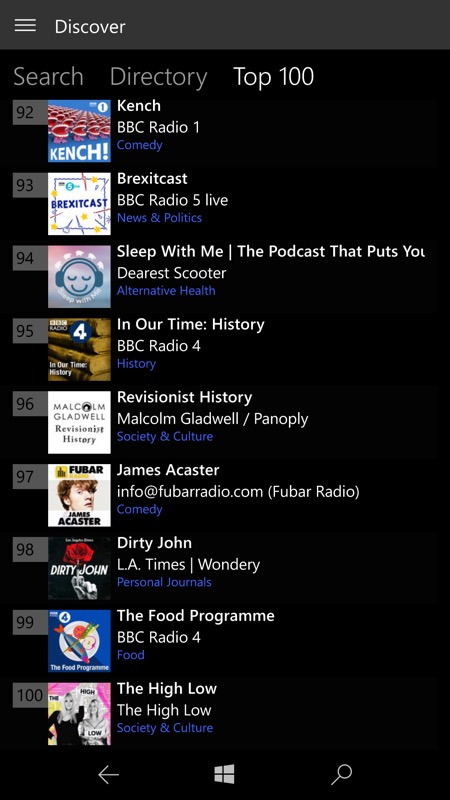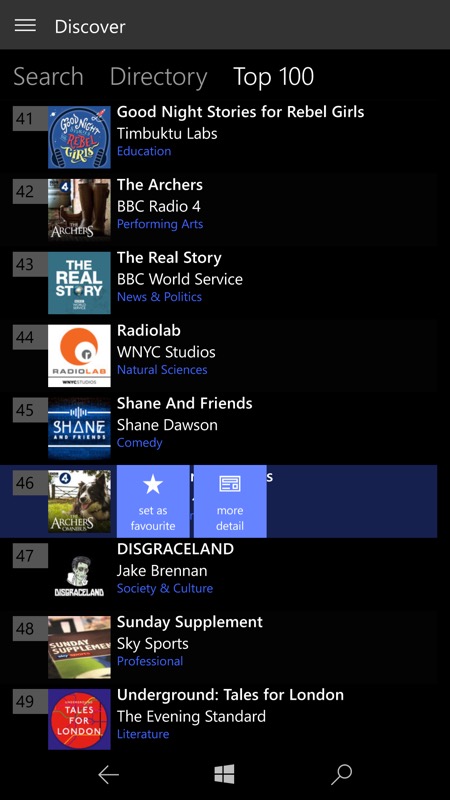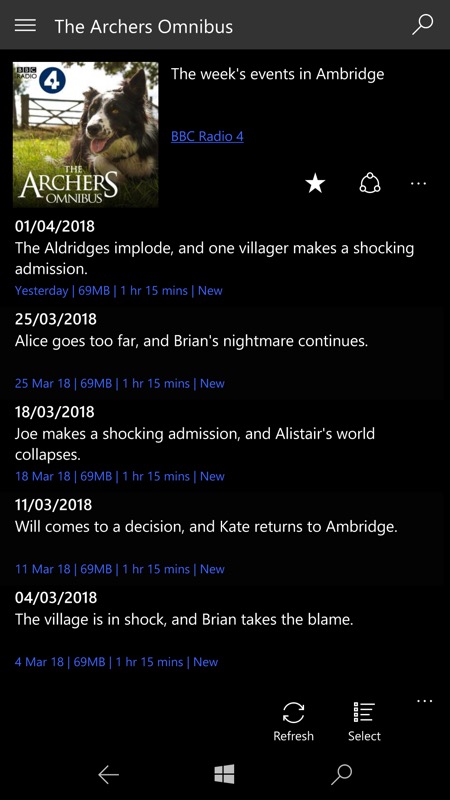 The beta is here in the Store. Go to it, and make sure you use the built in Feedback section to report any issues or make any suggestions.
PS. It's true that I've already done a big podcatcher round up for Windows 10 Mobile, so at some point I need to update it to add Podcast Lounge. And do see my top picks there, for comparison against this new contender.