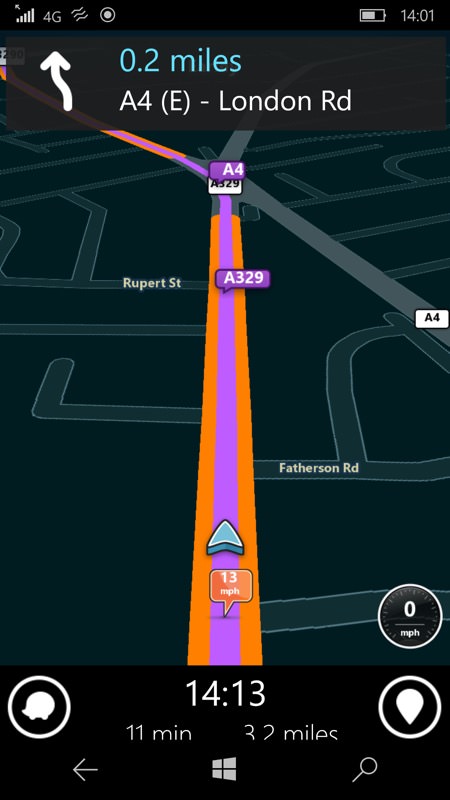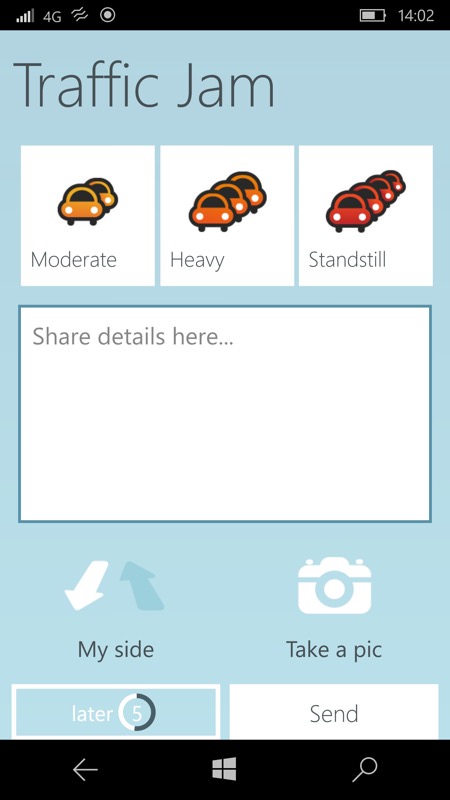 In contrast, both Google Maps (on Android, though GMaps Pro hijacks quite a bit of its data on Windows Phone) and Waze (all platforms) have enough real world users in all countries that the automatic speed+position reporting from each phone back to the relevant servers enables pretty good real time navigation. Not perfect (I've been testing all these solutions intensively over the last week), but much better at adapting to a changing traffic environment when you're on the road.

It's Waze I'm looking at here, in part because I couldn't believe that such an 'old' application still worked properly under Windows 10 Mobile (and Creators Update in particular, in 2017) - surely something would have broken in terms of server APIs in the intervening three plus years? Although Waze is less popular than it was back in 2013/2014, there are still quite a few people using it and you'll see some of this represented in the real world example screenshots below. And the good news is that the old (Silverlight?) client for WP 8.1 still works well, with just the minor cosmetic point that some panes of information have their bottom chopped off by the (dismissable) virtual navigation contols of Windows 10 Mobile, and with the downside that voice instructions don't seem to work anymore.
And that was two years ago, so strike me unsurprised that it's all finally died. The linked Waze forum thread has some similar tales to tell. But I don't believe that anyone at Google 'sabotaged' Waze for Windows Phone - I think that the service breaking here was accidental and part of the APIs and servers changing.
For the last fortnight, if one tries to launch Waze, on either Windows Phone 8.1 or Windows 10 Mobile, the splash screen is shown, it tries to connect to Waze's servers and... then the app crashes back to the Start screen. An error message would have been nice, but this is clearly just Waze not being able to hook up with its data APIs online.
Waze is fine on Android and iOS, of course, but there the applications have been updated multiple times per year to know about server-side reconfigurations and new APIs. And the company never got round to creating a UWP client for Windows 10 Mobile, sadly.
I've contacted Waze officially and will update this story if they reply. UPDATE: They say:
Thanks for contacting us about Waze usability. Regretfully, please be advised that the Waze using Windows is no longer supported.

We're always looking to improve Waze, and user feedback is one of our most important tools for doing so. Please know that we are constantly working to develop new and exciting features, bug fixes and more.
So no real surprise there.
In terms of workarounds, Windows 10 Maps does include live traffic and is, of course, full optimised for Windows 10 Mobile, but isn't quite as 'real time' as Waze was, while Google's own Maps PWA has traffic data that's comprehensive (sharing data with Waze) but routes don't update after initial planning. Or if you're on Windows Phone 8.1 still, then why aren't you using the excellent HERE Drive+ that's built-in and which still works and gets map updates?
What about you? What's your fallback on Windows phones after Waze?