* (for its 64GB version, since Apple don't do a 32GB model and 16GB just isn't enough for iOS 8 and a useable device)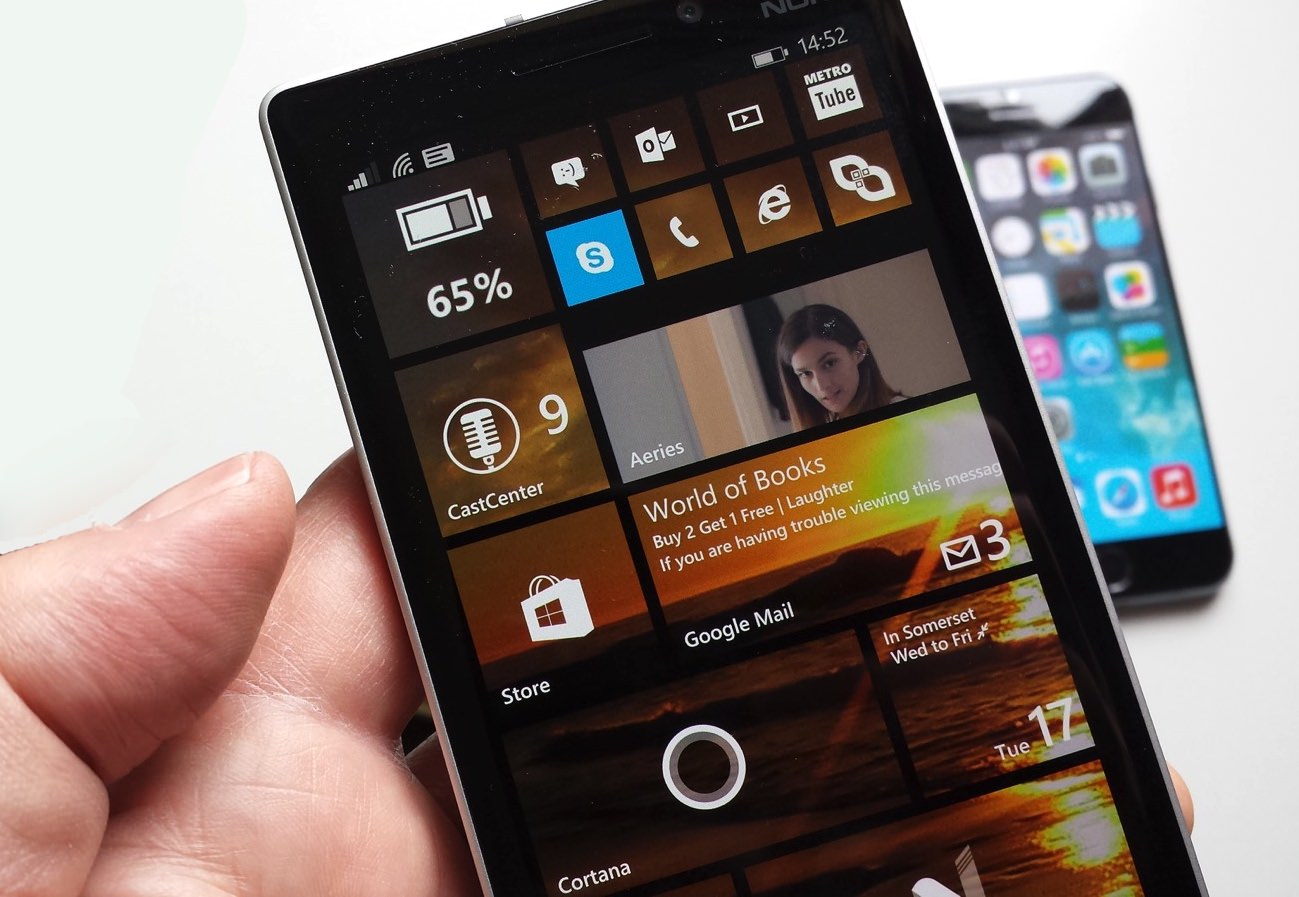 Yes, both phones have been out for a while, but both are still well thought of and despite the physical size, spec and ambition similarities, I've somehow managed to avoid pitting these against each other directly (though do see my Lumia 1520 vs iPhone 6 Plus head to head here). Here's my tabular comparison that will hopefully give you an idea of how the Lumia 930 and iPhone 6 stack up. As usual, I've shaded in green an obvious 'win' for either device...
[By the way, if you're viewing this feature ON a Windows Phone then the table may well cause you problems. Try viewing in landscape mode? Failing that, go bug Microsoft about the poor state of Internet Explorer - roll on Project Spartan!]
Nokia Lumia 930
Apple iPhone 6 64GB
Date first available
July 2014

September 2014

Current price, availability
£300 (SIM-free in the UK, inc VAT), less if you shop around

£619 (a cheaper model is available, but utterly crippled in terms of storage)

Dimensions
137 x 71 x 10mm
138 x 67 x 7mm
Form factor, weight
Aluminium frame, convex Gorilla Glass. Polycarbonate rear insert (hosting NFC and Qi antennae). Weight is 167g

Touchscreen aluminium monoblock, fully sealed, 129g (i.e. a lot lighter)

Operating system, interface
Windows Phone 8.1 Update 1 plus Lumia Denim tweaks, animated/live tile 'Start' screen. Capacitive controls below the screen.

iOS 8, static icon app screens with dock, works in portrait, though many applications also support rotating into landscape. A single home button, plus on-screen 'back' controls and gestures.



Display
5.0" (1080 x 1920) AMOLED with ClearBlack Display polarisers, pentile matrix, so not full 1080p on all sub-pixels. Visibility excellent in sunlight. Nokia's usual Glance screen not possible due to hardware technical limitations.

4.7" IPS LCD (750 x 1334) resolution, decent visibility outdoors, generally good colours, very crisp.

Connectivity
Quad band GSM, Quad band 3G, up to pentaband LTE, Bluetooth 4.0, Wi-Fi b/g/n/ac, integral wifi tethering, NFC, nanoSIM

Quad band GSM, pentaband 3G, decaband (at least) LTE, NFC (limited to Apple Pay), Bluetooth 4 (including the HID profile for Bluetooth keyboards, unlike Windows Phone), nanoSIM



Processor, performance
2.2GHz Snapdragon 800, 2GB RAM, pretty fast, main speed limits are in Windows Phone's insistence on animations/transitions/resuming indicators.

1.4GHz custom Apple 64-bit chip, 1GB RAM, generally pretty fast, though, as with Windows Phone, you get the feel that transitions are sometimes the bottleneck(!)

Capacity
32GB internal storage, non-expandable
64GB internal storage, non-expandable
Imaging (stills)

20MP PureView oversampling 1/2.5" BSI sensor, flexible software control over settings, dedicated camera shutter button and launch key, genuine 2x lossless digital zoom, OIS. Great results, even zoomed or reframed. The mature oversampling mean that the 930 produces better results in most conditions. 'Rich Capture' produces customisable HDR shots with good results. Indoor shots are limited by the use of only LED flash. Camera opening now very fast with Lumia Camera 5 and shot to shot time only around half a second.

8MP Stills also possible (using the Lumia Moments application) from 4K video bursts from a long press on the shutter button.

8MP 1/3" BSI sensor, excellent and very fast results as long as there's enough light, but the algorithms betray the physics when light levels drop, and the LED flash takes an eternity to fire, so is best avoided, shooting bursts instead.

HDR is automatic, when needed, plus photo bursts are easy by just long pressing the shutter icon.

Imaging (video)
Very good 1080p video capture, with genuine 3x lossless zoom during recording and OIS helping, especially while zoomed. Four HAAC microphones mean directional audio capture in stereo and at rock gig levels without distortion.

1080p video capture at 60fps, with good software stabilisation. 720p/240fps makes for good slow-motion effects. Decent audio too, in mono (in my tests).

Music and Multimedia
Decent mono speaker, 3.5mm headphones (not included in the box), A2DP, DLNA

Decent mono speaker, 3.5mm headphones, A2DP, DLNA

Gaming
A very average selection of games, with the oddity that some of the early WP classics are no longer available! (e.g. Tiger Woods PGA)

Great selection of games, this is the iPhone!

Navigation
The HERE Maps/Drive suite is unrivalled, baked into every phone, with the 100% offline routing and maps that don't expire. Plus live traffic, good public transport advice and innovative 'live sight' functions.

Apple Maps relies on an Internet connection (there's only limited caching of maps) but is otherwise pretty good now for day to day navigation, plus Google Maps is available, and even HERE Maps now, if the user knows to go look for it. Honours even overall.


Cortana/Voice
Present in many countries now. Also works even with the display off, "Hey Cortana!" etc. with the recent Lumia Denim update. A generation on beyond Siri, though still some rough edges. A win for Windows Phone here, but only if you live in a supported country/language.
Siri assigned to a long press on the home button and works well for most simple voice tasks/queries and dictation.
Battery, life
Sealed 2420mAh battery, easily gets through the day, microUSB or - critically - Qi wireless charging on any convenient Qi stand.

Sealed 1810mAh battery, easily gets through a day. Charging via proprietary Lightning connector.



Applications and ecosystem
Windows Phone now has just about every mainstream app covered, with great strides in the last year. Niche/boutique apps are often an issue, though... Also anything to do with Google services!

The iPhone App Store is very fully stocked. Everything mainstream is here, plus plenty of boutique/niche apps. Perfect access to both Apple, Google

and

now even Microsoft platform services!



Upgrades and future
The 2GB of RAM and chipset here, plus the Microsoft/Nokia ownership, should see the 930 updated well into 2015 and even 2016 with 'Windows 10'.

The iPhone 6 will be updated with new iOS versions until at least 2016.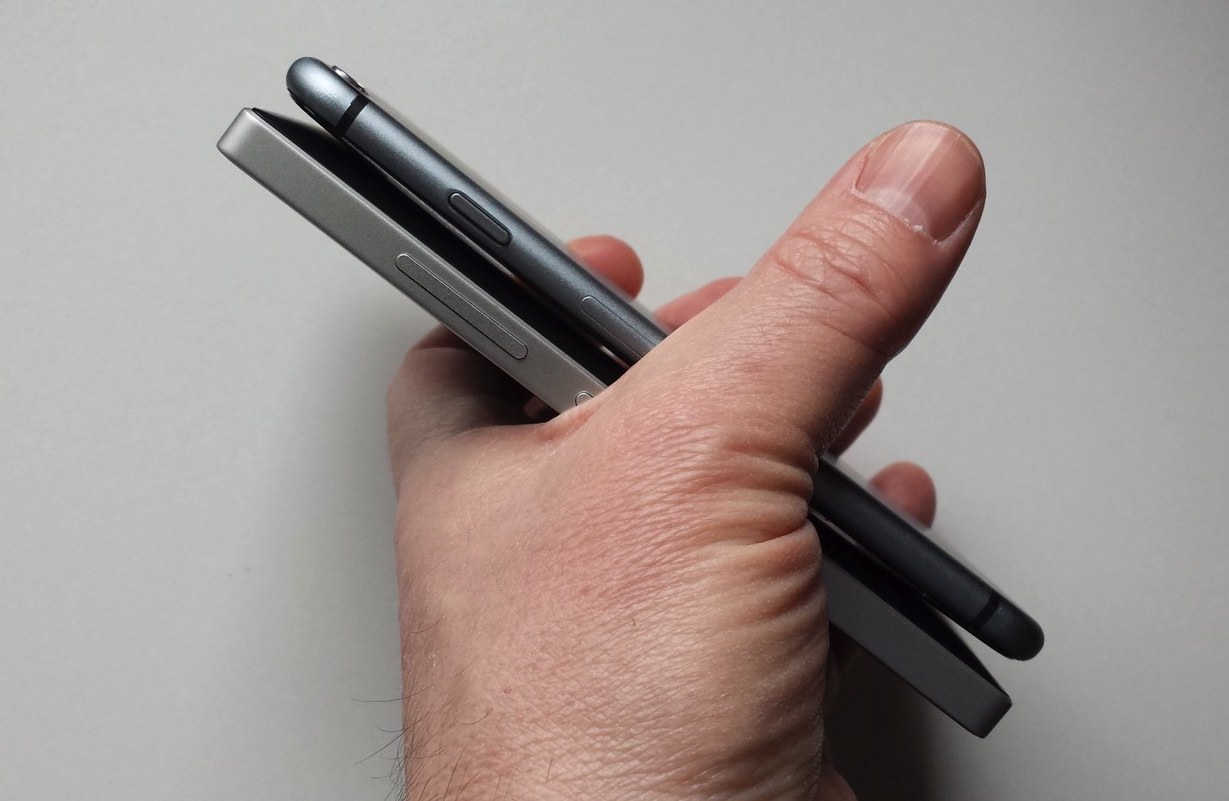 A 6-4 'win' on green table cells above gives the game away that I think the Lumia 930 is the better device and, of course, many will be quick to point out that this is AAWP so there could be some bias creeping in. However, I've been honest about the OS's failings above - the 930 simply wins out in terms of better components and value, albeit with only a small margin.
Cutting to the chase, if I was given a choice of a new iPhone 6 64GB or a new Lumia 930, I'd pick the iPhone, then immediately sell it and buy two 930s. Which underscores the elephant in the room, the relative prices. Ahem....