Nico writes: (in his article, for brevity, after the first mention he abbreviates Windows Phone 8.1 to just 'WP8.1' and Windows 10 Mobile to just 'WP10')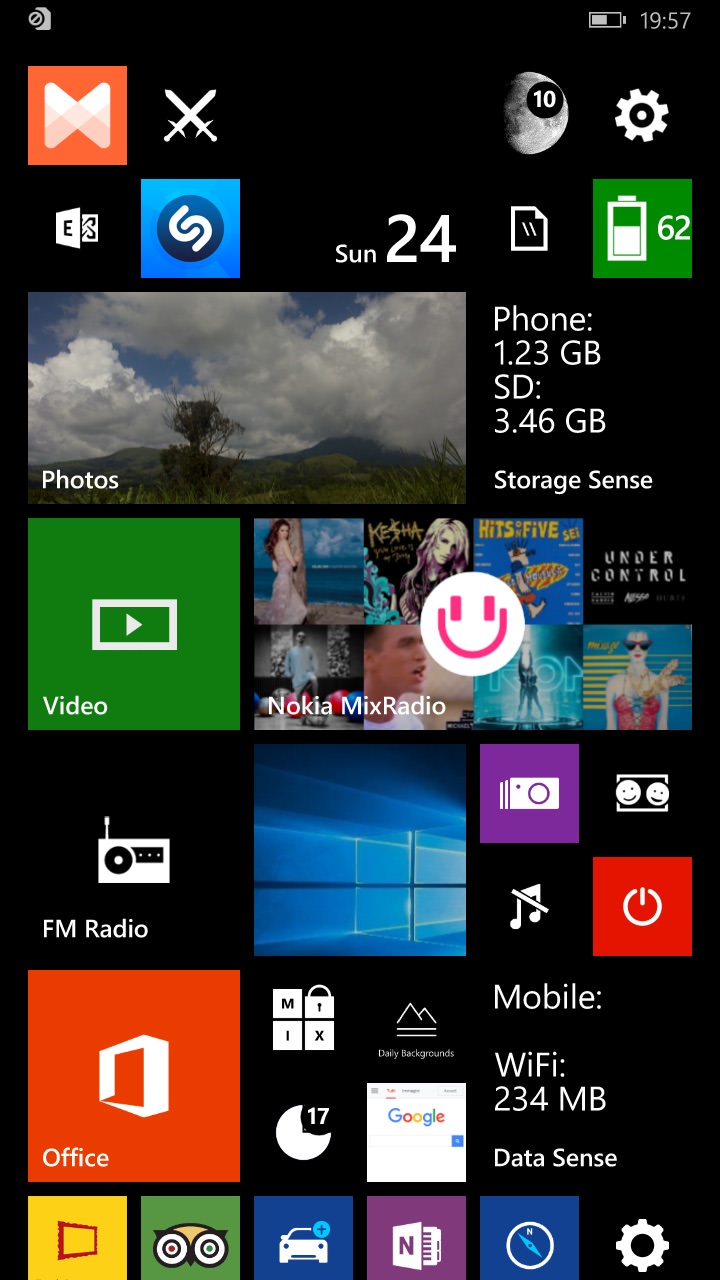 Nico's 2021 Start screen on his Lumia 1320...

Some suggest that, since Windows Store is long dead for Windows Phone 8.1, it is necessary to update your Lumia device to Windows 10 Mobile in order to gain again access to your Microsoft account and to the apps in the Store. But that comes with a price to pay: WP10 is a heavier and more demanding, power-hungry OS than WP8.1, so like it or not, it really struggles on older Lumia devices, since their CPUs and batteries were designed for a much lighter OS.
The issue becomes serious if you have an old Lumia device with a non-removable, encased battery. This solution is pretty tricky, since it requires special tools and skills in disassembling phones to replace the in-built battery. It is not an easy operation, and you can damage the internal, vital components of the phone if you do something wrong.
Nokia largely opted for removable batteries - except for the Nokia Lumia 1020 (2000 mAh), 930 (2420 mAh), 1320 and 1520 (3400 mAh, both of them). These are all models from 2013-2014, so we are talking about batteries which are already 7 years old. Over time, all phone batteries are inevitably going to degrade, even if left unused, and in the case of non-removable ones, the life of the device is closely linked to that of its own battery.
If the first issue with battery is time itself, the second is WP10, which appears to involve shorter battery life. Time on a charge gets worse when updating old Lumias to WP10. I tried to upgrade Lumias 1020, 930, 1320, and 1520 to WP10. All these devices on WP10 gave me heat issues and battery drain, even on WP10 Threshold, the earliest version of the OS.
After all, it is to be expected, as Steve pointed out: "Battery drain is a common theme above. The chipsets and battery capacities were designed for a much lighter OS (8.1) - and most phones have some issues under Windows 10 Mobile, there's just too much going on in terms of OS and not enough battery to keep it all going, in some cases through a heavy day, in others, even past tea-time".
In general, WP10 behaviour with battery life is a topic long discussed over the years, for instance in this article from 2016: "Windows 10 users complain about fast draining phone battery with latest build". Steve also gave some tips in 2016 about battery life under WP10.
Now, I still use my Lumia 1320 and Lumia 1520 for video watching, thanks to their bright and vivid display of 6" with ClearBlack Display technology (1080x1920 pixels, 367 PPI density for 1520; 720x1280 pixels, 245 PPI for Lumia 1320). They both have a 3400 mAh non-user-replaceable battery, a capacity which is for today's standards is barely enough, numerically (even the bottom end Nokia 4.2 from 2019 had a 3000 mAh non-removable battery).
The phones both started life under Windows Phone 8.1. However, with the Lumia 1320 and 1520 under WP10, I experienced troubles with their battery behaviour. These devices not only discharge fast, but some of them shut down automatically, saying, of all a sudden, that battery level is too low. So, my phone dies almost instantly even with the battery indicator showing 50,70 or 80% charge.
I tried installing the early WP10 Threshold on my Lumia 1320, but there are lags everywhere, battery drain is shocking, depleting fast after just 10-20 minutes of use. The Lumia 1520 is on WP10 latest branch - 1709: smooth, but battery depleting faster than usual, again. I blamed WP10 for this erratic behavior, so I decided to bring both devices back to WP8.1.
WP8.1 fixed the problem partially, in the sense that the device batteries last longer but, again, my Lumia 1520 shuts down by itself, even with battery charge above 50%.
I believe a battery replacement will solve the issue, but original batteries are now rare and expensive, plus you need good tech capabilities to repair these devices yourself, which I don't have! So, I opted for a software solution.
In this and other cases, you may want to go back to WP8.1 to save more battery juice. But at what price? The main trouble is the lack of the Microsoft Store.
Thankfully, the Windows Phone 8.1 Group in Telegram has a guide on how to 'jailbreak' WP8/8.1 devices to enable app side-loading via Windows Phone Internals (WPI), and they succeeded even for the Lumia 1320, which doesn't have the emergency files needed for such a process. The overall aim of this procedure is to be able to deploy apps (.appx and .xap files format) to WP8.1 devices, by using geeky methods in the guides provided. With apps available again, you may not be bored anymore by your old WP8.1 device, and, by comparison to WP10, you will (re-)discover all the advantages of the original OS.
So, the new 'hacked' life of WP8.1 OS will give you (most of) the apps again, plus you will benefit of these (count 'em) 11 advantages over WP10:
Overall better performance, saving RAM, and battery life: the phone is smoother and faster on its own original OS;

An in-built Battery app with live tile, gone for good under WP10 (in any branch);

The Video app has a live tile, unlike in WP10 (you have to install VLC app to get a similar movie live tile);

The Storage Sense app has a live tile, unlike WP10;

In Glance (if available), you can have personalized text and pin it to the Start screen, unlike in WP10;

HERE Drive+, HERE Maps are still (in 2021) fully working, with bang up to date maps (with a big update yesterday) AND live traffic integration(!);


In HERE Maps, you can pin your current position as a live tile;

Office is in-built, ready out of the box. OneNote also comes pre-installed, with the possibility of pinning your notes as live tiles;

FM Radio, the original app, is available (it has been removed from most WP10 branches, save for Threshold);

You can use your Google account and still get access to all your contacts, with live tile app;

Internet Explorer allow you to pin web pages as live tiles. You can also choose between Bing and Google as your preferred search engine;
[editor's note: Nico also included a working Nokia Mix Radio in the list, but this categorically doesn't work for me. Maybe it's region-specific? Your mileage may vary, etc.]
Above all, battery life is now far better. And let's not forget that WP8.1 comes with a battery management app. By default it's turned off, but you can activate the battery saver at, say, the default 20%, and de-activate all the permissions for apps running in background: two useful tricks that will help you save battery life.
So, enjoy your old battery under WP8.1, hoping the OS will help preserve and prolong the battery life of your device for years to come, certainly 2021 and beyond.