From the official (Microsoft) Windows Phone blog, we get the news:
Last week at Mobile World Congress, it was announced that Facebook Messenger was coming to Windows Phone. And today it's here! You can now download Facebook Messenger from the Windows Phone Store.
And the feature list is broken down in the Store description:
Get to all your messages without having to open Facebook.
Bring your conversations to life with stickers and send photos privately.
Have group conversations and make plans on the go.
Share your location so people know when you're nearby.
Know when people have seen your messages.
See who's using Messenger and who's active on Facebook.
Stay logged in so you never miss a message.
Turn off notifications when you're working, sleeping or just need a break.
Never lose your conversation history or contacts.
The interface is very white, modern and web-page-like: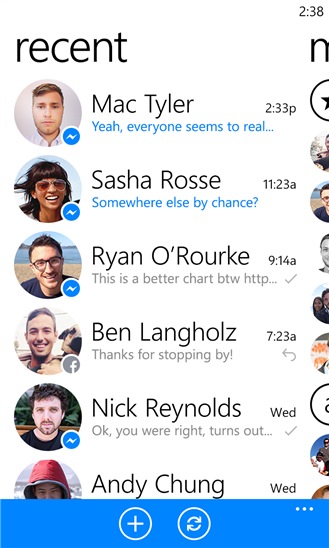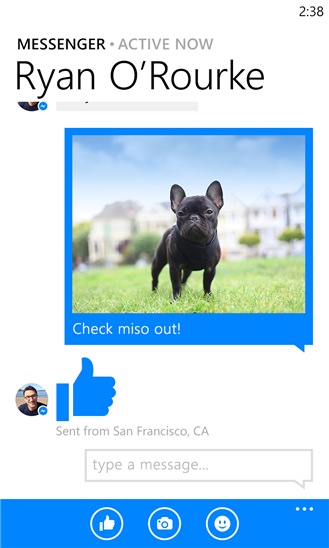 Existing Facebook contacts show up and can be IMed if they also use Facebook Messenger. Maybe it's a cultural thing, but here in the UK, I asked three Facebook-using 'normobs' if they used Facebook Messenger and got the answers "What's that?", "Is that the same thing as Messaging someone in Facebook?" and "Is that something new?" Comments welcome if you, in fact, do use Facebook Messenger often, perhaps on another platform.
As an observer, it does seem odd that this has been implemented separately from the Windows Phone Facebook integration and separately (as well) from the existing Facebook application. Effectively it's one more application to open up, keep open and check.
Anyway, you can download Facebook Messenger for free in the Windows Phone Store, to try it for yourself.