The official changelog for this, v2.1, from the v2.0 we reported on here only a month ago, and the v2.0.1 I included in my podcatching app roundup, is extensive (I've omitted a few of the tech-ier items too, for the sake of simplicity!):
Added ability to delete downloads associated with a favourite being removed
Added ability to pin smart playlists to the start screen and launch from them
Added support for sleep timer functionality
Added ability to sort from the episodes view
Addressed issue with background sync downloads not being found in the favourites list (episode title inconsistencies)
Fixed bug with video playback position not being saved when leaving player page (and pausing)
When legacy playback modes are enabled and user attempts to finish a podcast early, the track just jumps 30s. Fixed.
Fixed bug where playlists generated from downloads page would not play through continuously
Fixed episodes weren't being sorted properly when in flight mode
Fixed a bug where the download counter wouldn't update for favourites when a download was deleted from within favourite -> episodes listing
Added an available storage space check on app startup
Addressed issue of episode suddenly playing after resuming the podcast in paused state
Favourites view when set to sort by new was doing a string sort, rather than a numeric sort
Cancelling a download doesn't update the favourites counter
Added a longer date/time range for smart playlists up to 3 years
Added markerdate information text on the programme settings page
Made podcast settings page scrollable
WP8 version now supports .GIF file imagery!
Fixed issue where the programme page lost its applicationbar when in flight mode
Fixed issue where fast forward and fast rewind got stuck on fast rewind every time
PL now warns the user when there are no favourites to backup
Fixed issue with Zune directory parse and duff programme (with dead RSS) causing the UpdateEpisodesListBW_WorkerThread() to fire off a NullReferenceException
Issue with permanent filter requiring double press of back button to get out of programme page
Downloaded archive wasn't being removed after backup/restore (added code to strip out any .dat files to avoid aggregating backups)
As, I say, in addition to the above, there were a mountain of other bug-fixes too complicated for us lesser mortals to understand. Suffice it to say that Podcast Lounge is now even more bomb-proof!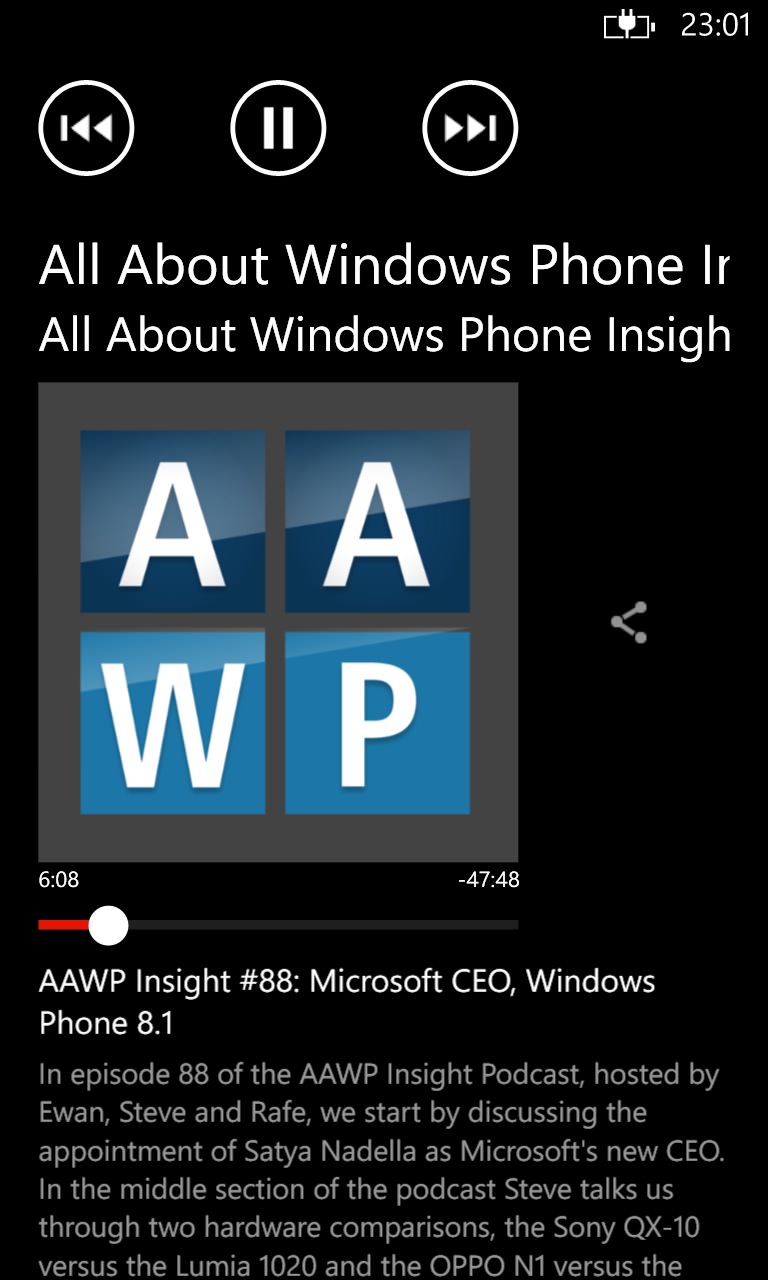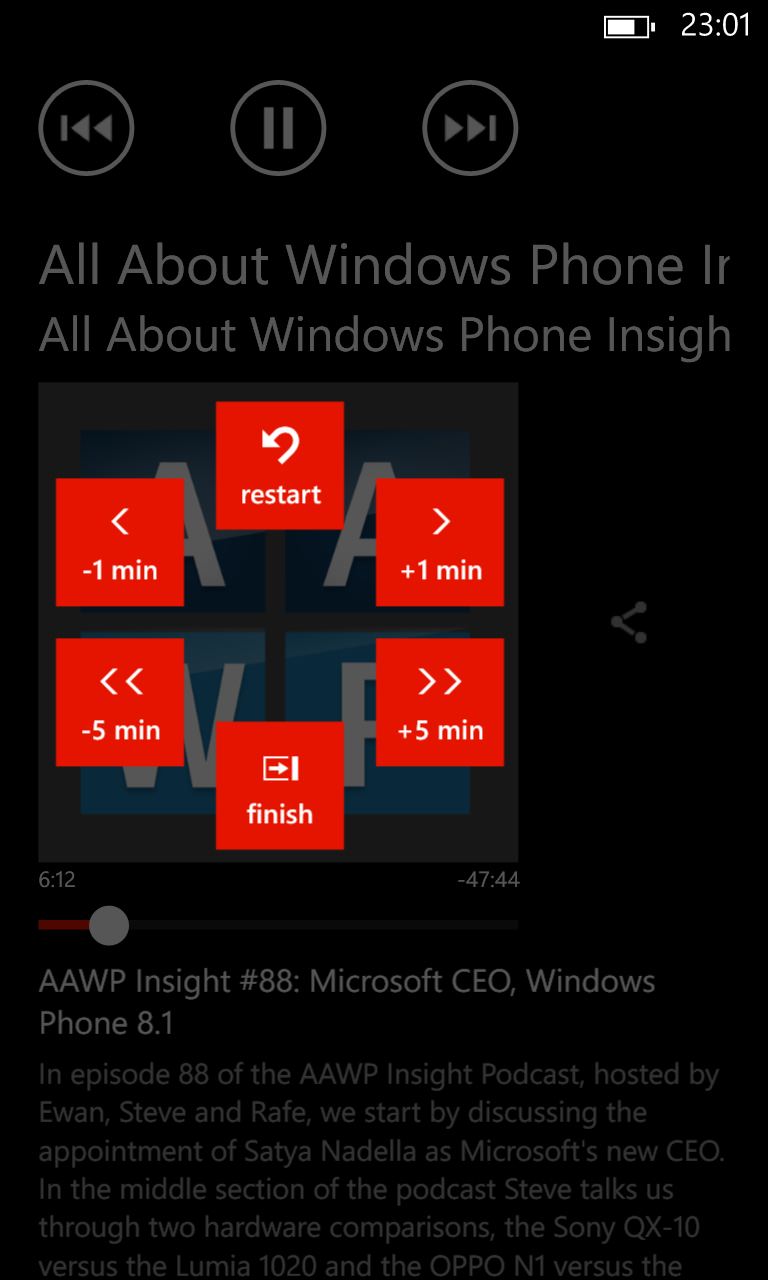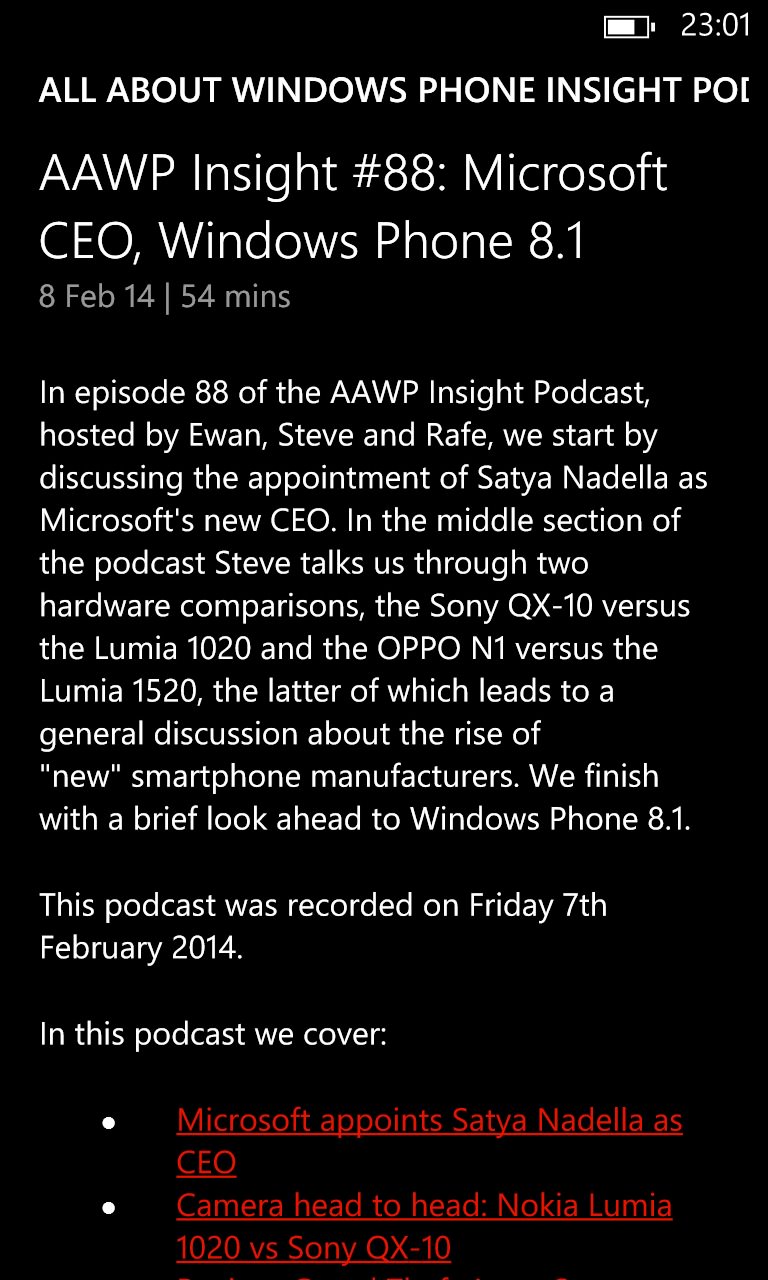 The new Sleep Timer is found in the 'Tools' section of the UI: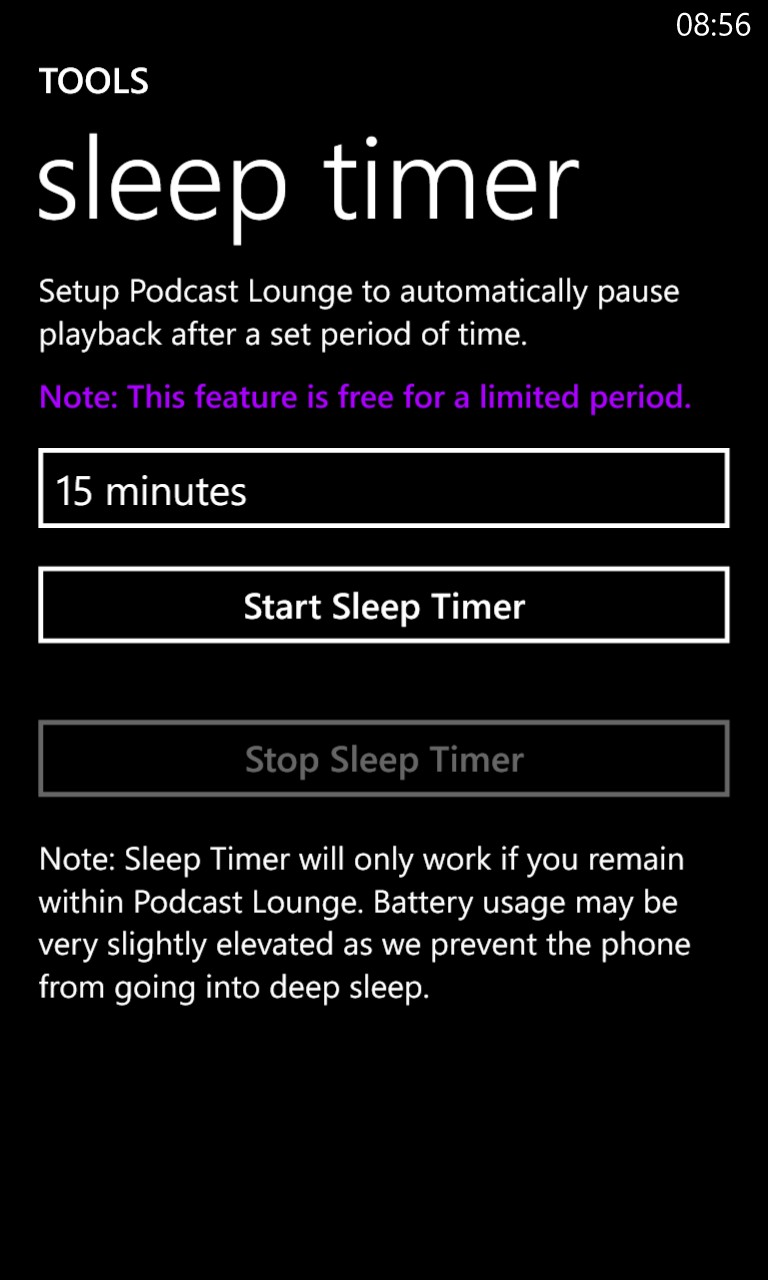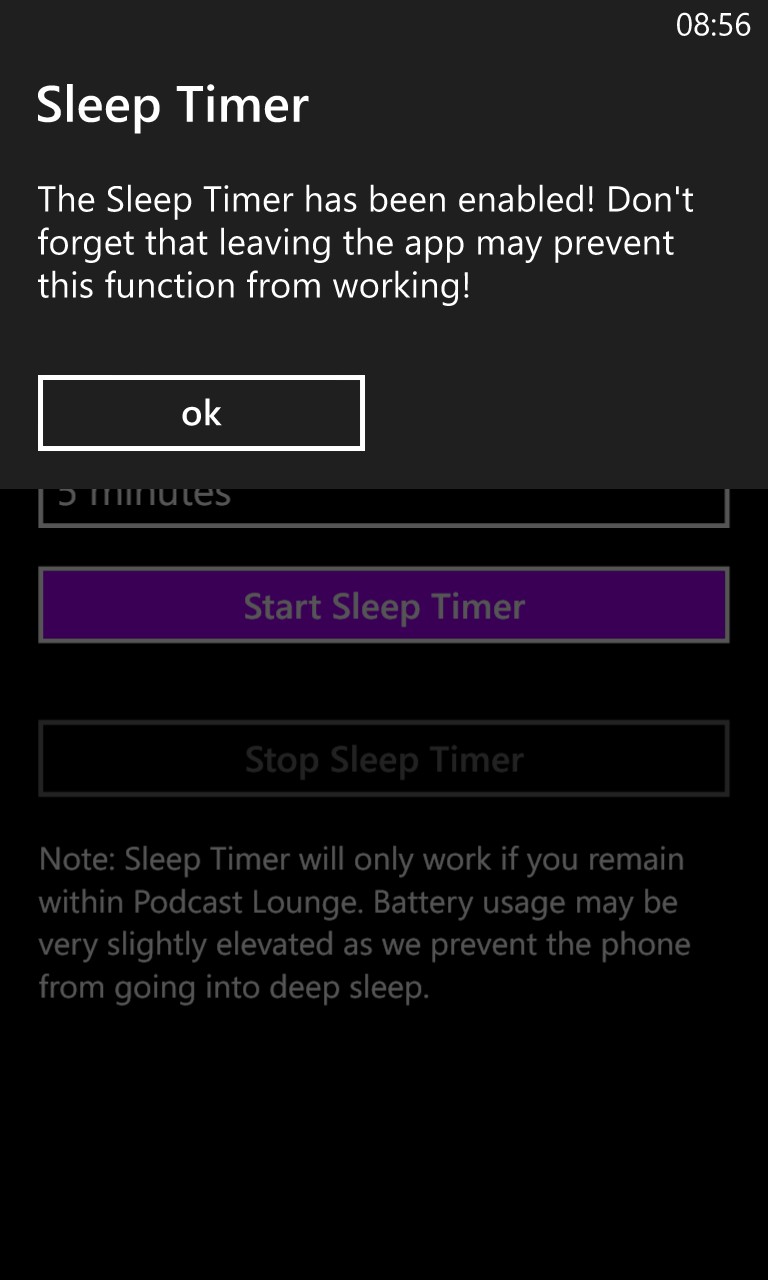 Notably, the Sleep Timer only works if Podcast Lounge is left in the foreground (the screen can turn off, but you can't start something else, etc.), but this is understandable and quite acceptable.
Interestingly, the Sleep Timer feature seems to be touted as something which my be an in-app purchase at some point in the future. Presumably once it's been tested more extensively, not least under Windows Phone 8.1. Having a 'toast' confirm the ending of the sleep period seems somewhat pointless, mind you, since the idea is that a) the screen would be off by this point and b) you'd be asleep anyway (hopefully)!
Podcast Lounge remains top of the heap - just, and the one I recommend and turn to most often. From my recent round-up update:
Podcast Lounge (covered in part 1 of this round-up feature) is still the overall recommendation here, it's simply more polished and feature complete than anything else here. However, the likes of BringCast and Podcast Critter are both snapping at its heels and I wouldn't rule out a change of winner at some point. In the next tier we have Podcast Picker, P | Cast andCarboncast - any of which I'd also be pretty happy using most of the time. The podcatching market has certainly matured nicely on Windows Phone.
Note that there's one 'bug' which turns out to affect ALL podcatchers. It's a bug in Windows Phone itself and concerns playback volume - see here for my write-up.

You can grab Podcast Lounge from the Windows Phone Store here. Version 2.1.0 is now live and available.