From the Store description:
Bank conveniently and securely with the Bank of America® Mobile Banking app for U.S.-based accounts. With our redesigned app for Windows® 10, it's easier than ever to manage your banking on your mobile device.

Manage Your Accounts

Review activity and balances in checking, savings and credit card accounts
View mortgage, auto loan and linked Merrill Edge® and Merrill Lynch® investment account balances
Set app alerts to be notified of important account and security info

Transfer Money

Securely send and receive money using a mobile number or email address (including to and from U.S. accounts outside of Bank of America)
Transfer funds between your Bank of America accounts

Pay Bills

Schedule/edit/cancel payments
Pay eBills
Add/Edit Pay To accounts

Deposit Checks

Simply take photos of checks to deposit them
Immediately see the processing deposit in your account

Find ATMs and financial centers

Special Offers & Deals

Get cash back with BankAmeriDeals® when you use your eligible Bank of America credit/debit cards

Help Stay Secure

Change Online ID or Passcode
If fraudulent activity is suspected on your debit or credit card, we'll notify you so you can call us to verify your transactions and unblock your card
Wow. Talk about hitting it out of the box. And this is all available for laptop/tablet and phone users, all in the one Universal Windows Program.
And from the official Microsoft Windows blog:
...the new app expands mobile banking offerings for Windows 10 mobile devices, tablets and PCs. We worked closely with the Microsoft User Experience team to design a customized and intuitive app experience that integrates with innovative Windows 10 features like Cortana.

In an effort to simplify your financial life, you can now tell your personal digital assistant, Cortana, to easily view your banking transactions. With the familiar voice command 'Hey Cortana' you can now get up to date on your account balances, and directly navigate to the screens to pay bills, transfer money, find the nearest banking locations and even contact customer service. We're pleased by how it integrates with the app and we're excited to see how this will evolve to be more helpful and proactive in the future.

Here are some of the other new, exciting features we're pleased to provide you based upon your feedback:

People Hub Integration

– Looking to pay back your friends? This new integration allows you to import the existing contacts on your phone and seamlessly transfer funds to their accounts.

Financial Center and ATM Locator Capabilities –

Travelling and need to find the nearest BofA? Utilize this feature to find the ATM or Financial Center closest to your current location.
Some promo screenshots, to give you an idea of how it looks: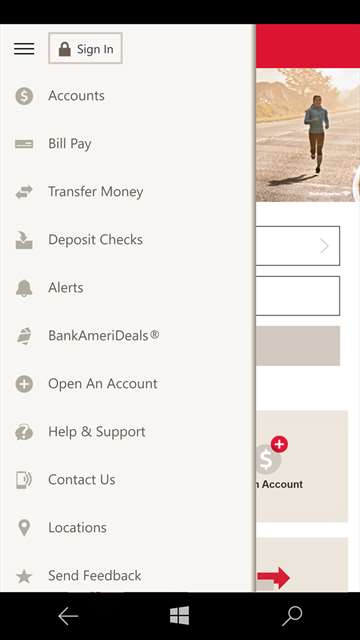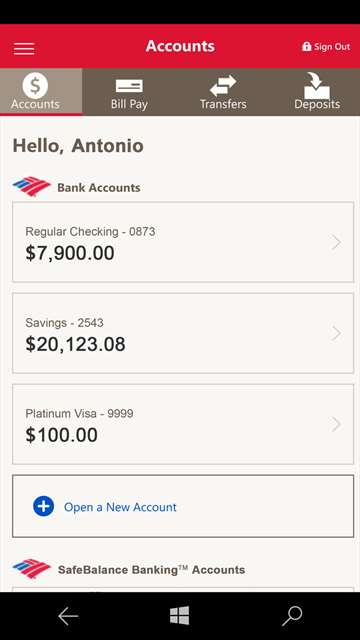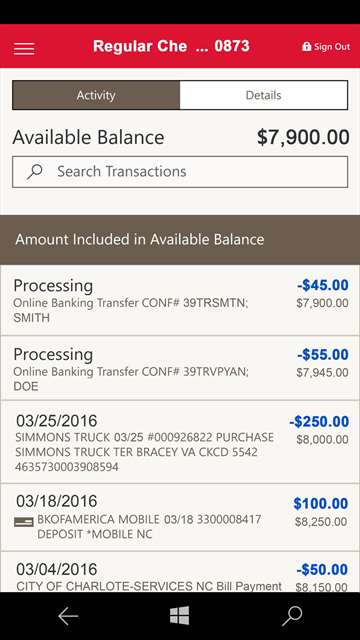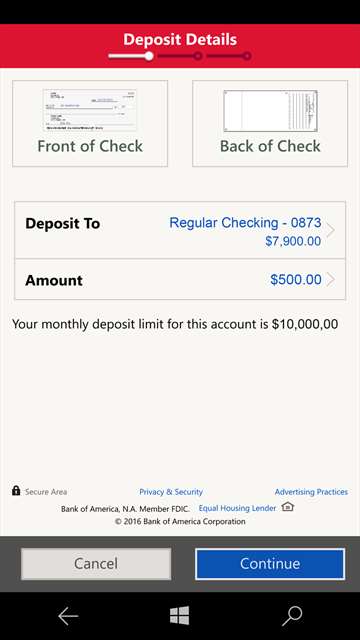 If you live in the USA please feel free to comment after trying it - I'm somewhat jealous that nothing this good is in the UK yet!