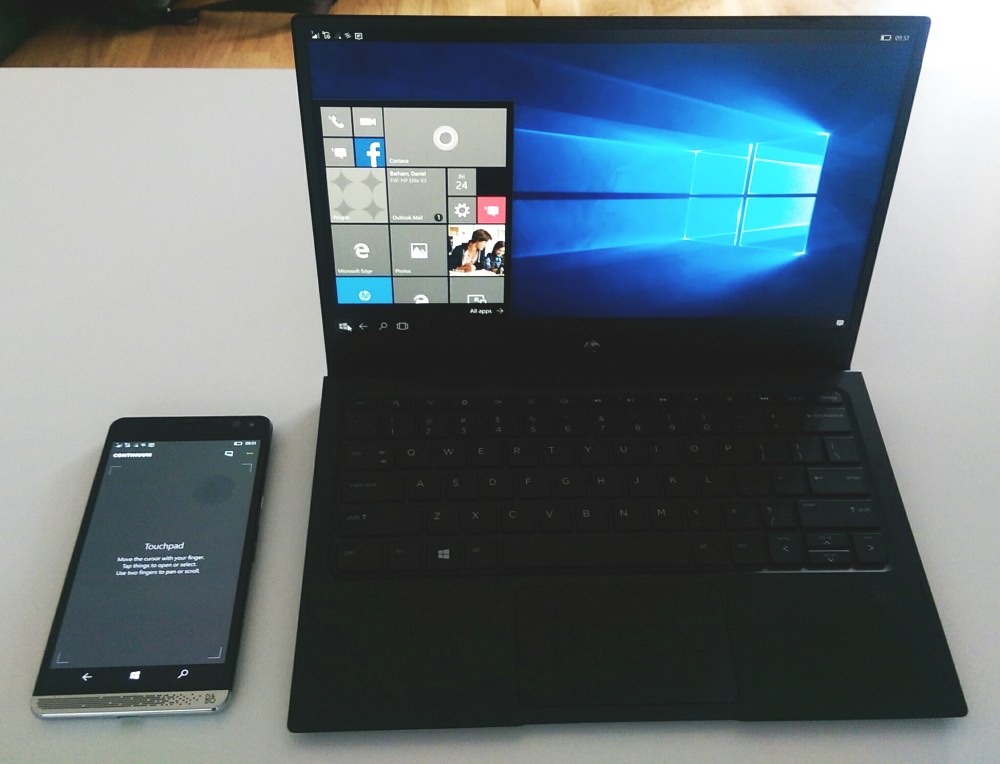 Don't take this as a negative story - I loved the HP Elite X3 and I loved the Lapdock. Here's what I had to say after my hands-on afternoon with the phone and accessory, back in June:
We've been over the benefits of the Continuum lifestyle many times, but essentially you can have a more joined up experience because everything's being driven by one chipset with one OS and you're fully signed in (and with applications loaded) on everything, without needing to authenticate to everything via a separate laptop or similar.

The HP Lap Dock we saw was pre-production, i.e. a prototype, but still well made - the trackpad was the only component which was noticeably 'not retail', and this bodes well for the final accessory. It's mainly aluminium and dense polycarbonate, giving it good strength and yet light weight, with a hinge set in slightly from the back that raises up the keyboard when opened.

The Lap Dock's screen is 12.5" diagonal, 1080p ('Full HD') and (probably) TFT. Below it are stereo B&O speakers (again) and a full 6-row laptop keyboard, set in traditional Windows configuration, complete with Start key. We saw this working with both the Elite X3 and (as mentioned above) with a Lumia 950 XL, both wirelessly and wired:

We see what looks like micro-HDMI out (though didn't have an adapter to try this), USB Type C in (typically when using the Elite X3 or another Continuum-compatible phone), power switch and a 3.5mm headphone out jack. There's a row of LEDs for indicating the remaining charge in the integral 48WH battery (the exact capacity in mAh isn't known as we don't know the internal voltages used), with a button to press to light these up, to check. Then two extra USB Type C jacks - HP has gone all in on the new standard. These can be for flash disks, hard disks, and so on, though you might have to source a Type A to Type C adapter cable
And my summary included:
There was a definite sense of the Elite X3 being a long term play from HP - they're by far the number one in the world of commercial computing and the Elite X3 and accessories are backed by the same sales, distribution and support network. We're not talking a quick launch and then withdrawal from sale, as we've seen from other industry fly-by-nights. HP wouldn't have got into Windows 10 Mobile and Continuum if they weren't deadly serious. And company IT strategies are measured in years, not months, so it could be a while before we know any numbers of take-up in enterprise.
The HP Workspace element is something that will mainly be driven by IT departments in companies who take up this HP mobile system, so we'll leave this to one side for now (though see the promo video at the end of this post). The Lapdock then is the main Unique Selling Point here. Though the specifications of the phone are worth reprising again, here shown against the Lumia 950 XL as a comparison:
Lumia 950 XL
HP Elite X3
OS
Windows 10 Mobile

Windows 10 Mobile

Construction
Polycarbonate,
back shell is replaceable
Polycarbonate,
sealed

Dimensions
152 x 78 x 8mm, 165g
162 x 83 x 8mm, 195g
Chipset
2.0GHz Snapdragon 810
64-bit octacore
'Liquid cooling'
2.2GHz Qualcomm Snapdragon 820
64-bit quad core
GPU
Adreno 430
Adreno 530
Connectivity
LTE up to 450Mbps
plus dual SIM option
NFC
LTE up to 600Mbps
plus dual SIM (if microSD unused)
NFC
RAM
3GB
4GB
Display
5.7" AMOLED QHD (1440p)
ClearBlack Display
Glance screen
Gorilla Glass 4

5.96" AMOLED QHD (1440p)
Gorilla Glass 4

Storage
32GB, plus microSD
64GB, plus microSD
Camera
20MP, PureView with
oversampling down to 8MP
1/2.4", f/1.9
Fifth generation OIS
Triple LED flash
4K capture
Dedicated capture key
16MP, f/2.0
1080p capture
Single LED flash
no other details known yet
Front camera
5MP

8MP



Cabling
& charging
USB Type-C (up to 5Gb/s)
USB 3.1 standard

power delivery


Qi wireless

USB Type-C (up to 5Gb/s)




USB 3.1 standard power delivery




Qi and PMA wireless

Battery
3300mAh replaceable
4150mAh sealed
Speaker
Rear-mounted, mono
Front-mounted, stereo
Bang & Olufson branding
Biometrics

Infrared iris-scanner

Infrared iris-scanner
and fingerprint reader
Durability

No special certifications,




but back comes off for easy access to components

IP67 liquid and dust

Other

Continuum-ready

Often comes with the Microsoft Display Dock, plus a year of Office 365


Continuum-ready

Several dock options available,
including HP Lap Dock
Admittedly, we're talking larger, faster, longer lasting, more capable in comparison to the Lumia 950 XL. And water and dust proof with stereo front-facing speakers and a fingerprint scanner. Quite a list of benefits, only balanced by the better imaging in the Lumia and the latter's flexibility in terms of swapping out the battery. Overall though, is there enough here for an existing 950 XL (or 950) to consider switching?
Probably not, the Windows 10 Mobile experience will largely be very similar, despite the incremental specs bump across the board. But then the Elite X3 isn't aimed at existing 'Windows Phone enthusiasts', it's aimed at new customers, new professionals, new companies.
You can already pre-order the Elite X3 on its own or bundled with the Desk Dock, but the Lapdock is still something of an enigma. And, although a HP accessory to go with the Elite X3, we already tried this 'Continuum lapshell' with the Lumia 950 XL and it worked just fine (as expected). Begging the question, if the Lapdock is a crucial USP (which I think it will be) then will it be sold separately at a sensible price or will it only be available as part of a bundle?
If the latter, then it's best to wait until you can buy the Elite X3 with the Lapdock. if the former then you'll still have to wait anyway, for it to be available and for pricing to be known. In short, you'll have to wait.
Comments welcome, am I dismissing the Elite X3's native phone smarts too easily? Am I blinded by my love of the Lapdock concept?
PS. Some example pre-orders in the UK: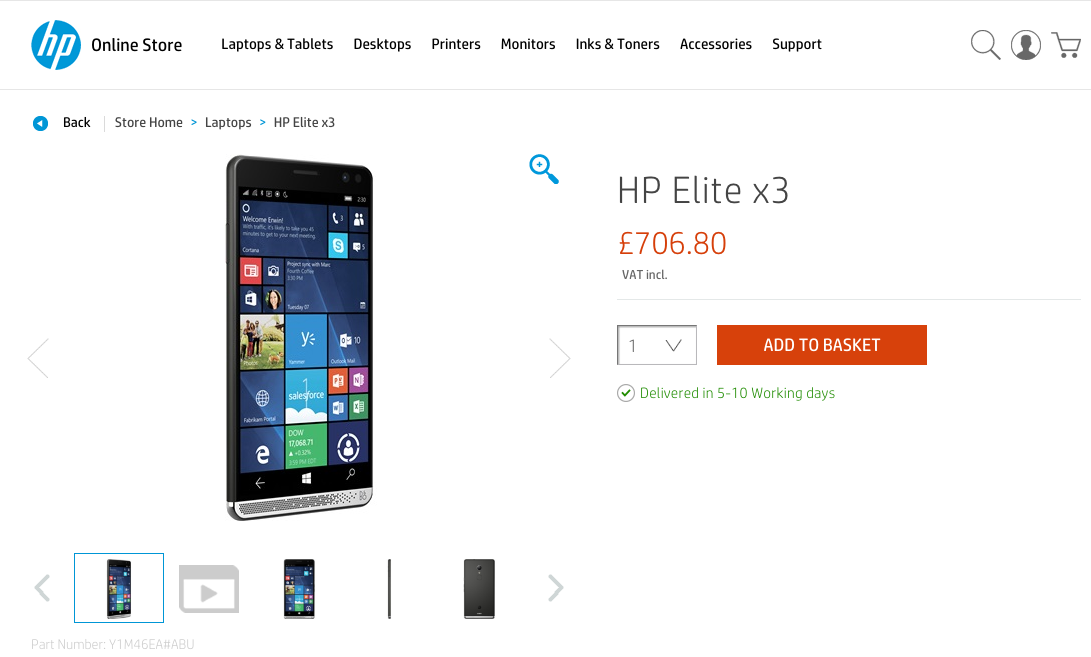 PPS. That promo video promised: