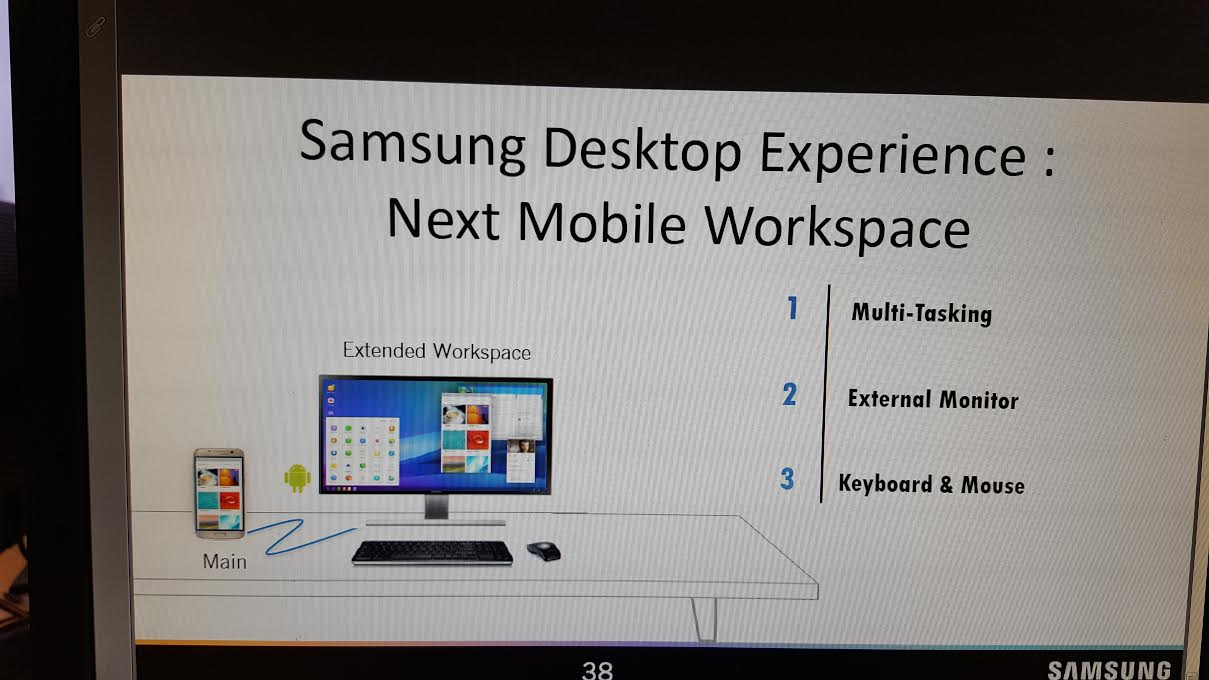 There are several interesting things here, assuming that all this is for the Galaxy S8 and is going to be a real shipping 'experience'. The slide clearly shows a wired, connected solution, with the phone tethered to the monitor directly. Now, we've been able to connect smartphones directly to monitors in the past (e.g. here), but this is the first time that I've seen a non-Windows smartphone expand what's shown in the way depicted above, with a full desktop experience, multi-windowing, and so on.
As to exactly what's going on here we can only guess. Mine is that the graphic, obviously a mock-up, shows one of the various multi-windowed implementations of Android - it's not at all clear how this ties in with Samsung's plans for TouchWiz, but it's conceivable that (perhaps inspired by Continuum) Samsung has engineered the OS to handle both single window phone use and multi-window desktop use depending on what's physically hooked up via USB Type C.
Also shown is a Bluetooth keyboard and mouse, presumably paired with the phone.
Take this with a pinch of salt, of course, not least because this is AAWP and Continuum is almost certainly slicker and more mature, so this - if real - would be Samsung playing catch-up.
PS. 'Multi-windowing' in Continuum is expected to appear very shortly in Insider builds of Windows 10 Mobile, on the Redstone 2 branch, destined to ship to production status phones in March/April.