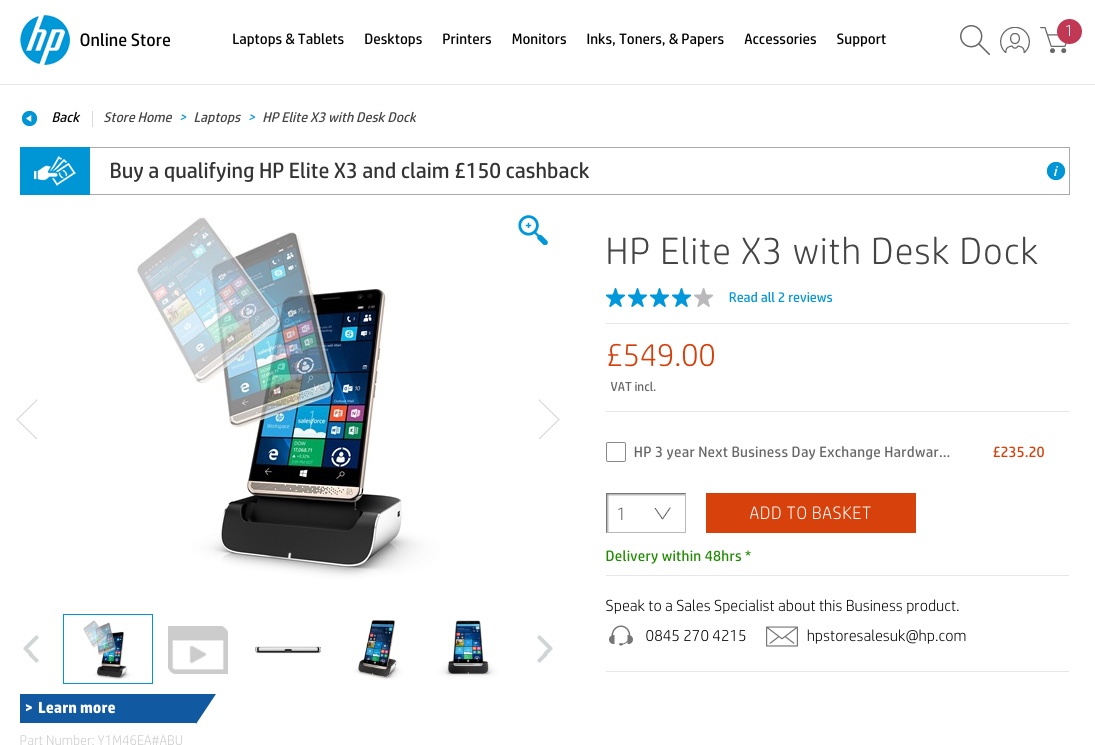 Given the 6" screen, specs and extra smarts on the x3, that £400 after cashback is a bit of a deal.
From my original Elite x3 review coverage in October 2016: Review: HP Elite X3: part 1 - intro and hardware:
Certainly the Elite X3 impresses from the moment you hold it - it's so much more solid than the Microsoft Lumia 950 XL, which is the other current Windows 10 Mobile device that it's closest to. Admittedly, you can't take the back off here and replace the battery, but the benefit is that the X3 is very, very sturdy. It's rated at MIL-STD-810G and IP67 in terms of durability, meaning that it'll take drops onto concrete from waist height without much worry (unless it happens to land squarely on the glass front) and that you can drop it in a bath or toilet and fish it out half an an hour later and it'll carry on without a hiccup.

Such durability is hugely welcome, of course, in the world of 2016, and especially so given the use case for the X3, with employees perhaps not being as kind to their 'work -provided' phones as they would be to their personal iPhones (or whatever). In extreme cases, with the X3 used in 'vertical' environments (think surveyors, delivery drivers, anyone using a hardware add-on that uses the pogo pin connectors on the X3's back), the amount of abuse the X3 would get would shock the average domestic phone owners, I suspect.

Add in that one of the requirements for the X3 was that it was fully Qi and PMA compatible for wireless charging (again, think delivery drivers and workers in the field, who just want to throw their phone down on a pad in their vehicle and not have to keep reaching for a USB Type C cable), and it's pretty obvious why HP went for a plastic body rather than the 'sexier' full metal jackets beloved by the likes of the iPhone, Google Pixel, Huawei and many others from the consumer world. Yes, metal feels great in the hand, yes, it looks shiny, but when dropped it dents rather than deforms. Moreover, it doesn't let radio waves pass through, a requirement for wireless charging.

The plastics used in the X3 are a long way from those in the flimsier Lumia 950 range though - they mostly feel solid and hard wearing, plus the choice of black or err... black means that dirt and microscratches from any abuse won't disfigure the body easily. The exception to all this is the shiny chrome-effect bottom strip (with the B&O logo on). Although my review unit is still unmarked, I can see this chromed plastic surround getting scratched up in a more visible fashion. Still, this strip was introduced to break up the 'boring black slab' design - which it does successfully, so it's a compromise here between ultimate ruggedness and having at least a sliver of style.
SO what are you waiting for?