For 'feature2', think 'RS2+', i.e. 'Redstone 2 Plus'. As before, the Fast Insiders ring for Windows 10 Mobile is becoming less the 'unstable, early access' ring and more the 'more bugs fixed than any other' ring. There's clearly still effort going into keeping the core of Windows 10 Mobile up to date, in parallel with the internals of the Desktop SKU, and fixing reported issues.
From the Windows blog:
What's New in Build 15240 for Mobile

Emoji 5.0: Just like we did on PC, we have added support for the latest Unicode updates – including new snacks, actions, dinosaurs, and even fantasy characters like genies, fairies and zombies – to Windows 10 Mobile in this build. They're all accessible via both the touch keyboard and the Emoji Panel. We've tweaked some of our original emoji designs based on your feedback and to improve consistency with how the emoji is displayed on other platforms (while maintaining our Windows style).

New emoji include:

General changes, improvements, and fixes for Mobile

We fixed the issue where trying to update Windows Store apps saved to your SD card resulted in an 8007000B error. Apps installed on SD cards should update without any issue.

We fixed an issue where there was no icon shown for Windows Update for either new notifications or on the settings page under Settings > System > Notifications & actions.

Known issues for Mobile

Occasionally, Narrator speaks phrases in English rather than the chosen non-English language.
There is a problem with the HP Elite X3 with wired docks where the portrait orientation setting is lost when the external display is disconnected and reconnected. A workaround for this is to reboot the phone after tapping the "OK" button instead of disconnecting and reconnecting. This workaround must be performed every time you connect to an external display you want to use with Continuum in portrait orientation.
When installing or updating a Windows Store app, you may see error 80070057. As a workaround, you can get the latest app by uninstalling the older version of the app from your device and reinstall latest version from Store.
The emojis are accessible using bottom-tabs in the Windows 10 keyboard, of course: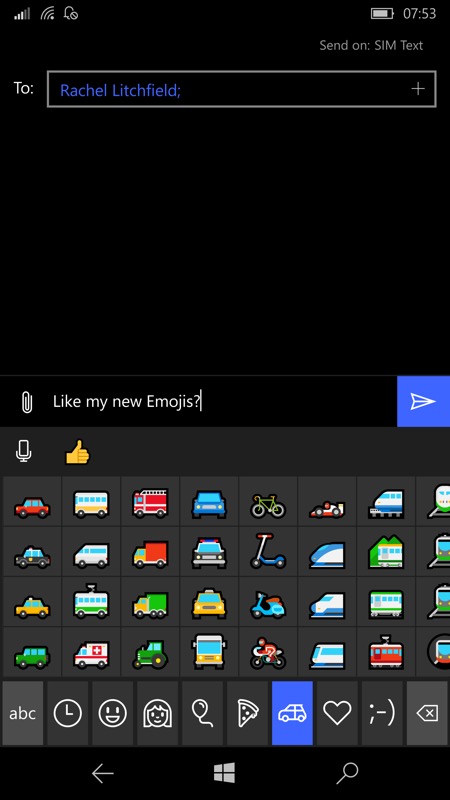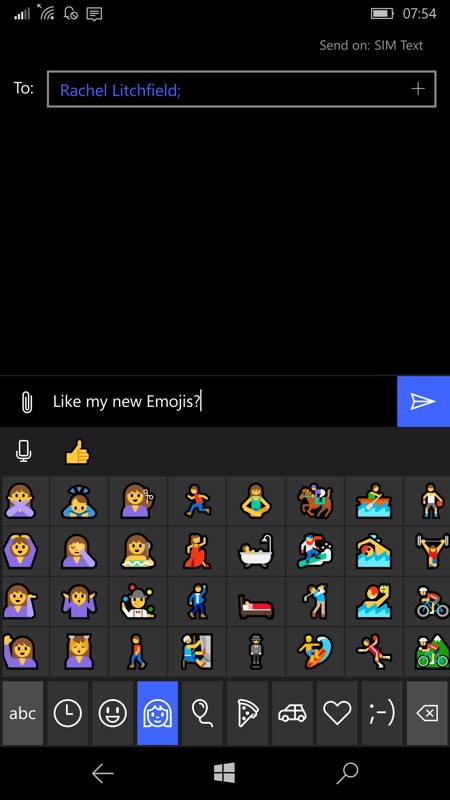 So still issues for Elite x3 owners then, though with HP pushing hard I'm sure the issues will be solved before formal release of this OS branch.