Niche devices like the Surface Studio and Surface Hub show that innovation doesn't always have to be followed by tens of millions of sales in order to have an impact. And the same might well apply to the Surface Mobile. It's not all about dollars and profits and the bottom line. Sometimes you have to push the boat out, in this case to show a technological lead. Waiting another six months or even cancelling Surface Mobile altogether would result in a wave of negative publicity and a surge in third party folding device visions, probably from rival ecosystems.
From Jez's editorial:
Expectations revolving around Microsoft's unannounced Surface Andromeda are reaching particularly ridiculous levels, I say ridiculous because this thing hasn't even been announced.

Owing to leaks, patent filings, code snippets from the Fast Ring, and other rumors, we have a fairly complete picture of what Andromeda may look like. A folding tablet, with telephony, inking, powered by a new Windows variant OS, running apps from the Microsoft Store. Andromeda would be a versatile powerhouse that, sure, might not replace the average consumer's smartphone, but I've seen enough people carrying iPads around in tandem with their laptops and smartphones, all at once, to know that this thing has a market, albeit niche.

I have zero doubts about the engineering prowess of Panos Panay's Surface team. Like with the Microsoft Courier, what could prevent Andromeda's release is company politics and the cowardice of upper management. I say grow a spine, Microsoft...

...Microsoft doubtlessly shelves projects all the time, but Andromeda is something the world has never seen before, at least not from a large mainstream tech company. Sure, there have been tech demos, and hacked-together Android concepts, but there hasn't been a company to come forward yet and say "this" is a new form factor we're going to support within our ecosystem. Windows, and Surface, are uniquely positioned to power a tablet of this type.

Windows Ink, while niche, certainly has its fans and users. If it was a true failure, Microsoft would have stopped releasing countless updates to its Surface Pen line. The Surface Studio, widely rumoured to get a second outing, is the ultimate expression of the inking use-case, with an absolutely stunning screen focused around digital art production. You could say the Surface Studio is a niche within a niche, yet Microsoft still decided to not only release it, but likely support it with a sequel. Why is a truly pocketable mobile sketchbook so taboo for Microsoft?
Hear hear. The Surface team's products already sell happily in terms of thousands, not millions, so I don't see why a Surface Mobile should be any different. It would be a first party flagship and then clones would arrive from other manufacturers, perhaps. All in a 'new market category'.
I was particularly struck by this observation on a concept that Satya Nadella's fond of quoting: the 'Intelligent Edge'
Microsoft's "intelligent edge" mantra has, for me, become a bit of an excuse to avoid taking risks on Microsoft's part. It hopes that it can rely on third-party platforms to play nice when it releases its software and services on their mobile platforms, shirking the responsibility of providing UWP devs or Windows users the option of not having to buy into the Apple, Amazon, or Google ecosystem for a pocket computing device.
Having been sitting on an editorial on trying to explain the 'intelligent edge' for a while, this broadside criticism makes more sense. The phrase is an excuse for Microsoft not doing more.
In short, nice editorial, see the source link for the whole thing (it's quite long), and I wholeheartedly agree.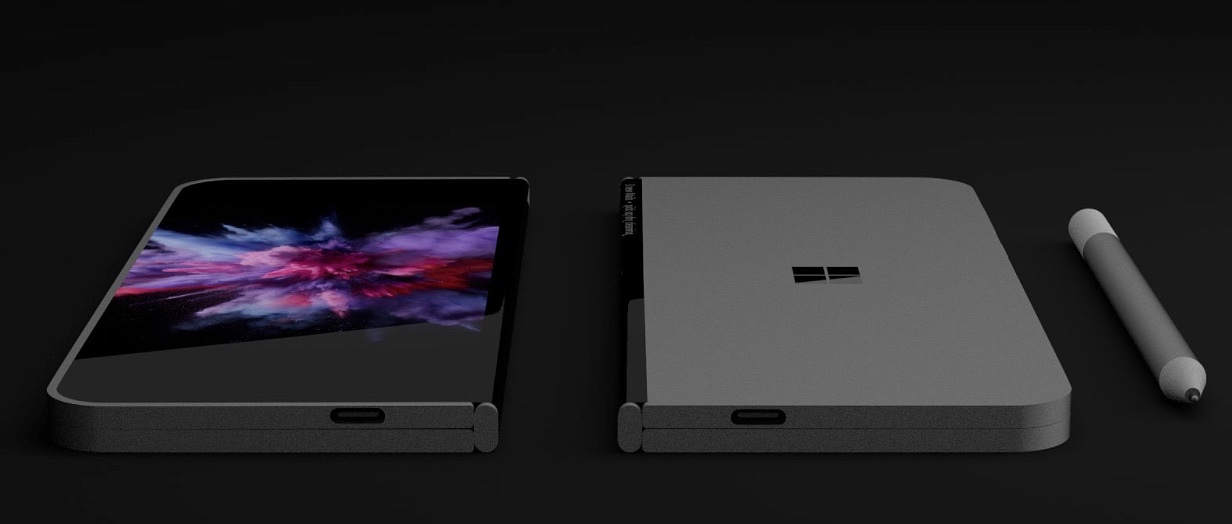 (Image from my article here.)