From the Microsoft blog post:
We are transitioning and converting our current ring model, based on the frequency of builds, to a new channel model that pivots on the quality of builds and better supports parallel coding efforts. In addition to this change, Insiders will also find similar offering names and expectations across Windows and Office programs and soon Microsoft Edge and Microsoft Teams. Our goal is to not only make it clearer for existing Insiders to choose the experience that's right for them, but also for new Insiders to pick the right channel as they join. The Insider community is very important to us all and we're working to align how all our Insider programs work better together across Microsoft.

When we first began flighting new Windows 10 Insider Preview Builds over 5 years ago, Windows Insiders were asked to join one of two rings based on the frequency of when new builds would be delivered to their device—"Fast" or "Slow." Insiders who wanted updates the fastest and were comfortable with some rough edges joined the Fast ring. Insiders who would rather wait for more polished and stable updates joined the Slow ring. And, in early 2016, we introduced the Release Preview ring for Insiders who wanted to receive early access to servicing updates on released versions of Windows 10.

Over the years, we've adjusted how we've used the rings as we have evolved the way we build and release Windows 10. Originally, we flighted builds from a single product release. Now, we're innovating on features in multiple product releases at the same time. In the middle of 2019, Insiders were running builds from 3 different releases (at various stages in our development cycle) with the Fast ring being on 20H1, the Slow ring on 19H2 code, and the Release Preview ring on 19H1 code. We began to realize that we were "outgrowing" the original concept for rings.

Later this month, the Fast ring will become the Dev Channel, the Slow ring will become the Beta Channel, and the Release Preview ring will become the Release Preview Channel. Here is what that mapping looks like: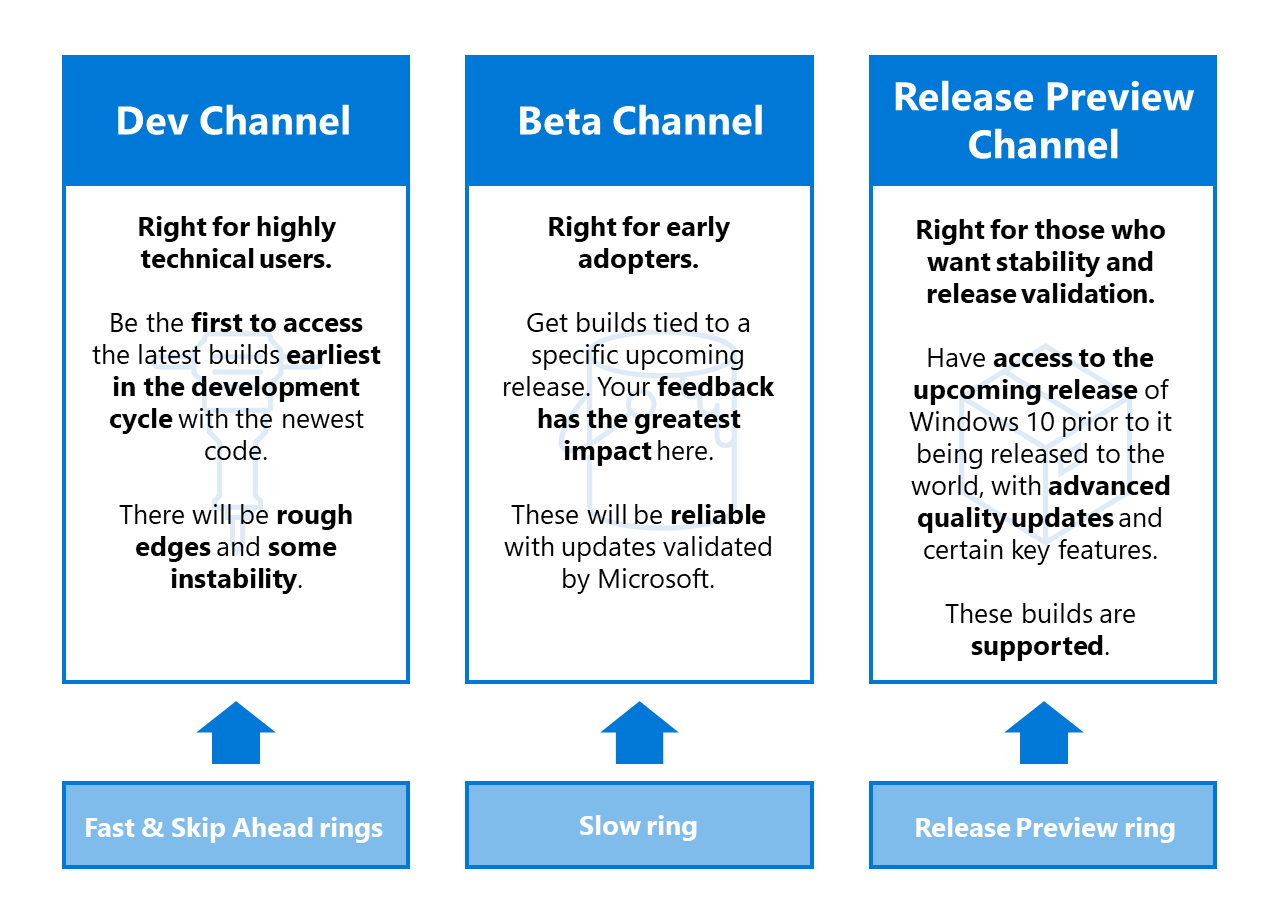 If your Windows PC is currently flighting one of the existing rings, Microsoft will automatically move your devices based on your current ring to the new channel that best corresponds with that experience. So although something's happening server-side, as far as most of us are concerned with our Windows computers, this is just a name change!