It's a fairly undeniable truth that, while Windows Phone hasn't been an abject failure, it has also not been a runaway success. A truth that's acknowledged by Microsoft and its partners, in forcing through Windows Phone 8, fixing all the things wrong with its predecessor but with the gamble that there will be grumblings from the community about existing phones not being able to be upgraded.
As I look back on the hardware pantheon from the Windows Phone 7 era (so that's late 2010 to late 2012), I contend that there are no standout devices. Not that we ever really see 'perfect' devices in the mobile world, since all smartphones represent some sort of size/functionality compromise. But, even allowing for this, it's hard to pick a real winner. Perhaps, if there had been a really standout smartphone among the bunch, then, despite the limitations of Windows Phone 7, sales might have been higher and respect for the platform higher?
I've tried most of the original WP7-powered phones and would pick out the following as favourites:
HTC HD7 - the 'giant' of the platform, with a 4.3" screen, unusual at the time (late 2010). Even today, with other companies launching larger devices, this screen size feels very usable, plus the build quality was very good and the inclusion of a kick stand for media consumption was inspired.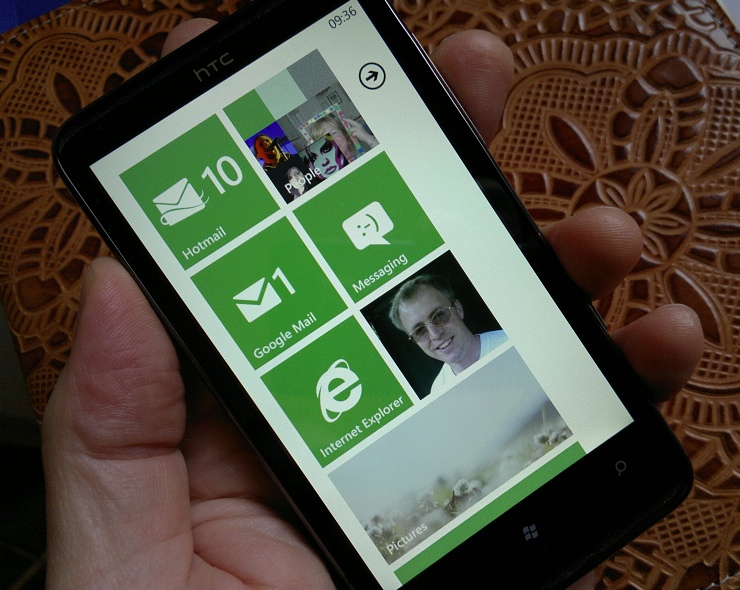 Let down by: camera, screen and speaker quality.
---
Nokia Lumia 800 - inspired by the Meego-powered N9, but still a beautiful phone in its own right, the curved glass, gorgeous AMOLED/CBD display and decent camera won the Lumia 800 fans - more so than the heavier, flat-screened, more masculine Lumia 900.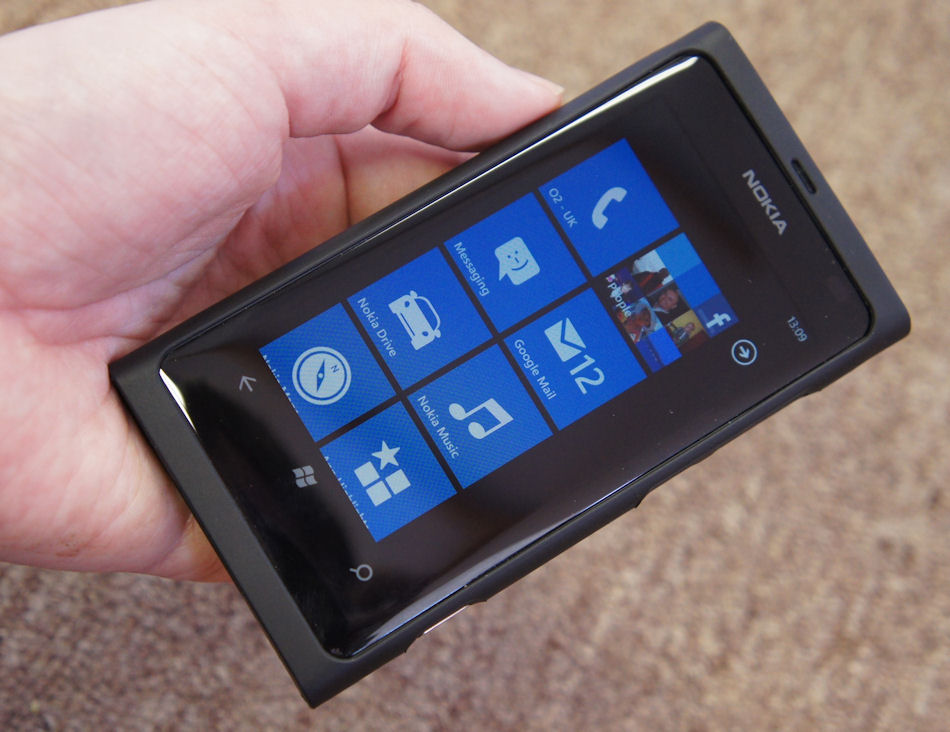 Let down by: camera (paradoxically, it should have been even better, as was the same hardware in the N9), the mediocre speaker and the sealed battery (this last made more annoying by power management bugs that threaten to 'brick' any Lumia 800s that are allowed to discharge fully).
---
HTC 7 Pro - unique in its form factor in the world of Windows Phone, and thus still arguably a valid option for the smartphone user who wants a physical qwerty keyboard, even in 2012. The 7 Pro's 5-row keyboard is excellent and the sprung flip-up rock and roll mechanism surprisingly hard wearing (mine's as energetic today as when I first got it).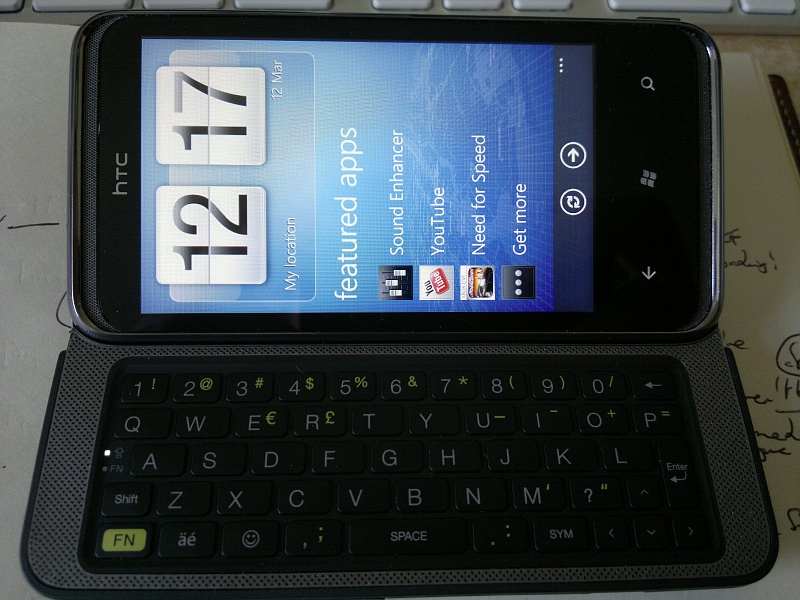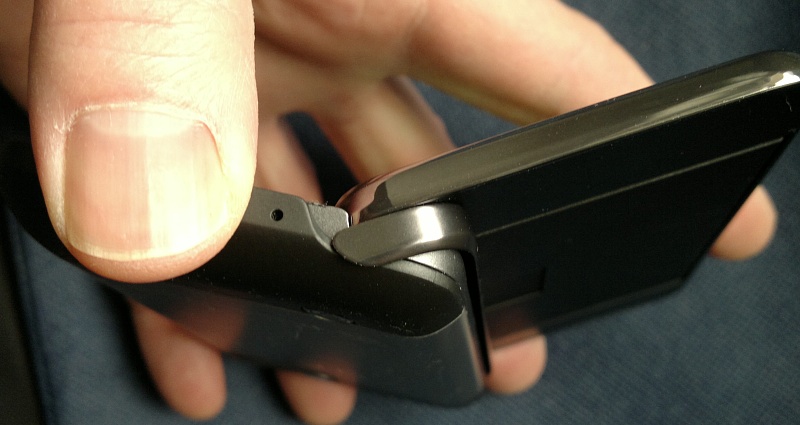 Let down by: the quality of the camera, screen and speaker (i.e. typical HTC 2010 components, as with the HD7), plus only about half the applications and screens support the 'opened' landscape mode - sometimes there are conflicts even within the same application! (e.g. the official Twitter app) - so you're forever switching back and forwards between the two modes...
---
I've also had nice things said about the Samsung Focus, with its 4" AMOLED screen, back in late 2010, but I've never had hands-on time... Plus I've a soft spot for the Nokia Lumia 710, with its ability to swallow up my store of Nokia 'hero' BP-4L batteries(!)
So plenty of spots of interest, but nothing which has really stunned the world - the Lumia 800 was probably closest, in that it had demonstrably different design (and colours!) than the mass of anonymous flat Android slabs.
In the meantime, across the wider smartphone world, we've had the Apple iPhone 4S, with arguably flawless hardware (feel, screen, camera, speaker, etc.), since September 2011, with a new iPhone about to be launched as I write this. We've had the Samsung Galaxy S III, with stunning core speeds, excellent 4.8" screen, super camera and speaker. And we've had the Nokia 808 PureView, showing just how good a phone camera can be, albeit at the expense of a bulge in the back.
Against stellar hardware like this, with the best components and zero compromises, it's perhaps not surprising that there's not much draw for the general public to current Windows Phones. But what of Windows Phone 8 and the future?
Exciting Windows Phone 8-powered hardware
Into this context come the Samsung ATIV S, Nokia Lumia 920 and Lumia 820, plus a HTC device (rumoured to be similar to Nokia's 820 but which hasn't been announced yet). How do they match up in terms of excitement and competitiveness?
The Samsung ATIV S has a 8.7mm brushed aluminum chassis and a huge 4.8" HD Super AMOLED display. Under the hood is a 1.5GHz dual-core processor, 1GB of onboard RAM, and an 8MP autofocus rear camera, plus 16GB or 32GB mass memory and MicroSD expansion. Particularly impressive is the inclusion of a big 2300mAh battery. So, apart from a slight difference in processor, this is essentially the Galaxy S III with a different smartphone OS. The Galaxy S III has been selling in the tens of millions, it seems as though even a 4.8" screen isn't too large for many users in 2012, so the ATIV S could be as attractive as its Android sister device.



The Nokia Lumia 920 has a Qualcomm S4 Snapdragon dual-core processor, 1GB RAM, 32GB mass memory and a 4.5" screen featuring Nokia's PureMotion HD+ technology. It's also equipped with wireless charging, NFC, plus Nokia's PureView branding, with optical image stabilisation enhancing the output of the on-board camera. Essentially this is a supersized version of the older Lumia 800 design and with everything upgraded inside.



The Nokia Lumia 820 has a 4.3" WVGA ClearBlack Display AMOLED screen, a 1.5GHz dual-core processor, 1GB of onboard RAM, a swappable polycarbonate body/battery, and an eight megapixel camera with Carl-Zeiss optics. Some of the back covers also include wireless charging capability through the Qi standard that also ships inside the Lumia 920.


It's tough to pick an overall winner from these three new phones, it's clear that they all fare far better against the 2012 competition, in terms of speed, size and components. Although I'm keen to try the Lumia 920's 'PureView phase 2' camera, I think (of the two) that I'd be leaning towards the Lumia 820's flexibility in terms of batteries and memory expansion. However, the ATIV S, providing Samsung can ship it in a reasonable time frame (before December?), is possibly the most exciting of the three, with the largest screen, decent speaker and excellent camera, plus battery flexibility/replacement and memory expansion - the best of all worlds for the mass market?
As ever though, now that the hardware inequality with the rest of the smartphone world is being taken care of, success is going to be more down to point of sale marketing and distribution. Samsung and Nokia both have good reach here, so fingers crossed.
Everytime I pick up a Windows Phone 7.5 smartphone I find something that grates or frustrates - a 10 second delay while something updates or a feature that simply hasn't been implemented yet - I'm far, far more optimistic that the three Windows Phone 8 devices above (plus whatever HTC and ZTE come up with) will provide a faster, more enjoyable and far less frustrating experience.