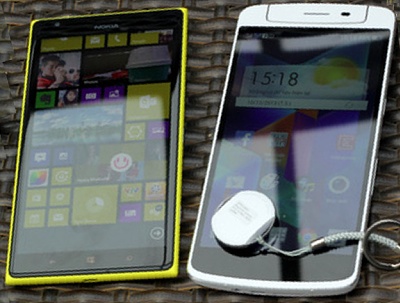 Reading/viewing links: Our review parts for the Lumia 1520 / The Phones Show (N1 review coming up in show 220)
[extra photo credit]
Side by side, the N1 instantly feels more phone-like, given its slimmer waistline, but then you start carrying it around and realise that 17cm(!) is way too large for something that you juggle along with your shopping, briefcase and kids (not in that order!)
In truth, each of these 'phablets' is merely a slice of technology occupying that nebulous speca between phones and small tablets (e.g. iPad mini, Nexus 7) and, as such, will find some fans but it's unlikely that these will achieve mass market sales.
That doesn't stop me enjoying my weeks with each device though - and then reviewing them step by step below.
As usual, I pick out winning categories in green, for interest sake - though don't take these too seriously. And note that many categories simply don't HAVE a winner, either because the differences are subjective or because the two are roughly equal overall.
I do pronounce an overall winner at the end, but with the Lumia 1520 and OPPO N1 running two completely different mobile operating systems and existing in two different ecosystems (and, arguably, at two different value points too), there's comparatively little chance that anyone's going to get the two confused or make a purchase based on a 'victory' on the page here.
NB. The N1 reviewed here is the Cyanogen version, from the factory - there's also an OPPO homegrown interface ('Color OS') version, with a skin on top of Android and some extra apps and tweaks, including support for a touch-sensitive panel on the device's back (the 'O-panel') and for the dual LED flash, with one white and one gentler, intended in theory for use when the swivelling camera is rotated for 'selfies'.


Nokia Lumia 1520
OPPO N1
Date launched
October 2013
September 2013
Price (SIM-free in the UK, inc VAT if applicable)
£580
EUR449 as reviewed here (about £390)
Form factor, weight
Touchscreen polycarbonate monoblock, fully sealed, 163 x 85 x 9mm, 209g
Touchscreen monoblock with aluminium chassis and ceramic body, fully sealed, 171 x 83 x 9mm, 213g

Operating system, interface
Windows Phone 8 GDR3/Lumia Black, 6-wide tile interface Start screen, few apps are optimised fully for the size and resolution
Android 4.3 (Cyanogen Mod), this scales well for 1080p screens and makes good use of them, though as with the 1520, more could be made of the screen real estate on such a physically large display. There's a 'O-touch' panel on the back of the phone, for extra gestures, though this wasn't working or accessible in the review handset
Display
6" LCD with ClearBlack Display polarisers, 1080p resolution, very good in sunlight
5.9" LCD, 1080p resolution, average visibility outdoors
Connectivity
Quad band GSM, Quad band 3G, up to hexaband LTE, NFC, Bluetooth 4
Quad band GSM, pentaband 3G, NFC, Bluetooth 4 - the absence of LTE ultimately hurts such an early adopter device as this
Processor, performance
2.2GHz Snapdragon 800, 2GB RAM, very fast at almost everything (though often hidden by Windows Phone transitions)
1.7GHz Snapdragon 600, 2GB RAM, fast enough for normal operation
Capacity
16 or 32GB plus microSD up to 64GB
16GB (there's a 32GB option for non-Cyanogen variant), no expansion at all - and only about 12GB free out of the box
Imaging
20MP PureView 1/2.5" sensor, OIS, dual LED flash, dedicated camera shutter button and launch key, 1080p video capture
13MP 1/3" sensor, LED flash*, swivelling mount (see photo below), 1080p video capture
* in fact, there's dual LED flash, but the second unit is 'warmer' and only seems to work on the non-Cyanogen variant of the N1
Music and Multimedia
Decent mono speaker, 3.5mm headphones
Decent mono speaker as well, 3.5mm headphones

Gaming
Plenty of decent games for Windows Phone 8, though some seem a little 'big' on the 1520's giant screen. Still, easier to see and play?
A slightly bigger games catalog to choose from, though, if I'm honest, almost all my favourite mobile games are on Windows Phone these days (discuss!) Again, we're almost in the realm of tablets yet the games are designed for 5" max phone acreens, so things aren't perfectly optimised
Navigation
Nokia's HERE Maps/Drive suite is unrivalled, with the offline routing and maps. Plus live traffic, good public transport advice and innovative 'live sight' functions
Google Navigation is very comprehensive, but aside from limited caching of small areas, struggles mightily when out of data coverage
Battery, life
Sealed 3400mAh battery, excellent life - 2 days on a charge if you're careful
Sealed 3610mAh battery, also very good life, despite the large screen
Applications and ecosystem
Windows Phone now has just about every mainstream app and service covered, with great strides in the last few months. Niche/boutique apps are sometimes an issue if you're being picky. Also anything to do with Google services!
Android's Play Store is very fully stocked, second only to the iPhone Store for depth. Everything mainstream is here, plus some boutique/niche apps. The use of a near 'stock' firmware only increases the compatibility. Perfect access to both Google and Microsoft platform services
Upgrades and future
Windows Phone 8.1 is due out in a couple of months time, bringing (among other things) a revamp of notifications in the UI. Updates to the 1520 will continue well into 2015
Will probably get Android 4.4 in the next month or so. Though it's not clear whether the update will come via Oppo or Cyanogen. Watch this space! The Cyanogen folk have a pretty good track record though.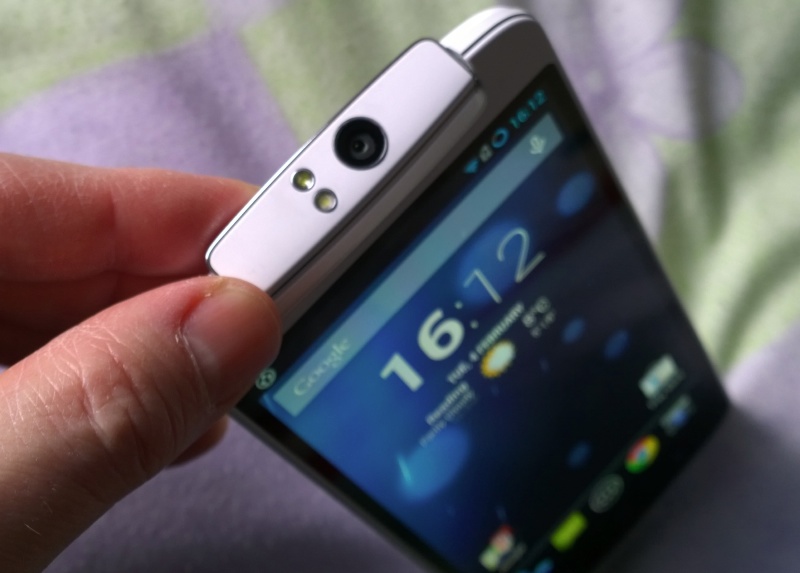 Adding up the green 'wins' gives a rough count of 5 to 2 in favour of the Nokia Lumia 1520. Yes, this is All About Windows Phone, but I've tried to be very objective above. That the Lumia 1520 should win out overall is perhaps not surprising, considering the price difference, almost £200 in the UK.
Oddly, the N1 is the device that feels more 'designed', helped by the metal chassis, swivelling camera USP and slightly narrower, more phone-like form factor. In contrast, the wider Lumia 1520 does seem a little like a Lumia 920 that's been supersized and then flattened - it's more tablet-like yet without any real tablet optimisations in interface. The 1520's also the more droppable of the pair.
However, the Lumia 1520 does deserve the win overall, with top of the line specifications at every stage - assuming the form factor stays in 'fashion', there's no reason why the Lumia 1520 shouldn't be serving an owner well into 2015 and beyond, and still getting updates. Hopefully Microsoft will do more with 1080p resolution for 8.1/Blue, in which case the 1520 will really come into its own.
Your call then, which of the above devices stands out to you?