You can check your Lumia 1020 by going into 'Settings/phone update' and tapping 'check for updates'. If your 1020 had the Developer Preview of 8.1 installed then note you may need to revert to stock. ('May', in italics, as Microsoft has indicated that the updates should arrive whether you're on the developer track or not. Me? I played safe and went with stock Windows Phone and official firmware!)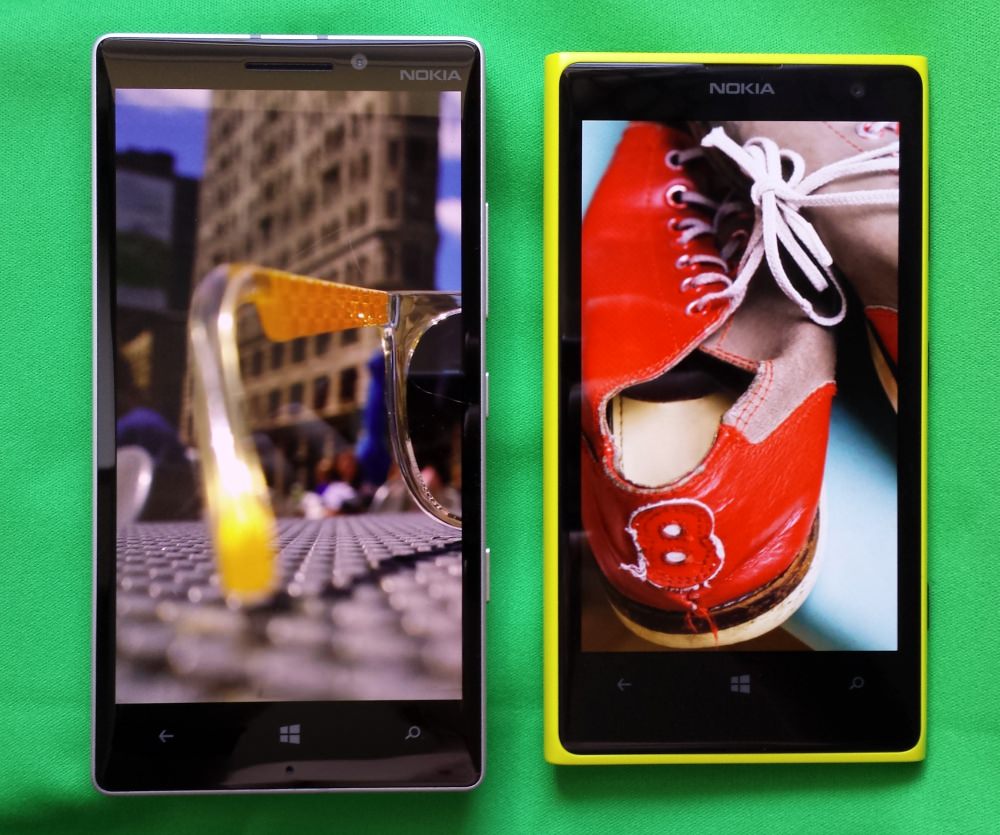 Armed with Cyan installed and working, here's my in depth comparison between the 1020 and the much newer 930. Interestingly, the 1020 feels smaller in the hand, partly because it's shorter and partly because for most of its body it's thinner too. Though the camera hump reverses the trend slightly, if you care about that aspect. Ultimately the smaller bezels on the 930 give much more screen area for your money, mind you.
As I often do, I've marked obvious wins in green, for interest sake:
| | | |
| --- | --- | --- |
| | Nokia Lumia 1020 | Nokia Lumia 930 |
| Date first available | July 2013, i.e. exactly one year old | July 2014 |
| Current price (SIM-free in the UK, inc VAT, price from Expansys) | £280 | £450 |
| Dimensions | 130 x 71 x 10 mm | 137 x 71 x 10mm |
| Form factor, weight | Polycarbonate shell, convex Gorilla Glass front. Weight is 158g | Aluminium frame, convex Gorilla Glass. Polycarbonate rear insert (for RF antennae). Weight is 167g |
| Operating system, interface | Windows Phone 8.1 Lumia Cyan | Windows Phone 8.1 Lumia Cyan |
| Display | 4.5" (768 x 1280 pixels) AMOLED pentile display with ClearBlack Display polarisers, excellent in sunlight. Glance screen time/notificatons encouraged and work superbly, giving the phone an extra dimension. | 5.0" (1080 x 1920) AMOLED pentile with ClearBlack Display polarisers, excellent in sunlight. Glance screen not currently possible due to hardware technical limitations. |
| Connectivity | Quad band GSM, Quad band 3G, pentaband LTE, Wi-Fi b/g/n, Bluetooth 4.0, integral wifi tethering, NFC | Quad band GSM, Quad band 3G, up to pentaband LTE, NFC, Bluetooth 4.0, Wi-Fi b/g/n/ac |
| Processor, performance | Good, dual core 1.5GHz Krait processor, 2GB RAM, which may offer the 1020 longer upgrade possibilities, limitation is Windows Phone's own transitions in terms of UI speed | 2.2GHz Snapdragon 800, 2GB RAM, As fast as the Lumia 1520, with same caveats over Windows Phone transitions |
| Capacity | 32GB internal storage, non-expandable, mounts as a disk and MTP device under Windows 7 and Windows 8, but not for Macs and other desktop OS. Several Mac applications aim to address this. | 32GB internal storage, non-expandable, same as for Lumia 1020 |
| Imaging (stills, good light) | Superlative 41MP BSI 1/1.5" sensor with PureView oversampling, OIS, 3x lossless zoom, RAW capture if needed, and much more. True Xenon flash. Dedicated camera button and a variety of camera 'extras' built-in. Often perfect results with all subjects. | 21MP PureView oversampling 1/2.5" BSI sensor, flexible software control over settings, dedicated camera shutter button and launch key, 2x lossless digital zoom, OIS. Great results, even zoomed or reframed. |
| Imaging (stills, low light/indoors) | Very good, moving subjects frozen with Xenon flash, larger sensor and oversampling reduce noise, etc. | Good for static scenes, the biggest weakness is (as usual) moving subjects in low light or indoors, which LED flash can't help with. |
| Imaging (video) | Excellent 1080p capture, with 4x lossless zoom, with optical stabilisation working to eliminate camcorder hand shake. 'RichRecording' included, in stereo. | Also excellent 1080p video capture, with 3x lossless zoom during recording and OIS helping, especially while zoomed. Four HAAC ('Rich Recording') microphones mean perfect audio capture in stereo and with appropriate directional cancellation. |
| Music and Multimedia | Loudish mid-frequency mono speaker, decent quality, A2DP, 3.5mm jack (headphones included), DLNA. | Same mono speaker, probably the same component, also used in the 1520 and 925. 3.5mm headphones (not included in the box) |
| Gaming | An average selection of games, with the oddity that some of the early WP classics are no longer available! (e.g. Tiger Woods PGA) | Same. Disappointing overall, though I still have some WP game favourites. |
| Navigation | The HERE Maps/Drive suite is unrivalled, with the 100% offline routing and maps that don't expire. Plus live traffic, good public transport advice and innovative 'live sight' functions | Same. Excellent! |
| Battery, life | 2000mAh, sealed in, microUSB charging only, though a Qi wireless charging back shell is available. Also charging through the special camera grip. | Sealed 2420mAh battery, easily gets through the day, microUSB or Qi wireless charging. |
| Applications and ecosystem | Windows Phone now has just about every mainstream app covered, with great strides in the last few months. Niche/boutique apps are often an issue, though... Also anything to do with Google services! | Same. Either satisfactory or frustrating, depending on what you want to run! |
| Upgrades and future | It's not clear yet whether the 1020 will get Windows Phone 8.1 Update 1 at the end of 2014. I'd hope so - it has plenty of RAM, after all, etc. | The 2GB of RAM and newer chipset here should see the 930 updated well into 2015 and even 2016. |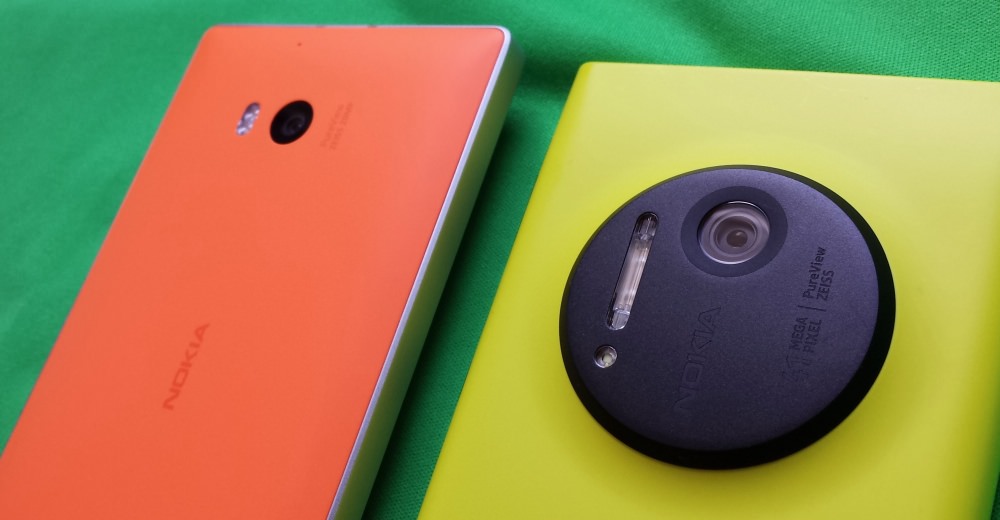 Perhaps somewhat controversially, I've awarded the 1020 4 'green' wins to the 930's 3, but then one of these is the price (the 930 will come down quickly too) and several of the categories were extremely close, so you could argue this comparison either way.
Happily, the question of 'which is better?' comes down, very simply, to how much use you'd get from the extra zooming and oversampling on the 1020, plus the use of a true Xenon flash. The other USP, the always on Nokia Glance capability, is also a factor, maybe even a clincher if you're not sure which device to plump for.
If absolute camera performance isn't crucial to you then the 930 is the more future-proof choice, even if buying at the quoted price above makes little sense - I'd bet on the Lumia 930 being below £400 SIM-free within a couple of months. And, who knows, maybe by then Microsoft will have added in a peek 'glance' capability, as Nokia managed to shoehorn in on the older Lumia 920....?