Specification overview
Having been playing extensively with the Lumia 930 under both Windows Phone 8.1 (Update 1 and 2) and Windows 10 Mobile (Insiders Preview), I think I've got a pretty good feel for what both the new OS and imminent (Oct 6th) new devices will bring to the table. Hoping to help clarify the potential upgrade for the existing 930/Icon/1520 owner, here are the expected specification differences, based on multiple sources, including the leaked slides reported on here at WMPU:
[I've kept the table narrow, for you table-haters - but do please turn your phone to landscape, if appropriate!]
Lumia 930
Lumia 950
Lumia 950 XL
Released
2014 (2013, if you count the
Lumia Icon variant)
October 2015

October

2015
OS
Windows Phone 8.1
(upgrade to Windows 10 Mobile)
Windows 10 Mobile
Windows 10 Mobile
Chipset
Snapdragon 800
32-bit Quad-core
Adreno 330
Snapdragon 808
64-bit hexacore
Adreno 418

Snapdragon 810 v2.1
64-bit octacore
Adreno 430

Connectivity

LTE up to 150Mbps

LTE up to 450Mbps
dual SIM option

LTE up to 450Mbps




dual SIM option

RAM
2GB
3GB
3GB
Display
5" AMOLED, 1080p, CBD
5.2" AMOLED, QHD (1440p)
ClearBlack Display
5.7" AMOLED QHD (1440p)


ClearBlack Display

Storage
32GB, sealed
32GB, plus microSD
32GB, plus microSD
Rear camera
20MP, 1/2.5", OIS
triple LED flash
4K capture
20MP, 1/2.5", OIS
dual LED flash
4K capture
20MP, 1/2.5", OIS
triple LED flash
4K capture
Front camera
1.2MP
5MP
5MP
Cabling/charging
microUSB, Qi wireless
USB Type-C, Qi wireless
USB Type-C, Qi wireless
Battery
2420mAh sealed
3000mAh replaceable
3300mAh

replaceable

Speaker
Rear-mounted, mono

Rear-mounted, mono

Rear-mounted, mono

Other
-

Face/Iris-scanner


Continuum-ready
Face/Iris-scanner
Continuum-ready
Digging deeper into what's new
Chipsets
The chipset changes are perhaps the big ones here - from benchmarks in the Android world, we can expect a bump of up to 2x in terms of performance when going from the Snapdragon 800 to the 810, with the 808 being somewhere in between, though of course it depends hugely on what you're doing on the phone. Mind you, modern operating systems tend to run lots of UI-intensive and background processes, so the more cores the better and the faster they are the better. This will certainly help eliminate the odd laggy transition, though Windows 10 Mobile still (in theory, at least) has the user experience as a priority and I don't believe anyone other than the enthusiasts reading AAWP (et al) will notice the difference.
I'm hoping that the Lumia 930's heat dissipation issues (it gets HOT!) will be a thing of the past - the construction in the 950 and 950 XL is obviously very different, plus the newer processors should generate less heat under the same load. The Snapdragon 810 has been through several internal revisions at Qualcomm and hopefully its own heat issues are now solved.
RAM, Storage
Having 3GB of RAM does mean that, potentially, more applications can be 'dormant' rather than tombstoned/closed (and thus dormat apps are resumed faster later on), though again I expect the difference in the end user experience compared to on the 930's 2GB to be minimal. The bump in battery capacities are mainly due to the increased 'plan' form factor - there's simply more room for a larger cell, and around 40% more capacity in the rumoured 950 XL will take it up to the existing (though hard to find nowadays) Lumia 1520, which easily goes two days on a charge.
Both 950 variants appear to have microSD expansion - as the true flagship (as the 1520 was before it), being able to significantly expand the local storage will be important in a professional 'Continuum' use case. Mind you, we still don't know what sort of docking adaptors or cables the latter will require - this may even have a USB port compatible with flash drives, so the jury's out here.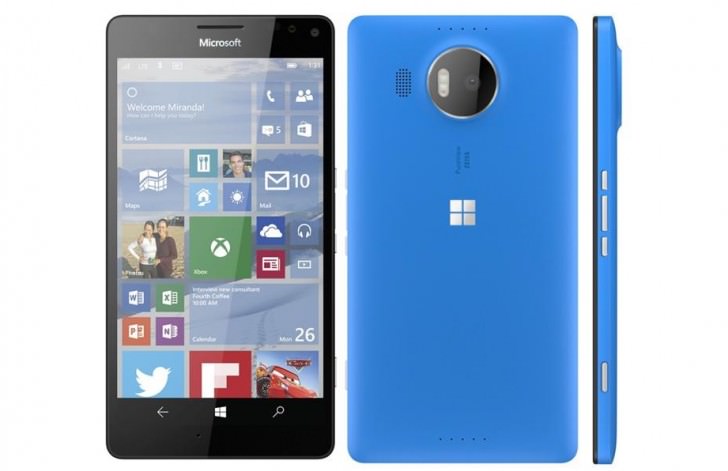 Connectivity
Going along with the Continuum-ready aspect, the use of (reversible) USB Type-C is a given. This is the future of USB and everything top end launched from this summer onwards will have it (plus everything mid-range from next MWC onwards). Plus the use of Type-C gives extra possibilities in terms of connectivity and power transfer.
The use of USB Type C instead of microUSB is bound to be a pain to some people, but it's the future, it's across the board in the industry, and it IS a big improvement, not least because we won't have to fumble around trying to get our connectors in the right way round anymore. There will be a transition period of a couple of years across the industry where most of us will have a couple of microUSB-to-Type C adapters around the office, but then it'll all die down and even these will be relegated to the back of a drawer. Plus Qi charging is confirmed for the new flagships, and you can of course carry on using your existing wireless chargers.
Imaging
Keeping the imaging (ostensibly) the same (in terms of bullet point specs, including OIS) is slightly curious, though the PureView unit in the 930/Icon/1520 is already pretty good and going up a notch in terms of sensor size would also have to make the phone thicker, 1020-style. Subtleties like aperture size aren't known yet, but I wouldn't be surprised if refinements to the lens design allowed for a larger aperture than the Lumia 930's f/2.4 - somewhere around f/2.0 would be more competitive and allow for better low light shots of people (due to keeping exposure time shorter). The sensor technology itself is also likely to have been improved in the intervening two years, with phase detection auto-focus and inter-pixel barriers to prevent colour cross-talk.
The main camera resolution is the same, of course, though add all the improvents above up, add in faster image processing, thanks to the extra processor oomph, and photos taken (at either 16MP or 5MP) should be significantly better across the board than on the likes of the Lumia 930 and 1520. (See also my article looking at imaging resolutions in 2015).
The use of triple LED is probably just to increase illumination (well, duh), the goal being to keep the shutter time as short as possible in low light in order to 'freeze' people better. I don't think we're at the point yet where triple LED and modern sensors can equal what's possible with Xenon, but we're obviously getting closer. Plus Xenon-equipped phones and camera have to use mechanical shutters, making them terrible for shooting 'bursts' of images, whereas the shot to shot time on the two 950 models will be very quick, a small fraction of a second - and then there's the built-in HDR functionality, again a no-no with a mechanical shutter.
Form and display
Finally, there's the form factor itself - I'm expecting the 5.2" screened model to have similar dimensions to the 930 but use virtual controls, while the 'XL' will obviously be significantly larger and not dissimilar to the 640 XL - which I thought worked pretty well without getting to the silly dimensions of the Lumia 1520.
The resolution for both handsets is now confirmed at QHD, i.e. 1440p, which is a little overkill at 5.2", but do note that these resolutions are all 'pentile' for AMOLED screens, meaning that you don't - quite - achieve the full stated resolution with all RGB pixels (red and blue are, typically, at half this resolution). Also, the 'Quad' bit in the QHD label tends to imply that the displays have four times the number of pixels, but that's relative to 720p screens - we're talking here of merely 'double' the number overall, compared to the existing Lumia 930, which sounds about right.
There has been no word about Glance screen capabilities, which is a little worrying, but the Lumia 640 XL had this, and that's the 'vision' for the design here, so I'm optimistic that we'll get a full implementation of Glance for the 950 and 950 XL after all.
The 640 XL-like design again points to a back that comes off and replaceable batteries, which is a welcome step back to the flexibility of the past, though in recent times actually finding spare batteries for sale for Lumias has been nigh on impossible, so the point becomes a little moot...
A 'must' upgrade?
The obvious question to ask is how much of a 'must' this upgrade, this new brace of flagships, is, especially for those with an existing Lumia 830 or 930 (or 1520). To be honest, everything above represents incremental improvements for 930/Icon owners, but they're increments worth going for, especially for 930 owners, who will be eyeing up the extra power efficiency, storage expansion, Glance screen and better camera rather greedily. Anyone with a Lumia 1520 is faced with a much harder choice, since this already has the larger screen and at full RGB/1080p, the microSD support and Glance support.
Away from the prior flagships, the Lumia 950 in particular is going to be very tempting, taking existing 735 and 830 owners up to a spec level that competes with the best of Android. But all this misses the point slightly - Microsoft needs to make new friends, new customers with these flagships. Armed with the universality with Windows 10 on laptops and tablets, and with Continuum bundled (even the hardware is likely to come in the boxes), there are benefits here that should appeal to Windows 10-using businesses across the world.
All of this will play out from next Tuesday (6th October) onwards, of course. Watch this space!