Review:
Microsoft Lumia 640 XL: the de facto phablet for business and budgets
With one eye on Asian phablet-loving markets and the other on business markets in Europe, Microsoft has very carefully tailored the new Lumia 640 XL to appeal to both sets of users while keeping cost as low as possible. In the process, with remarkably few compromises and impressing at almost every turn, the 640 XL just became the de facto phablet for anyone wanting to spend £200 rather than £600.
The 4xx and 5xx series of Microsoft Lumias are aimed squarely at the bottom and budget ends of the smartphone market, while the 6xx series has always been about providing some serious technology but while keeping the price as low as possible. The 620 and 630 both did that job admirably and I know of many regular users who are still happy with both devices.
Yet time marches on and Windows 10, in this case, looms, as an update for all. And as I've speculated before, this will work best when there's 8GB of internal space and 1GB of RAM as minimums. Which is why the 435 appeared, why the 535 had to appear, and also why the 512MB-RAM Lumia 630 had to be superceded, with the result being the new 640 LTE. We have this in for review and you'll be seeing that in a week or so's time.
Why the delay? Because the 640 LTE was launched with a sister device that's arguably more interesting. The Lumia 640 XL LTE can be thought of as a larger version of the regular 640, with higher specifications in terms of components, or as a slightly smaller development of 2013's Lumia 1320 phablet. The numbering does make sense though, since the 640 and 640 XL are so close in terms of amibitions, relative pricing, design language and general specification.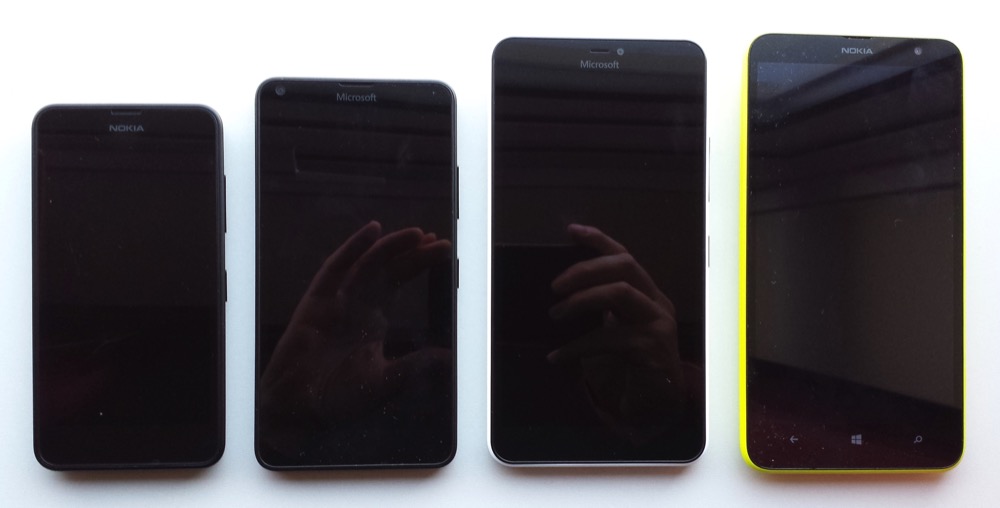 But with a 13MP camera with ZEISS optics (the 640 is 8MP with generic optics), a full ClearBlack Display and larger screen (the 640 has CBD 'Lite') and a bigger battery, you can see why I've been initially attracted to the Lumia 640 XL. Add in that this device has next to no competition, competing phablets are mainly up in the £500 to £700 range, and you have a seriously interesting review in prospect.
Hardware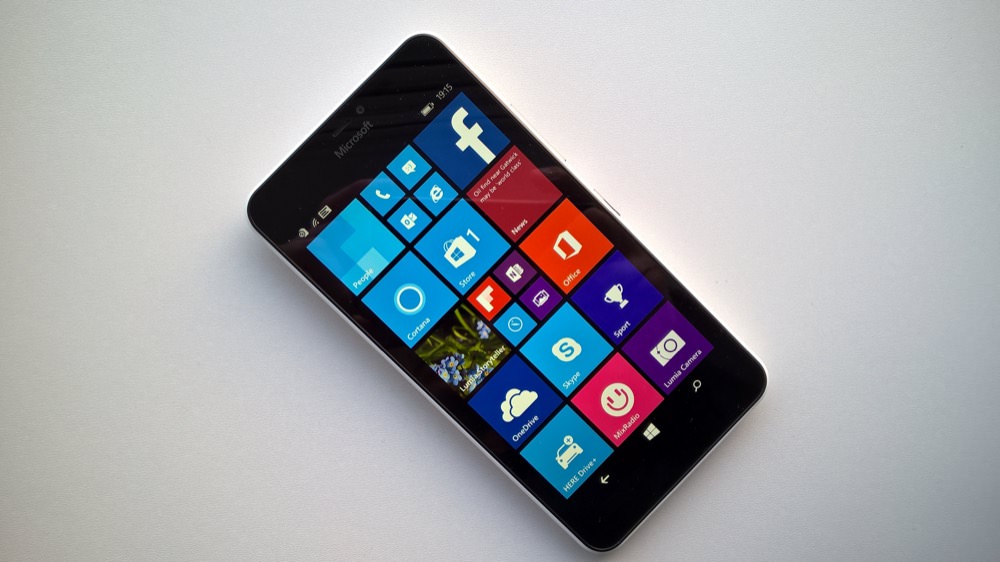 In the hand, the Lumia 640 XL feels tough and solid, helped by the plastics used and by the textured finish, at least used on the white-backed review sample. Microsoft says that the 1320 sold very well into the business market and that the 640 XL is designed to do exactly the same. You can see why:
tough, hard for employees to break accidentally
cheap to replace if needed
large screen is perfect for productivity (Office, media, email, etc.)
the use of Windows Phone isn't a black mark in business, where Windows still rules and where easy deployment and remote device management are very real requirements
Microsoft said at the launch that the 1320 was widely felt to be just a little too big, which explains the step down from 6" to 5.7" screen and the resulting reduction in overall form factor. As a phablet, the 640 XL is still a little too wide to be held and used comfortably one handed, but then that comes with the territory. From its one-handed beginnings, Windows Phone has evolved, like the other smartphone OS, to require a variety of gestures from all corners of the screen and taps at all points in an interface, so consider this a two handed device for all intents and purposes.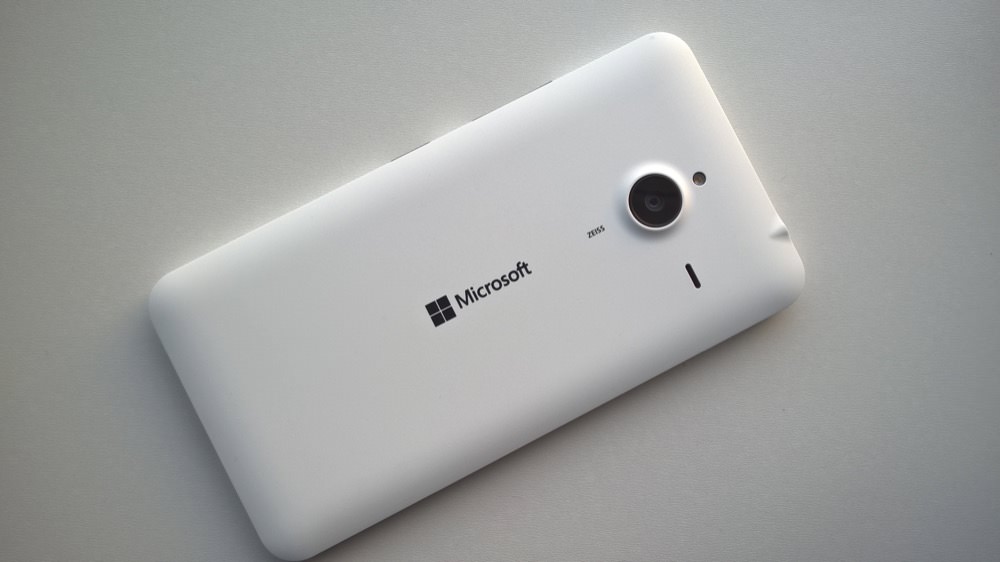 The design language is familiar, with the slightly chamfered slab sides and gently pillowed contours on the back, plus a slight bump for protection for the camera glass. Nothing earth shattering, though the Microsoft logo does stand out proudly on this white review unit, along with a repeat of the name on the front in much more understated shade just below the phone's earpiece. The side buttons don't include one for the camera, as you'd traditionally find on the higher end Lumias (and also on the 1320, by the way), but they're easy to find without looking and are positive in action.
A single slot serves for the mono speaker, but it's nice and loud and I had no complaints. It's probably the same component as in the likes of the Lumia 630 and 620.... In theory it's easily blocked, but the camera 'bump' hold the back surface away from obstructions almost all the time.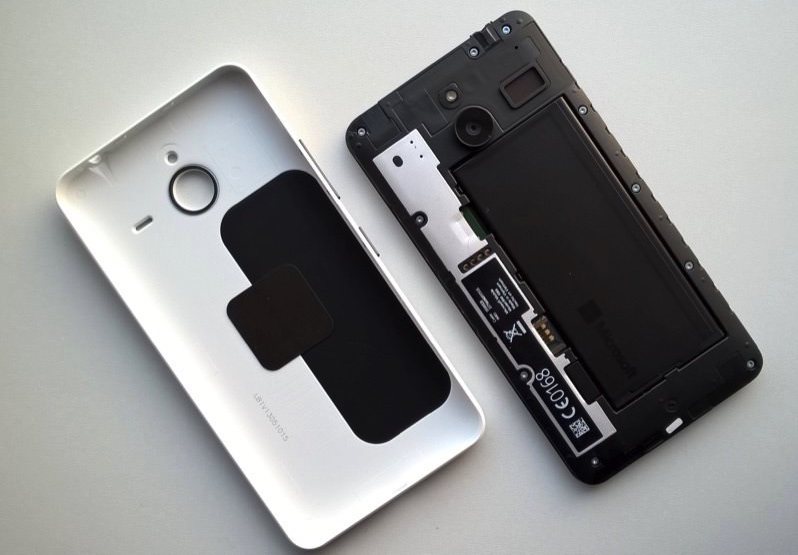 Like the other budget Lumias, and unlike the 1320 before it, the back can be taken off on the 640 XL by gently applying pressure on any of the shell's edges, pulling backwards and then prying off all round. Underneath is a 3000mAh battery, slightly smaller than the 1320's but then it's replaceable and you can envisage any business arrangement including a supply of spares for employees needing them or who have abused their originals. So a win overall.
There's no Qi charging coil, disappointingly, or a way to add a charging shell, but then remember the price point again. The pads inside the back cover are to cover the main heat sink (stopping the back from getting hot in one spot), to stop creaks and, around the camera glass... well, maybe to stop creaks again. The result of all this is, in fairness, that when the cover's on, there are no extraneous noises and the phone feels like a unibody design.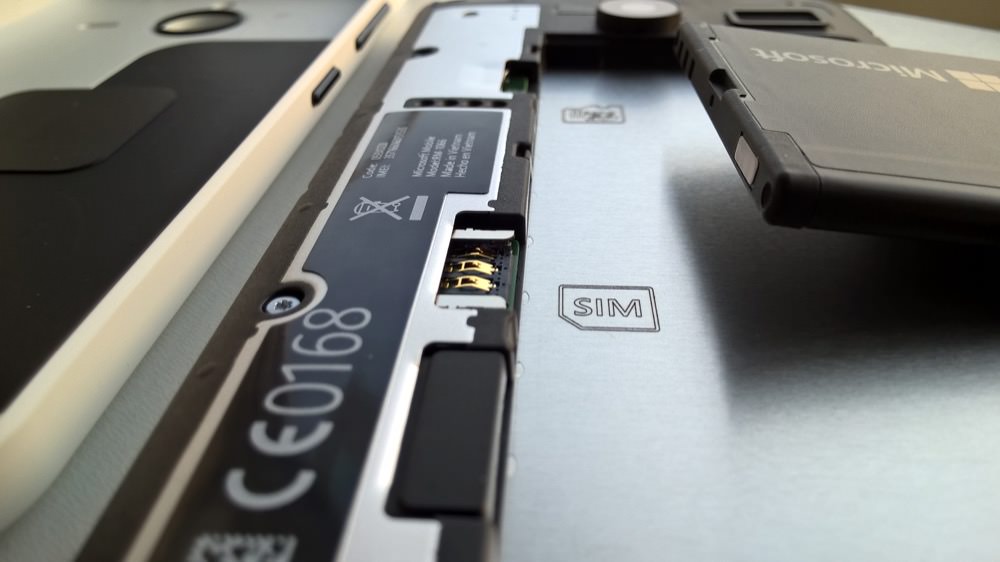 Also visible with the back off are the two SIM slots (though only one was available on the review sample - this will vary according to market) and the microSD slot, capable of raising storage by up to 128GB. Connectivity is again up to LTE, but market/variant-dependent, so it may be different in your country.
A recent move in the smartphone world generally has been to go to 'virtual' controls (e.g. for back, home) and this is now firmly rolled out in the middle of the Lumia range too, with both the 640 and 640 XL having Windows Phone controls that can be dismissed (or brought back) with a small swipe upwards from the bottom of the display. The system works better than you might think (you get used to it very quickly), saves a little on build cost and offers the chance to have a larger usable display for a given form factor. Potentially, anyway - there's still a good centimetre of bezel above and below the screen on the 640 XL. Wasted space or valuable gripping area? A subjective call!
The controls disappear automatically when needed, too. For example, when playing back a video or video stream online. They're certainly a big improvement on glaringly backlit physical controls that refuse to dim down on higher end phones and ruin the video experience.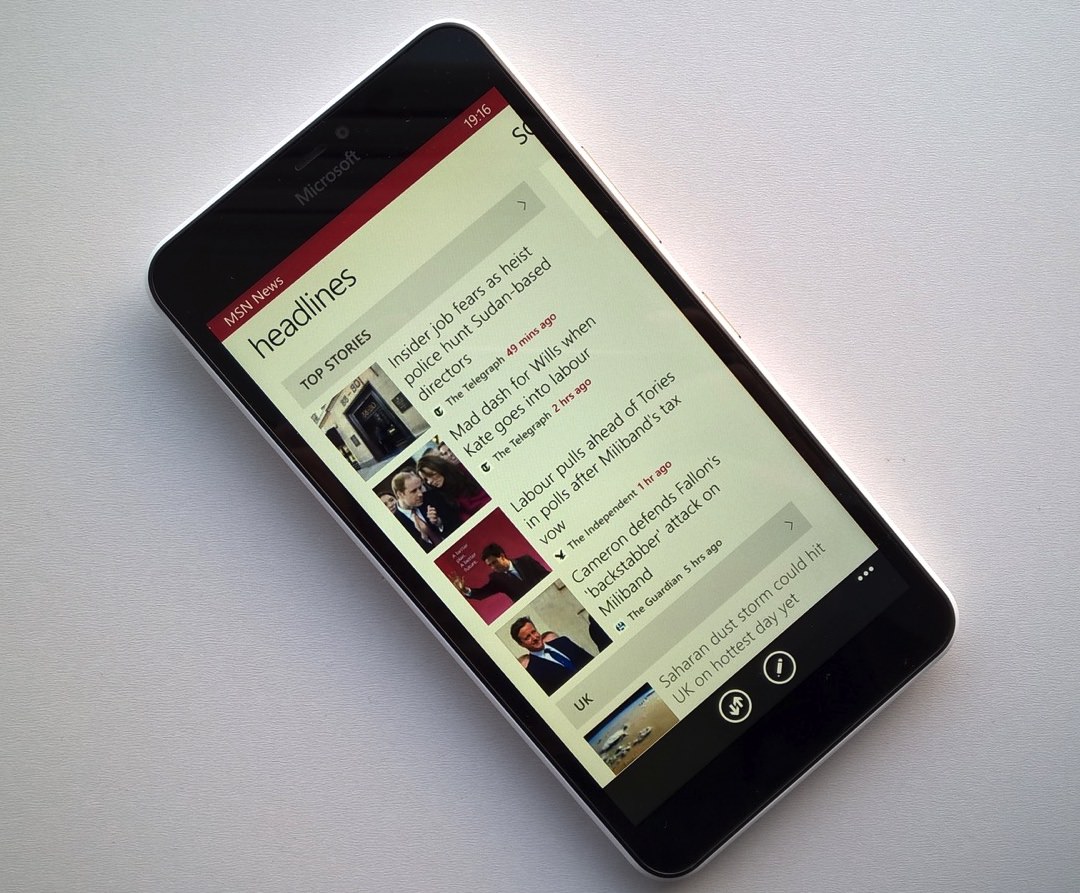 The 720p display is full RGB, being LCD, so you don't lose half the horizontal resolution, as on AMOLED pentile screens. On the 5.7" display it's possible to see pixels and tiny jaggies if you look really, really closely, but trust me, it's absolutely fine in normal use. And rather belies the craziness that is Quad HD screens creeping into flagships - often with smaller displays. Yes, a 1080p screen would impress more, but a) I suspect that this would add another £20 or more to the bill of materials, and b) you'd probably then have to bump up the chipset to power the pixels, at least to a Snapdragon 600 series, adding another £10 or so, plus other electronics, and then it all starts to add up. A Snapdragon 400 and a 720p screen here are well matched.
I was delighted to see the full ClearBlack Display polarisers used and not the half-baked 'Lite' single-plane polariser from the 640 and 630 before it. As a result, visibility outdoors is superb, similar to that on the Lumia 1520, and on a par with the best in the world.
Imaging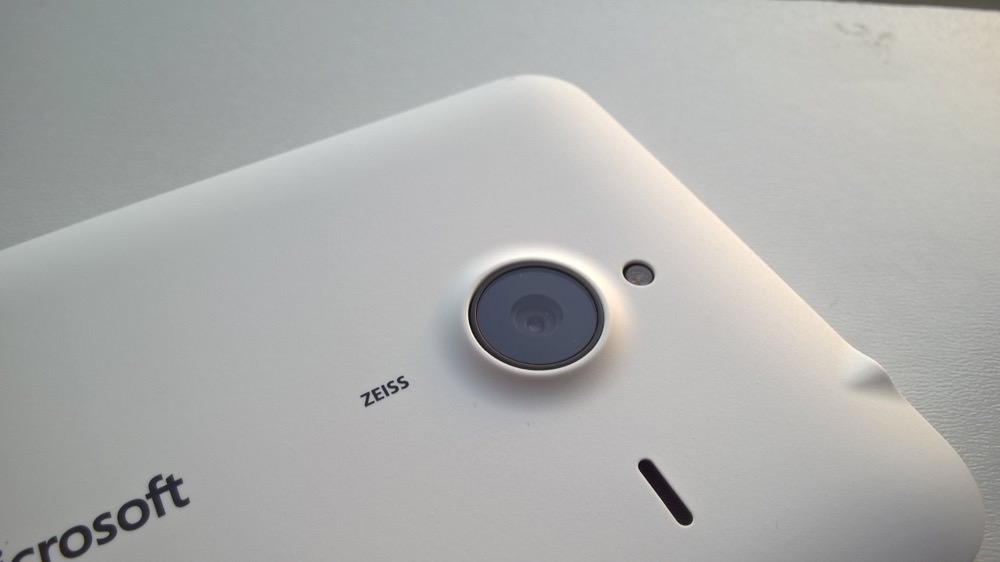 Also well matched, at least within the price point of £200 or so, is the camera here. It's a 13MP 1/3" sensor in 4:3 aspect ratio, by default producing 10MP images in 16:9, see the assorted samples below. Lumia Camera 5 is supplied out of the box, which is good to see, complete with Rich Capture (HDR) and all the other LC5 innovations. With the launch firmware, there's a delay (in the background) of ten seconds or more per shot while the images are combined. The average user won't notice the resolution drop or indeed the background processing unless they try and shoot several rich captures very quickly after the other, in which case a 'Saving...' message is popped up, advising they wait. Which is fair enough, and the 640 XL isn't supposed to be an imaging powerhouse...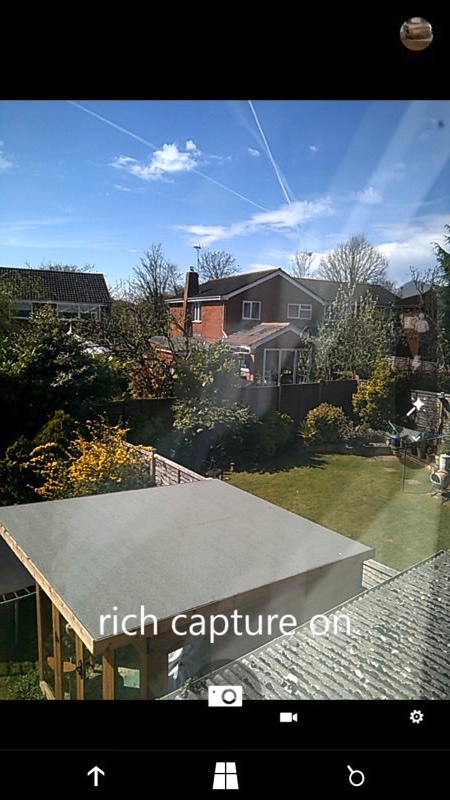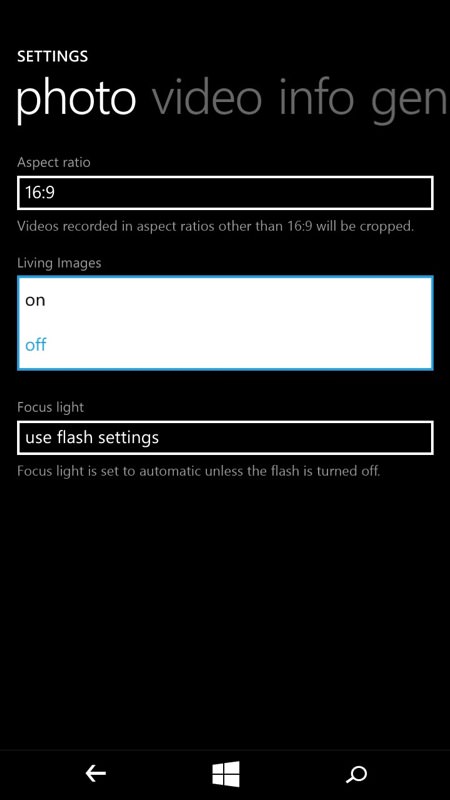 Unlike on the more expensive 830, there's no OIS to help out, so a little more care needs to be taken in low light in order to get decent shots, but yet again OIS would have added another £10 or £20 to the build cost - the 640 series is all about putting in as much as possible while keeping the cost reasonable.
Here are some example photos, taken in a variety of light conditions, click on each thumbnail to open up or download the full JPG for further inspection:
Video capture is at a maximum of 1080p and with only mono capture (plus, again, no OIS), but this is again quite reasonable at the price. Overall, imaging was roughly equivalent in quality and resolution to that in the HTC One M9, which I was testing only last week. Given that HTC is asking well over £500 for its device, this speaks well of the £200 Lumia 640 XL.
OS, interface and apps
Running Windows Phone 8.1 Update 2, there are a few tweaks here which we haven't seen before on the platform, the most obvious of which is the reorganisation (at last) of the Settings menus. All settings are now grouped thematically and tapping on any of the section headings brings up a pick list so that you can jump to another section. Much better than the old way of doing things, though I do worry that it'll all get changed again when Windows 10 arrives?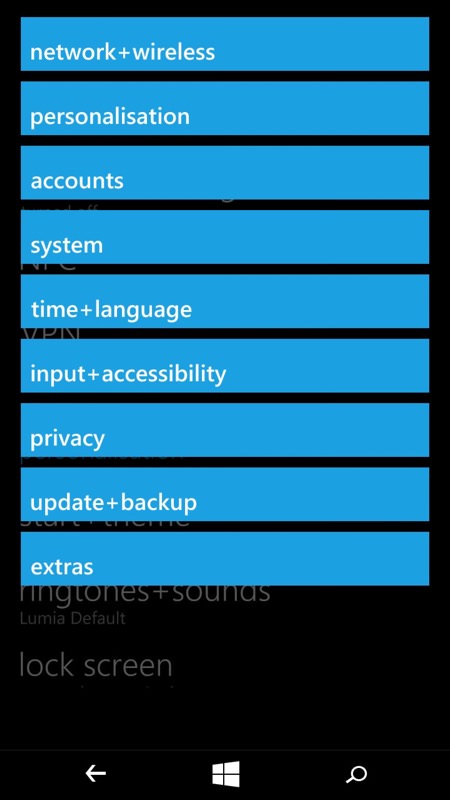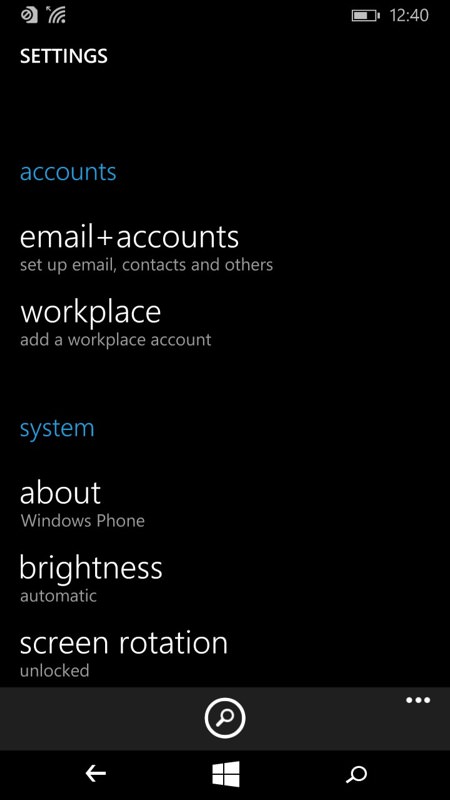 You can also pin any individual setting to your Start screen, which is handy if you're in the habit of toggling something. Aside from this, we're mainly talking under the hood improvements, especially in terms of Bluetooth and especially in terms of device management, with 'find my phone' now allowing remote locking and erasing, should the worst happen and you get separated from your smartphone.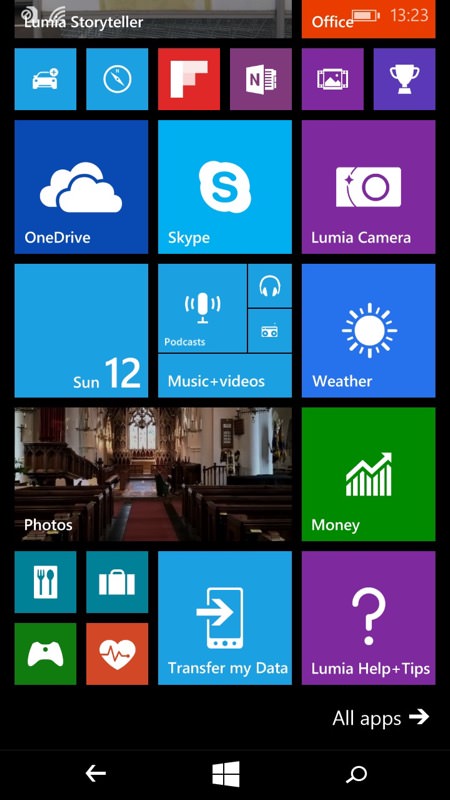 Of note in the main application list is that:
'Camera' has now gone, it's just 'Lumia Camera', which is fine. Windows 10's Insiders 'Camera' app seems to be based on Lumia Camera 5, so you shouldn't notice any difference when the big '10' hits the 640 XL in about six months time.

Both Lumia Storyteller and Photos are included, but the latter is included a long way down the Start screen, so, like me, Microsoft is trying to push the former now.

The official Fitbit client is preinstalled, I'm guessing that the accessory will be preinstalled with some units when the XL hits the market in a month's time.

The full MSN (Bing) application suite is here, of course.

MixRadio is still here, though I'd expect that to disappear from firmware when Windows 10 hits.

PicsArt is preinstalled - an odd choice, but I'm guessing that this was deemed a lot more user friendly than Fresh Paint, which is more for real artists and/or talent!
So nothing earth shattering, but a solid update and a pretty mature platform, even if not all the third party applications that everyone wants are available in every region (hint: social, banking).
The combination of the large screen and swipe-away Windows Phone controls does make the Lumia 640 XL very suitable for Office work and emails. Included is a year's worth of Office 365 Personal, i.e. including the facility to also use Office on two other devices (e.g. your tablet and laptop) that you're signed into: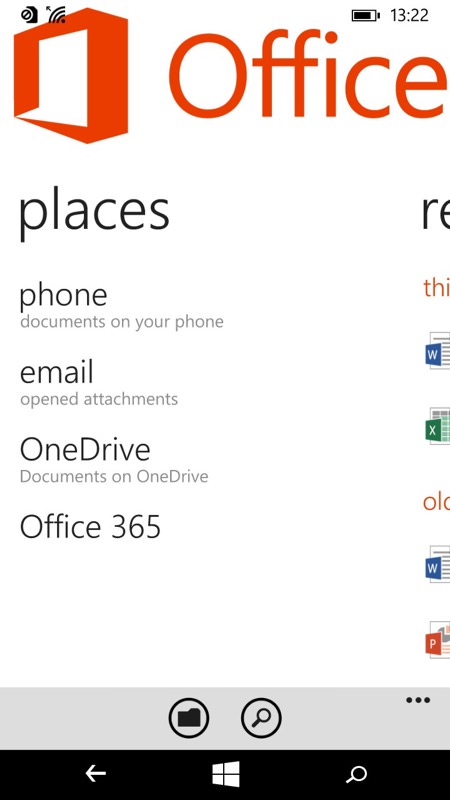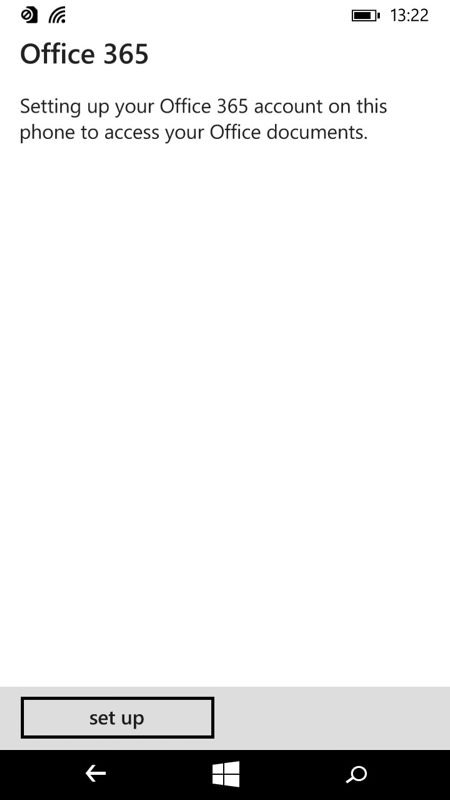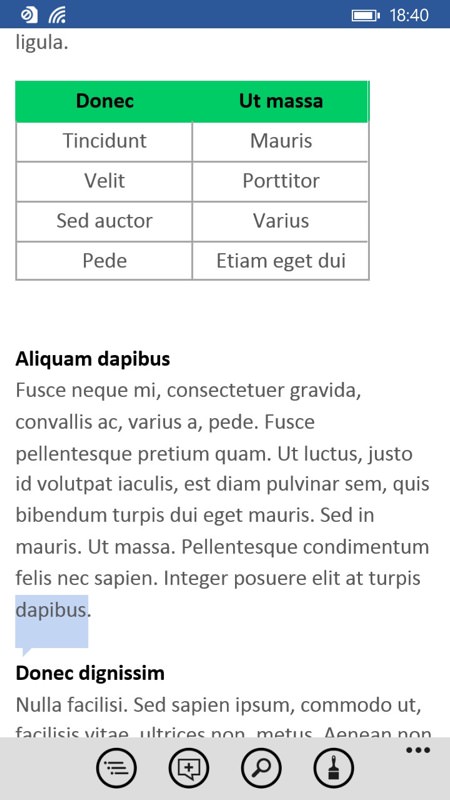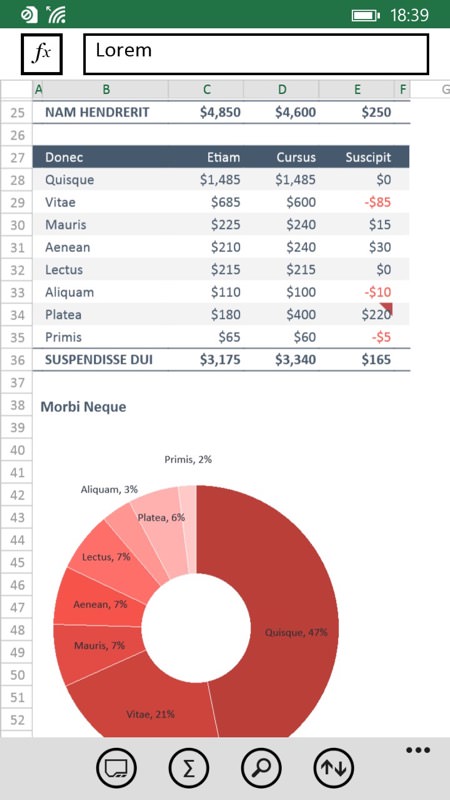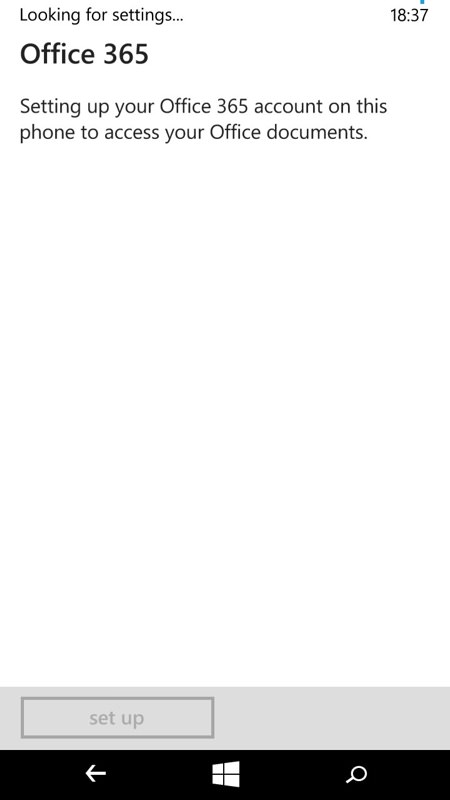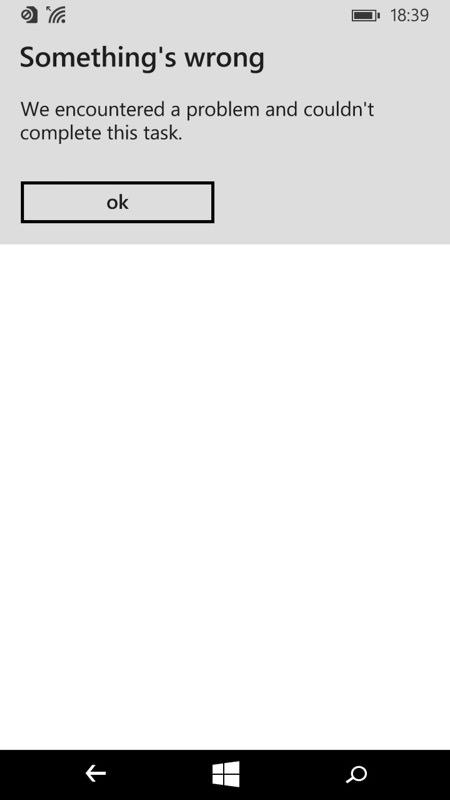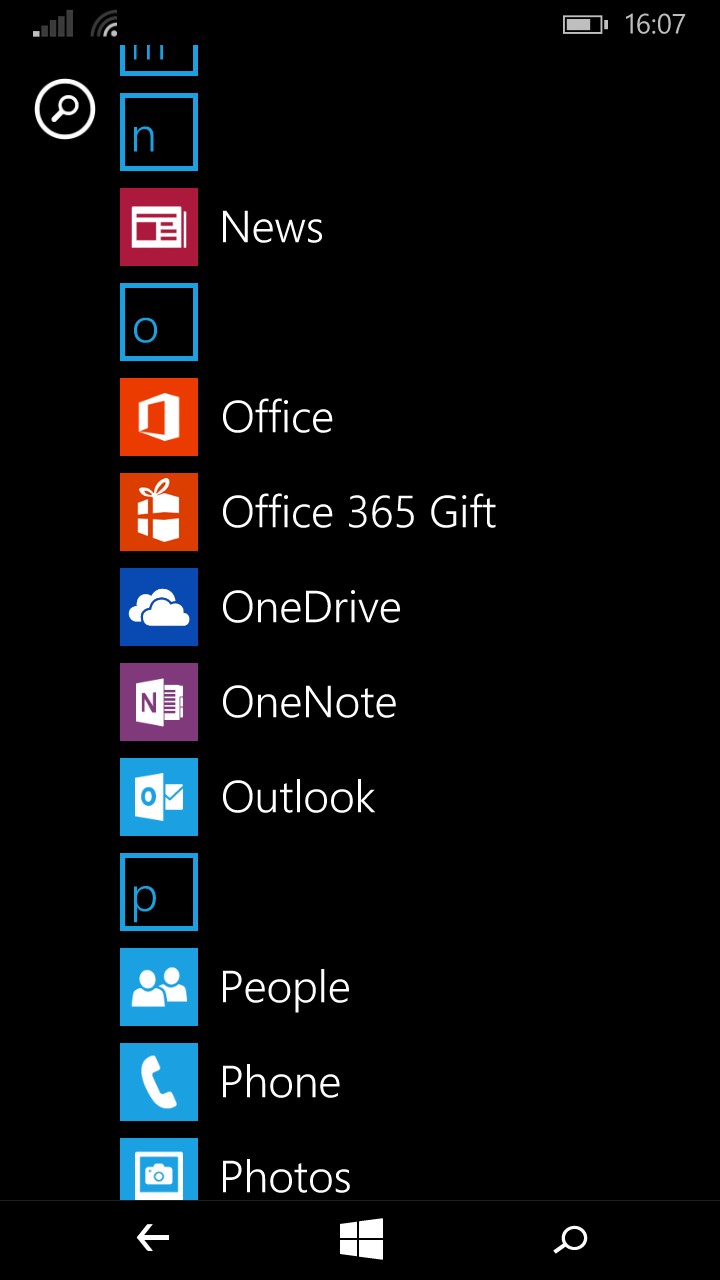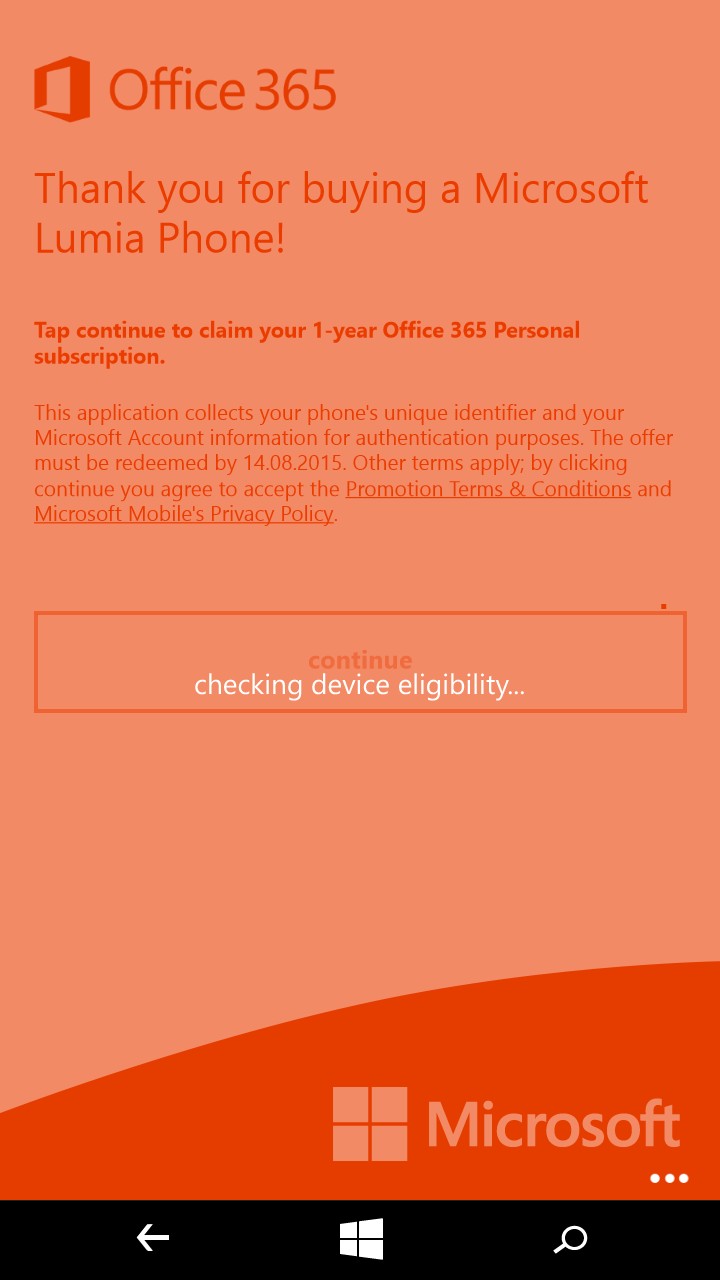 Verdict
So, who's going to buy the Lumia 640 XL? I'd expect the 640 XL to be something eyed up by any Windows Phone owner without a 735 or above, i.e. a way to get up to date(ish) replacement, with a larger and clearer screen and (probably) more RAM and better components, all for not that much money. Ditto owners of budget Android phones, unless they're too locked into Google services.
But that's just consumers. As I alluded to earlier, businesses are the main target here, with many companies buying up large quantities of Lumias as a way to get Outlook and Office-friendly smartphones with large screens out to employees without it costing the earth.
There are compromises in the 640 XL, but they're sensible ones. The critical elements, such as screen, camera, battery and expendability, have been given attention and as a result this phablet has got a real chance of making an impact.
PS. You'll note that I haven't gone into any detail on cellular comms here - that's because the retail units being reviewed were from the European market and single-SIM/3G only, since the LTE version wasn't available to journalists yet. When fully on sale, several variants, including dual SIM/LTE, will be available in various countries, so it's best to check your local suppliers and networks in the usual way.
Reviewed by Steve Litchfield at