The question running through my mind in recent days has been which, of the current Windows Phone canon/range, is best suited to Windows 10 Mobile and competing with both the competition and also the new Lumia flagships. I looked at the Lumia 830 a few days ago, perhaps the perfect 'everyman' budget alternative, but another smartphone that I've been trying out for months with the new OS under the Insiders Programme has been the Lumia 1520.
This is an oddball device, having kitchen-sink specifications (i.e. the lot) when launched in 2013 and with a form factor that seemed monstrous. Yet with mainstream smartphones (e.g. Galaxy Note 5, Vodafone Smart Ultra 6, iPhone 6s Plus, Google Nexus 6P, and many others) now routinely sporting 5.5" or bigger screens, the Lumia 1520 doesn't seem so out of place anymore. The 1520 was also odd in that, because of the aforementioned form factor disconnect with the market at the time, relatively few were made and sold. You can still get them if you look around, but you can't take your pick of colours anymore, for example. And you may have to settle for second-hand. The good news is that you'll find prices half what they were at launch - unsurprisingly.
With all this in mind, and bearing in mind that you're probably lusting after the Lumia 950 XL anyway, I wanted to compare - in detail - yesteryear's monster Lumia (with the latest Windows 10 Mobile RTM build) with the largest of the new flagships. Can the two year old device still compete?
[If this table is too wide for your phone browser, please try in landscape mode or - better - viewing it on a tablet or laptop? Sorry, but this sort of content just has to be in a table!]


Microsoft Lumia 950 XL
Nokia Lumia 1520 with Windows 10 Mobile
First available
December 2015
November 2013
Typical price at end of 2015
£530 inc VAT in the UK (launch pricing)
Whatever you can find it for, on clearance or second hand. Suggest £200?
Form factor, weight
Matt plastic, replaceable backs, 165g, 78mm wide makes it borderline for most one-handed use, but at least it's possible - and grippable.
Smooth plastic, sealed 'Fabula' design, heavy at 209g and 85mm wide. Very definitely a two handed design and very droppable.

Display
5.7" AMOLED pentile layout with ClearBlack Display polarisers, QHD resolution, Glance screen, Gorilla Glass 3
6" LCD full RGB layout with ClearBlack Display polarisers, 1080p resolution, Glance screen, Gorilla Glass 2
Operating system/
interface
Windows 10 Mobile, virtual controls reduce screen real estate most of the time, down to around 5.4"
Capacitive controls mean that the whole of the 6" screen can be used for content.
Connectivity
Up to LTE, Bluetooth 4.1, NFC, USB 3.1
Up to LTE, Bluetooth 4.1, NFC, USB 2.0
Processor/
performance
Snapdragon 810 chipset, 3GB RAM
Snapdragon 800 chipset, 2GB RAM
Capacity
32GB plus microSD up to 2TB
32GB plus microSD (up to 64GB officially, but 128GB and beyond should work too)
Rear imaging
PureView oversampling 20MP camera, 1/2.4" sensor, f/1.9 aperture, with 'fifth generation' OIS and Rich Capture options, triple LED flash
PureView oversampling 20MP camera, 1/2.5" sensor, f/2.4 aperture with OIS and Rich Capture options, dual LED flash
Video capture
4K, digitally and optically stabilised, with 8MP grabbing built-in, plus Rich Recording and quad HAAC microphones*
4K, digitally and optically stabilised, with 8MP grabbing built-in, plus Rich Recording and quad HAAC microphones*
Front imaging
5MP
1.2MP
Music and Multimedia
Decent mono speaker on the back, 3.5mm headphones
Decent mono speaker on the back, 3.5mm headphones
Navigation

Windows 10 Maps includes most of the best of HERE Maps/Drive, uses the same data, adds a degree of live traffic awareness, plus public transport.

Ditto, Windows 10 Maps is very capable and works just as well on any compatible device. Includes full offline maps with automatic updates, of course.
Battery, life
Replaceable 3340mAh battery plus USB Type C, QuickCharge 2.0 compatibility and Qi wireless charging
Sealed 3400mAh battery, plus microUSB and Qi wireless charging
Applications and ecosystem
Windows Phone now has many mainstream apps and services covered, but niche/boutique apps are an issue. Also anything to do with Google services! There are plenty of games, though often delayed a little from their releases on other platforms.
Ditto. Has everything I need, but the likes of Snapchat and the Google absence really hurt the platform.
Cloud aids
Windows Photos syncs across all signed-in devices, though free space for these is scheduled to only be 5GB, so new users need to join Office 365 or live within the paid-for 50GB tier.
Ditto, though a lot of existing users may be grandfathered into 100GB or 200GB storage tiers or have long term enthusiast bonuses to enjoy!
Voice
Cortana is now mature and well integrated.
Ditto, this works well on any updated device, region and language support permitting.
Security
Windows 'Hello' (iris recognition, even distinguishes identical twins)
Standard PIN only
Upgrades, future and possibilities
Windows 10 Mobile will be updated through daily Store updates, plus occasional base firmware updates through 2016/2017. Wired and wireless Continuum enables other uses, e.g. as PC or media centre.
Ditto - the 1520's specs were so high at launch that it should be compatible with all Windows 10 Mobile releases and patches going forwards.
* Note that Windows 10 Camera doesn't support stereo audio capture when shooting video yet, incredibly. An update is imminent.
Looking at the green 'wins' above, a 7-3 victory for the much newer device isn't surprising, of course. Though the 1520 really does get very close in many areas and if you can get hold of one then it's a very good demonstrator for how good Windows 10 Mobile can be. The large screen, the sheer amount of information that can be presented each win out, even over the newer flagships, which are constrained by the need for on-screen virtual controls most of the time.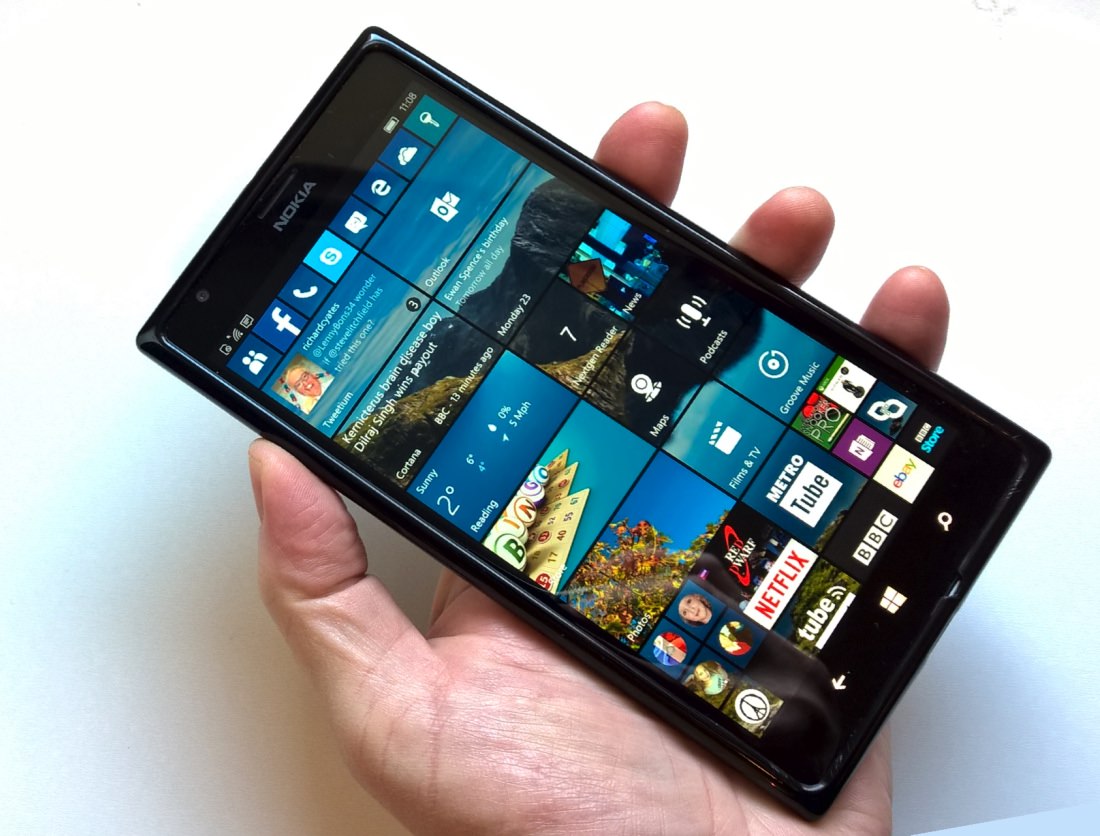 Your comments welcome - I know many readers own Lumia 1520s. Will you stick with this 6"-screened monster or is your 950 XL pre-order already in the system?