One of the characteristics of just about every Windows Phone in the mid-range and top-end has been that, iPhone-style, everything's been sealed and capped. Battery, storage, there's precious little in terms of flexibility, repairability and expandability in the Lumia 920, 925, 930 and 1020. (We'll omit the giant 1520, since that's in a size league of its own.)
Making the Lumia 830, with replaceable battery and microSD support very welcome in Autumn 2014.
And now, at the tail end of Autumn 2015, we have new flagships within touching distance, the 950 and the 950 XL. Looking in particular at the 950 though, let's put it up in terms of specs, form and ambition against the year old 830:
Lumia 950
Lumia 830 (950 'lite')
Price at Nov 2015
in the UK, inc VAT
£420
£210 (typical street)
second hand from £100
OS
Windows 10 Mobile
Windows 10 Mobile
(upgraded)
Dimensions
145 x 73 x 8mm, 150g
140 x 71 x 8mm, 150g
Materials
Polycarbonate
removable rear shell
Metal chassis
removable rear plastic cover
Chipset
1.8GHz Snapdragon 808
64-bit hexacore

1.2GHz Snapdragon 400
32-bit quad-core

GPU
Adreno 418
Adreno 305
Connectivity
GSM/3G/LTE
GSM/3G/LTE

RAM
3GB
1GB
Display
5.2" AMOLED, QHD (1440p)
Virtual Windows controls
ClearBlack Display
Glance screen
Gorilla Glass 3
2.5D curved 5.0" LCD (720p)
Capacitive Windows controls below screen
ClearBlack Display
Glance screen
Gorilla Glass 3
Storage
32GB, plus microSD
16GB, plus microSD
Rear camera
20MP, PureView with oversampling
1/2.4", f/1.9
Fifth generation OIS
Triple LED flash
4K capture with 8MP frames saved
5.1 surround sound
HAAC microphones and
Rich Recording
Digital stabilisation
Dedicated capture key

10MP
1/3.4", f/2.2
Third generation OIS
Single LED flash
2K capture with 2MP frames saved
5.1 surround sound
HAAC microphones and
Rich Recording
Digital stablisation
Dedicated capture key

Front camera
5MP
1MP
Cabling/charging
USB Type-C (up to 5Gb/s)
USB 3.1 standard
Quick Charge 2.0
Qi wireless
microUSB
USB 2.0 standard
Qi wireless
Battery
3000mAh replaceable
2200mAh replaceable
Speaker
Rear-mounted, mono
Rear-mounted, mono
Other
Infrared iris-scanner ('Hello Beta')
Continuum-ready
Err....
available in orange and green!


It turns out that there's a reason why the Lumia 830 had me all excited when I first reviewed it and why Rafe has used it as his primary Windows Phone for the last year. Now, obviously there's a specification (and pricing) mismatch here, but the 830's still really very nice in the hand and performs very well indeed with the latest build of Windows 10 Mobile.
More to the point, in terms of useable display size (5") and contrast, form factor, battery flexibility (swappable cells, shown below, plus Qi wireless charging) support, the 830 isn't a million miles behind its much newer cousin: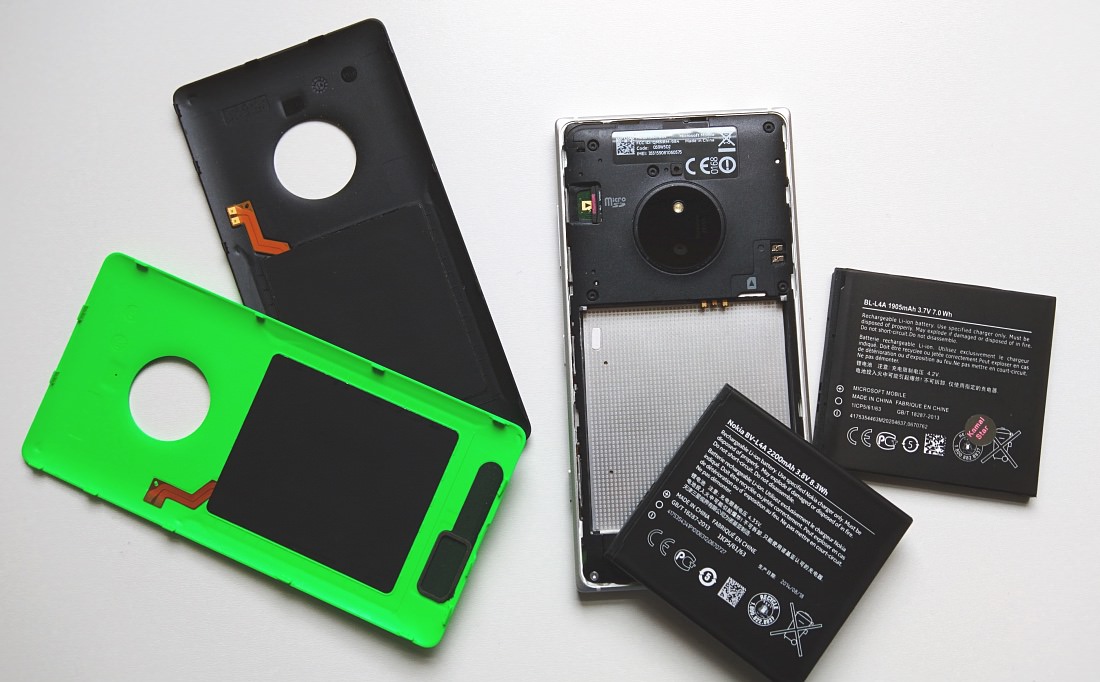 The Lumia 830's camera marks the entry point in the Windows Phone/Windows 10 Mobile world for OIS, with really very good stabilisation, for stills and video, with the latter also benefitting from Windows 10 (Mobile) Camera's digital stabilisation as well - the results of video capture are extremely smooth indeed, and with the same Surround Sound/Rich Recording. In fact, at the time of writing Windows 10 Camaera still doesn't support stereo audio capture (it's coming!), so you could argue that the 830's video capture is temporarily 'better', despite the restriction to 1080p.
microSD support is something else which, as I said above, has evaded most Lumias above the budget end of the spectrum, but it's here and oh so welcome. Maybe it's just me, but my heart sinks when I reset a 'sealed' Lumia and realise that I've got to mastermind the syncing and copying of all my favourite music and media into its internal storage (not everything can be streamed, you know, especially in the light of all the 2016 OneDrive changes). This isn't the first time that I've argued passionately for card support on AAWP, of course, and Microsoft does seem to have listened, judging from the release of the 640/640 XL/550 and now 950 and 950 XL.
Again, the 830 marks the last point (pre-950, and again excluding the freak 1520) in the Lumia range where there's card support. So, in setting up a 830, for example, I just pop in my 64GB microSD and... oh, look, there's ALL my favourite media, for offline consumption. Instantly. Upgrading to a Lumia 950 next month anyway? No problem, just take the card out and re-insert.
The use of replaceable batteries has been something of a moot point, since the BV-L4A cells have been quite hard to source online, as I famously ranted. However, look very closely at the two cells above - the one on the right is the BL-L4A, from a Lumia 535. It turns out that these cells have identical form factor and work perfectly* in the 830 as well. Moreover, the BL-L4A, being made for a budget, mass-market phone, are far more available, I picked this up, new, for £6 on eBay - and yes, it seems genuine. So there's no reason not to pick up a few spares.
* In fairness, the battery chemistry is very slightly different in the BL-L4A, being nominally rated at 3.7V and topping out at 4.06V (cf the BV-L4A battery being nominally rated at 3.8V and topping out at 4.28V). I've been testing it on the Lumia 830 and the BL-L4A works just fine though, you do get the 1905mAh capacity delivered, though the on-screen battery-indicator can get slightly confused. When charging with the lesser cell, it seems to max out at "80%" or so because the 830 is expecting to see almost 4.3V and it's convinced that the battery is 'stuck'. Happily the electronics inside the phone are fine about charging rates and there are no overcharging or heat issues. And, swapping in a fully charged BL-L4A after using the BV-L4A, the on-screen indicator shows 100% again, proving that it's simply the software getting (understandably) confused by the changing battery characteristics!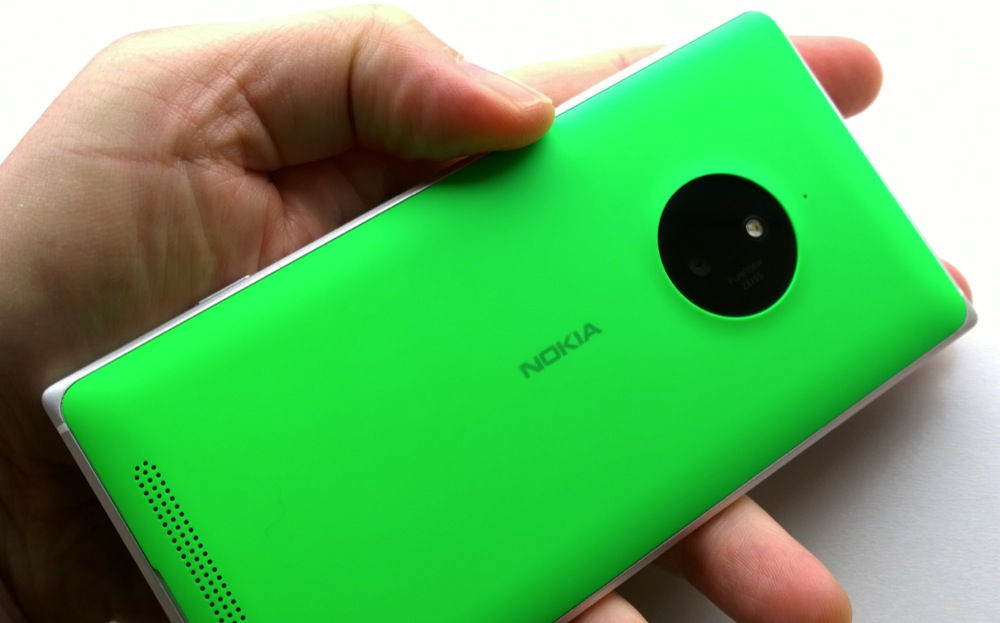 From a hardware standpoint, then, the Lumia 830 sits at a perfect cross section of performance, functionality, battery life and flexibility. And with the latest build of Windows 10 Mobile under the hood, an awful lot of the applications and experience are almost identical to those under the new (distinctly non-budget) Lumia 950 though. If funds are tight and you're desperate for the Windows 10 Mobile experience on as high spec a smartphone as possible for as little money as possible then I contend that the Lumia 950 'lite', err... I mean the Lumia 830 is the one to go for.
PS. For further reading, see our original Lumia 830 review.